Phew, that's a long name!
I've been trying to make ice cream sandwiches right for a long time. Honestly, it sounds easy, and then it's just not. And now summer is here and I knew I had to get it right. For the sake of pregnancy cravings guys.
So, the problem is typically the cookie. What would be a nice, chewy, cookie with slightly crisp edges at room temperature, when frozen, becomes rock hard and tooth-shattering. It's so annoying. I feel like there's a specific kind of texture that I go for when I'm making a normal cookie, and it's totally achievable for me at this point. But finding that balance for a cookie that's going to be frozen… it's a whole other thing.
Being at altitude, I've tried a ton of recipes for classic ice cream sandwich cookies, and they've also ended up too hard. Basically, what you need is a very, very chewy cookie, and you'll need to bake it just slightly less than you normally would.
The cookies for this one are thin and very, very chewy. Another option, or so I've heard, is to opt for a cake-like cookie. In either case though, you absolutely have to make sure you don't over bake anything! I would also note that even if you aren't freezing them for later, as in you're just going to serve the sandwiches right away, the coldness of the ice cream will be enough to make your cookies hard, I promise.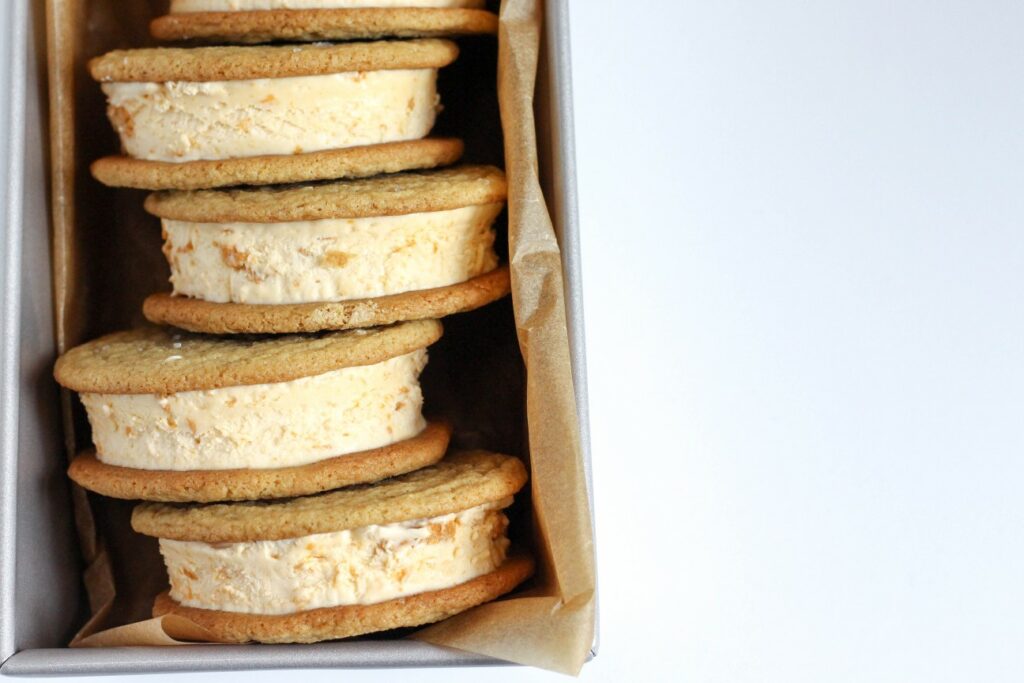 This cookie is basically a classic chocolate chip cookie without the chocolate chips. I know, I know, we love chocolate. Trust me, you won't miss them. I think brown sugar cookies stand alone, especially when you sprinkle them lightly with salt just when they come out of the oven. It's got a ton of flavor, and you may have never known since chocolate is the star normally!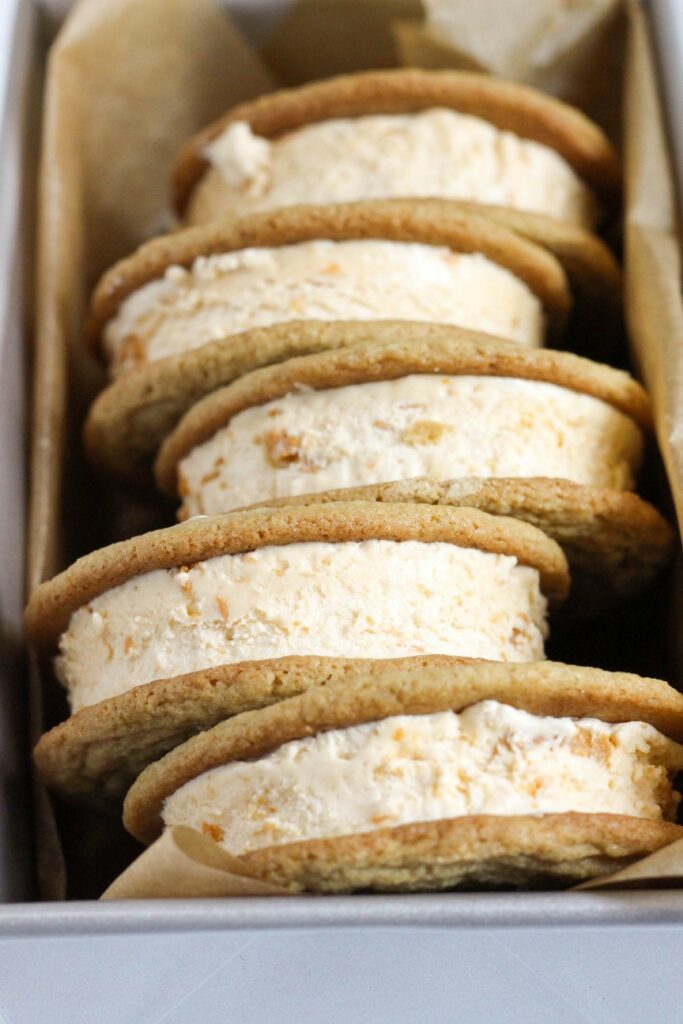 Onto the ice cream. I went for a no-churn style here, and it's popular for a reason guys. This stuff is so easy to make, it's criminal. Couple of things to note- butterscotch chips melt way faster and differently than chocolate chips, so keep a close eye on them, stirring more frequently than you would with chocolate. Also, going in the opposite direction, they will harden back up easily, which is how you get the little chunks you can see in the pictures! You just want to fold vigorously into your cold (not frozen) ice cream mixture, and it'll happen like magic!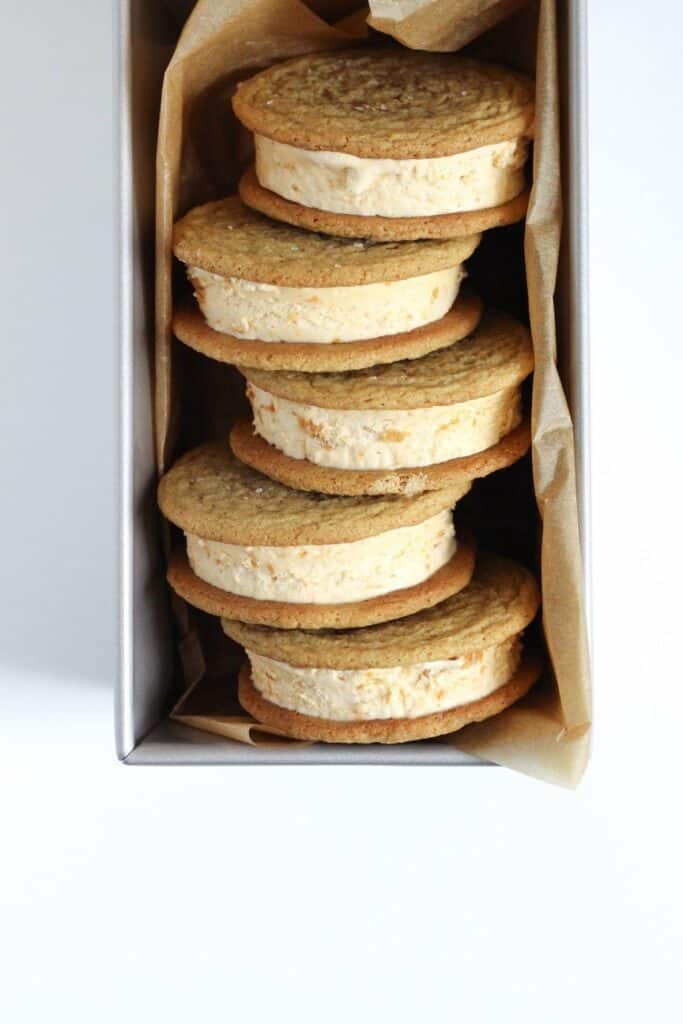 I'm super pleased with this recipe, to say the least. I recommend storing them in small plastic bags individually to keep everything fresh and easy, and freeze them for the first time in one layer before stacking them up- this helps keep the ice cream where it should be!
Enjoy!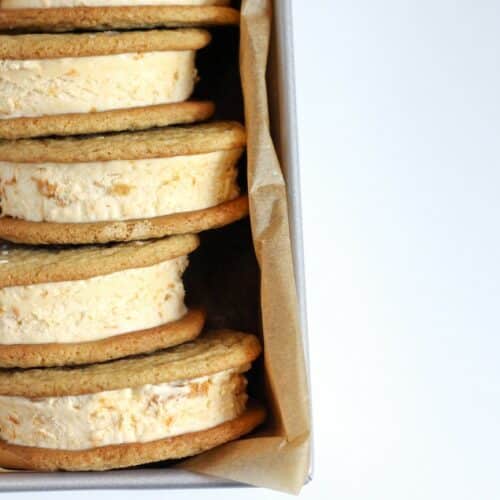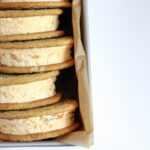 Salted Brown Sugar Butterscotch Ice Cream Sandwiches
Ingredients
For the salted brown sugar cookies:
2 1/4

cups

flour

1/4

cup

bread flour

3/4

tsp.

baking soda

1

tsp.

salt

1

cup

softened butter

1/2

cup

sugar

1

cup

brown sugar

2

eggs

1

tsp.

vanilla extract

2-3

tbs.

coarse salt
For the butterscotch ice cream:
4

cups

heavy cream

2

14oz cans

sweetened condensed milk

2

tsp.

vanilla extract

1/4

tsp.

salt

1

bag

butterscotch chips, melted and slightly cooled
Instructions
For the salted brown sugar cookies:
Preheat your oven to 350 degrees, and line two baking sheets with parchment paper or nonstick sheets. In a medium bowl, whisk together the flour, bread flour, baking soda, and salt. Set aside.

In a large bowl, beat together the softened butter, sugar, and brown sugar until fluffy. Beat in the eggs and vanilla until smooth. Slowly add in the flour mixture, and beat until completely incorporated.

Scoop dough by 2 tablespoonfuls onto your baking sheet. These will spread quite a lot, so leave a good amount of space between. Bake for 8-10 minutes, or until the cookies have just started to become golden brown on the edges. Do not over bake. When you remove them from the oven, immediately sprinkle on some coarse salt. Cool completely on the cookie sheets before removing.

Chill the cookies in the fridge once cooled to room temperature until you are ready to use them for the sandwiches.
For the butterscotch ice cream:
Line two 9x13 inch cake pans with foil. Set aside.

In a large bowl, beat the heavy cream until stiff peaks form. You want it to be slightly over-whipped. Then, stir in the condensed milk, vanilla extract, and salt until combined.

Moving quickly, stir in the melted butterscotch. It will immediately start to cool and harden some, so you want to stir it in quickly to ensure that it gets incorporated completely.

Divide the ice cream between the two cake pans, and spread evenly. It should be about 3/4 inch thick, but does not have to be perfect. Freeze both pans of ice cream until solid, about 2 hours.

Remove from the freezer, and use the foil to pull the ice cream out of the cake pan, working with only one pan at a time so it doesn't melt too quickly. Using a round cutter that is slightly smaller than your cookies, cut out rounds of ice cream, and sandwich between two cookies, pressing together slightly.

You want to work in small batches here, and move quickly so the ice cream doesn't melt too fast! Wrap each sandwich tightly in plastic wrap or place into individual zipper bags and freeze immediately. Enjoy!
Recipe Notes
**You will have extra ice cream here. You can absolutely cut the recipe for the ice cream in half and still have enough- I only prefer to make a larger batch so you don't have to re-spread and freeze to use the scraps. I simply freeze the extra in a container to eat as a stand-alone treat later!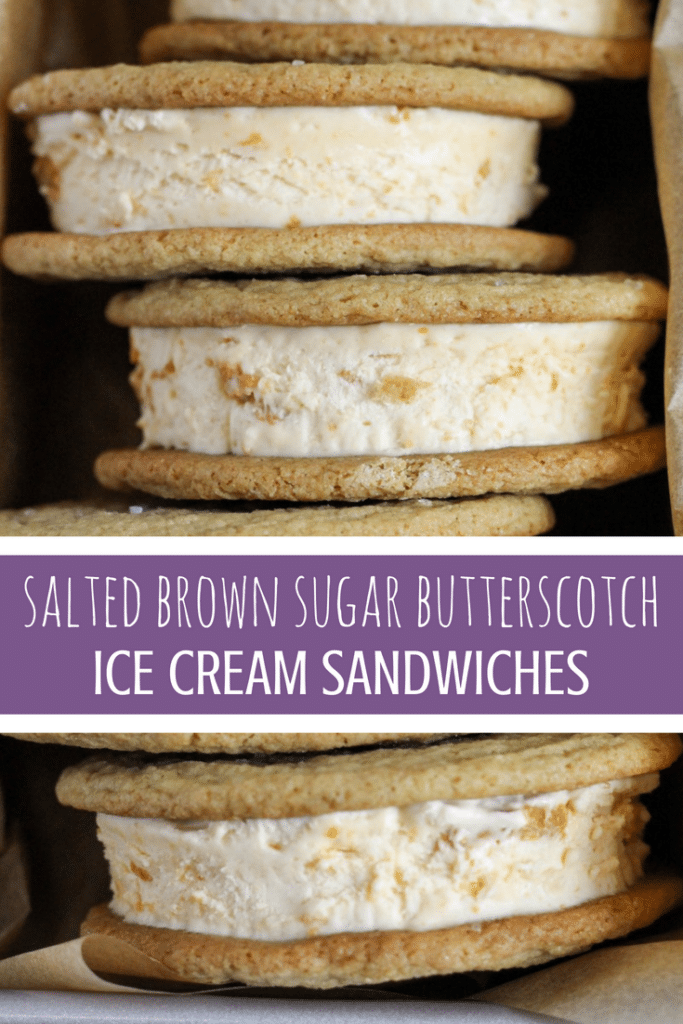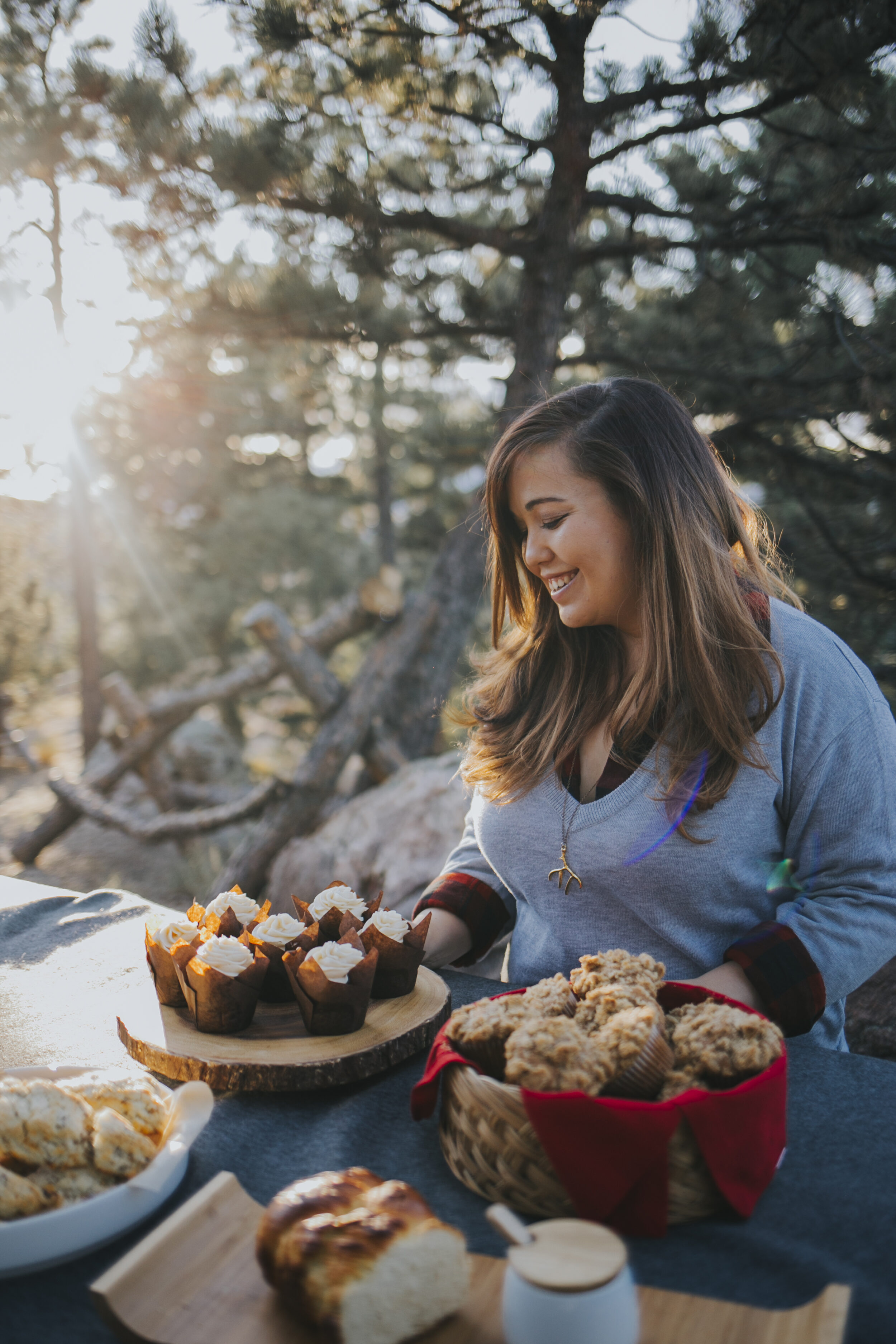 Hello and welcome! My name is Nicole, and Dough-eyed is a food blog for people who want to bake for their family and friends in high-altitude areas. Think of me as a friendly voice there with you in the kitchen, here to give you confidence when you're baking, and to help you with the struggles of baking at high-altitude. Come back every week for new recipes, tips, and advice on high-altitude baking!