Fancier Chocolate Chip Cookies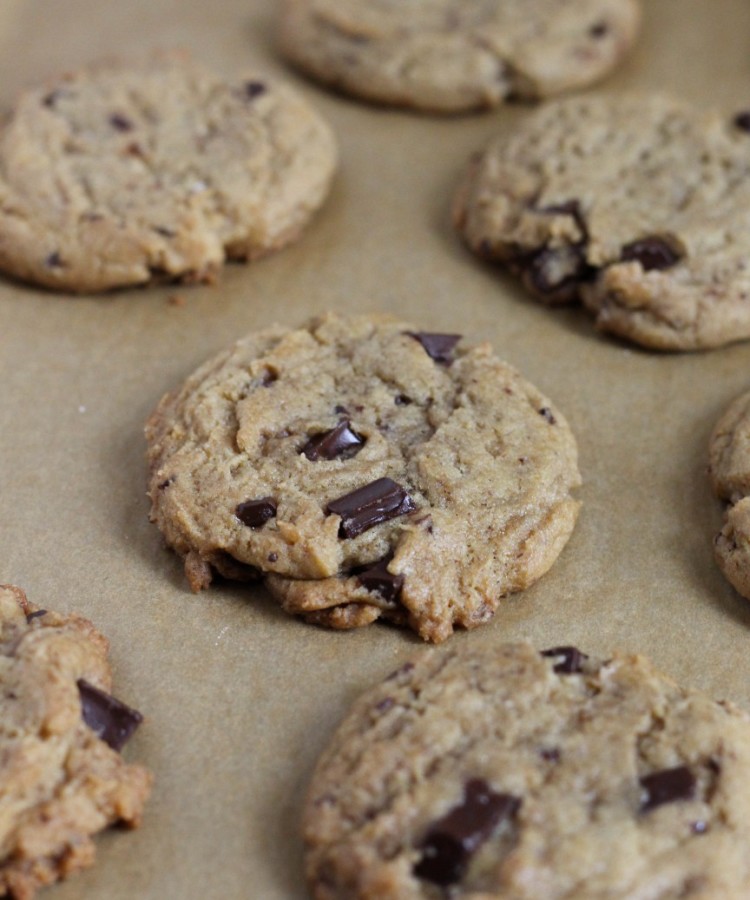 Hey guys!
Still no baby haha!
Meanwhile, I've been working on a new chocolate chip cookie recipe. Basically, people do a lot of really interesting things to make chocolate chip cookies extra special, and I rarely ever try any of them. And honestly, this is a really classic cookie, you don't always need to do it fancy.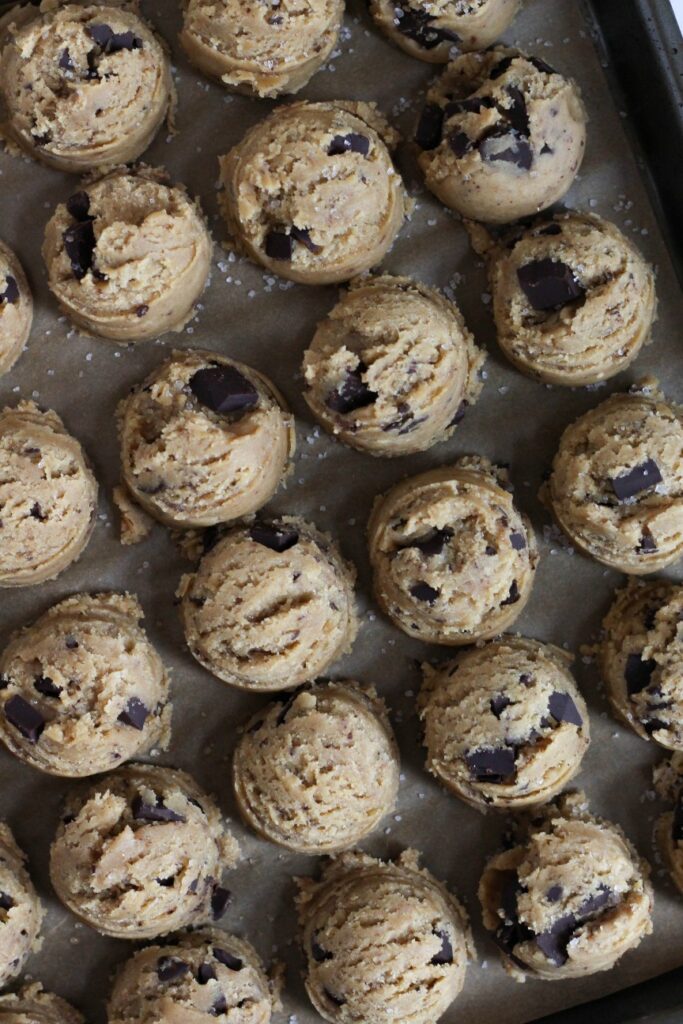 Speaking of which, if you aren't interested in fancy, here's my traditional recipe for chocolate chip walnut cookies– they are super easy and fantastic too!
So, onto the fancier version. I took many of the tips used here from this video/article by Tasty, and it's definitely worth a look. I wanted to apply some of these tips to my favorite recipe, and work from there. Here's the things I tried, some from Tasty, some not:
Browned butter- to bring another layer of flavor in.
Espresso powder- it won't taste like coffee, but it'll make the chocolate pop.
Scooping and then chilling the dough before baking- this affects the butter solids.
Salt on top- I used coarse salt.
Chopping the chocolate- this allows the smaller shreds of chocolate to disperse throughout the dough.
Bread flour- to keep the cookies chewy.
Cornstarch- again, to keep the cookies chewy.
Anyways, there's even more tips and tricks about this classic recipe out there, but those are the changes I made to my classic recipe. I've got thoughts. So basically, I definitely think there's much to be said about using these tips and making the fancier version. The flavor is SUPER good, and it's definitely more complex than the original.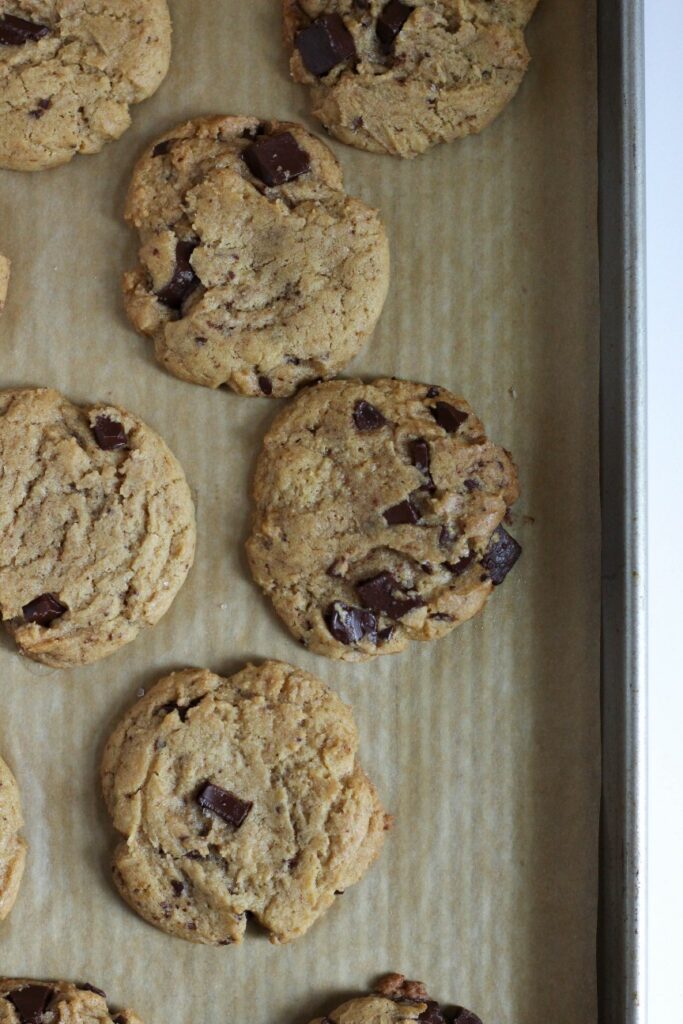 BUT, if you want cookies in a hurry, this just won't cut it. When you add in the time it takes to brown and cool the butter, and chill the dough before baking, it takes far longer start to finish. Also, things I'm not sure make a big difference include the salt on top (probably a taste thing- if you add more, I bet it's more noticeable), and the bread flour switch. Since I normally add cornstarch anyways, I'm not sure it really matters to use both.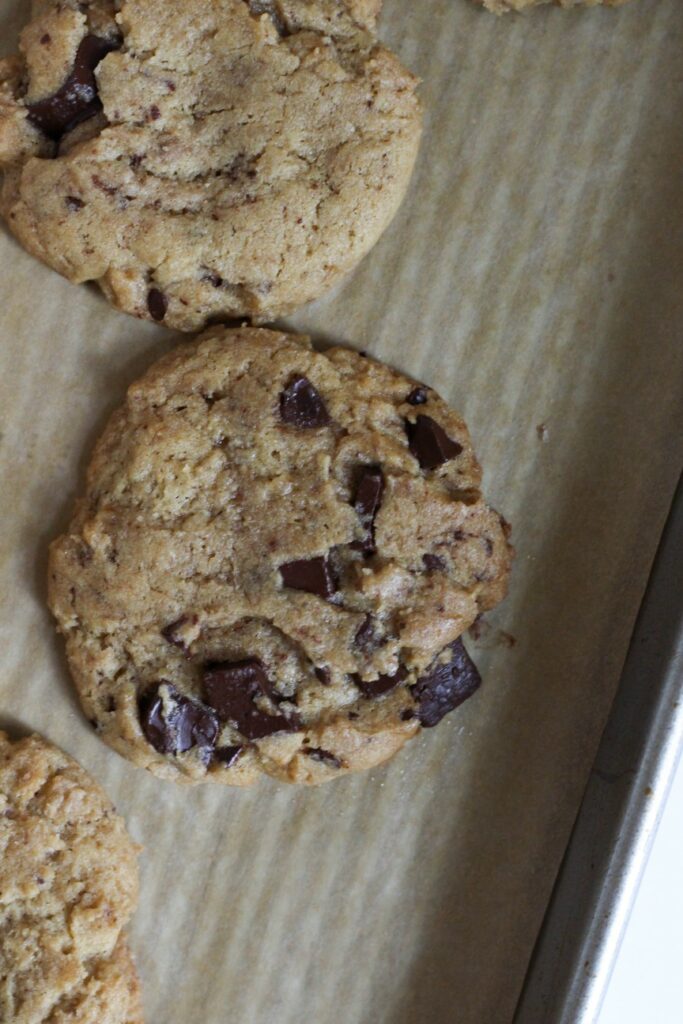 Here's what I know for sure; there are a TON of recipes for chocolate chip cookies out there, and A LOT of them are great. It's such a classic, and there's so many variations that depending on your taste, you're likely to find many versions that you truly love. For me, this is definitely a great one, as long as you've got the patience to work with it!
Enjoy!
Fancier Chocolate Chip Cookies
Ingredients
2

cups

all purpose flour

2

cups

bread flour

2

tbs.

cornstarch

2

tsp.

baking soda

1/2

tsp.

salt

1

tsp.

espresso powder

1 1/2

cups

butter, browned and cooled to room temperature

1 1/2

cups

dark brown sugar

1/2

cup

sugar

2

eggs

2

tsp.

vanilla extract

1/4

cup

water

1 1/2

cups

chocolate chunks, roughly chopped

2

tbs.

coarse salt
Instructions
In a medium bowl, stir together the all purpose flour, bread flour, cornstarch, baking soda, salt, and espresso powder. Set aside.

To brown the butter, melt and cook over medium-high heat for 8-10 minutes, stirring occasionally, until brown flecks start to appear all over, and then pour into a bowl to cool.

In a large bowl, beat the cooled browned butter, brown sugar, and sugar until smooth. Beat in the eggs, vanilla extract, and water. Slowly add in the flour mixture until completely combined, and fold in the chocolate chunks, including any smaller flecks.

Scoop the dough into 2 tablespoon-full balls onto a baking sheet. You're going to chill these, so you can put them right next to each other. Sprinkle the coarse salt evenly over the top of all the dough.

Chill for at least 30 minutes, or longer. When you're ready to bake the cookies, preheat your oven to 350 degrees and line two baking sheets with parchment paper or nonstick sheets. Place the pre-scooped cookies about 2 inches apart on the baking sheets, and press down with the bottom of a glass until they are about 1/2 inch thick.

Bake for 10-12 minutes, or until the cookies are golden brown on the edges. Cool on the baking sheets for 5 minutes, and then transfer to a cooling rack. Enjoy!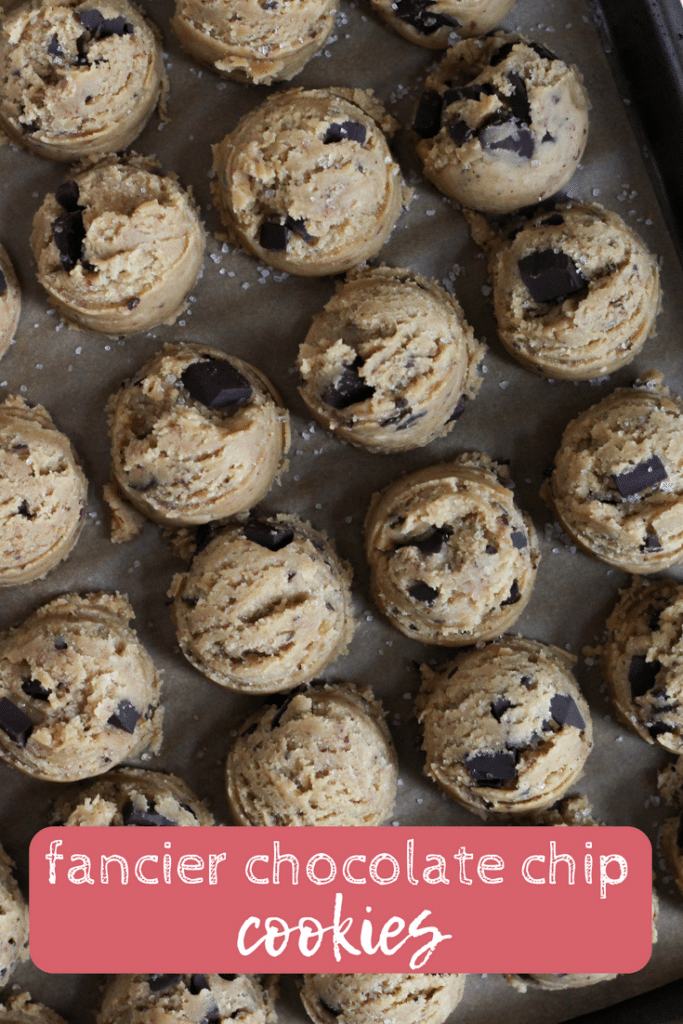 Comments