I recently made this pie for a TikTok series that I'm working on, and it was so good that I wanted to fully develop and share a recipe here for you guys. This pie is like a combo between a chocolate chip cookie and pecan pie!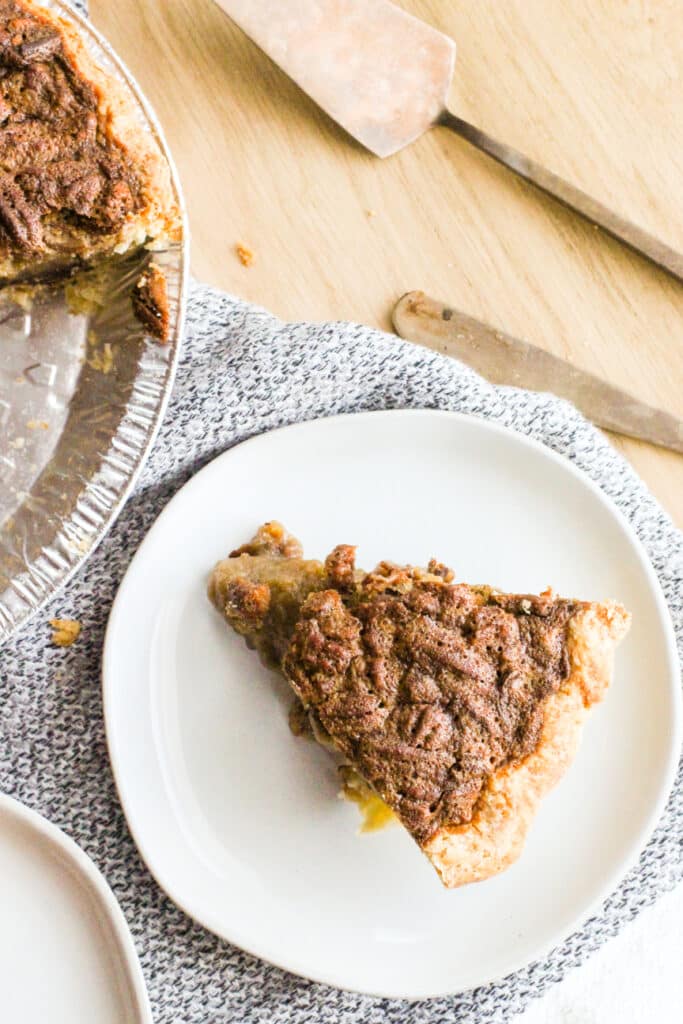 This is a great addition to the Thanksgiving pie list, and it's super easy to put together. Similar to pecan pie recipes, Kentucky Derby Pie is really a mix-it-and-go kind of thing. Let's get to it!
How to Make Kentucky Derby Pie
This pie has a lot of really yummy flavor combos, and it's filled with chocolate and pecans, so it's honestly such a delight to serve up. More than anything, it's super easy to make.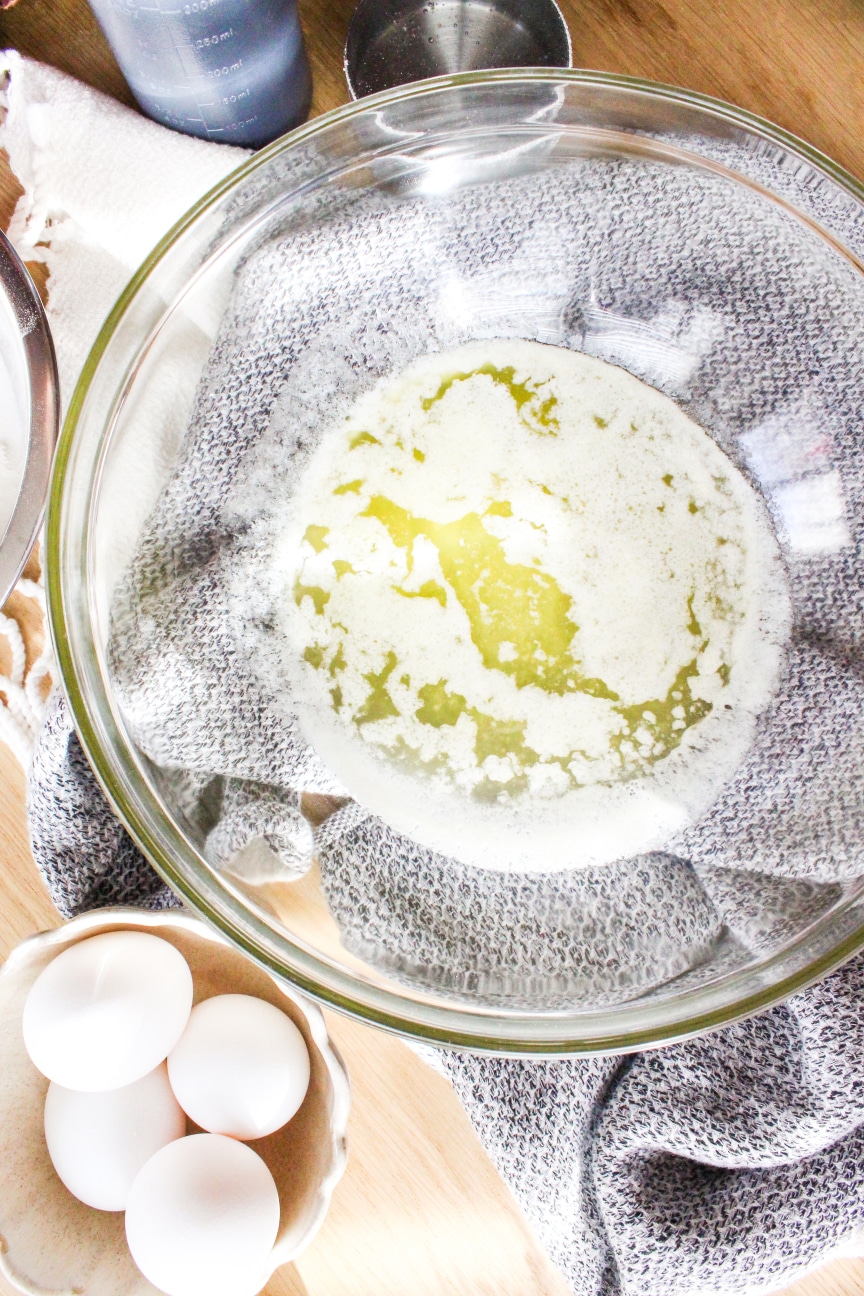 You'll want to have a pie crust ready to go, already in your pan and in the freezer chilling while you make the filling. My pie crust recipe can be found here, or you can use a pre-made crust! I like to pop a sheet pan into the oven while it preheats- you can put your pie directly on this pan to catch any drips, and also to ensure the crust is fully baked through.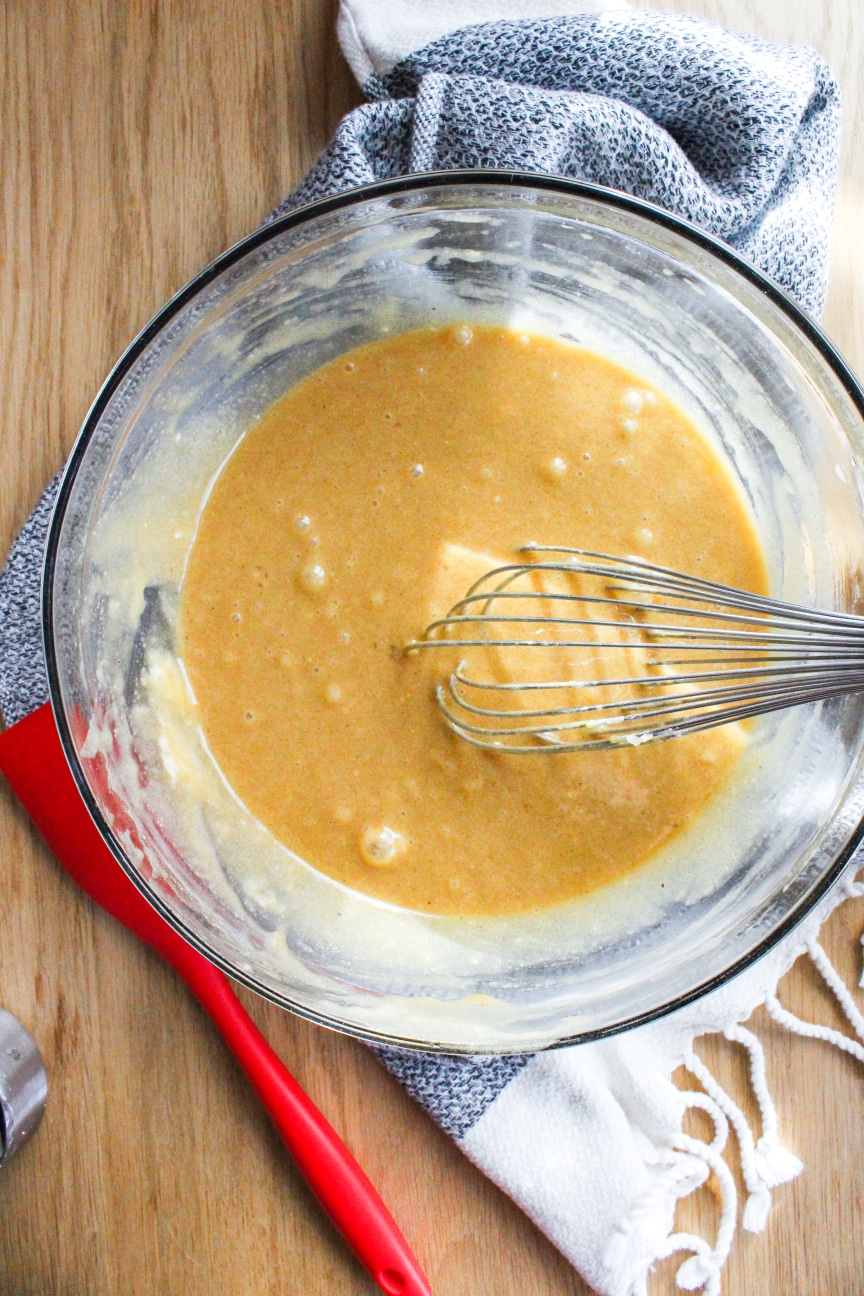 We're starting with some melted butter, and adding in eggs, brown sugar, white sugar, flour, light corn syrup, vanilla extract, and a healthy pinch of salt. Whisk that up until everything is smooth and well combined.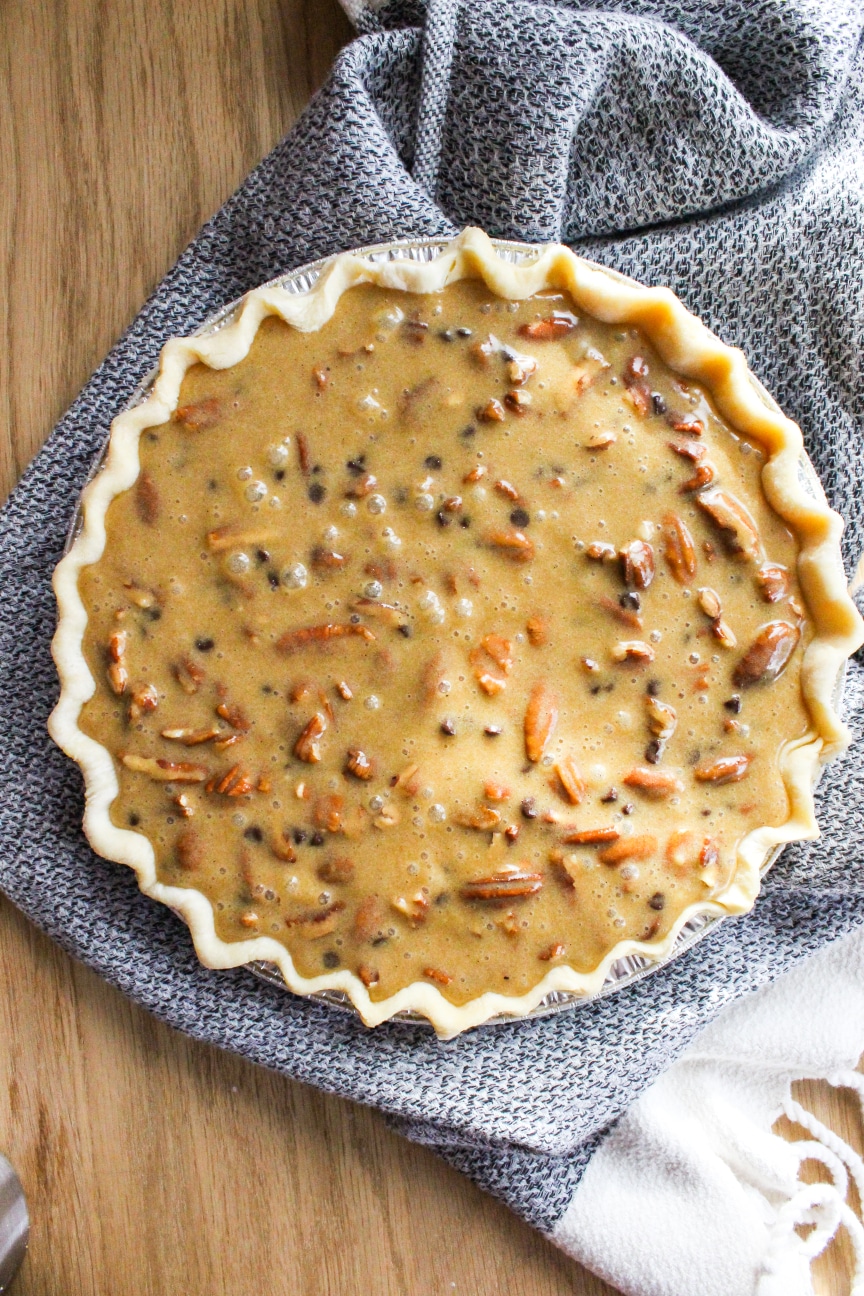 Then we're adding in some roughly chopped pecans along with mini chocolate chips. I found that mini chips dispersed more evenly throughout the pie after baking, where regular sized chips or chocolate chunks mostly sunk to the bottom here.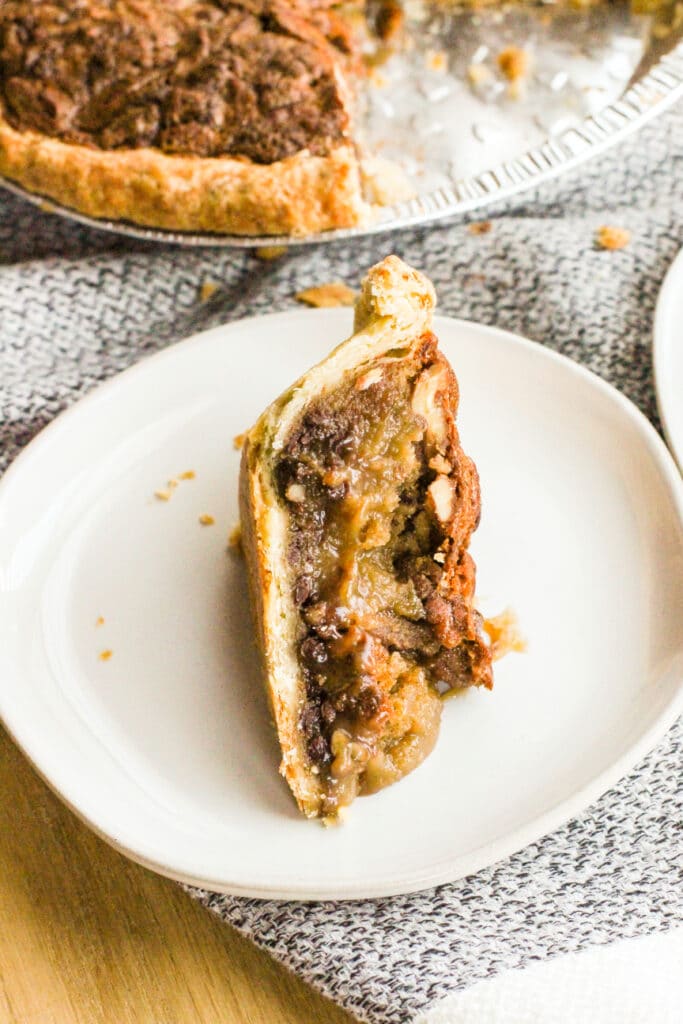 Pour everything into your chilled pie crust, and then pop it into the oven on top of that hot baking sheet. You want this pie to reach a really deep golden brown on top. It should become deeply browned, and should look set when you jiggle it around a little. Let it cool completely and enjoy!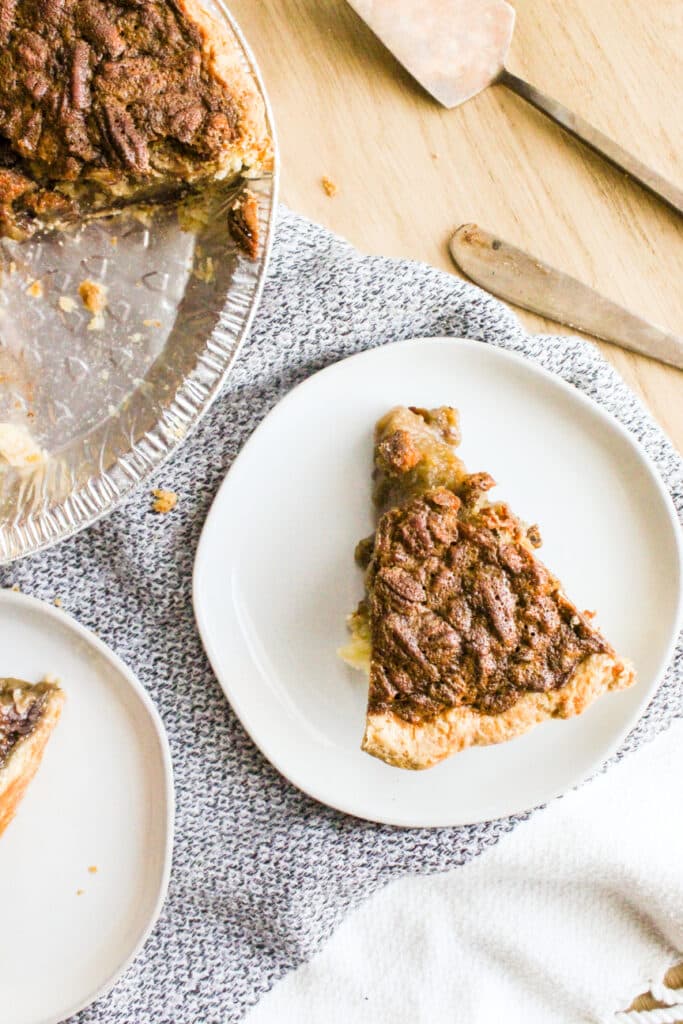 Tips & Tricks for Kentucky Derby Pie
This is a super simple pie, but I've got some tips to help along the way!
Why does this recipe use corn syrup? Like pecan pie, the corn syrup helps create a chewy, gooey filling here!
Do I have to make my own crust? Nope, you can use a pre-formed frozen pie crust (and you can bake it from frozen), or you can use a refrigerated crust if you prefer as well here.
Why do I need to use mini chocolate chips instead of regular? I found that regular chocolate chips sank to the bottom of this pie and created a kind of chocolate layer that solidified as the pie cooled. Mini chips will stay dispersed through the pie!
Do I have to do the sheet pan trick? No, you can skip the sheet pan preheating if you'd like, though I do recommend that you bake the pie on top of a sheet pan for easier removal, and to catch any drips. That said, preheating the sheet pan ensures that your pie crust is cooked through and nice and crisp on the bottom!
How do I know when the pie is finished baking? The pie should reach a pretty deep golden brown color, as shown in the photos above. Also, you'll notice if you check on the pie during baking that the filling jiggles- it should be set when it's ready to pull it out.
I'm at about 5,000 ft. above sea level and I find that most people who live between about 3,000-7,000 ft above sea level do not need to make any adjustments to my recipes.
Enjoy!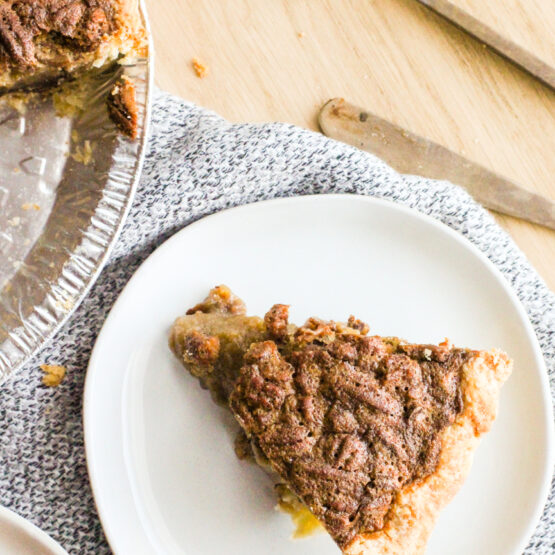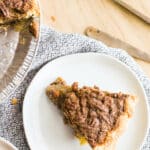 Kentucky Derby Pie
Ingredients
1

unbaked prepared pie crust

1/2

cup

melted butter

4

eggs

3/4

cup

brown sugar

3/4

cup

light corn syrup

3/4

cup

flour

1/4

cup

white sugar

1

tbs.

vanilla extract or paste

1

tsp.

salt

3/4

cup

mini chocolate chips

2

cups

roughly chopped pecans
Instructions
Preheat your oven to 350 degrees, and form your crust into a 9 inch pie plate. If you are not using a homemade crust, you can still work from a frozen crust here. Pop the crust into the freezer while you prepare the filling. While the oven preheats, place a large baking sheet lined with foil into the oven. Your pie will bake on top of this sheet, and it makes it easier to remove from the oven. Also, placing the pie onto a hot baking sheet will ensure that you get a fully baked crust.

In a large bowl, whisk together the melted butter, eggs, brown sugar, corn syrup, flour, white sugar, vanilla, and salt until everything is well combined and smooth. Stir in the mini chocolate chips and chopped pecans until everything is well incorporated.

Pour your filling into your chilled pie crust. Bake for 45-50 minutes, or until your pie is deeply golden brown all over, and does not jiggle in the middle. Cool the pie completely on the counter before slicing and serving- this pie is best when it has cooled for a couple of hours. Enjoy!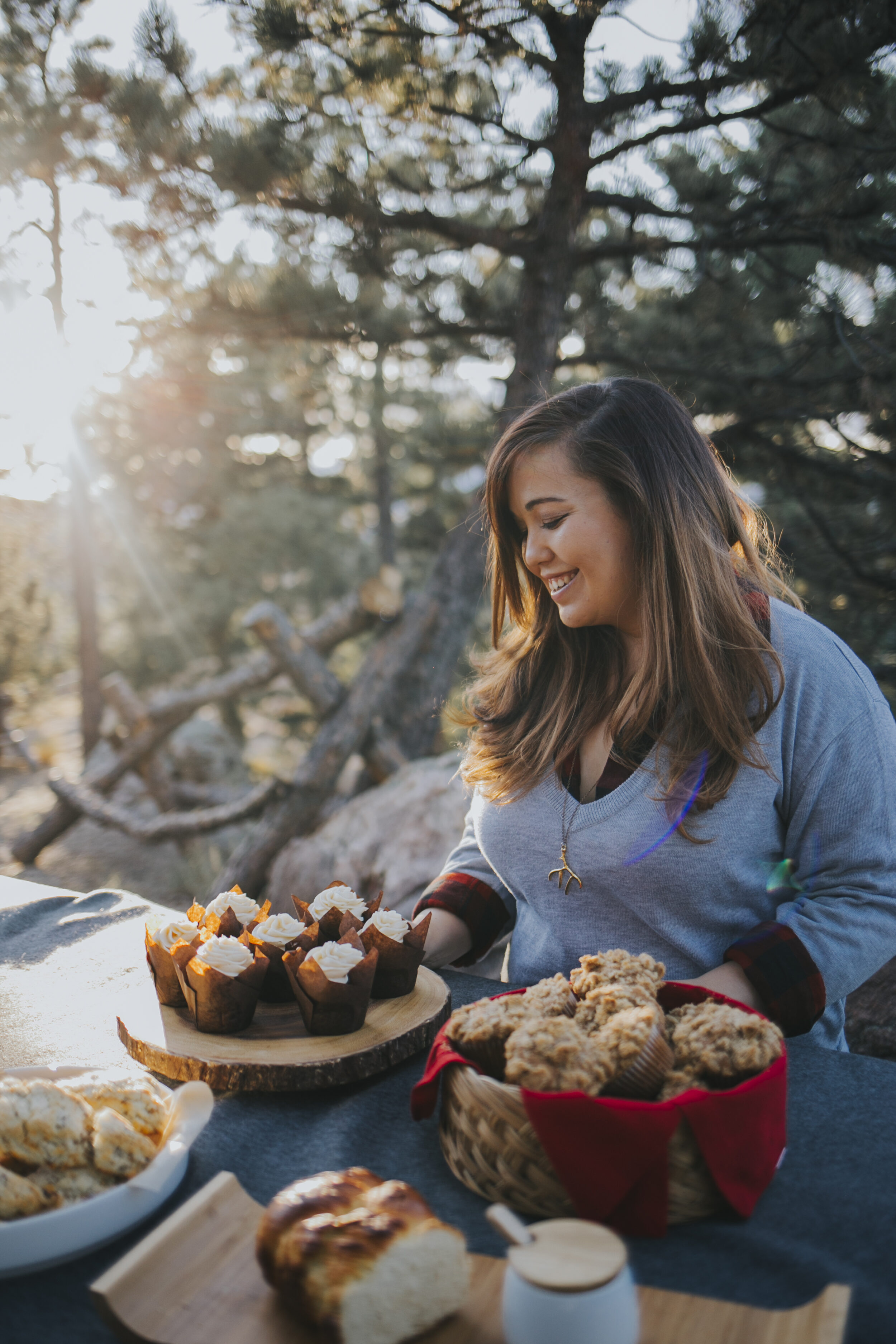 Hello and welcome! My name is Nicole, and Dough-eyed is a food blog for people who want to bake for their family and friends in high-altitude areas. Think of me as a friendly voice there with you in the kitchen, here to give you confidence when you're baking, and to help you with the struggles of baking at high-altitude. Come back every week for new recipes, tips, and advice on high-altitude baking!