One more pie for your Thanksgiving list here- today I'm sharing the recipe for this Caramel Apple Pie! I won't lie, apple pie is not my favorite. But if you're going to make it, make it a great one.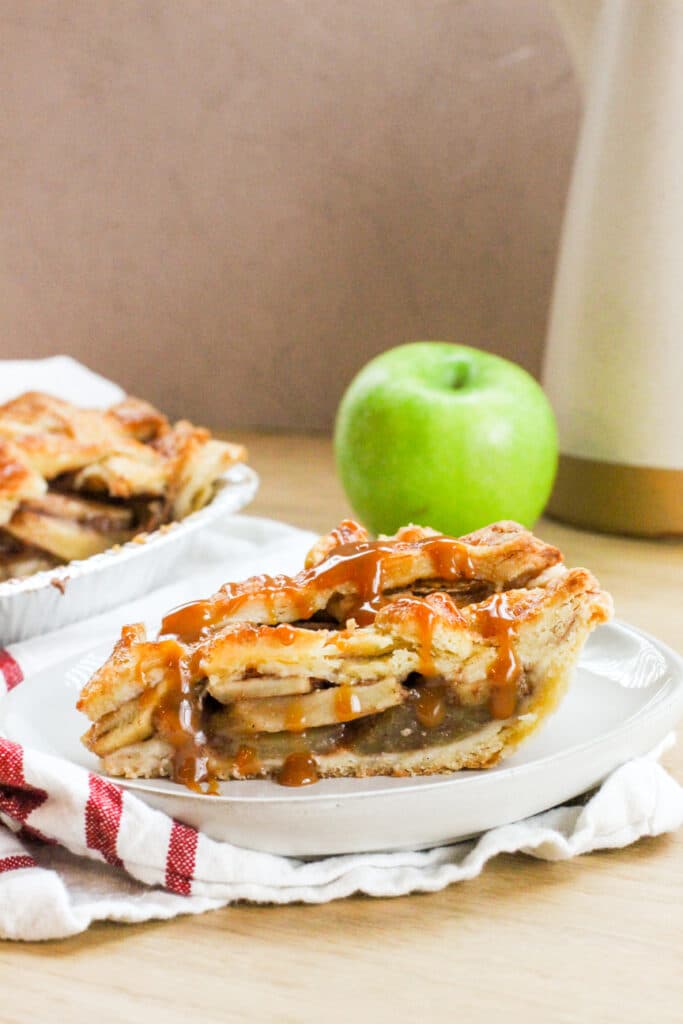 This recipe is super easy to put together, and I'm using store-bought caramel sauce to make things even easier. You can make a lattice top, or a solid double crust, but either way you'll end up with something really delightful for any Thanksgiving dinner (or any dinner really)!
How to Make Caramel Apple Pie
This pie comes together really quickly, and similarly to most other apple pies with a few sweet twists to make it extra tasty. If you prefer, you can use store-bought pie crust, or a double batch of my pie crust recipe.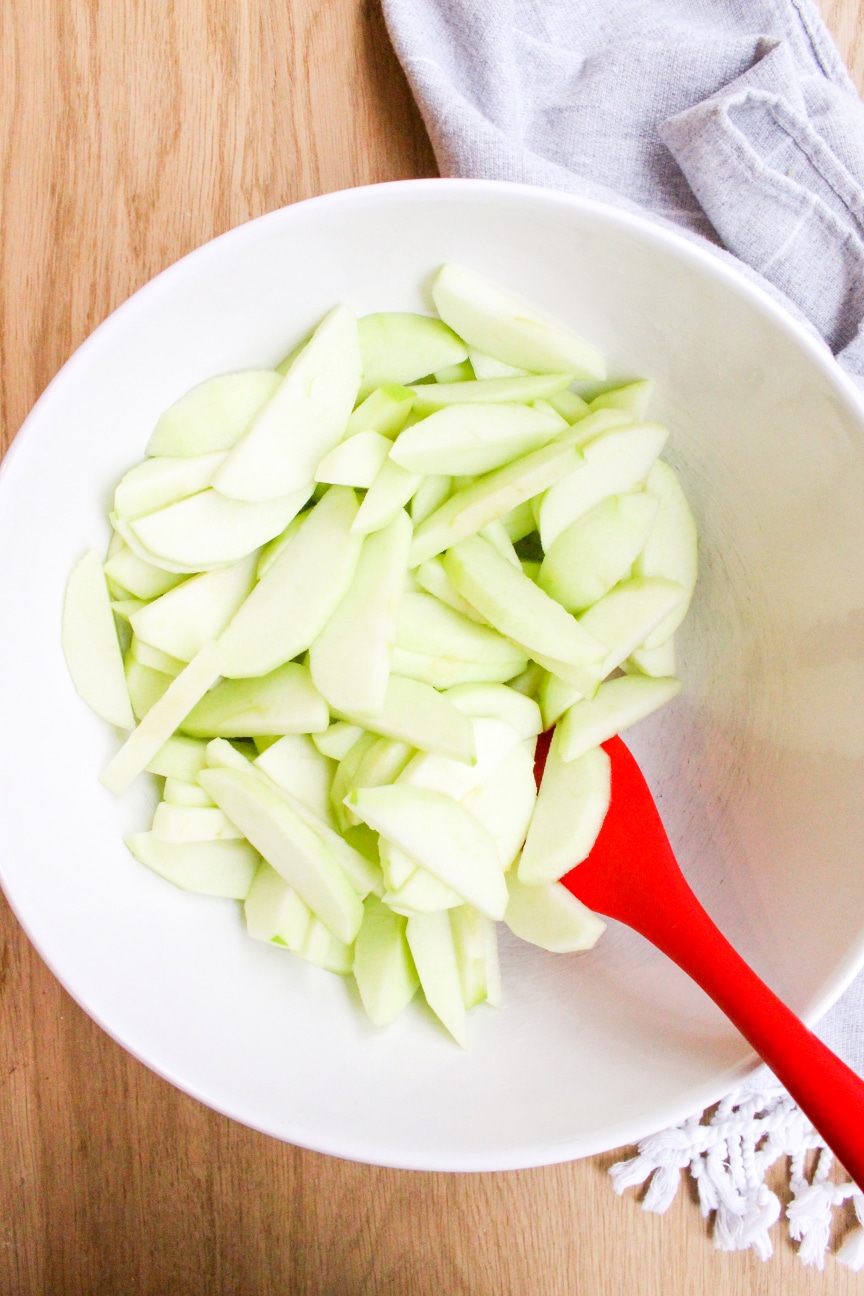 We're starting out with peeling and slicing some apples. I'm using Granny Smith apples here, but you can use any firm baking apple like gala or pink lady. Right when the apples are all sliced, toss in the lemon juice and stir so they are well coated as quickly as possible.
Then we're adding in the sugar, warm spices, and cornstarch. Once you toss everything together, you'll have a mixture of seriously delicious apples ready for your pie. Pour the mixture into your formed bottom crust.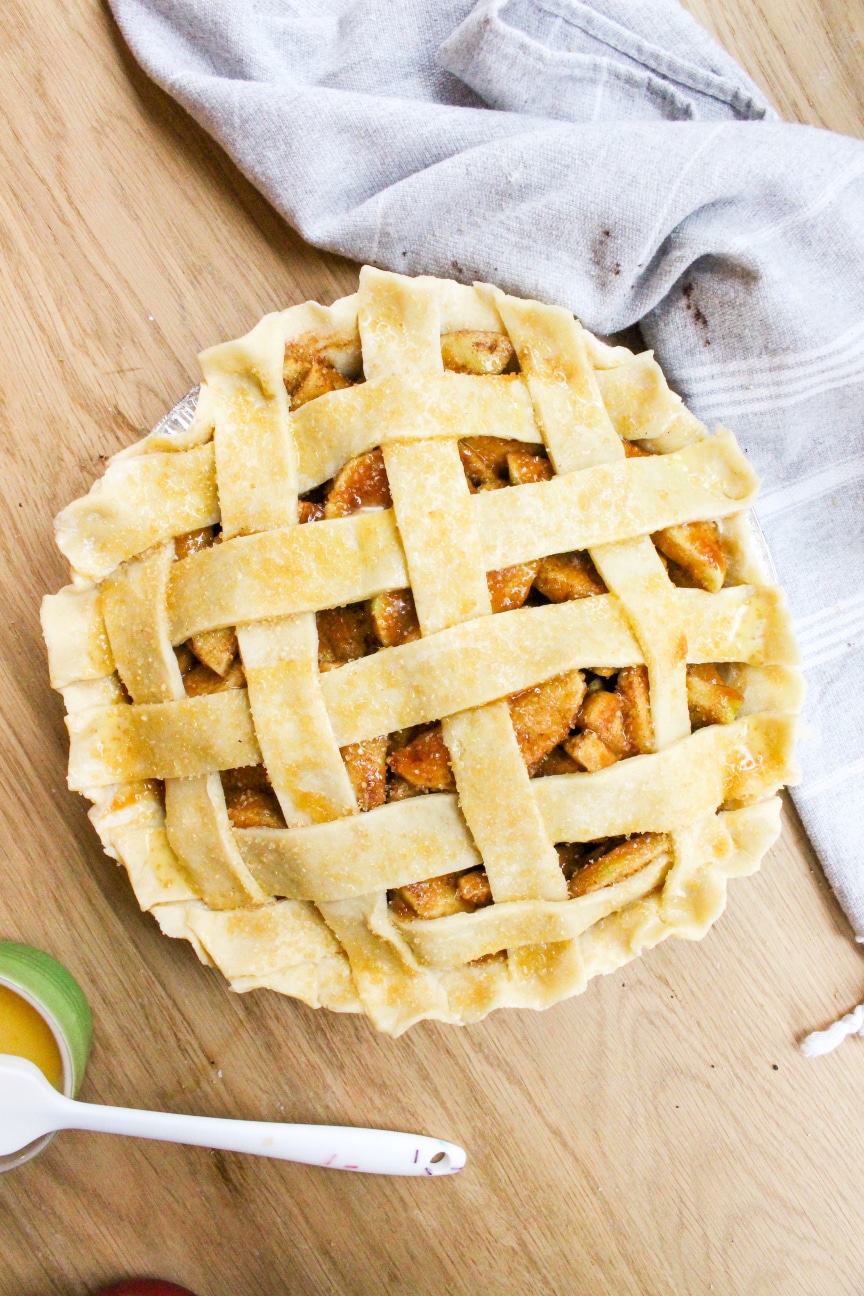 I like to drizzle the caramel generously over the top of the apples once they are already in the crust. The caramel will melt into the pie, and still get bubbly on top as it bakes. Then you can either top this pie with a full second crust (with vents cut into it) or a simple lattice. Off to the oven!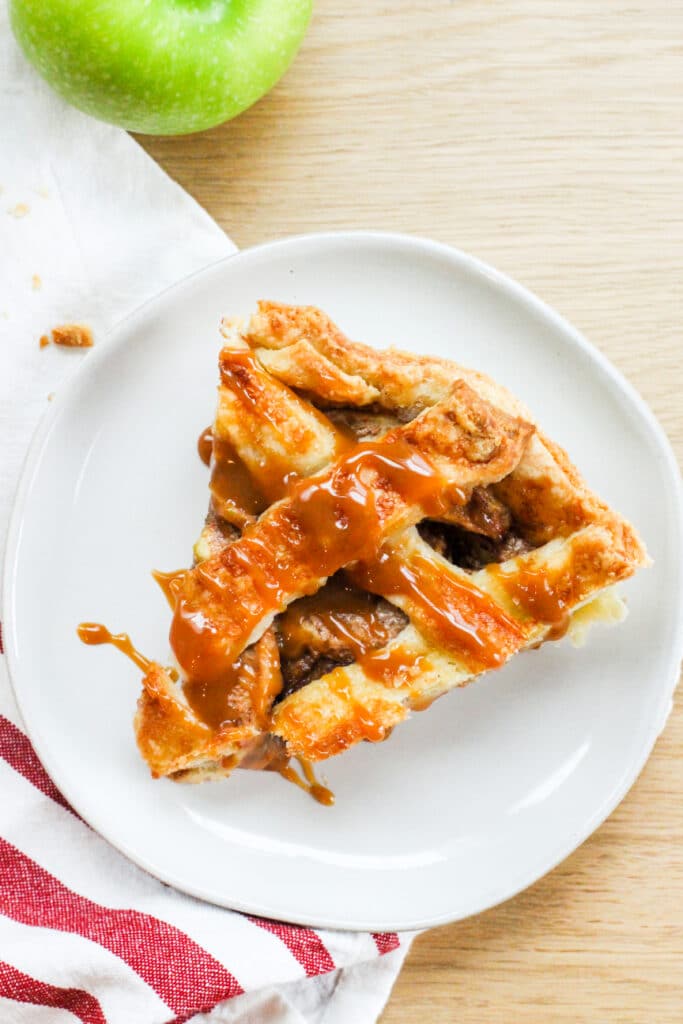 Like my other recent pie recipes, I recommend that you preheat a sheet pan as your oven preheats, and place the pie directly onto the hot sheet pan in the oven. You'll get a more evenly baked crust, and an easy way to pull the pie out once it's baked.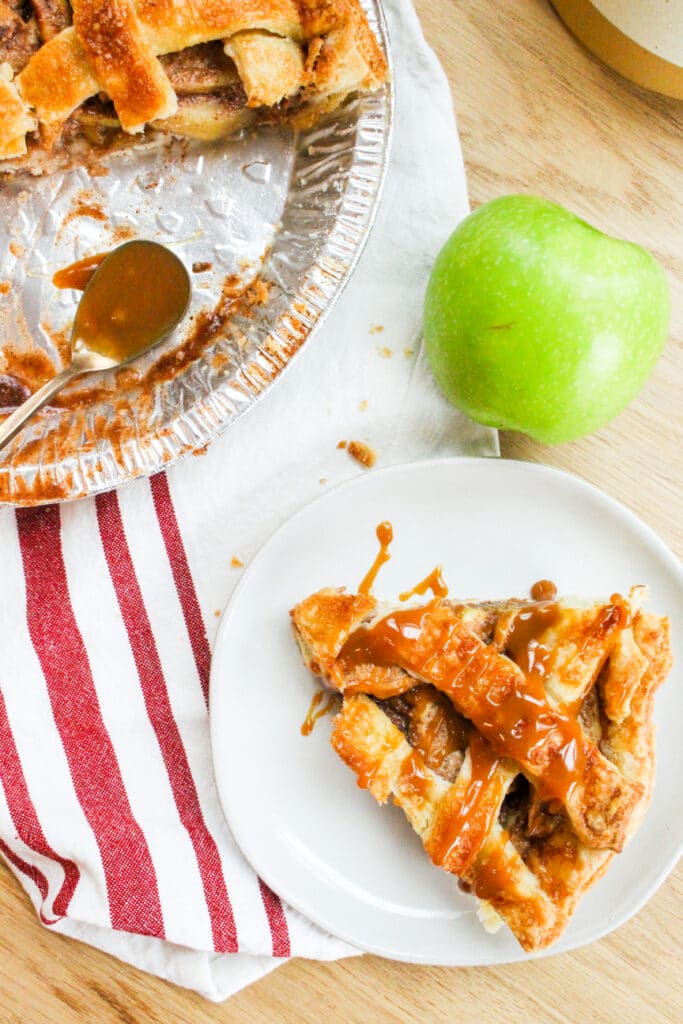 Top this pie with more caramel, ice cream, or whipped cream to serve it up.
Tips and Tricks for the Best Caramel Apple Pie
This is a fairly classic and simple pie, but I've got some tips to help along the way to a perfect Caramel Apple Pie:
Which kind of apples should I use? I prefer Granny Smith apples for a couple of reasons- it's a standard baking apple, so it holds up well. It's also reliable, and widely available. But any firm apple will work here.
Do I have to peel the apples? No, you can leave the peels on if they don't bother you. I go back and forth, but mostly find that pies with peeled apples are easier to slice and bite into.
What kind of caramel sauce should I use? I am using a grocery-store bought caramel sauce here, and I went for the nicest jar I could find in my fairly standard grocery store. It was still only about $5, and I think it's worth it here. That said, feel free to swap in homemade caramel, or even cheaper versions will work here.
Use any warm spices you like here. I'm using cinnamon and ginger here, but you can add or subtract anything you prefer with apples!
Can I do a full double crust? Yes, you can definitely do a full double crust instead of a lattice top. Be sure to cut vents in your top crust before baking!
How do I know when the pie is fully baked? Your pie should have a deeply golden brown top crust, and it should be bubbling all over. Cool the pie before slicing and serving.
I'm at about 5,000 ft. above sea level and I find that most people between about 3,000-7,000 ft above sea level do not need to make any adjustments to my recipes.
Enjoy!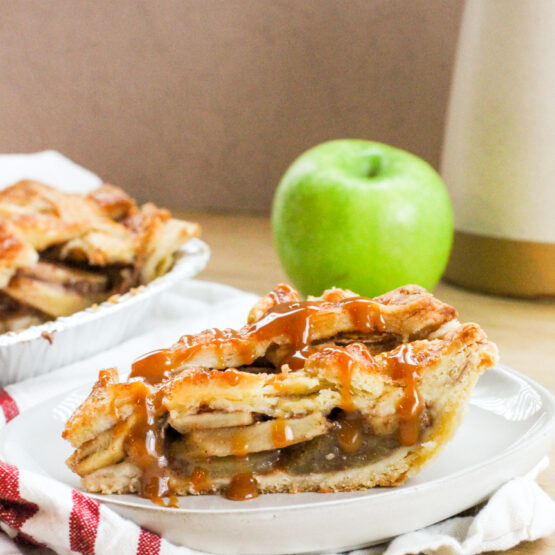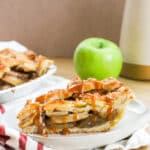 Caramel Apple Pie
Ingredients
2

prepared pie crusts

unbaked

5-6

granny smith apples

2

tbs

lemon juice

2

tbs.

brown sugar

1

tbs.

cornstarch

2

tsp.

cinnamon

1

tsp.

ginger

1

tsp.

vanilla extract or paste

1/2

tsp.

salt

1/2

cup

thick caramel sauce

1

egg

2

tbs.

coarse sugar
Instructions
Preheat the oven to 375 degrees, and place a large baking sheet in the middle rack of your oven. Form your bottom crust into a 9 inch pie plate, and pop it into the freezer to chill while you make the filling. Peel and slice your apples into 1/4 inch thick slices. Immediately toss the apples in a large bowl, with the lemon juice to coat. Add in the brown sugar, cornstarch, cinnamon, ginger, vanilla extract, and salt, and stir until the apples are well coated and everything is evenly distributed throughout.

Pour the apple mixture into your prepared bottom crust. The apples will fill the crust up quite a lot- don't be afraid to pile them up. Pour the caramel sauce all over the top of the apples in the pie- this doesn't have to be perfect, but try to drizzle it around fairly evenly.

Take your second crust and slice into strips that about 1 inch thick. Create a simple lattice top to your pie by weaving the strips in and out on top to cover the pie, leaving space between the lattice for the filling to vent. Trim the edges and crimp around the edges of the pie to seal. In a small bowl, beat your egg until it's well mixed, and use a brush to coat the top of your pie crust generously. Sprinkle the coarse sugar all over the top.

Place your pie in the oven on top of the pre-heated baking sheet. This will help ensure you get a fully baked crust. Bake the pie for 45 minutes, or until the top is a deep golden brown all over.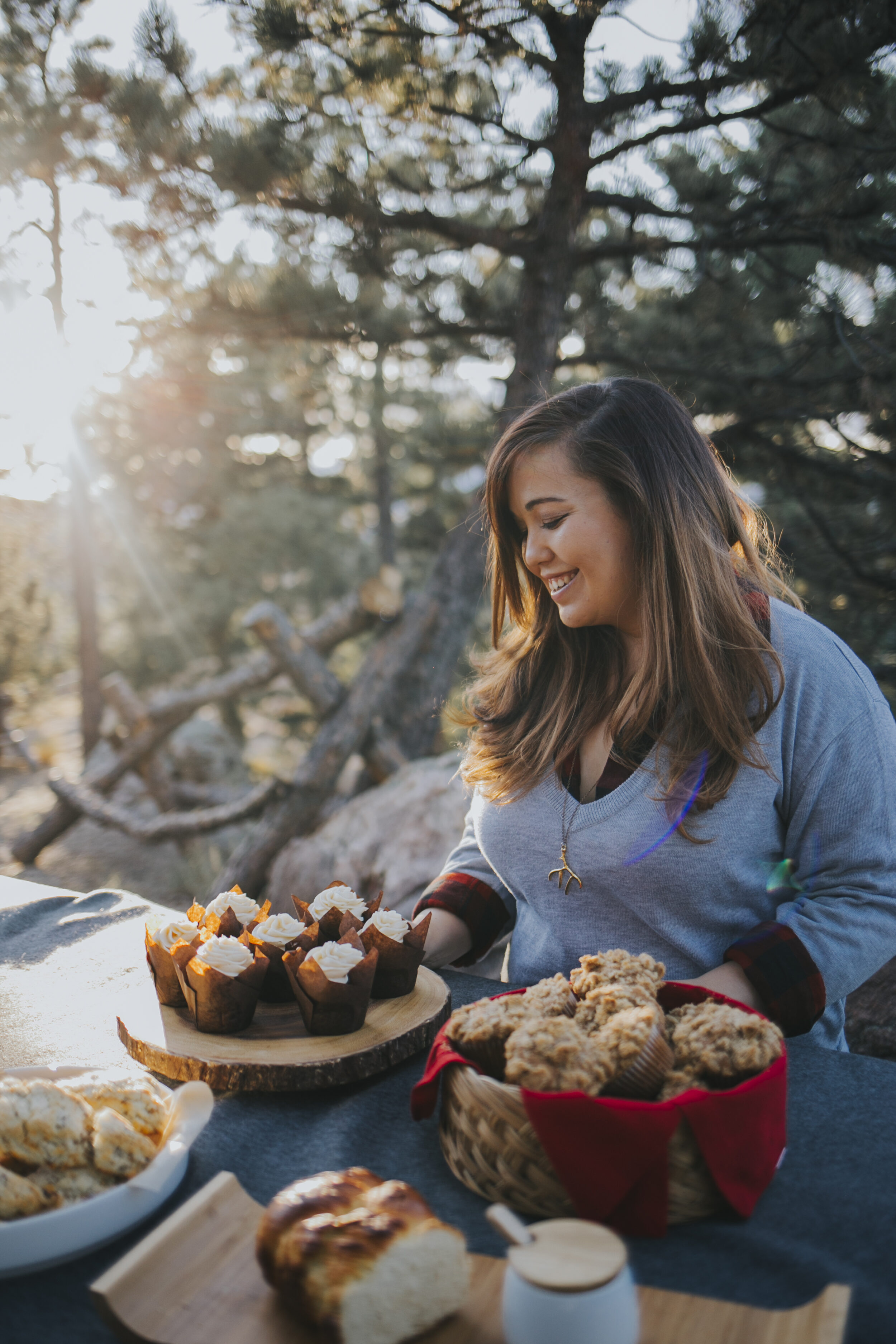 Hello and welcome! My name is Nicole, and Dough-eyed is a food blog for people who want to bake for their family and friends in high-altitude areas. Think of me as a friendly voice there with you in the kitchen, here to give you confidence when you're baking, and to help you with the struggles of baking at high-altitude. Come back every week for new recipes, tips, and advice on high-altitude baking!