Peanut butter cookies are one of those classic, staple cookies that everyone should be able to whip up. These are my perfectly simple, chewy, high-altitude-friendly Peanut Butter Cookies, and they are the perfect way to kick off all of your holiday baking!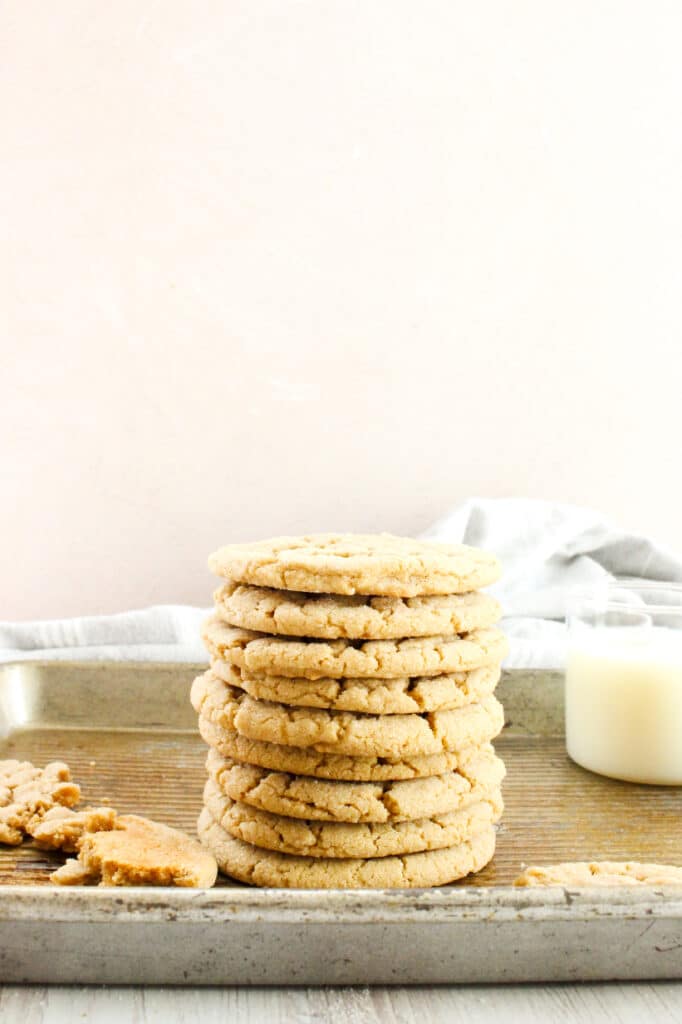 These cookies are a perfect classic- and they come together really easily. Let's get to it!
How to Make High-Altitude Peanut Butter Cookies
This is a super simple recipe, and it yields a chewy inside, lightly crisp outside, and honestly it's my ideal pb cookie recipe.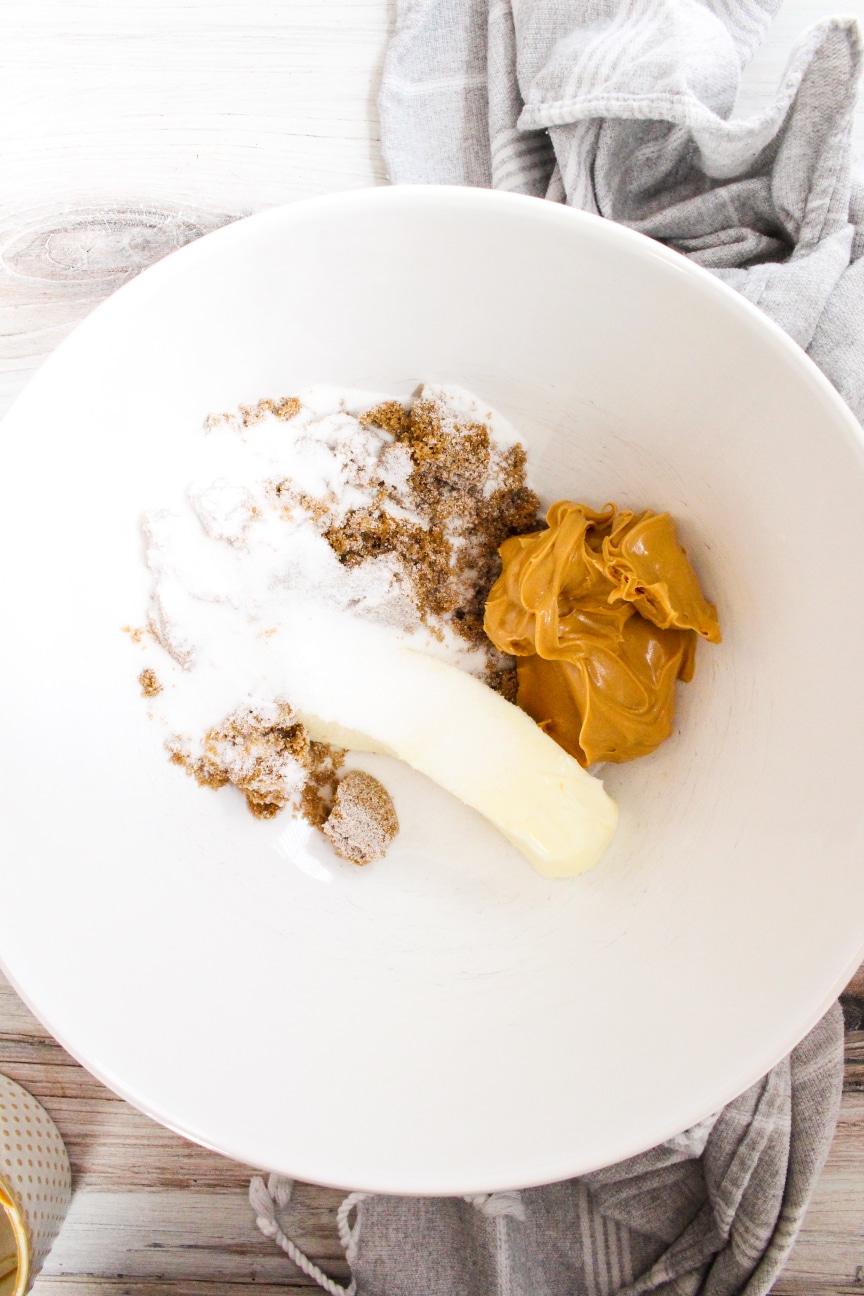 We're starting out by beating together butter, sugar, brown sugar, and peanut butter. I'm going for a traditional smooth peanut butter here, not organic. Everything should become a little fluffy and well combined, and then it's time to add in the egg and vanilla extract, and beat until it's combined.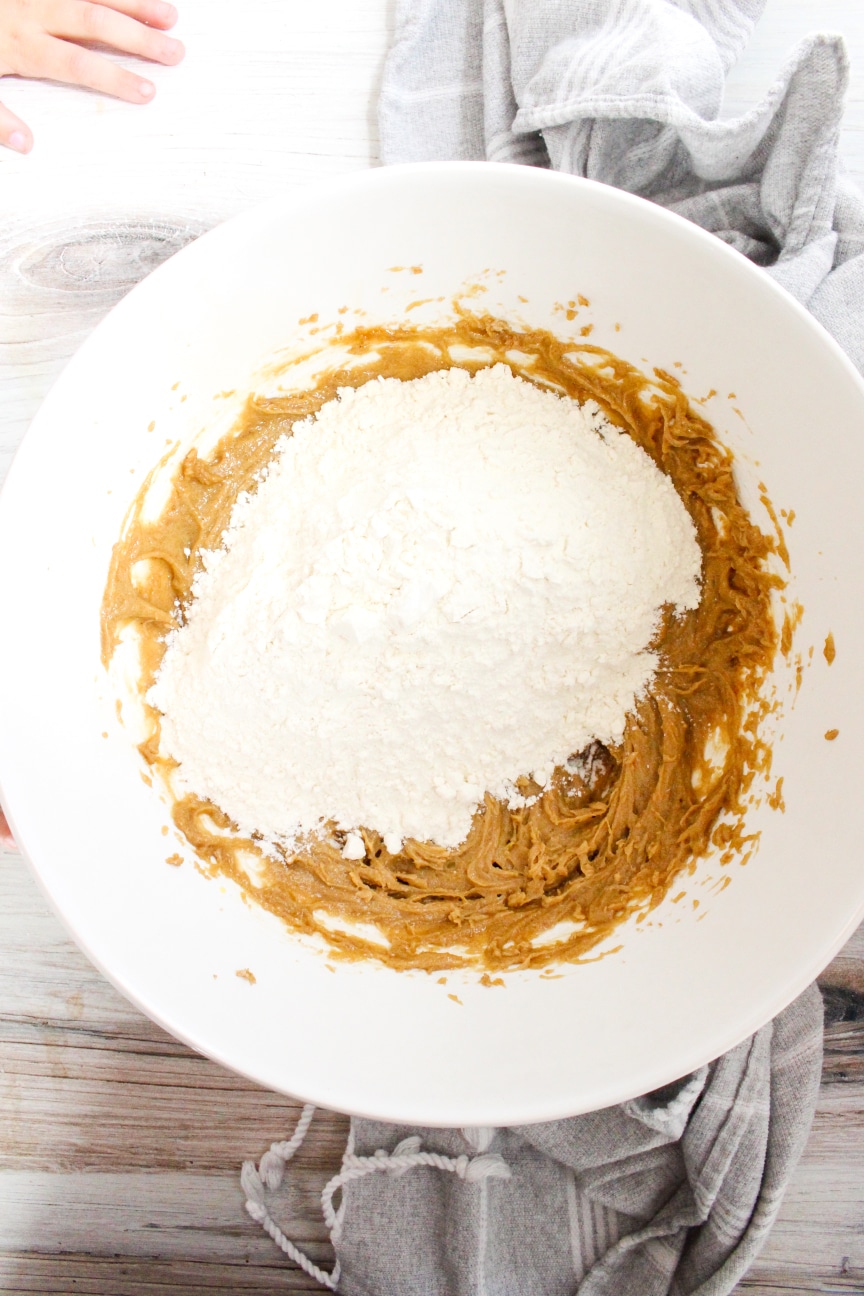 Finally, we're adding in the dry ingredients which includes flour, baking soda, and salt. You should end up with a fairly soft and easy to use cookie dough.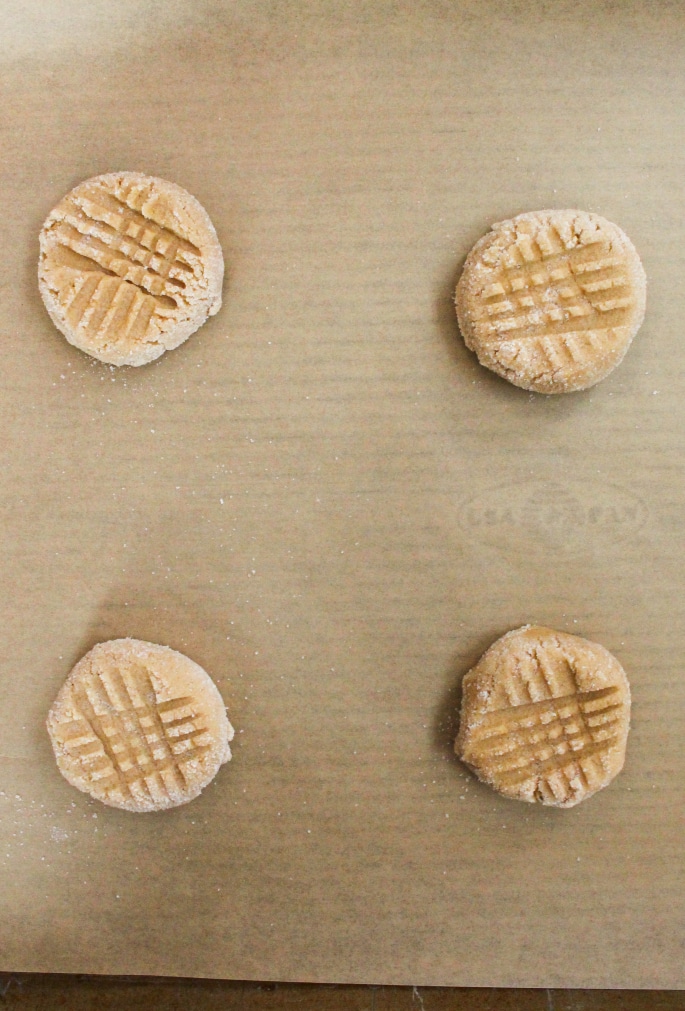 I like to scoop these cookies into balls, and then roll them in the additional granulated sugar. I love the sugary crust on any cookie really, I think the texture just can't be beat! Give it the old classic fork cross-hatch, and then it's off to the oven.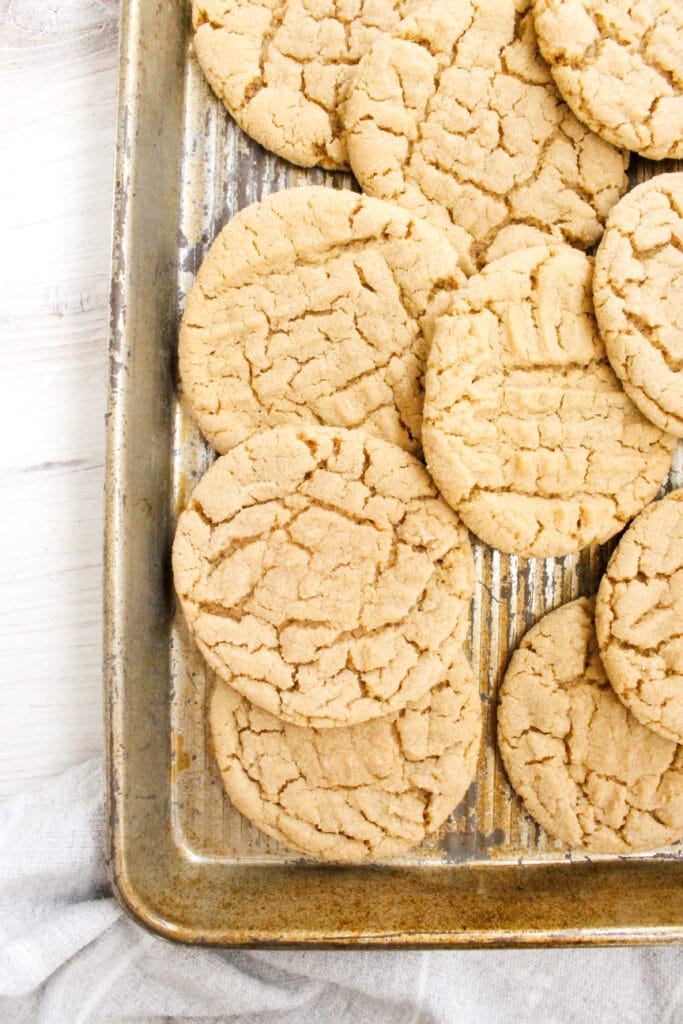 These cookies will come out slightly puffed, and they should settle as they cool. As always, it's important to avoid over-baking these cookies- you want them to just barely start to become golden brown on the edges, and give them time to finish baking as they cool on the baking sheet.
That's it- super simple, and extremely satisfying high-altitude Peanut Butter Cookies!
Tips & Tricks for Perfect Peanut Butter Cookies
Here are all my tips and tricks to make these pb cookies perfectly!
Can I use natural peanut butter instead? I don't recommend it in this case- natural peanut butter affects the texture dramatically. If you do use it, you may find your cookies to be less chewy, but I recommend reducing the butter in the recipe by two tablespoons.
Can I use crunchy peanut butter? Yes, if you prefer to use crunchy peanut butter, that's a great choice as well. Again, I recommend using a classic, not-natural variety here.
Be sure to mix the dough fully. It can be tough to find the right balance in mixing cookie dough. You want to avoid any pockets of unmixed flour, so be sure to scrape your bowl, and mix it until everything is truly well combined, but not much longer.
Can I skip the sugar coating? Yep, feel free to skip right to scooping your dough and making the cross-hatch pattern if you prefer. The sugar is a lovely addition though!
Be sure to avoid over-baking. These cookies should be still slightly puffy when you take them out of the oven- they will continue to set and cook as they cool, and that's how you get the perfect texture in the end.
I'm at about 5,000 ft above sea level and I find that most people who live between about 3,000-7,000 ft do not need to make any adjustments to my recipes.
Enjoy!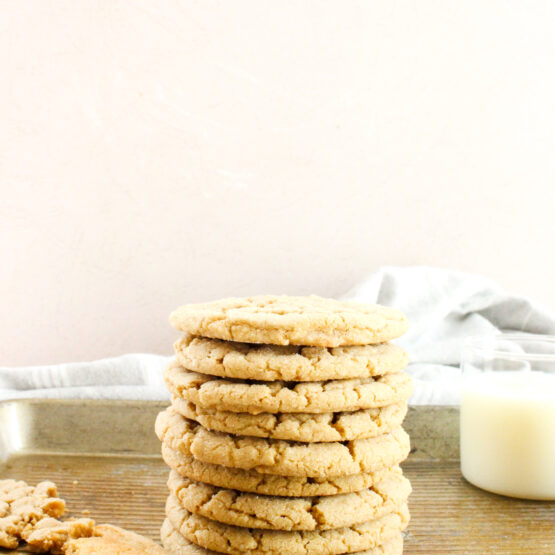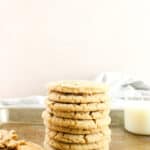 High-Altitude Peanut Butter Cookies
Ingredients
1 1/2

cups

flour

1/2

tsp.

baking soda

1/2

tsp.

salt

1/2

cup

softened butter

1/2

cup

smooth peanut butter

3/4

cup

brown sugar

1/4

cup

sugar + 1/4 cup

separated

1

egg

2

tsp.

vanilla extract

1/4

cup

additional sugar
Instructions
Preheat your oven to 350 degrees and line two baking sheets with parchment paper. In a small bowl, stir together the flour, baking soda, and salt, and set aside. In a large bowl, beat together the butter, peanut butter, brown sugar, and 1/4 cup sugar until well combined. Beat in the egg and vanilla extract until just combined. Finally, beat in the dry ingredients slowly until everything is well combined and you have a soft dough.

Scoop the cookies into 2-tablespoonfuls and roll each cookie in the additional granulated sugar. Place on your prepared baking sheets about 2 inches apart. Using a fork, press down the cookies gently to make a cross-hatch pattern on top. Bake for 10-12 minutes, or until the cookies start to look crackly and are puffed. The cookies will settle and finish cooking after you remove from the oven, so don't over-bake these! Cool completely and enjoy!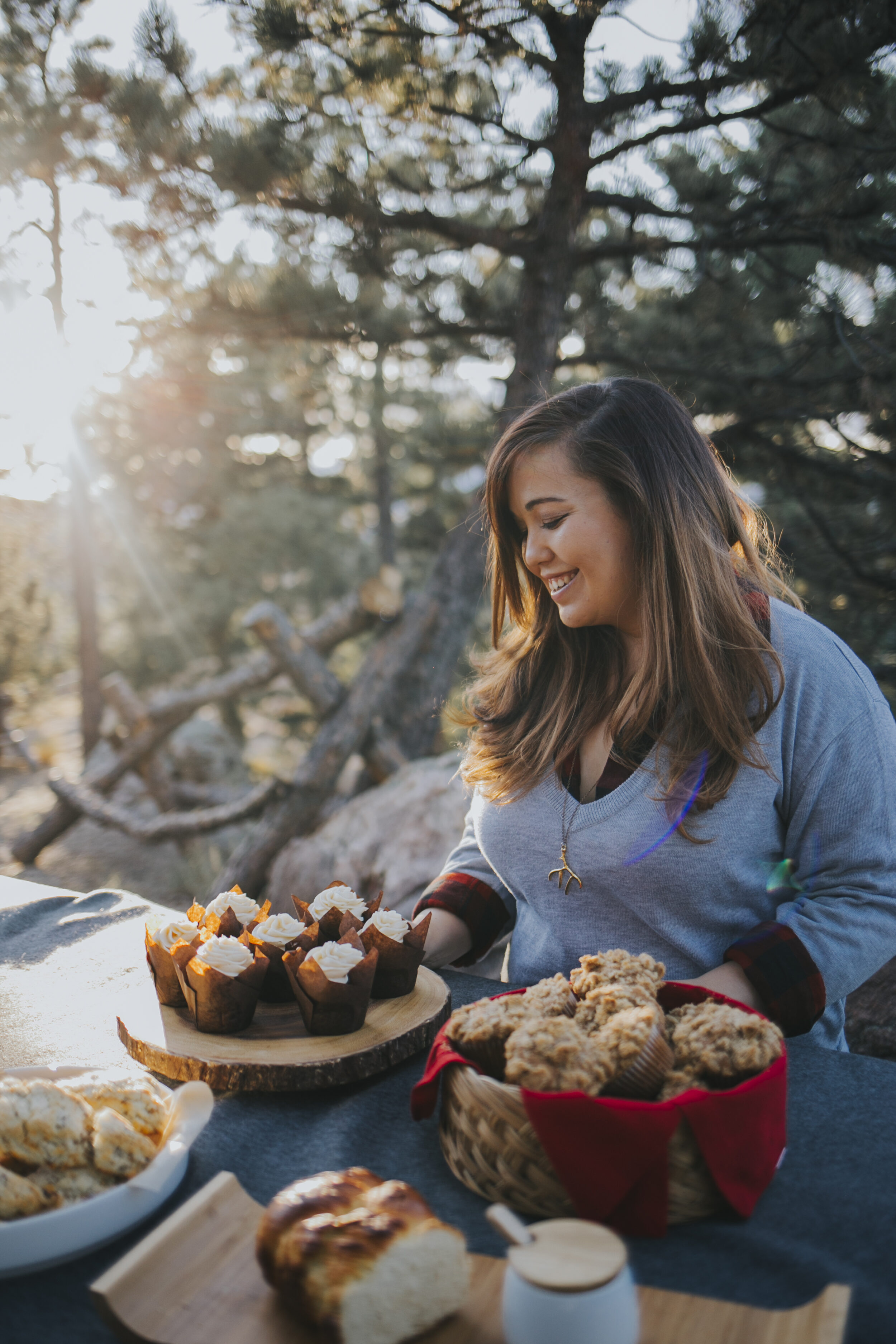 Hello and welcome! My name is Nicole, and Dough-eyed is a food blog for people who want to bake for their family and friends in high-altitude areas. Think of me as a friendly voice there with you in the kitchen, here to give you confidence when you're baking, and to help you with the struggles of baking at high-altitude. Come back every week for new recipes, tips, and advice on high-altitude baking!