Hey guys! I've got a quick and easy small-batch bake for you today- Biscuits! They are super easy to make, they turn out tall and flakey and pretty dang tasty, and this recipe gives you just 4 biscuits.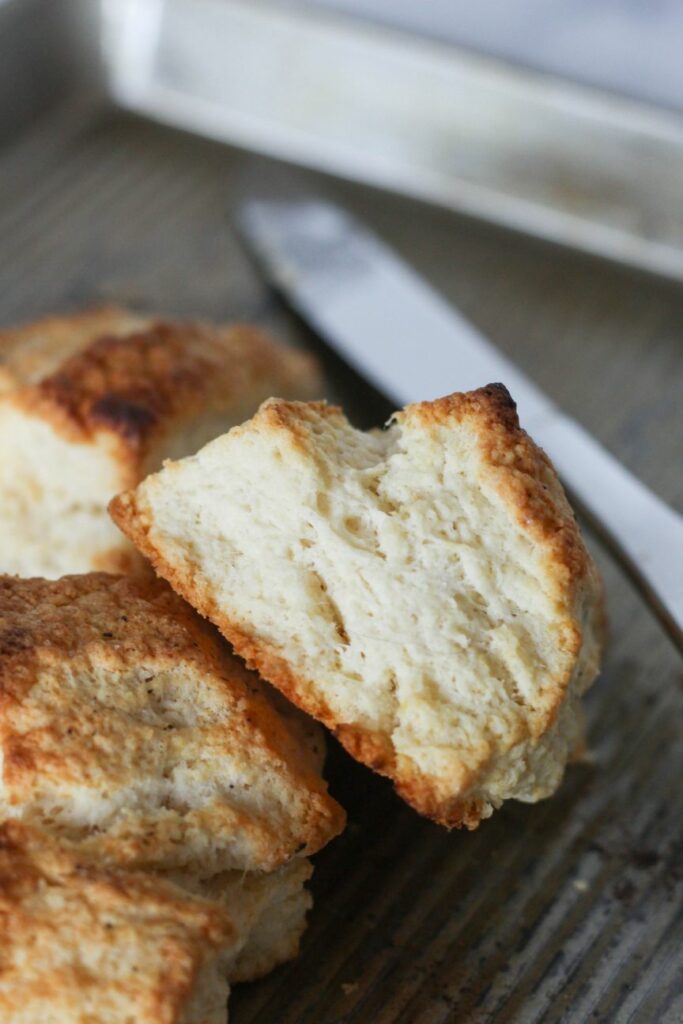 I feel like for a long time I thought biscuits were difficult to make, but they really come together quickly, and with a few tips and tricks, you'll get super tall, layered, perfect biscuits without fail. As far as these biscuits go, the ingredients are super simple, and the thing that makes them high-altitude friendly is actually just a reduction in the baking powder. Otherwise, these methods and tips will work anywhere!
How to Make Small-Batch Flakey Biscuits
To make these biscuits, start by stirring together your dry ingredients in a medium bowl- that's flour, a touch of sugar, baking powder, and salt. Then we're cutting in some cold butter. If you've never done this before, you can use a pastry cutter or just your hands to press the butter into the flour until it's worked into a crumbly mixture with small chunks of butter running throughout. It'll look like this: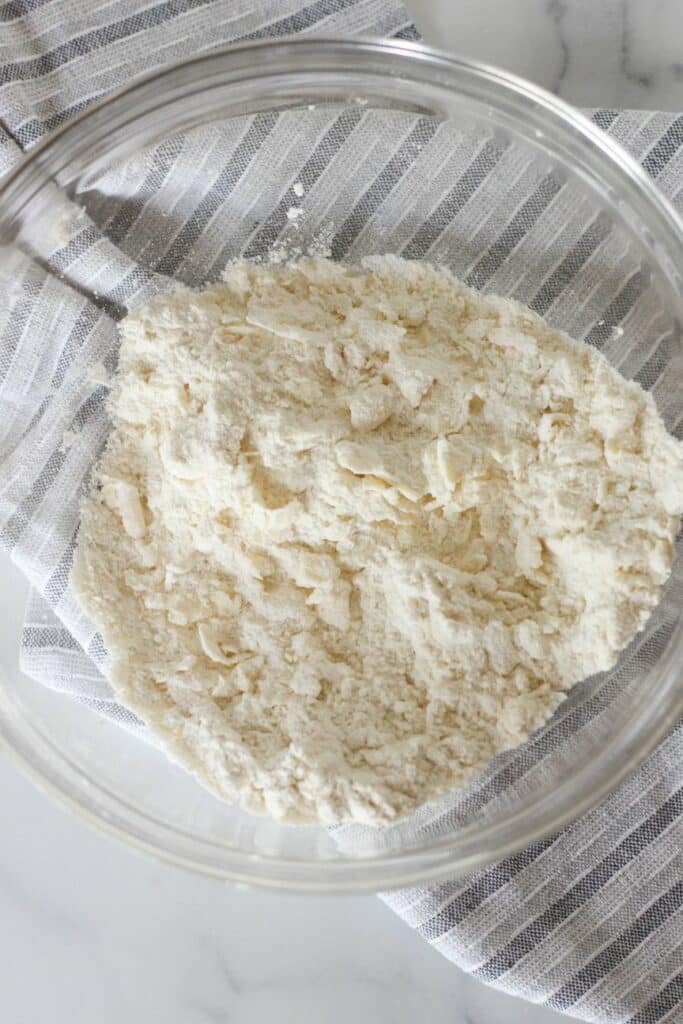 Then just add in the buttermilk and use a fork to stir everything together. You should end up with a shaggy dough that looks like this, but can be pressed together: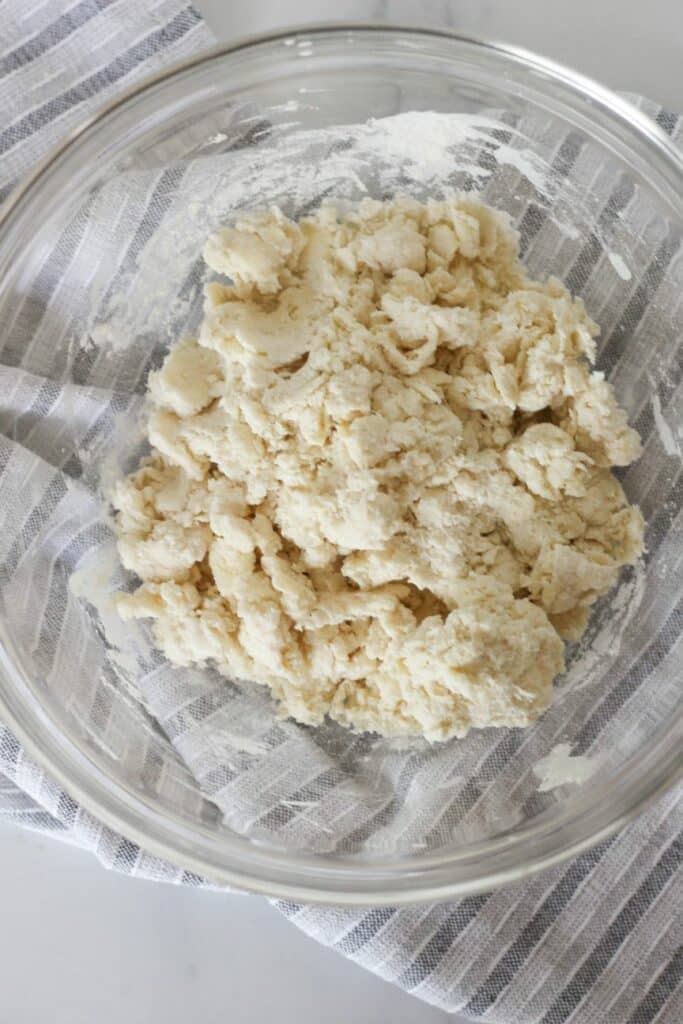 Now it's time to turn the dough out onto a very lightly floured surface and knead it a few times just to get the dough to hold together. Pat the dough into a disc, and cut it into 4 pieces- stack them on top of each other and press it down into another disc. Cut that into 4 even pieces, and you've got your biscuits- BUT – they need a trip to the fridge first while your oven pre-heats.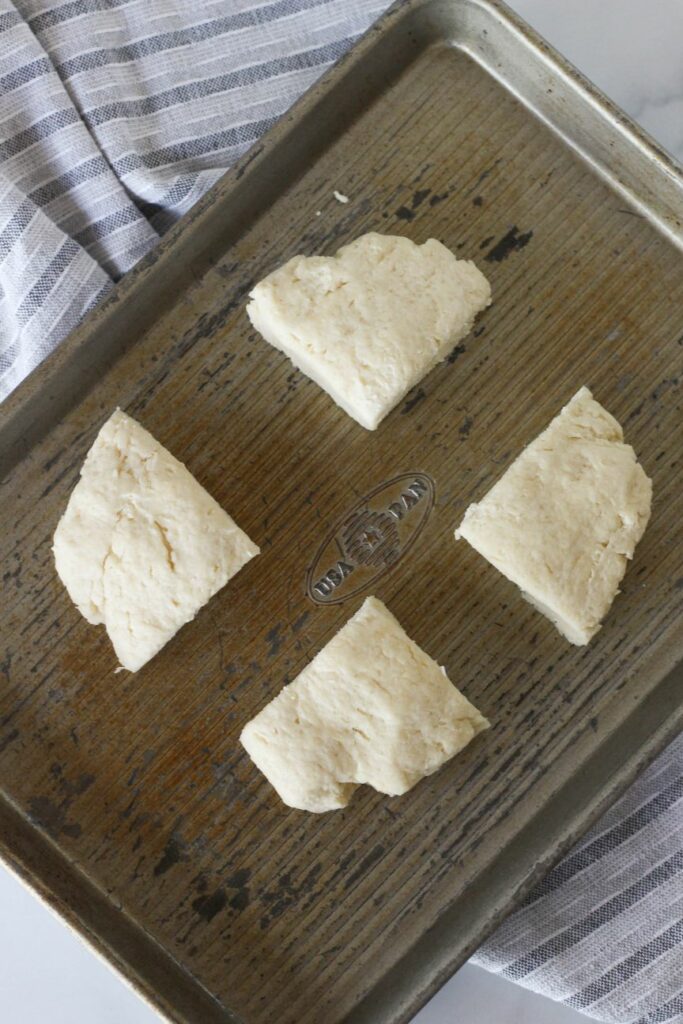 I like to brush mine with melted butter, sprinkle with a little salt and pepper, and then let them bake until golden brown in the oven. Look at how tall!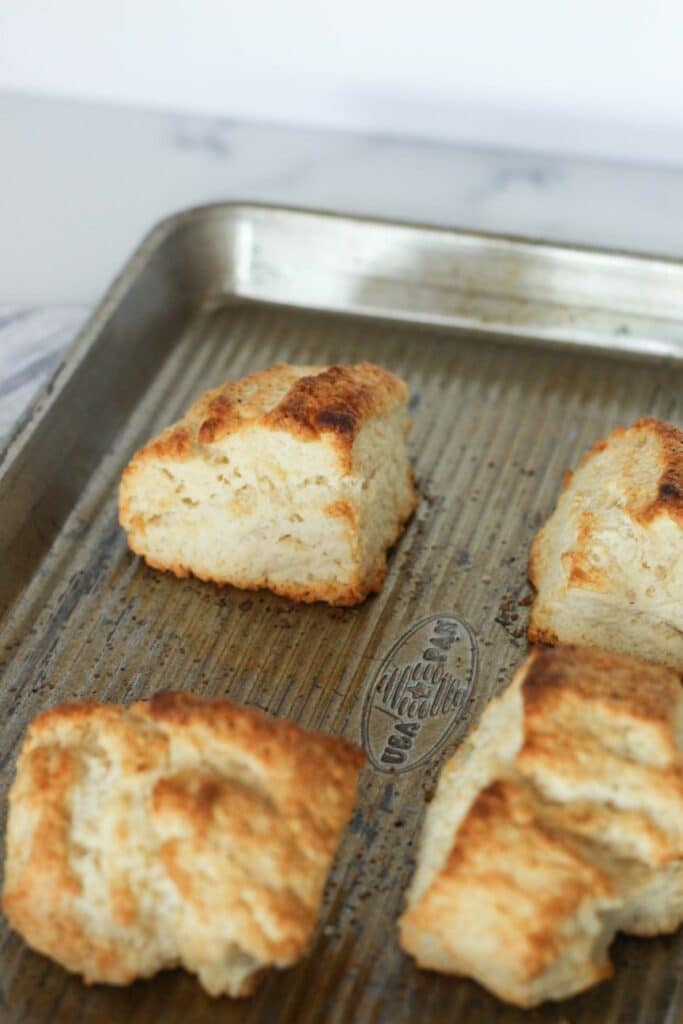 Tips & Troubleshooting For Your Biscuits
These should come together super easily, but here's some tips to help you along the way:
My dough won't come together, it's too dry: Not to worry! Everyone measures flour slightly differently, so you may have added a touch more than I did, but that's okay! Just add another tablespoon of buttermilk and work it in. The dough will be shaggy and on the dry side before you knead it!
Why do I have to cut and stack the dough? This process helps form those big flakey layers while the dough bakes. It's almost like a light lamination process! The butter is also a big part of the flakiness, so be sure you don't over-work it into the flour!
Do I really have to chill the dough before baking? YES! Don't skip this step, it makes all the difference! Not only does the butter need to be super cold when it hits the oven in order to puff and flake, but this helps ensure the biscuits don't just melt all the butter out and become flat.
Can I add other things to the biscuits? Absolutely! You can toss in some shredded cheese or chopped bacon before adding the buttermilk, and you can add any dry spices you'd like to the flour mixture as well!
Do I have to use buttermilk? No, you can also use heavy cream, although you'll need a bit more cream to make the dough come together. Buttermilk gives the biscuits a really great texture though, and you can make your own by mixing 1/4 tsp. white vinegar in a measuring cup with enough whole milk to reach 1/3 cup. Let it sit for a few minutes, and you've got a great substitute!
Enjoy!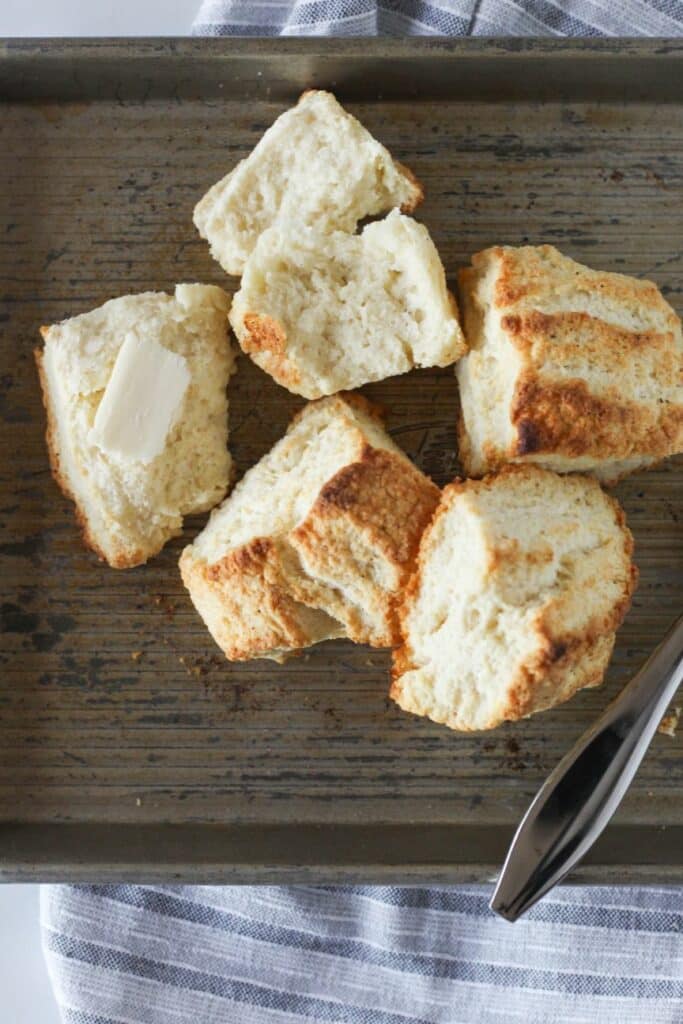 Small-Batch Flakey Biscuits
Ingredients
1

cup

all purpose flour

1 1/2

tsp.

baking powder

1

tsp.

sugar

1/2

tsp.

salt

1/4

cup

cold butter, cut into small chunks

1/3

cup

buttermilk (plus 1-2 tbs if needed)

1

tbs.

melted butter
Instructions
Line a small baking sheet with parchment paper.

In a medium bowl, stir together the flour, sugar, baking powder, and salt.

Using a pastry cutter or your hands, cut in the butter until the mixture has small, pea-sized chunks of shortening throughout.

Stir in the buttermilk until the dough begins to form.

Turn the dough out onto a floured surface, and knead together gently until the dough comes together completely, being careful not to over-work it.

Pat the dough into a round disc, and cut it into quarters. Stack these on top of each other, and pat out again to about 3/4 inch thick. Cut your dough into 4 even pie pieces. Place your biscuits evenly onto your baking sheet, leaving room between them for baking.

Chill the biscuits in the refrigerator for 20 minutes. Don't skip this step!

While the dough is chilling, preheat your oven to 400 degrees.

Brush the tops of the biscuits generously with butter, and bake for 13-15 minutes, or until tall and just golden on top.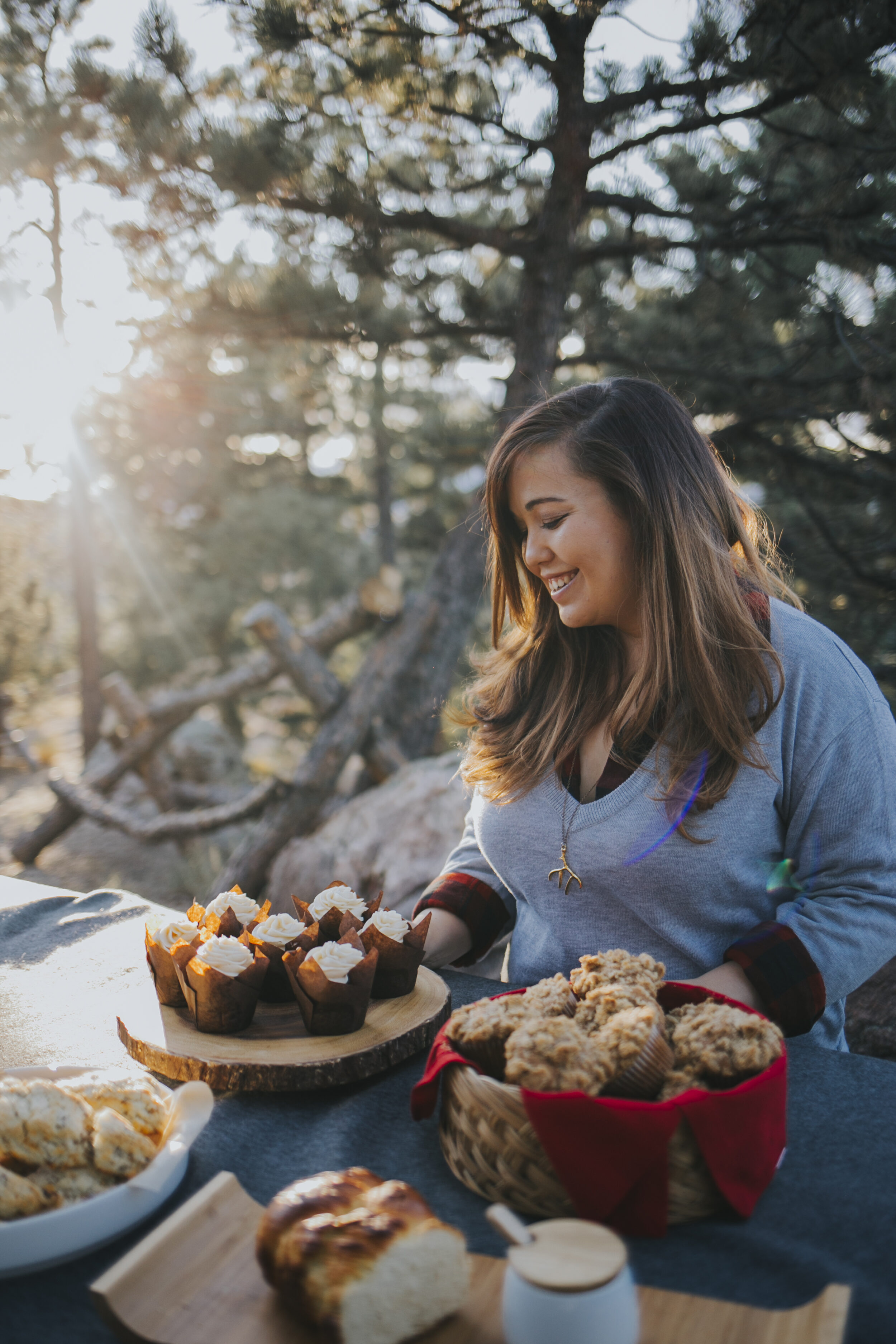 Hello and welcome! My name is Nicole, and Dough-eyed is a food blog for people who want to bake for their family and friends in high-altitude areas. Think of me as a friendly voice there with you in the kitchen, here to give you confidence when you're baking, and to help you with the struggles of baking at high-altitude. Come back every week for new recipes, tips, and advice on high-altitude baking!