Blueberry Almond Olive Oil Cake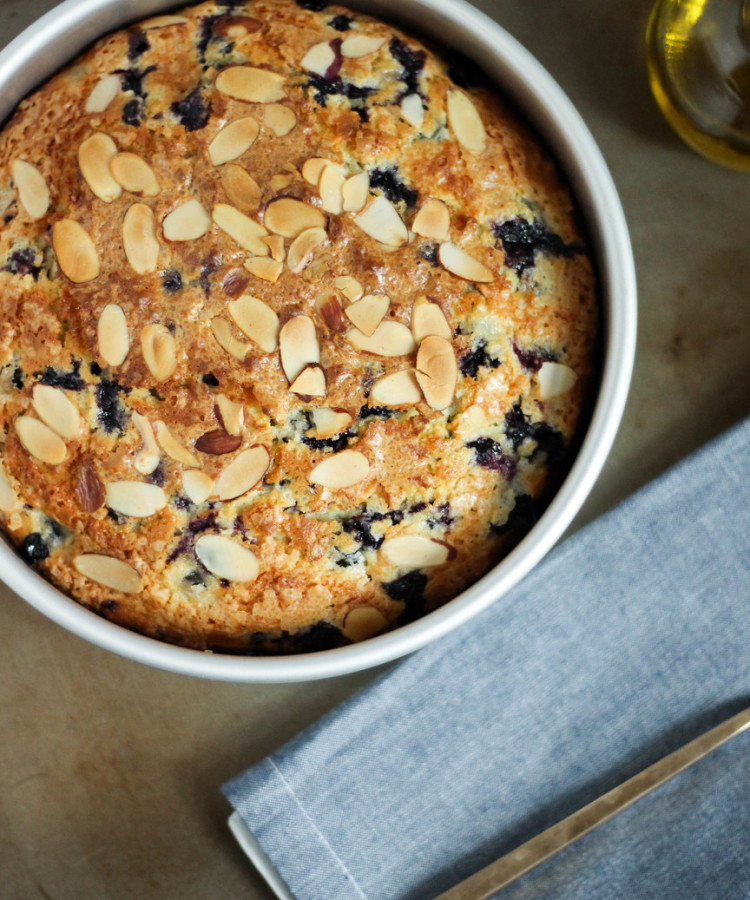 Have you ever had olive oil cake before guys??
Well if the answer is no, it's like. This lightly sweet, tender, uniquely flavored cake and seriously, you will LOVE it. I mean especially if you like the taste of olive oil.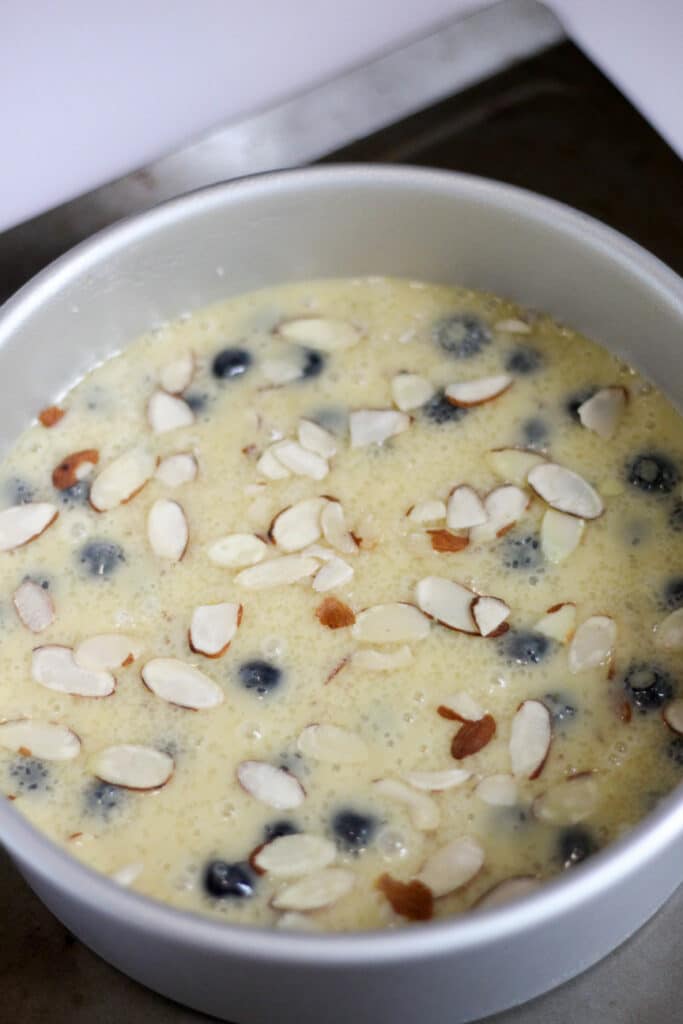 I am personally obsessed with olive oil. It's one of my favorite things ever when you go to a restaurant and get free bread with olive oil. Don't lie to me, you love it too. I understand. I have a whole collection of different flavors on my counter right now- side note- have you guys ever been to one of those olive oil shops? It's amazing.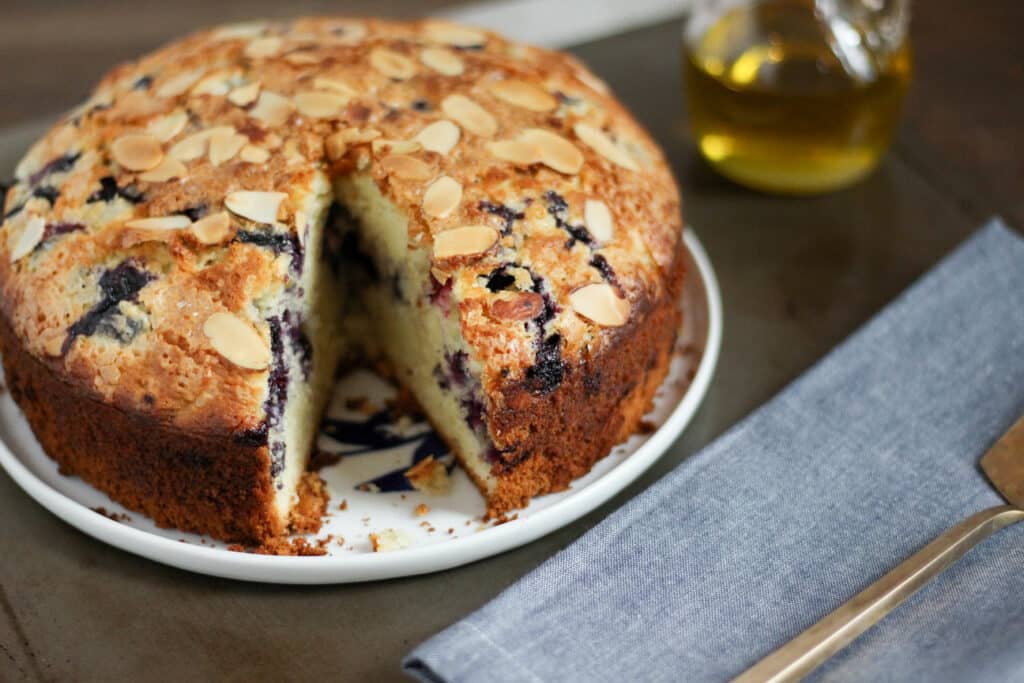 This is my first time making olive oil cake, and now I think it'll be a go-to for me!
Anyways, olive oil cake is also super easy to make, and you can flavor it with whatever you want. Some of the most popular things I've seen included lemon, orange, almond, ricotta, or even just plain. Since it's not very sweet, it's easy to add in whatever you feel like, or whatever you have.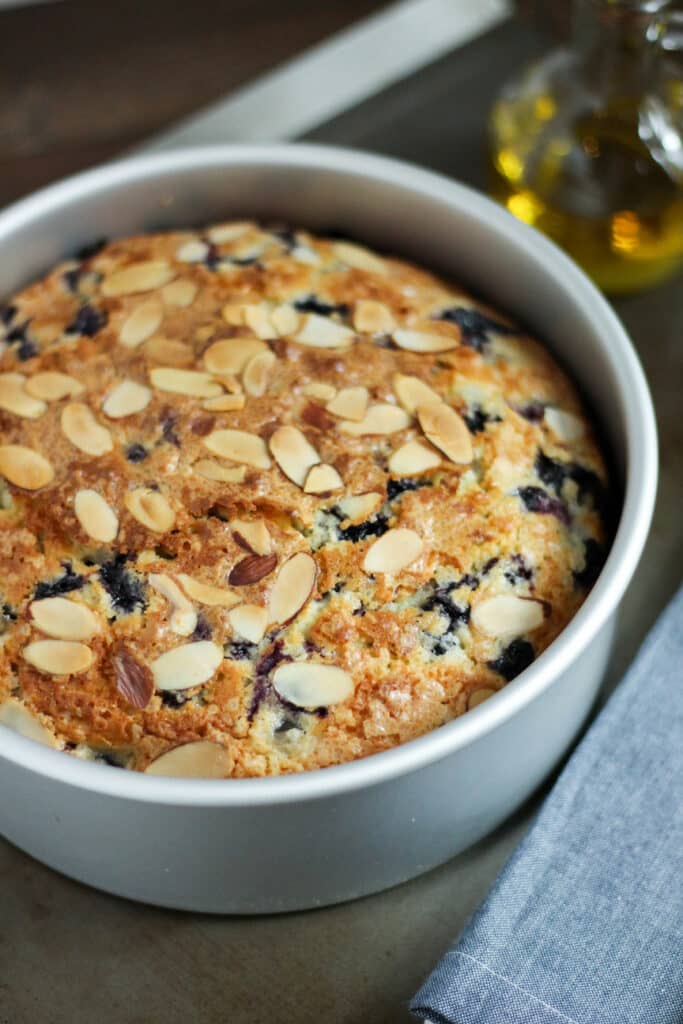 This time I've chosen to go with blueberry almond for this version. The blueberries play off of the fruitiness of the olive oil, and sliced almonds add beautiful texture throughout. The top of the cake is crunchy and sweet with the addition of coarse sugar on top before baking.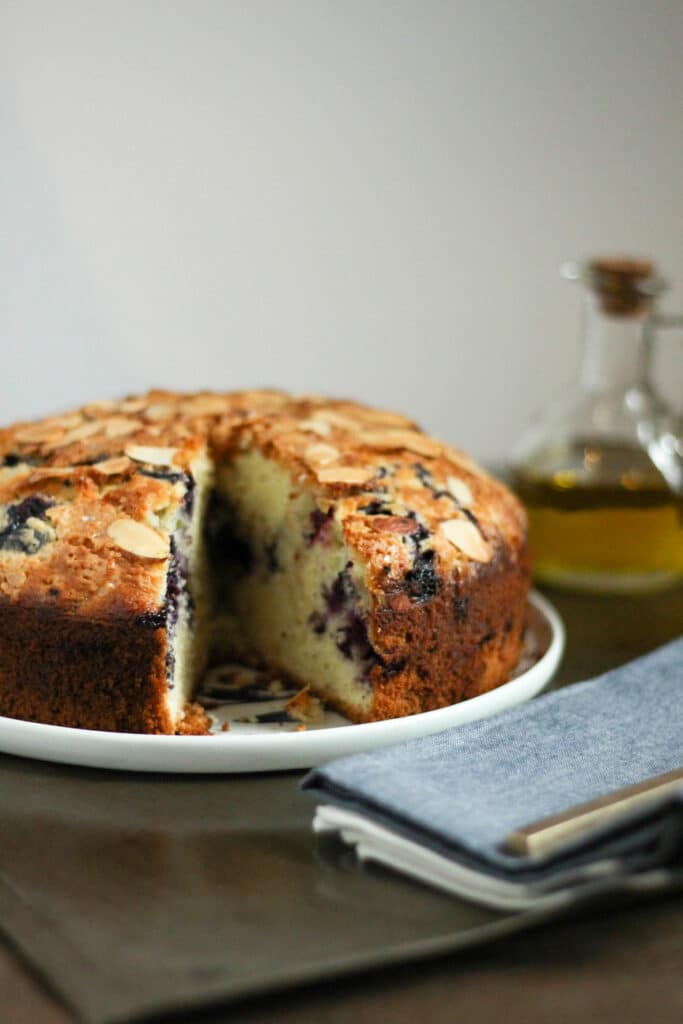 This is an easy, classy dessert you guys. It's impressive, and all your friends will think you are sophisticated as heck! Hope you guys enjoy this one!
Blueberry Almond Olive Oil Cake
Ingredients
2 1/4 cups cake flour
1/4 cup all purpose flour
1 tsp. baking powder
1 tsp. salt
3/4 cup olive oil
1 1/2 cups sugar
3 eggs
3/4 cup whole milk
1 cup blueberries
1/2 cup sliced almonds (plus more to sprinkle on top)
2 tbs. coarse sugar
Instructions
Preheat your oven to 375 degrees, and grease a 9 inch cake pan. Line the bottom of your pan with parchment paper.
In a medium bowl, whisk together the cake flour, all purpose flour, baking powder, and salt. Set aside.
In a large bowl, beat together the olive oil and sugar until smooth. Mix in the eggs until combined.
Add in the flour mixture and whole milk alternating, beginning and ending with the flour mixture, until smooth.
Fold in the blueberries and 1/2 cup sliced almonds. Pour the batter into your prepared pan.
Sprinkle about 2-3 tbs. of sliced almonds, as well as the coarse sugar, on top of the cake batter.
Bake for 55-60 minutes, or until a cake tester comes out clean. Cool completely, enjoy!
https://www.dougheyed.com/blueberry-almond-olive-oil-cake/

Comments