Hey guys! Today we're on cream puffs, and if you've never made them, today is the day! I think with all pastry, I always get pretty nervous, but really it's not as difficult as you might think.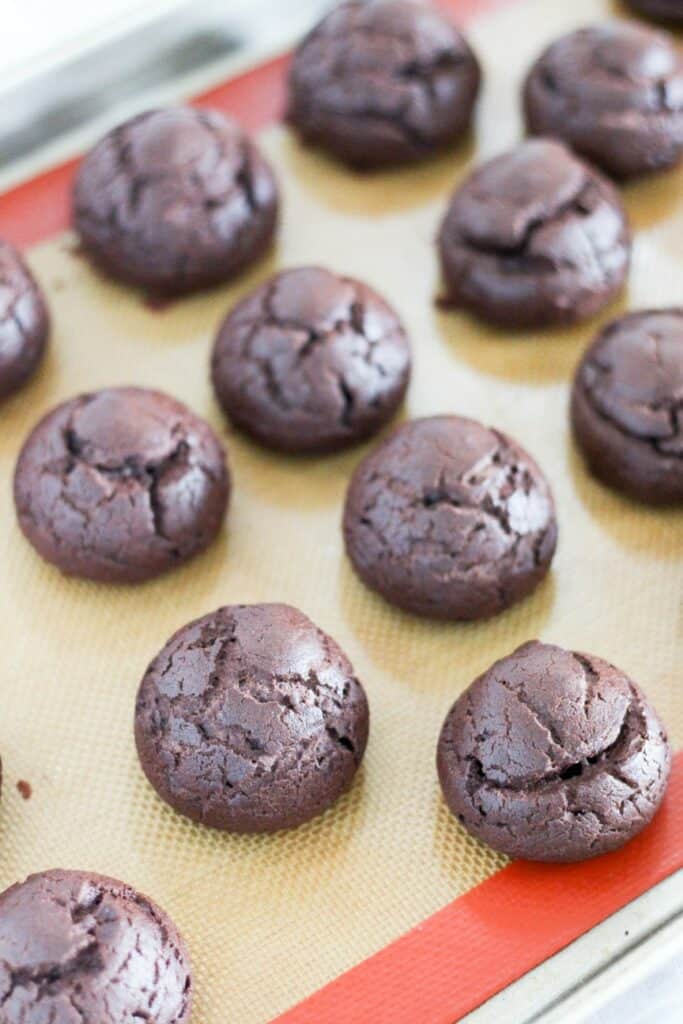 And cream puffs are a great place to start if you've never made any kind of pastry before. I'd have to say this is probably the easiest option. That being said, if you're more into the classic, click on over to my original cream puff recipe for a fantastic vanilla version!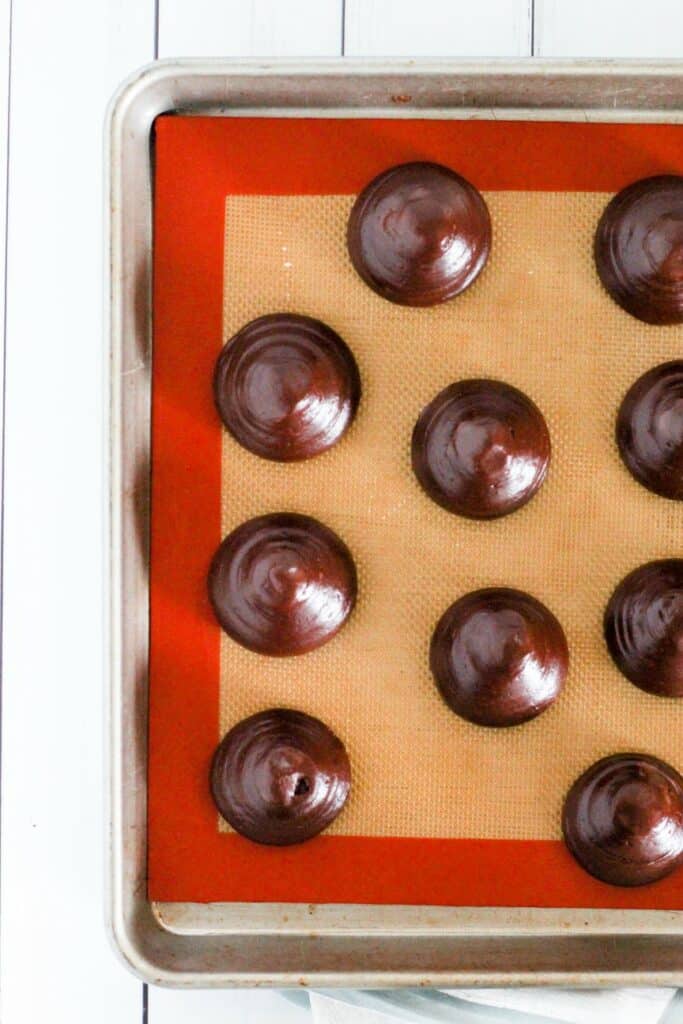 There's two main points to focus on when it comes to getting these right. The first is the dough. I pretty much always find that 3 eggs is right for this recipe, but you want to pay close attention to the FEEL of the dough. Once the eggs are mixed in, grab a little bit of dough between your thumb and first finger. Mush your fingers to together lightly, and pull them apart- you should have a stretchy dough here. If the dough breaks right away, go for another egg.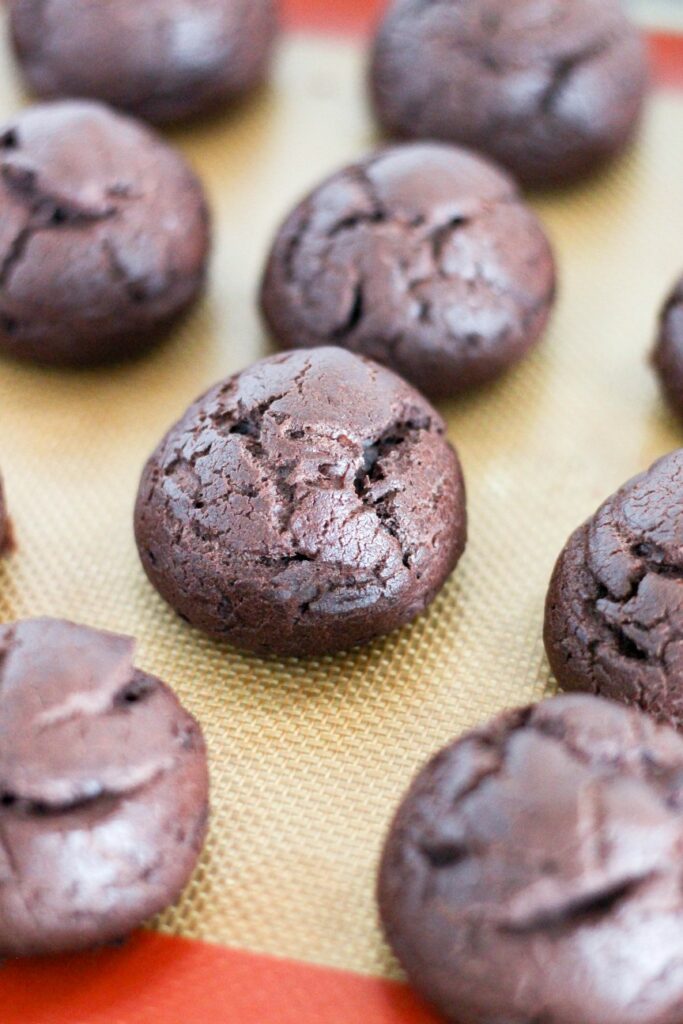 The next problem area is baking time. If you under-bake here, your puffs will collapse when they cool, and you won't have those much needed pockets on the inside. On a classic dough, you're looking for a deep golden brown, but on chocolate, things get tricky. Here's my tip- wait until the dough looks completely dry. And if you aren't sure, carefully pick up a puff. It should be very light!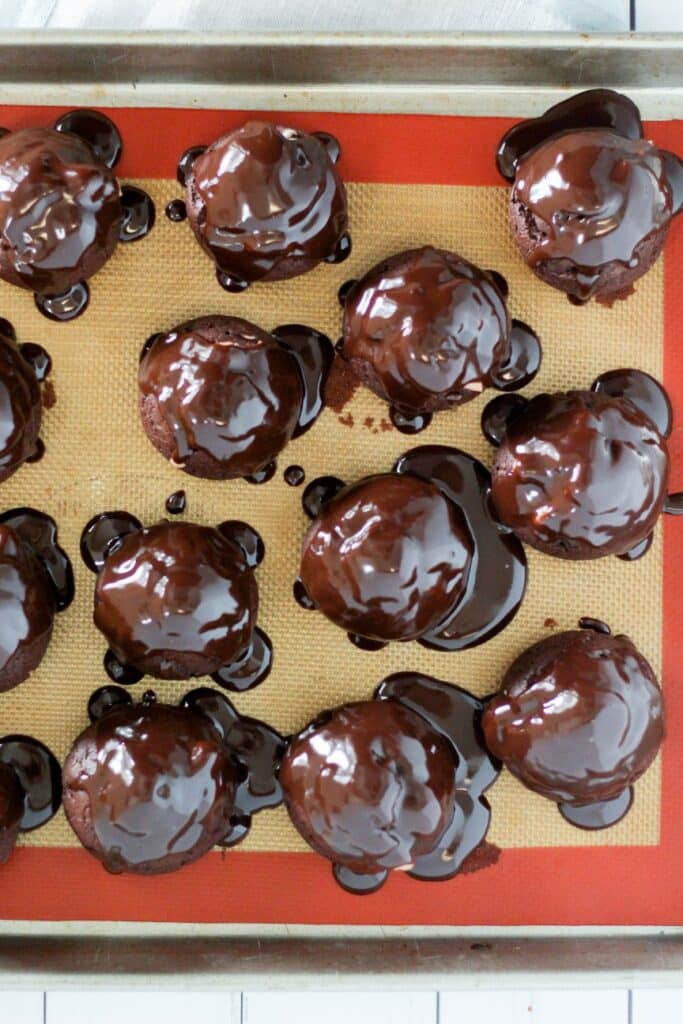 So, onto the filling. If you've made my other cream puff recipe, you know I take a shortcut here. We don't all always have time to make pastry cream do we? So, I actually use instant pudding mix and add in heavy cream with the milk. You get a fluffy, mousse-like filling that you'll absolutely love!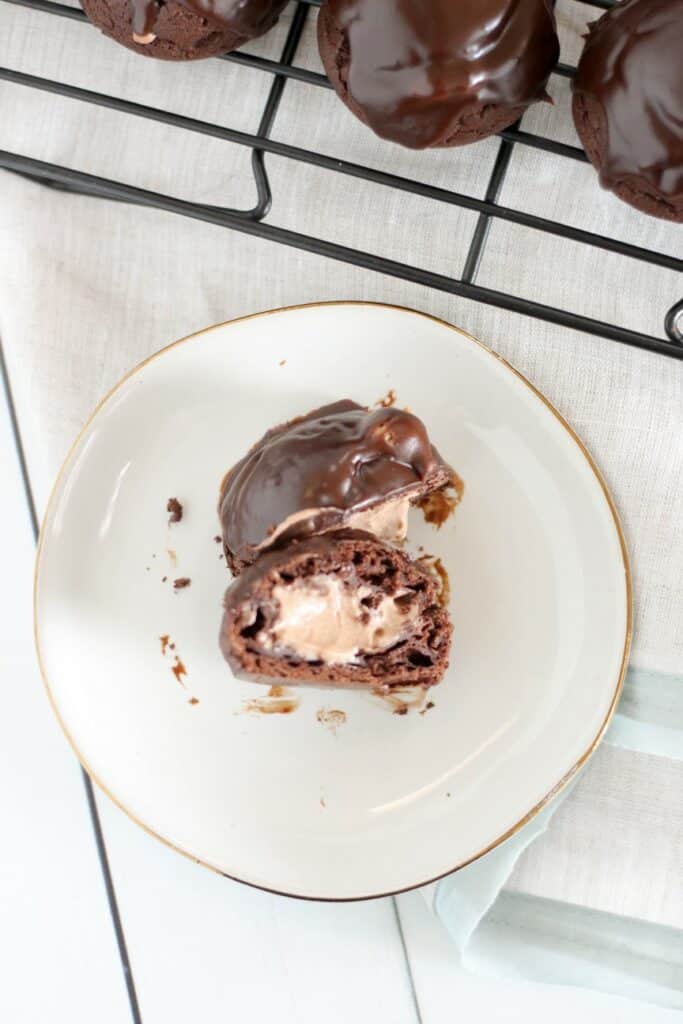 We're ready, okay guys? You got this, I got this, we can all eat cream puffs tonight and dazzle our friends, k?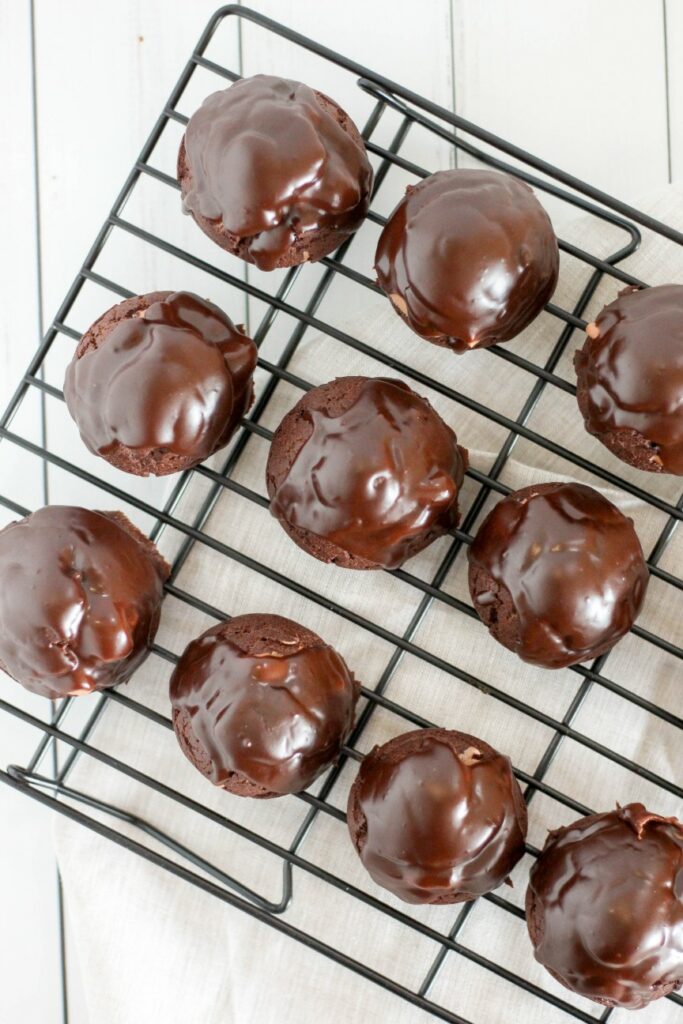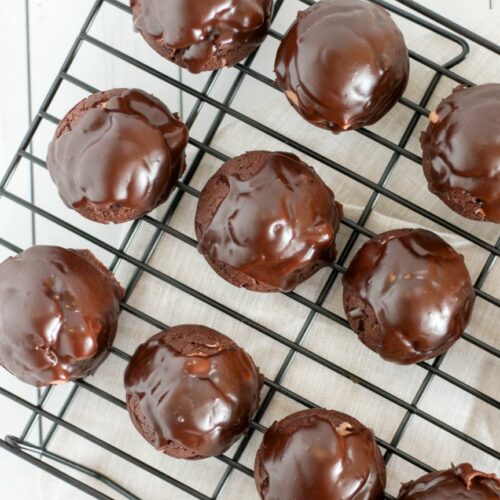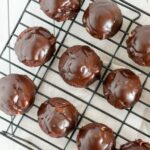 Chocolate Cream Puffs
Ingredients
For the puffs:
1

cup

flour

1/4

cup

dark cocoa powder

1

tbs.

sugar

1/2

tsp.

salt

1/2

cup

butter

1

cup

water

2

tsp.

vanilla extract

3

eggs
For the filling:
1

box

instant chocolate pudding mix

2

cups

whole milk

1 1/2

cups

heavy cream
For the ganache:
1/2

cup

heavy cream

1

tsp.

vanilla

1/4

tsp.

salt

1

cup

semi-sweet chocolate chips
Instructions
For the puffs:
Preheat your oven to 400 degrees, and line a large baking sheet with a nonstick mat or parchment paper. Set aside.

In a medium bowl, stir together the flour, sugar, and salt. Set aside.


In a medium saucepan, melt the butter over medium heat, and then add in the water and vanilla extract. Bring the mixture to a boil, and remove from heat. Immediately stir in the flour mixture, using a wooden spoon or spatula to fully incorporate. Cool for about 10 minutes.

Using a hand mixer, a stand mixer, or just a spatula, work in the eggs one at a time. This will take a few minutes, and you want to fully incorporate each egg before adding the next. The dough should be sticky and very stretchy.

Transfer to a piping bag with a large tube tip on it (I use the Ateco 808 tip), and pipe the puffs onto your prepared baking sheet, about 3 tablespoons of dough per puff. You'll end up with some pointy tops or edges no matter how you pipe them. Wet your fingers with water to press down any pointy edges and further shape the puffs if needed.

Bake for 25-30 minutes, or until the puffs are puffed and the dough looks completely dry. Cool completely before filling.
For the filling:
In a large bowl, beat together the pudding mix, milk, and heavy cream until the mixture is thick and slightly fluffy. This takes about 5 minutes for me with a hand mixer. Chill until ready to fill puffs.

Transfer to a piping bag fitted with a small round tip, and poke into cooled puffs to fill. Alternatively, slice the puffs in half and spoon the filling in. You will have leftover filling- it's great on it's own.
For the ganache:
Heat the heavy cream, vanilla, and salt in the microwave until boiling. Add in the chocolate chips, and whisk until smooth. Pour over the filled puffs, and allow to chill until ready to serve. Enjoy!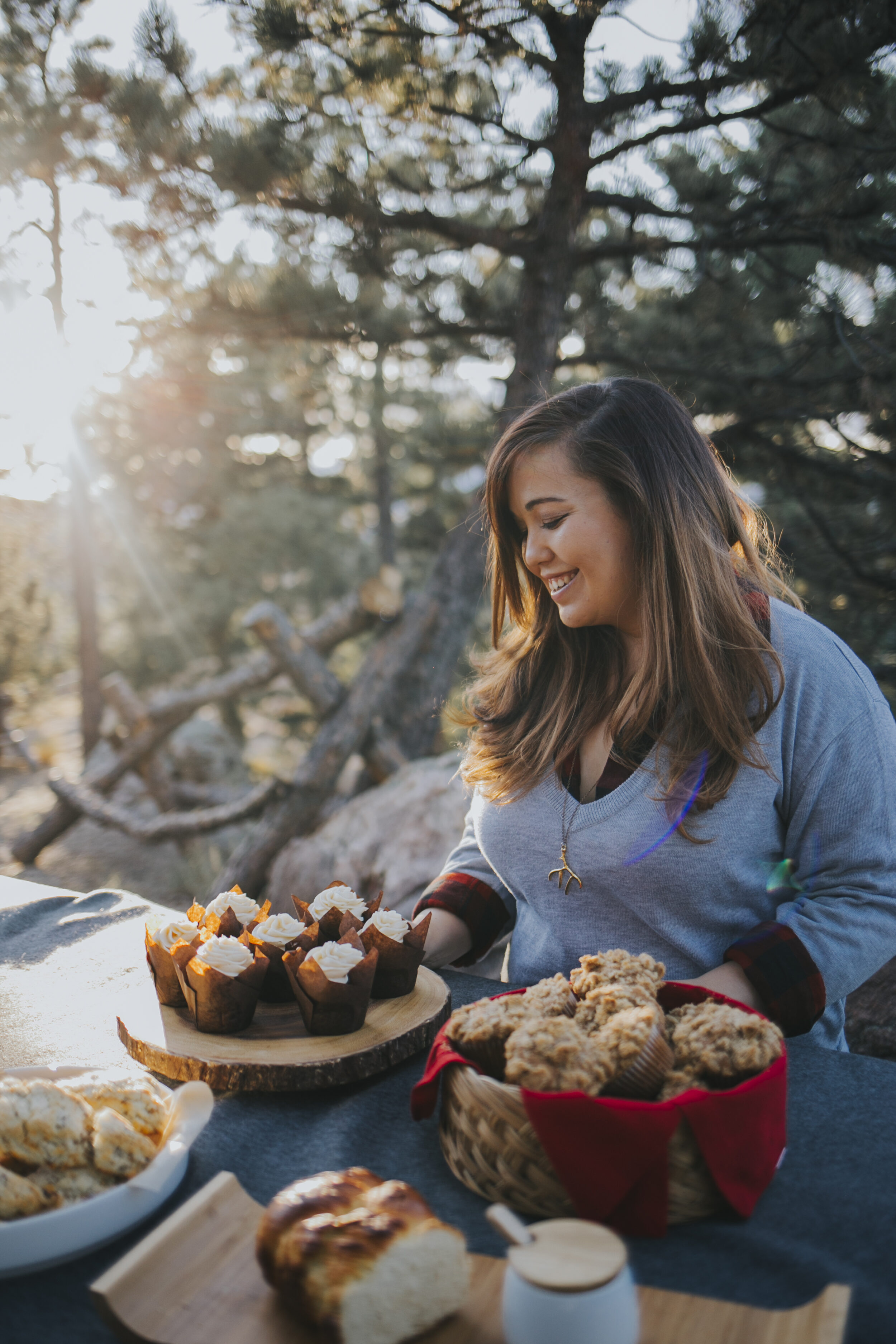 Hello and welcome! My name is Nicole, and Dough-eyed is a food blog for people who want to bake for their family and friends in high-altitude areas. Think of me as a friendly voice there with you in the kitchen, here to give you confidence when you're baking, and to help you with the struggles of baking at high-altitude. Come back every week for new recipes, tips, and advice on high-altitude baking!