Peanut Butter Banana Cake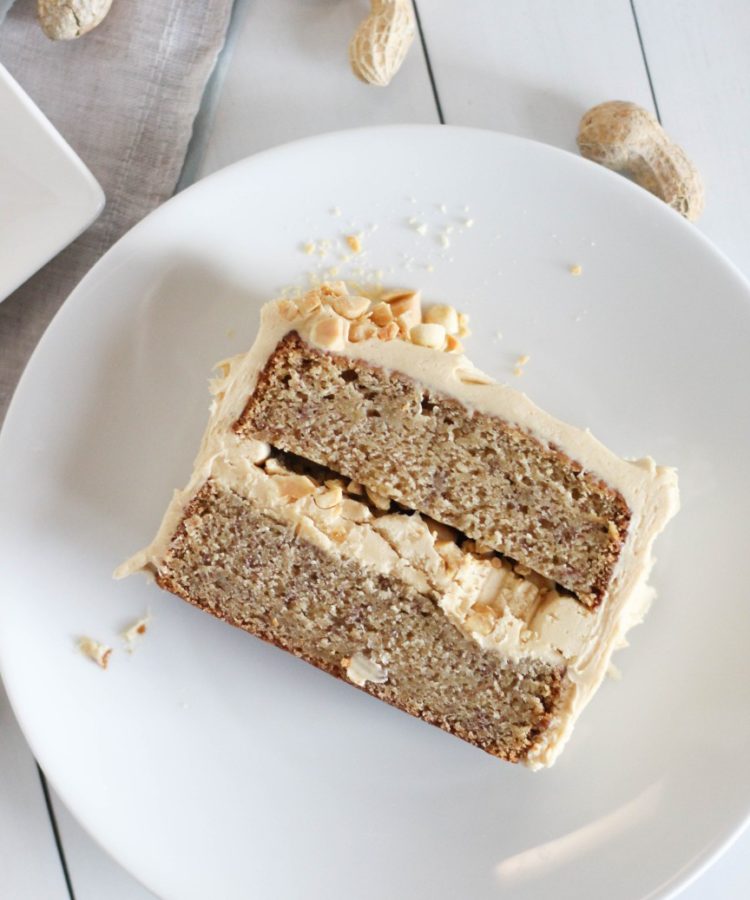 Hey guys! We're on cake again, it's a good 'un. Like most banana recipes, this one came out of finding that I had some over-ripe, toasty-colored bananas sitting on my counter that needed some love.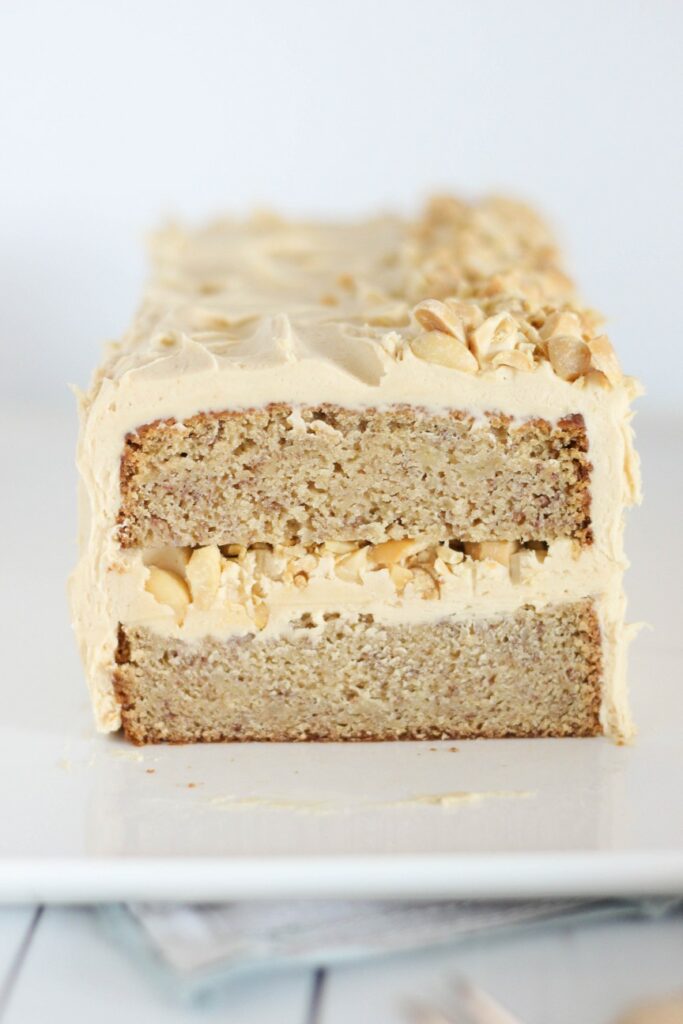 Today I'm making a layer cake from a loaf pan cake, and it's a revelation. I'm not going to completely take credit for this- I got the idea from a bakery in Denver called Sugar Bakeshop. I recently visited and it's BEAUTIFUL, but also they have these amazing little loaf layer cakes on display. So here we are.
Here's what I really love about doing a layer cake this way. One- the shape is unique, and it kind of makes the whole cake feel a bit fancier. Two- it's small. Layer cakes often end up being this huge thing that you have tons of leftovers with, and it's kind of a hassle all said and done. But you get everything you want out of a layer cake here, with only two layers to stack, one pan to bake in, and reasonable portions.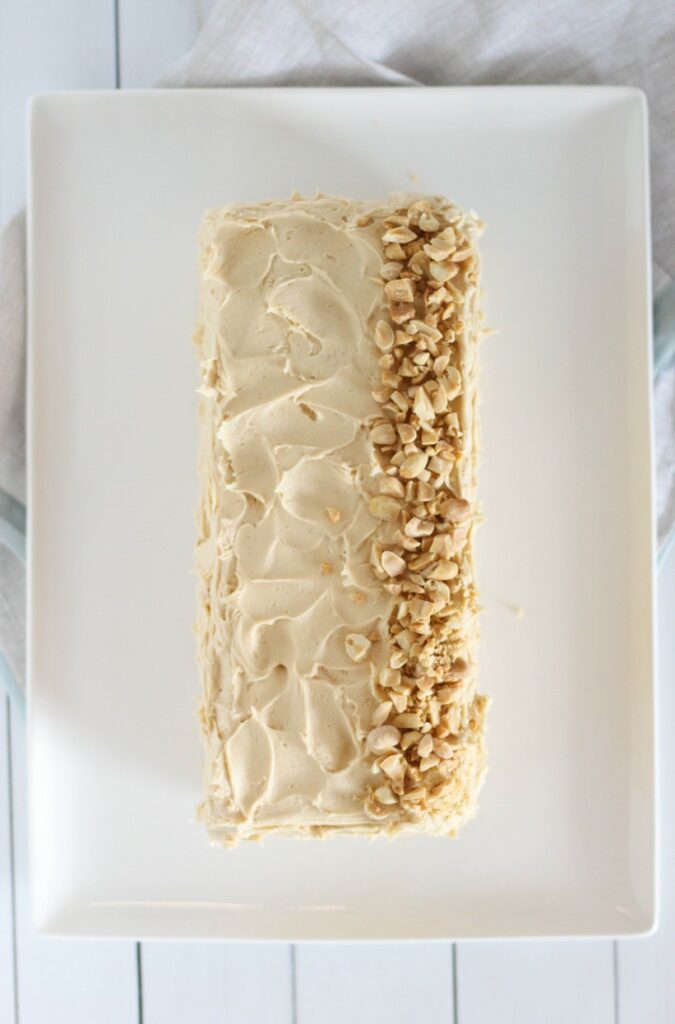 So, I love a good banana cake, and this is no exception. The cake bakes in a loaf pan, so it takes a bit longer to cook than normal cake layers. But, and this is a huge benefit, there's only one cake pan to wash at the end of the day. Speaking of the pan, I'm using a loaf pan that has straight sides, but it's not necessary. You may just need to compensate with frosting, and that's REALLY not a problem.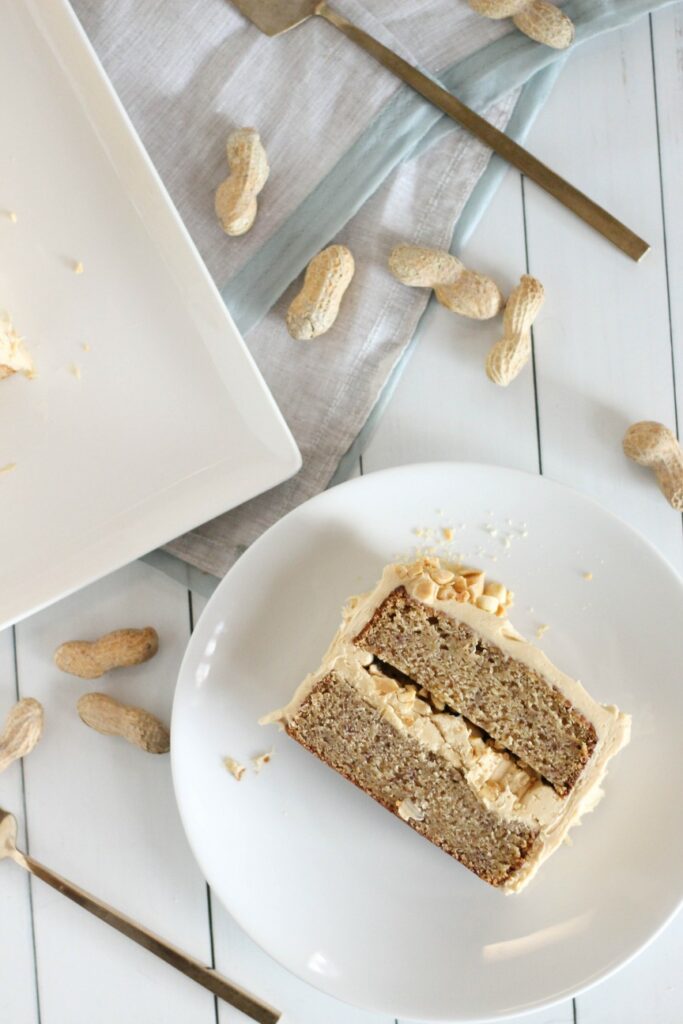 We're just slicing this bad boy in half for our layers.
Speaking of layers, we're using a fluffy, peanut buttery buttercream here, and piling some roughly chopped peanuts in the middle as well for that added crunch and saltiness. This is an American buttercream, which means there's a good deal of powdered sugar in it. However, we're swapping out half of the butter for peanut butter, and adding a generous splash of heavy cream to fluff things up.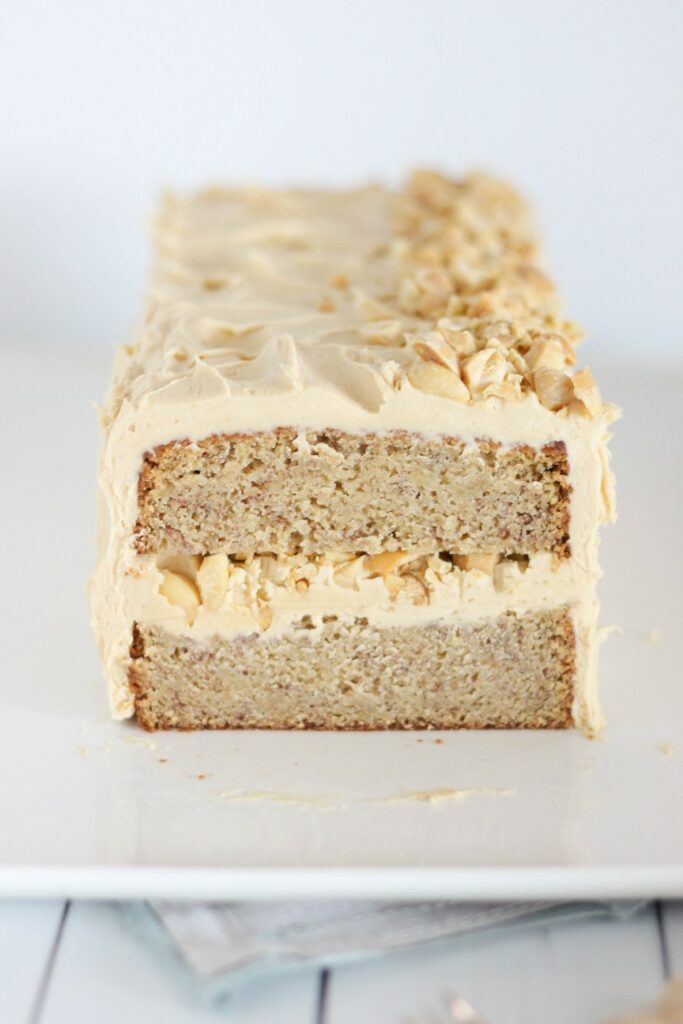 I love this recipe, I think you guys will too. And expect more loaf layer cakes from me, it's THE BEST.
Peanut Butter Banana Cake
Ingredients
For the banana cake:
1 3/4

cup

flour

1/4

cup

almond or oat flour

1/2

tsp.

salt

1/2

tsp.

baking soda

1/2

tsp.

cinnamon

1/2

cup

softened butter

1/2

cup

brown sugar

1/2

cup

sugar

1

egg

3

over-ripe bananas, mashed

1

tsp.

vanilla extract

3/4

cup

buttermilk
For the peanut butter frosting:
1

cup

softened butter

1 1/4

cup

creamy peanut butter

(not natural here)

3

cups

powdered sugar

1

tsp.

salt

1/4

cup

heavy cream

1/2

cup

chopped salted peanuts
Instructions
For the banana cake:
Preheat your oven to 350 degrees, and grease and flour a 9-inch loaf pan, preferably with straight sides. Set aside.

In a medium bowl, whisk together the flour, almond flour, salt, baking soda, and cinnamon. Set aside.

In a large bowl, beat together the butter, brown sugar, and sugar until combined and fluffy. Add in the egg, mashed bananas, and vanilla extract and beat until combined.

Add in the flour mixture and the buttermilk in alternating additions, starting and ending with the flour mixture, and beat until completely incorporated. Pour the batter into your prepared pan. Bake for 50-55 minutes, or until a cake tester comes out clean.

Cool the cake in the pan for 15 minutes, and then turn out onto plastic wrap. It's okay if the cake is still pretty warm. Wrap the cake tightly, and freeze for at least an hour before slicing and frosting.
For the peanut butter frosting:
In a large bowl, beat together the butter and peanut butter until fluffy. Slowly beat in the powdered sugar and salt, scraping the bowl when needed. The mixture will be thick. Add in the heavy cream, and beat until fluffy.

To build your cake, unwrap the frozen cake, and slice it in half with a sharp knife. On the bottom half, spread a generous portion of frosting, and sprinkle on the chopped peanuts. Top with the second half, and frost and decorate as desired. Enjoy!
Comments