Chocolate Chip Pretzel Cookies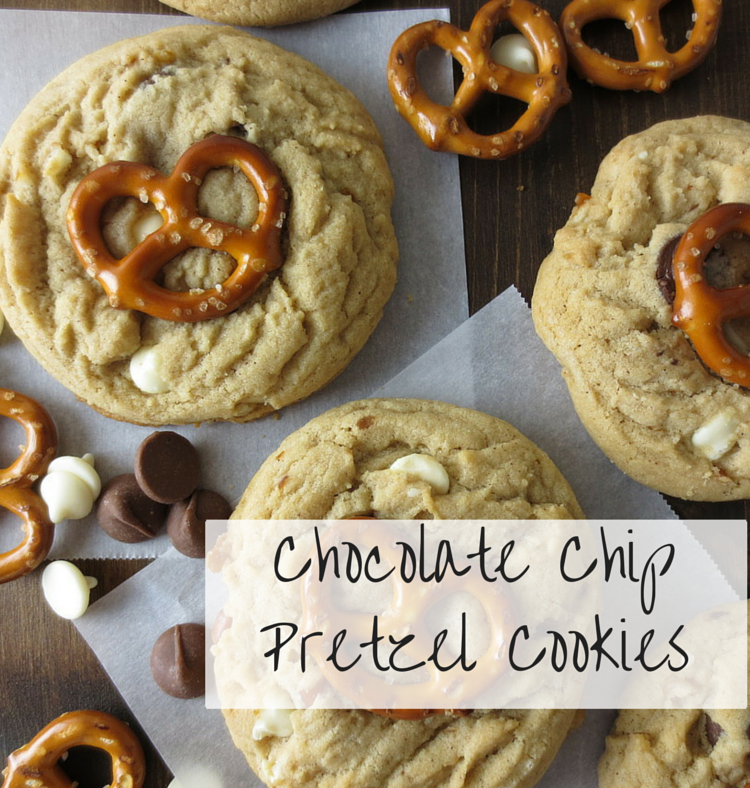 Hi everyone!
I'm here today to bring you the cookies you've always wanted. They're soft in the middle, crisp on the edges, sweet and salty. If you're looking for the best of every world, you've made it to the right place!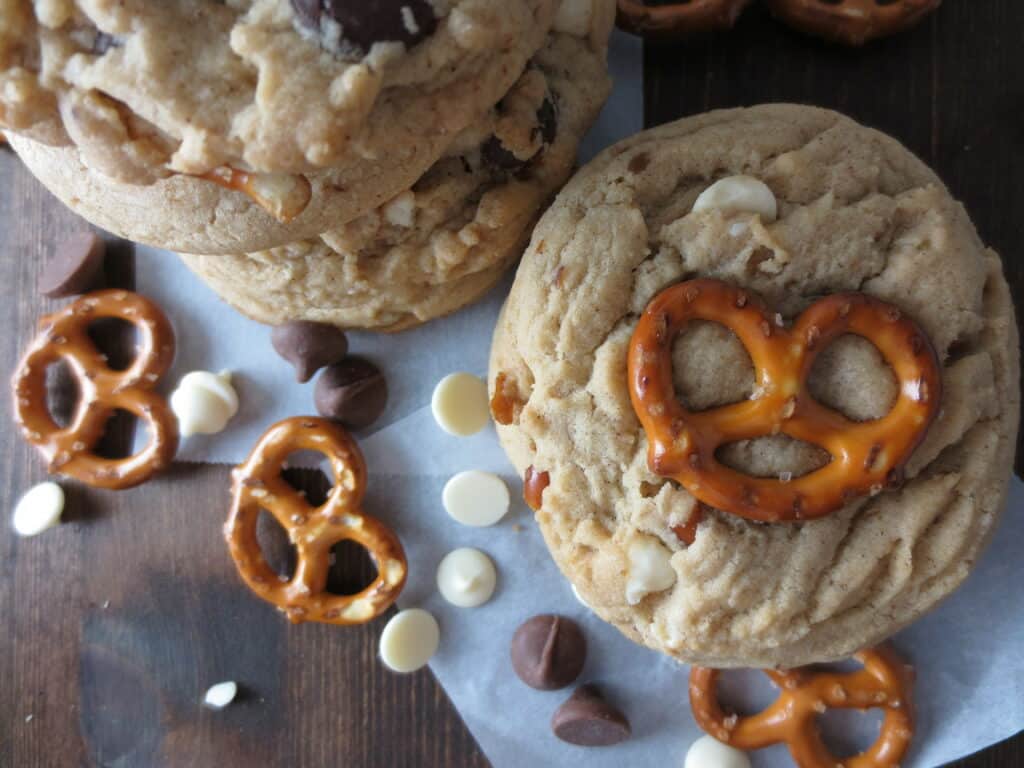 Let me start by saying that pretzels alone- not that great. In the battle of salty snacks, they're low on my list. Way under potato chips and hot fries. However, when baked into a cookie- pretzels hold up extremely well to the moisture of dough, and they add something really fantastic to a classic treat like this.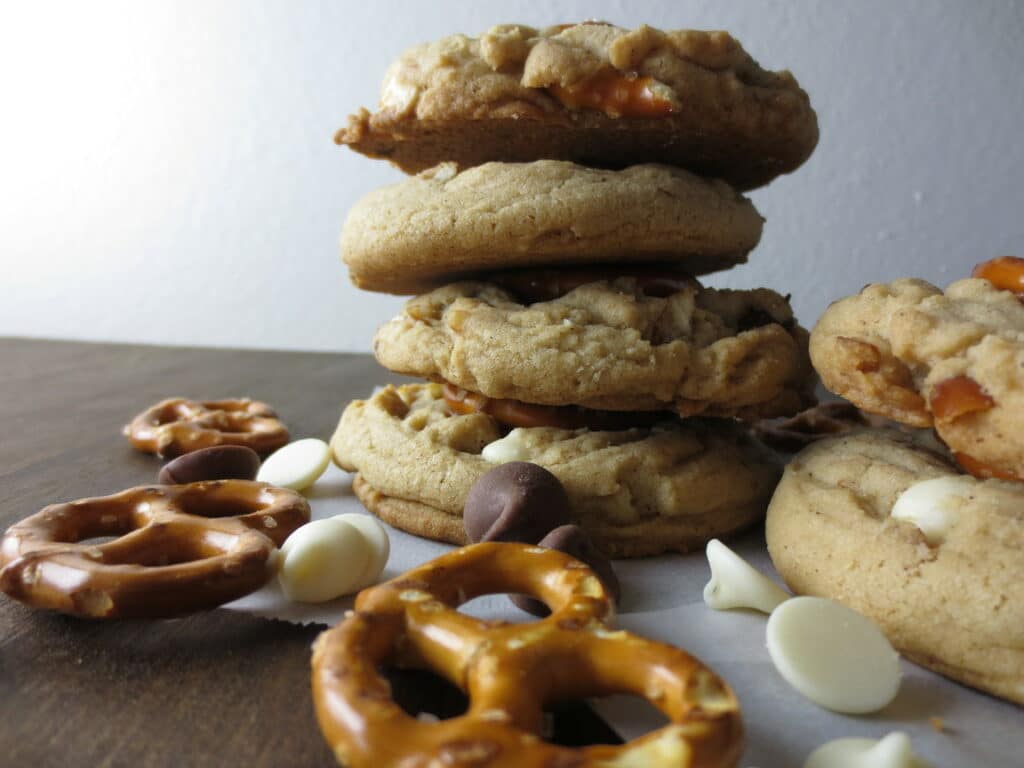 You can also add nuts to this recipe, but I don't particularly like nuts in cookies, so I didn't. They'd also be great with butterscotch chips or even peanut butter chips if you have them at your grocery store. For me, I kept it classic with white and milk chocolate chips, and a good amount of crushed pretzels. You can even press a pretzel into the top when you are pushing the dough down, but it's not necessary.
For this recipe, I simply modified my favorite classic chocolate chip cookies. The result is a soft, perfectly-textured dessert you won't be able to put down!
I hope you enjoy 'em!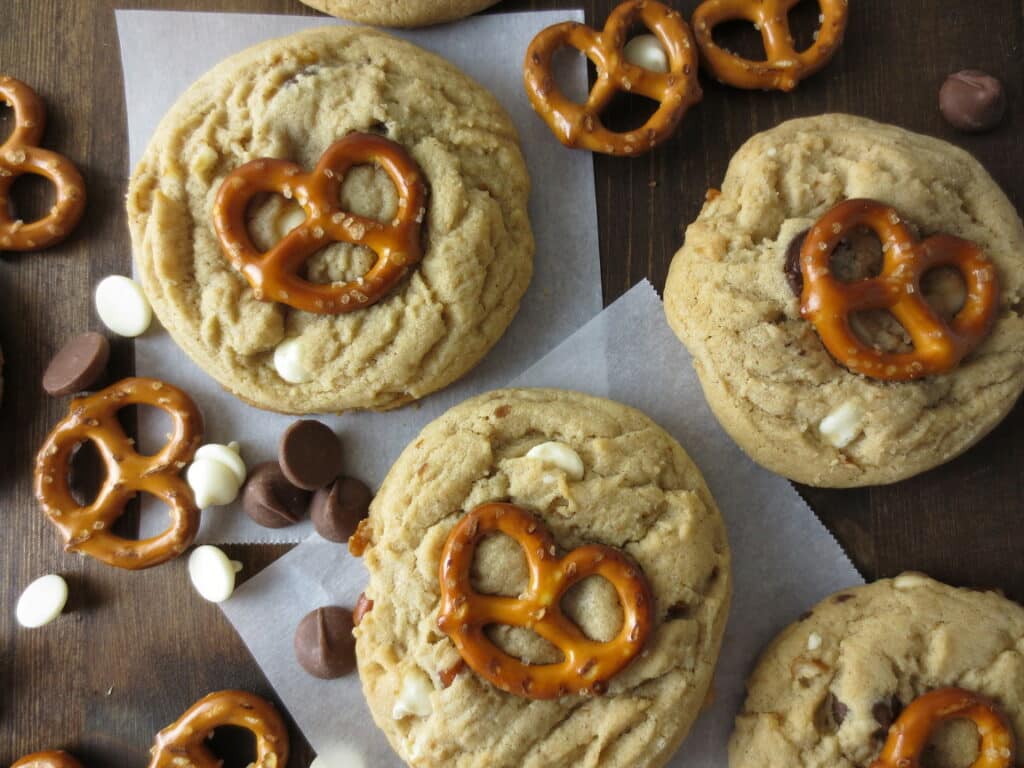 Chocolate Chip Pretzel Cookies
Ingredients
1 1/2

cups

softened butter

1 1/2

cups

brown sugar

1/2

cup

sugar

2

eggs

2

tsp.

vanilla extract

4 1/4

cups

flour

1/4

cup

cornstarch

2

tsp.

baking soda

1/2

tsp.

salt

1/2

cup

chocolate chips

1/2

cup

white chocolate chips

3/4

cup

crushed pretzels
Instructions
Preheat the oven to 350 degrees

In a medium bowl, mix together the flour, cornstarch, baking soda, and salt. Set aside

In a large bowl, beat together the butter and both sugars until fluffy

Add in the eggs and vanilla

Slowly beat in the dry mixture until dough is fully incorporated

Beat in both chocolate chips and the pretzels

Scoop into 2 tbs balls, and place on lined cookie sheet. Press down slightly with clean fingers, or press a whole pretzel into the top

Bake for 10-12 minutes, until sides are slightly golden
Comments