Strawberry Layer Cake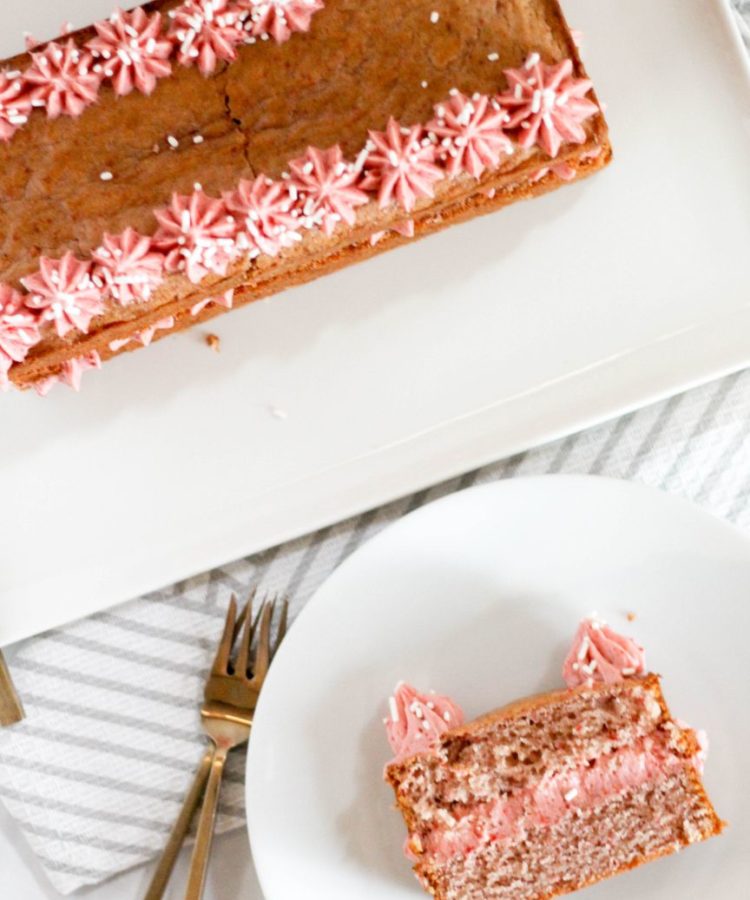 Hey guys!! I hope you're swinging into Monday easy today, and that you're in the mood for cake! I'm going for another loaf layer cake today because I think they are completely beautiful, and also a totally reasonable size.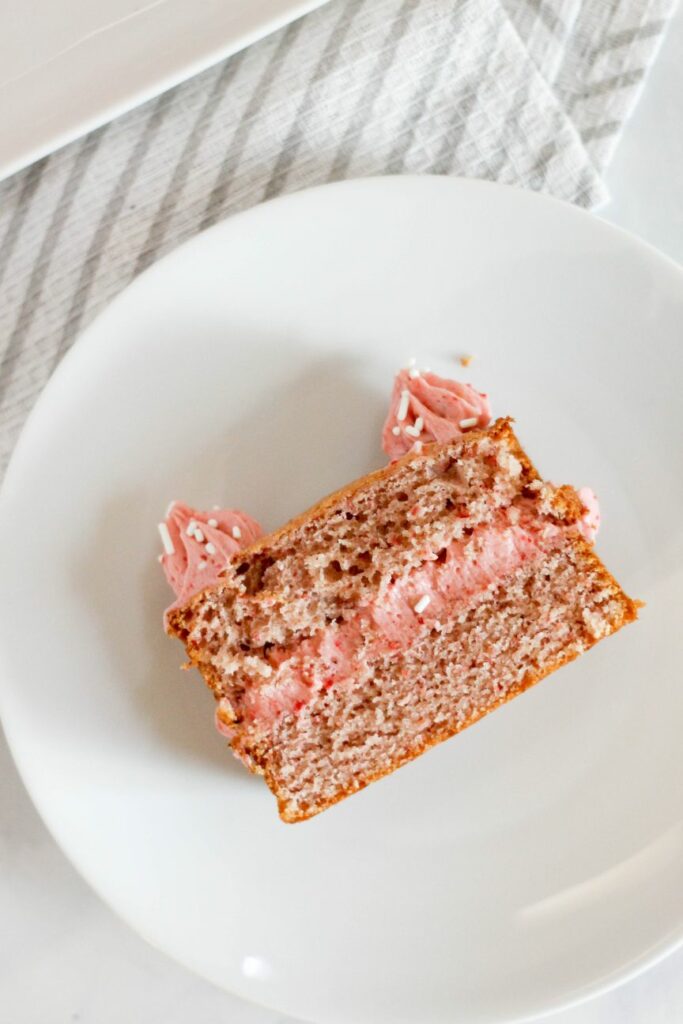 This cake is fairly light on the frosting as well. Okay also though, I've tried a lot of ways to make strawberry cake. A LOT. and it's always seemed like no matter how many fresh strawberries I manage to jam into a cake batter, it always comes out not tasting like strawberry. So, this cake actually uses freeze-dried strawberries in the cake and frosting. This results in a super strawberry-tasting cake in the end.
I can always find freeze dried strawberries in the snack section of my grocery store, along with other freeze dried fruit (interesting flavor options here). The dried berries are getting ground up into a powder here. I use a small food processor, but you could do it in batches in a spice grinder, or a blender would even get the job done. You just want them finely ground.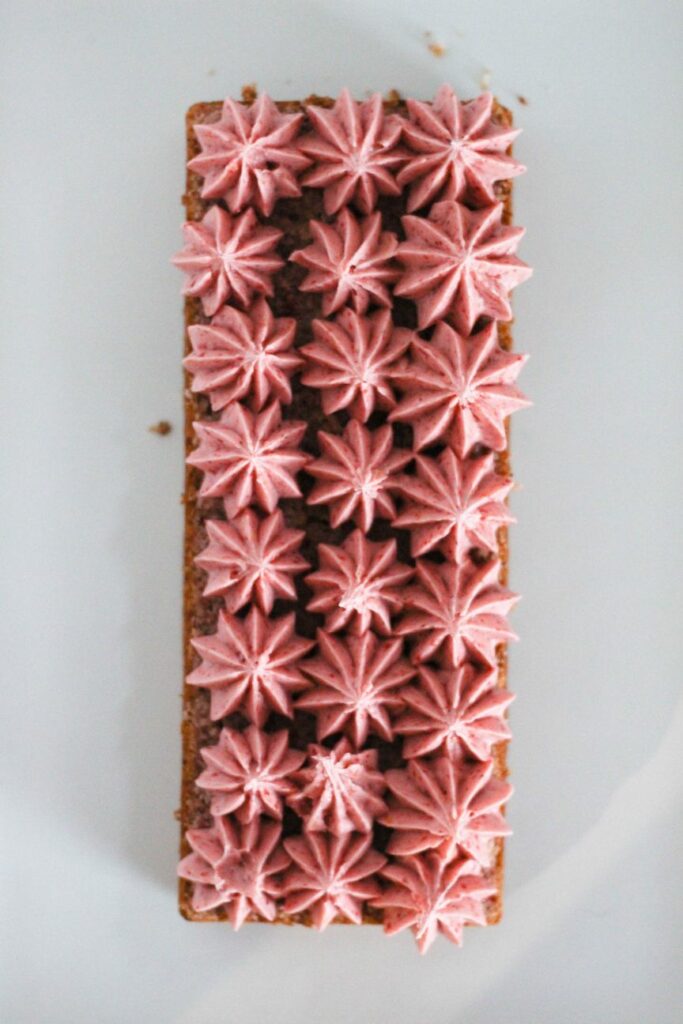 The cake is super simple, and I'm once again using an ermine frosting today. I love this type of frosting because it results in a light, fluffy, super spreadable frosting, and you don't need powdered sugar or egg whites to do it! You'll want to cook the flour paste ahead of time and let it cool completely- this step is extremely important, so don't try to add it in before it's cooled!
I used a piping bag to create that pretty star effect on the frosting, but that's optional. Frost this bad boy any way you like, or whatever is the fastest way so you can enjoy it immediately!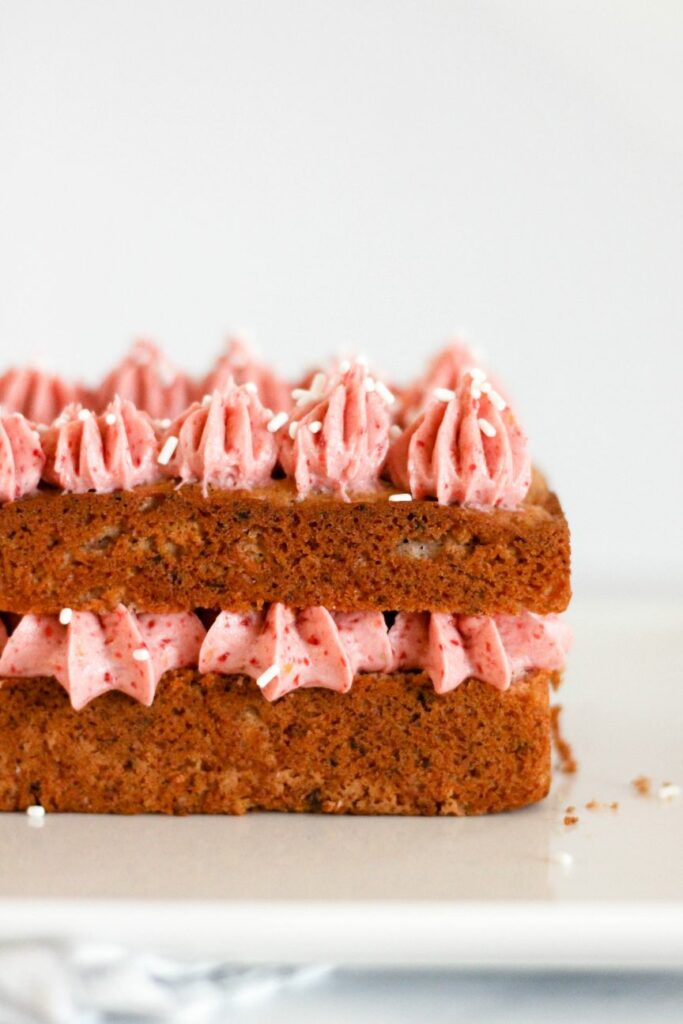 Strawberry Layer Cake
Ingredients
For the cake:
1/2

cup

softened butter

1/2

cup

sugar

2

eggs

1/4

cup

sour cream

1

cup

flour

1 1/2

tsp.

baking powder

1

tsp.

salt

1/2

cup

powdered freeze dried strawberries

1/4

cup

milk
For the frosting:
3

tbs.

flour

1/2

cup

milk

1/4

tsp.

salt

1/2

cup

butter

1/2

cup

sugar

1/3

cup

powdered freeze dried strawberries
Instructions
For the cake:
Preheat your oven to 350 degrees and generously grease a 9 inch loaf pan. Set aside.

In a large bowl, beat together the butter, sugar, eggs, and sour cream until combined. Add in the flour, baking powder, salt, and powdered freeze dried strawberries. Beat until combined- the batter will be very thick. Add in the milk, and beat until smooth.

Pour the batter into your prepared pan and bake for 35-40 minutes, or until a cake tester comes out clean. Cool completely before frosting.
For the frosting:
In a small saucepan, cook the flour and milk until a thick paste forms. Stir the mixture constantly while it cooks. Remove from heat and cool completely before continuing.

In a bowl, beat the butter and sugar for 5-10 minutes, until very fluffy and light in color. Beat in the cooled flour mixture and mix for another 5-10 minutes, until the mixture is fluffy. Add in the powdered strawberries and salt, and mix to combine. Frost as desired!
Comments