Hey guys! I'm so excited to share this one with you, it's one of my favorite things to make, and it's also one of the biggest problem dishes at high-altitude. This Chocolate Layer Cake is filled with a soft chocolate buttercream, and iced with chocolate ganache, which is basically like frosting your cake with the filling from a chocolate truffle.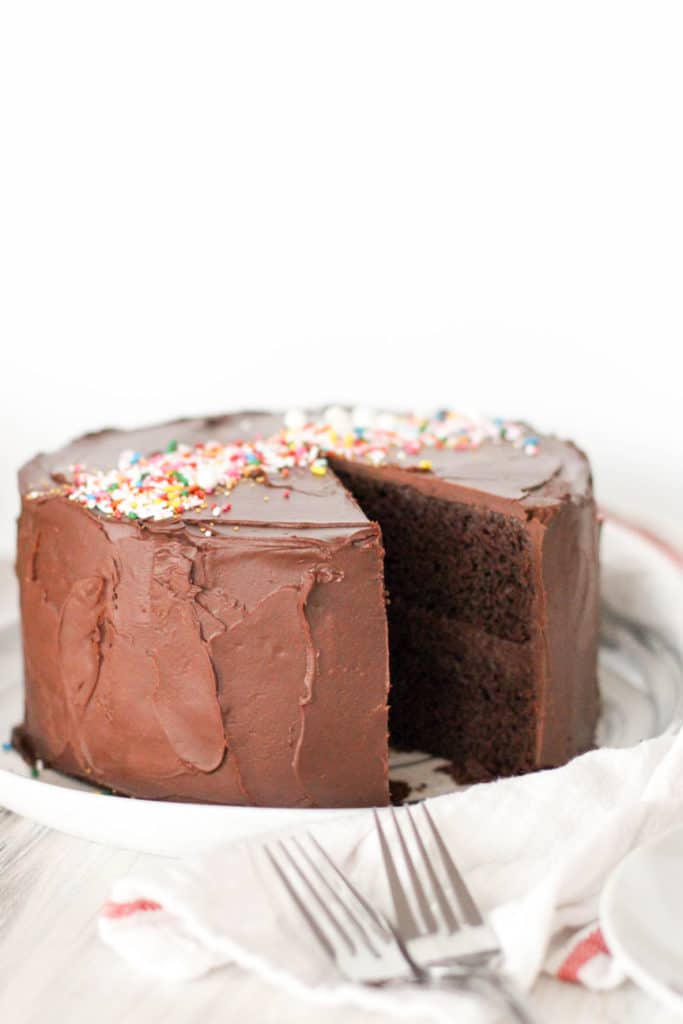 If that wasn't enough to sell you, the cake is fluffy, chocolatey, and really the perfect texture. Let's get to it!
How to Make High-Altitude Chocolate Cake
This is a super simple cake recipe, and it can easily be mixed by hand with a whisk. We're starting by stir together the dry ingredients, in this case that's flour, sugar, dutch-processed cocoa powder, instant espresso powder, salt, and baking soda. The espresso powder is optional, but it helps bring out the chocolate flavors and I highly recommend it! Alternatively, you can replace about 1/4 cup of the milk with some strongly brewed, cooled, coffee.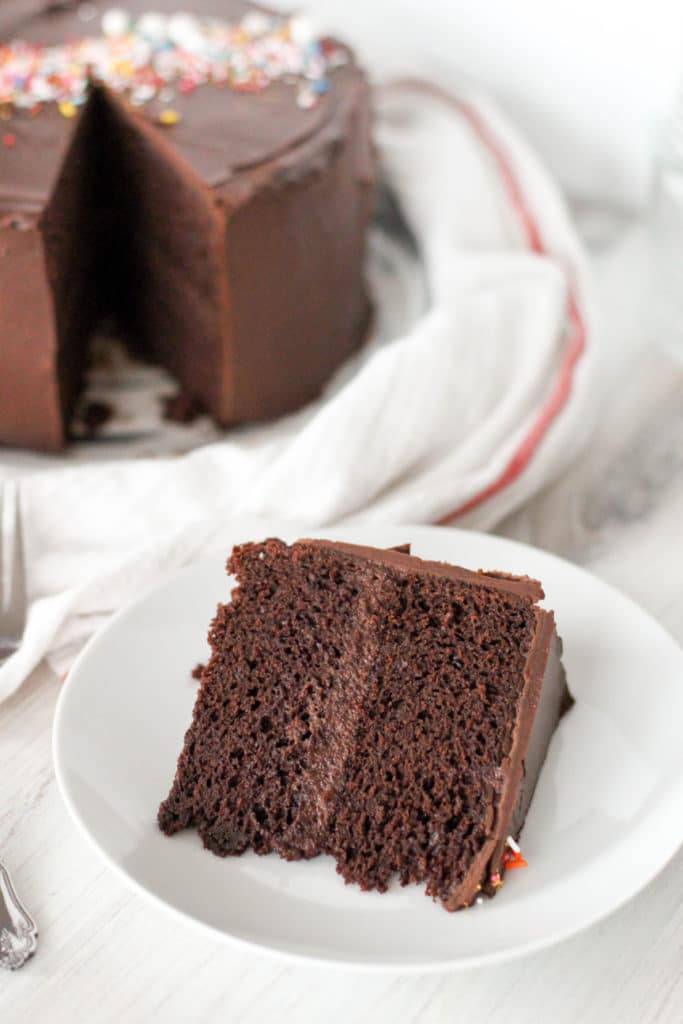 Then, stir the wet ingredients together- milk, vegetable oil, sour cream, vanilla extract, and a little bit of white vinegar. Whisk it all into the dry ingredients until well combined and smooth, and then it's off to the oven!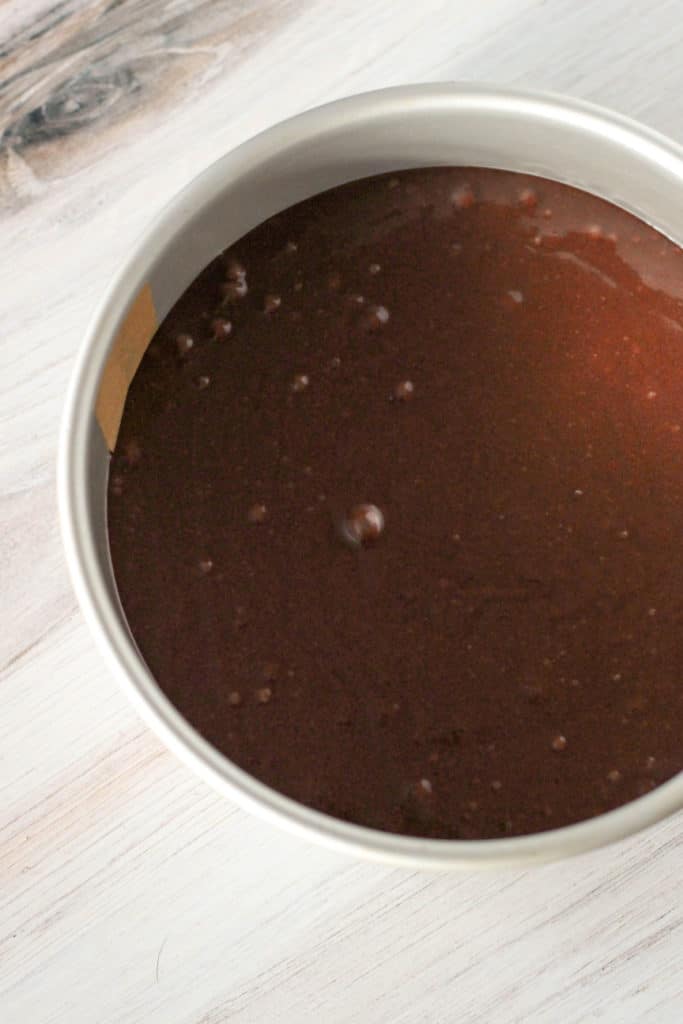 While the cake is baking, whisk up the chocolate ganache. It takes a little time to cool and become spreadable, so you want to make it right when the cakes go into the oven. The buttercream comes together quickly, and I always recommend using an electric hand mixer or a stand mixer for buttercream because it can take a good amount of beating.
Now it's time to layer it all together! I'm using a crumb coat in this case using the buttercream filling, which makes frosting the outside of the cake much easier, so I recommend it. You want to use a sharp knife to level off the tops of your cooled cakes first, and then get stacking!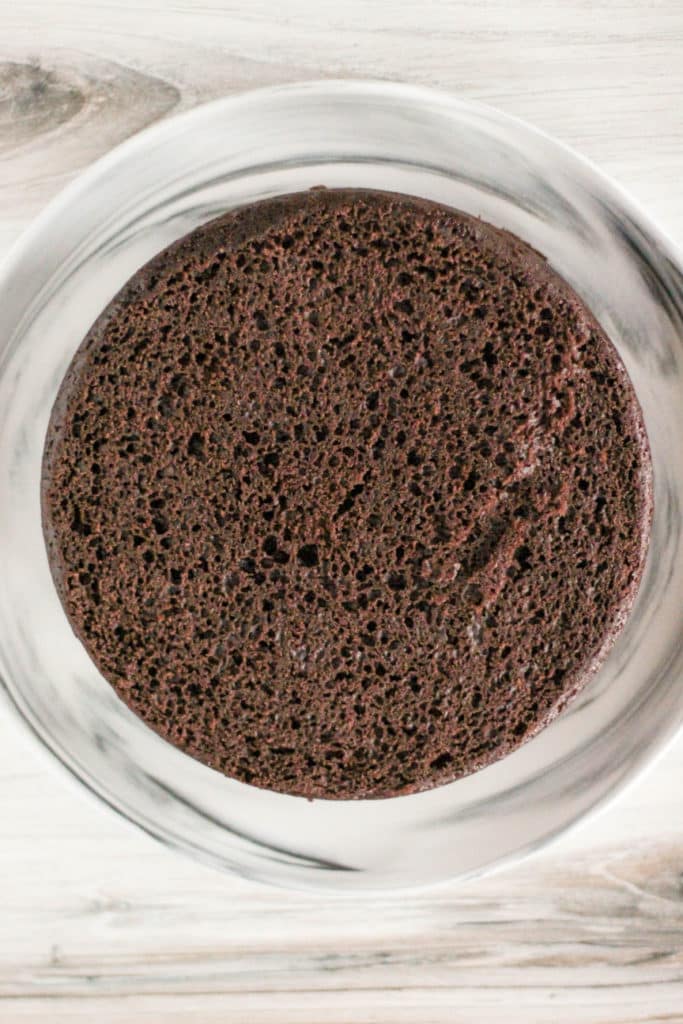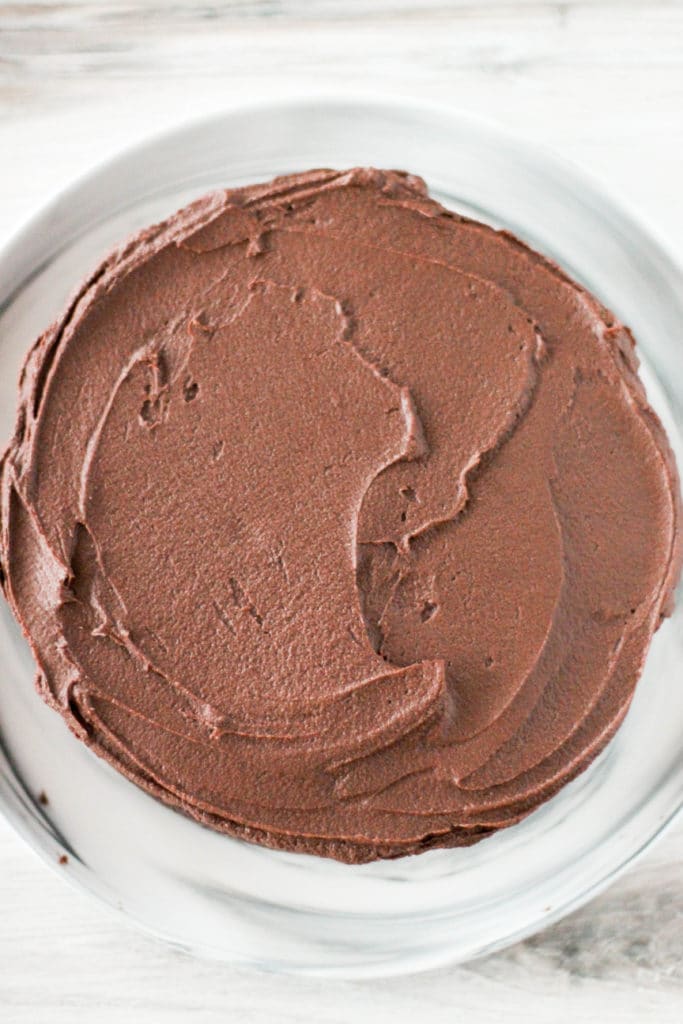 Here's what the cake looks like with a thin crumb coating on it: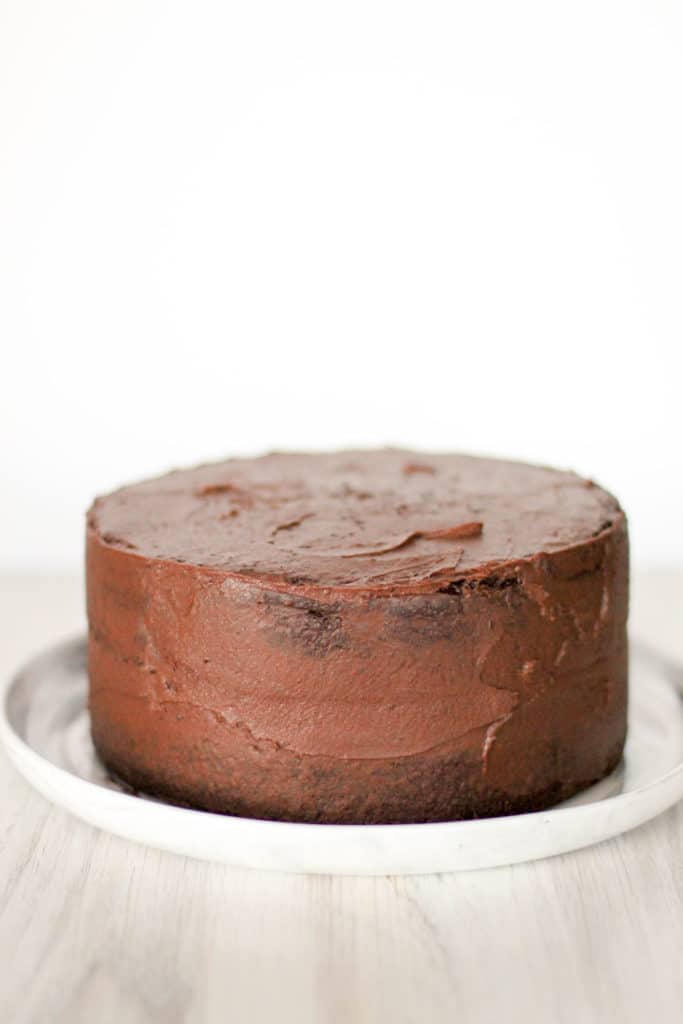 After a quick trip to the fridge, we're frosting the outside: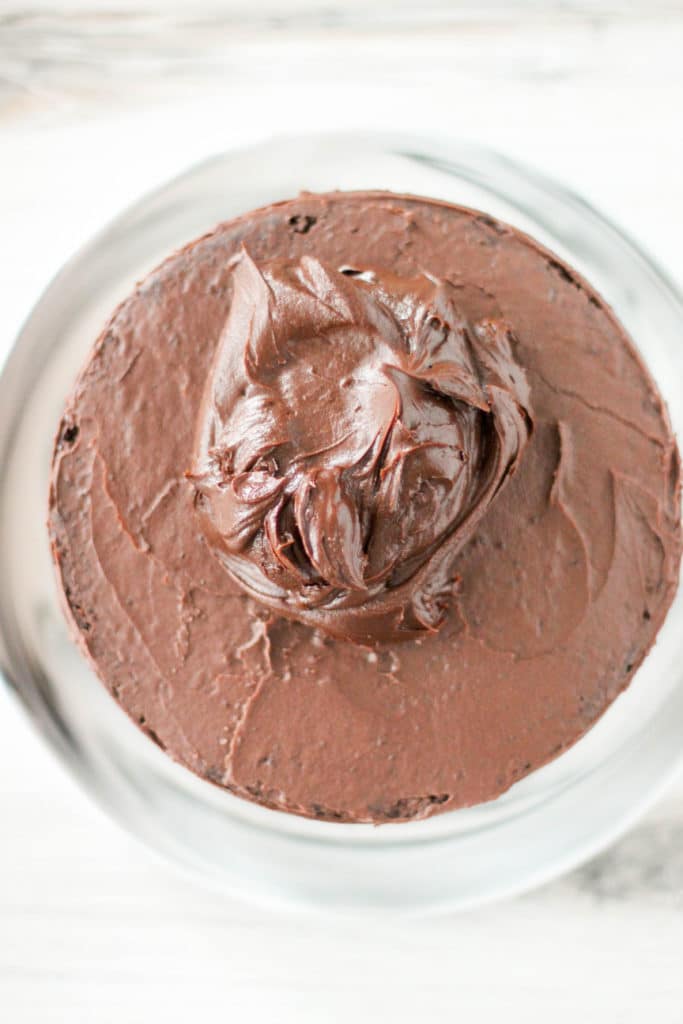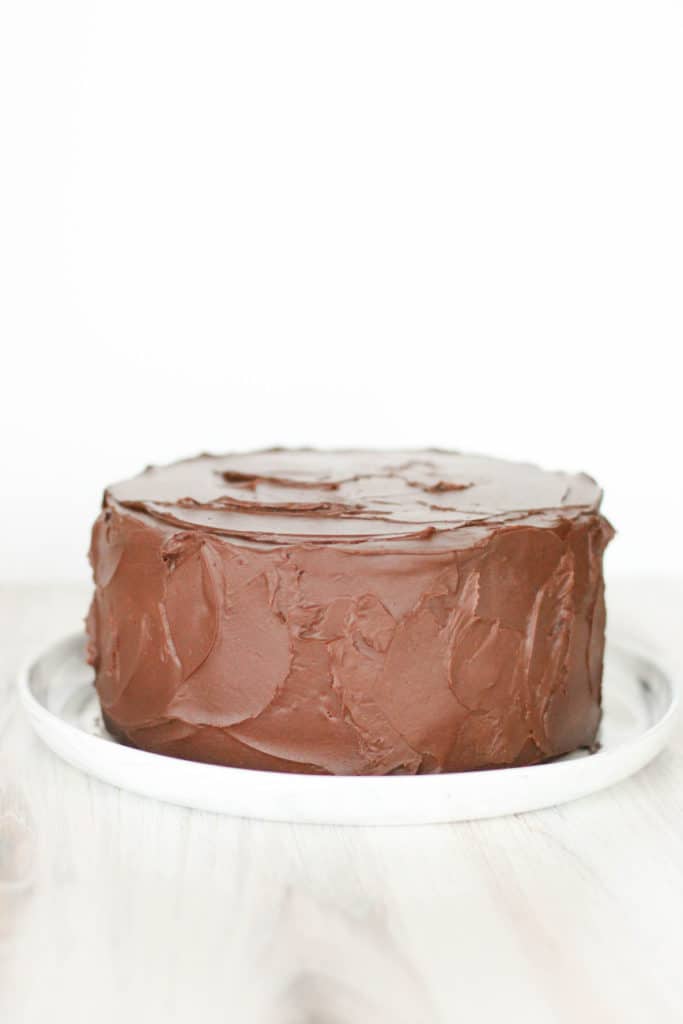 And that's it! It's the perfect celebration cake, and it's so easy to make.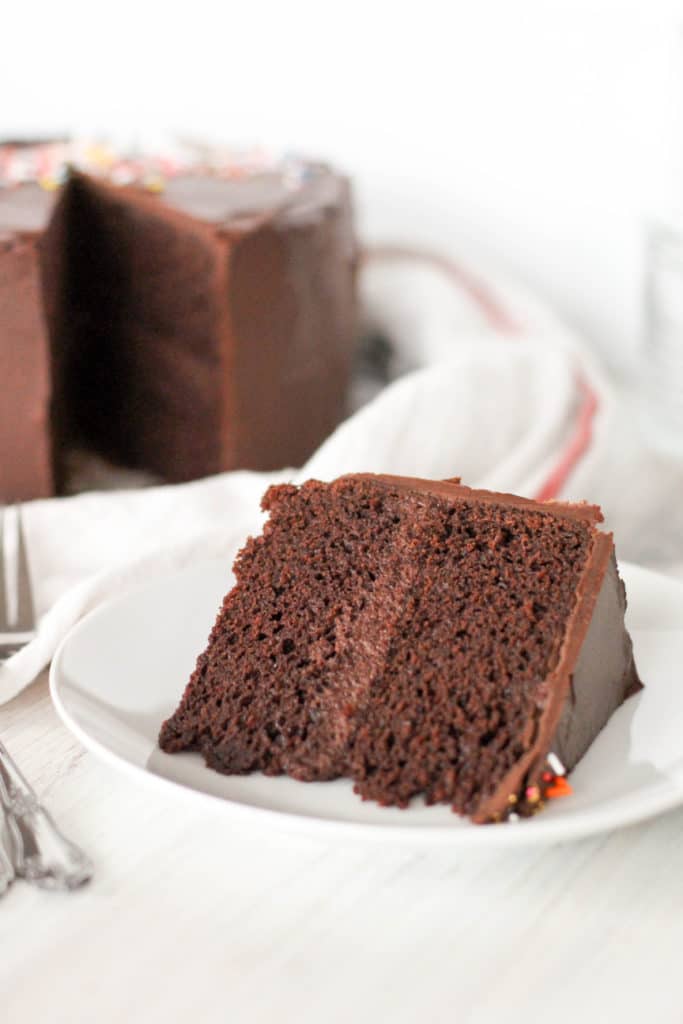 Tips & Tricks For Your Layer Cake
Making a layer cake takes practice, but you can rest easy knowing that it's always going to taste great! Here are some tips and tricks on this recipe:
This recipe makes 2 8-inch layers but you can also bake these cakes in 3 6-inch pans, but you'll want to watch the bake time and check the cakes about 10 minutes earlier.
If your ganache hardens too much which can happen if it just chills down fairly quickly, it may be too hard to spread. Not to worry- just pop the bowl in the microwave for 10 seconds at a time, stirring, until it is just warm enough to spread. This only takes about 20 seconds for me.
You can't really over-beat the buttercream and you want to beat it for longer than you might think! It will become even fluffier and yummier as you keep beating it together.
Do the crumb coating: It takes more time, but it really does help the final layer of frosting stay smooth and crumb-free. There's enough buttercream to fill the cake, and give the whole thing a thin layer!
Layering cakes is a process so don't rush it. Be sure to level off your cakes as best you can, using the sharpest knife you have, and give yourself time to crumb coat the thing. Taking your time makes it much easier!
I'm at about 5,000 ft above sea level and I typically find that most people who are between about 3,000 ft and 7,000 ft above sea level do not need to make any adjustments to my recipes!
Hope you guys enjoy this one, it's seriously so dang good!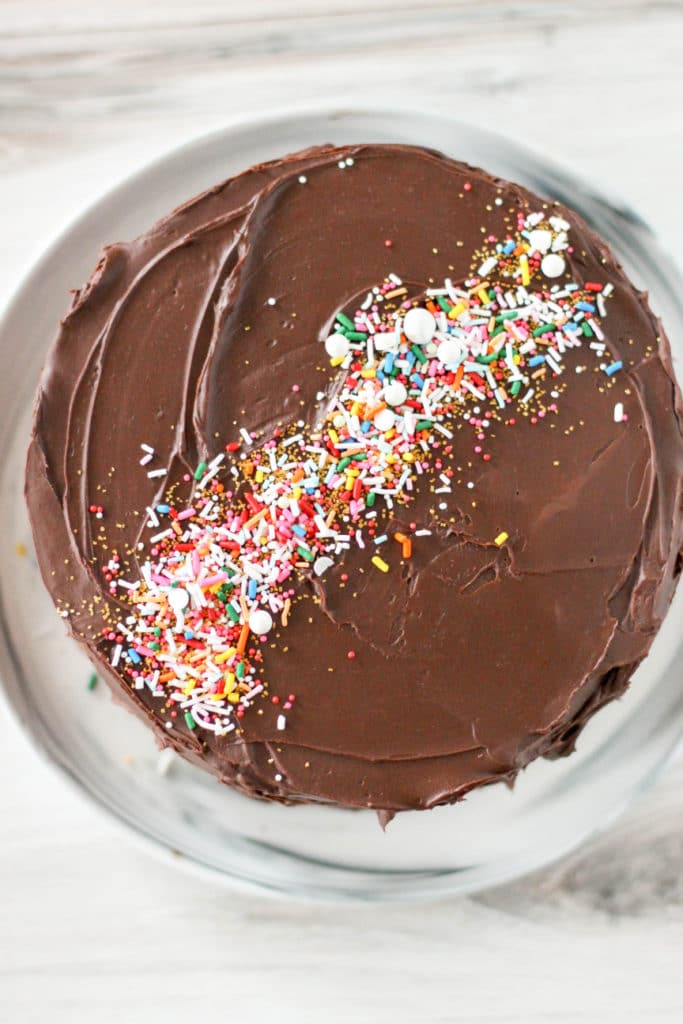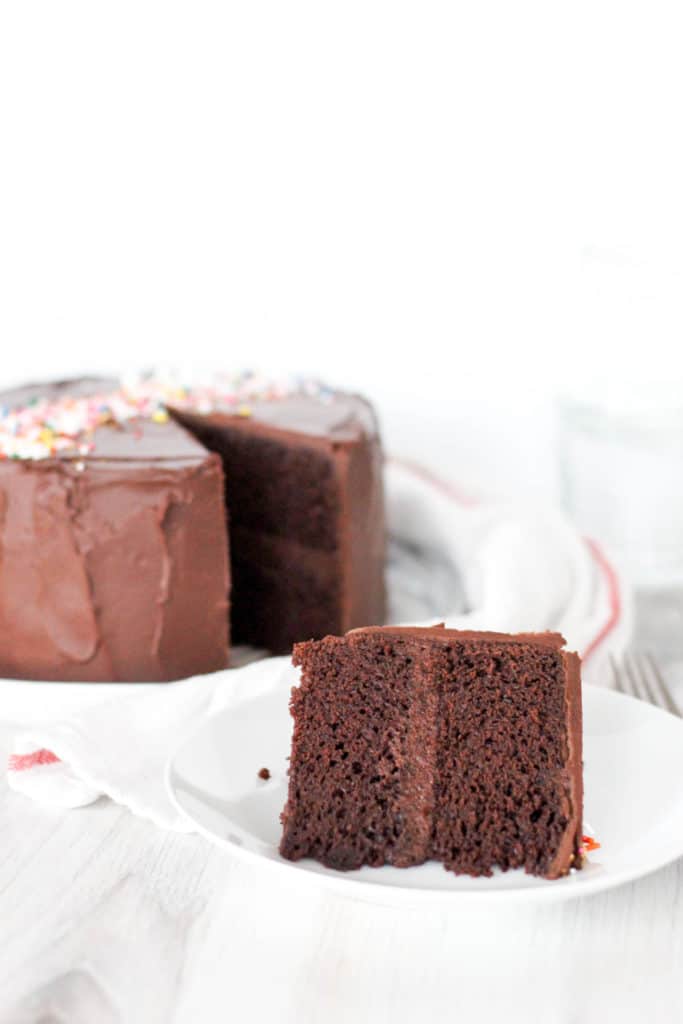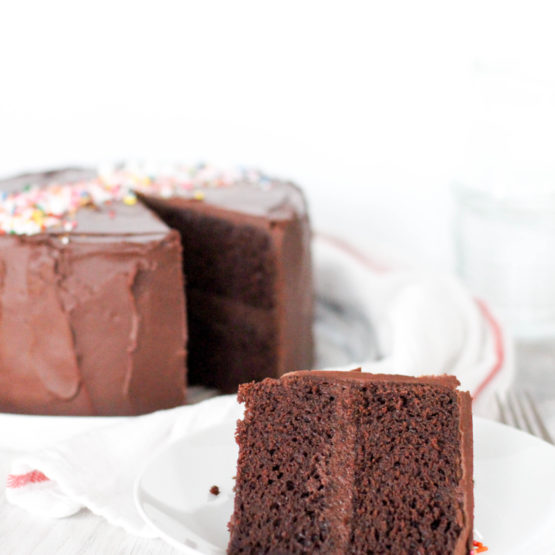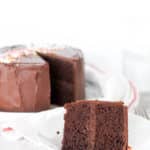 High-Altitude Chocolate Cake
Ingredients
For the cake:
3 1/2

cups

flour

2

cup

sugar

1/2

cup

dutch process cocoa powder

1

tsp.

salt

1/2

tsp.

instant espresso powder

1 1/2

tsp.

baking soda

2

cup

milk

2/3

cup

vegetable oil

1/4

cup

sour cream

1

tbs.

vanilla extract

2

tsp.

white vinegar
For the filling:
1/2

cup

softened butter

2

tbs

sour cream

1

tsp.

vanilla extract

1 1/2

cups

powdered sugar

3

tbs

dark cocoa

1/4

tsp.

salt

1

tbs.

heavy cream
For the frosting:
7

oz

dark chocolate

chopped

1/4

cup

butter

1/3

cup

heavy cream

1

tsp.

vanilla extract

1/4

tsp.

salt
Instructions
For the cake:
Preheat your oven to 350 degrees, and generously grease two 8-inch cake pans. Optionally, line the bottom of each pan with parchment paper.

In a large bowl, whisk together the flour, sugar, cocoa powder, salt, instant espresso powder, and baking soda. In a medium bowl, whisk together the milk, oil, sour cream, vanilla extract, and white vinegar. Whisk the wet ingredients into the dry, and whisk until the batter is smooth. Pour evenly into your prepared cake pans, and bake for 32-36 minutes, or until a toothpick comes out clean. Cool the cakes completely before frosting.
For the filling:
In a large bowl, beat together the butter, sour cream, vanilla extract, powdered sugar, cocoa powder, and salt for several minutes. It should be very thick at this point, and you really can't over-beat it. In fact, you want to beat it longer than you might think! Then, beat in the heavy cream for an additional 3-5 minutes, or until the filling is very fluffy!
For the frosting:
In a medium heat safe bowl, melt together the dark chocolate and butter in the microwave in 30 second increments until just melted, stirring each 30 seconds. Then, stir in your cold heavy cream, vanilla extract, and salt until combined. Cover, and let it sit at room temp until it has thickened and become spreadable, about 30 minutes-1 hour.

Level off your cakes, and fill with the filling, and use the remaining filling to give the cake a thin crumb coating. Chill the crumb-coated cake for about 30 minutes, and then frost the outside with your prepared, cooled frosting. Add sprinkes and enjoy!!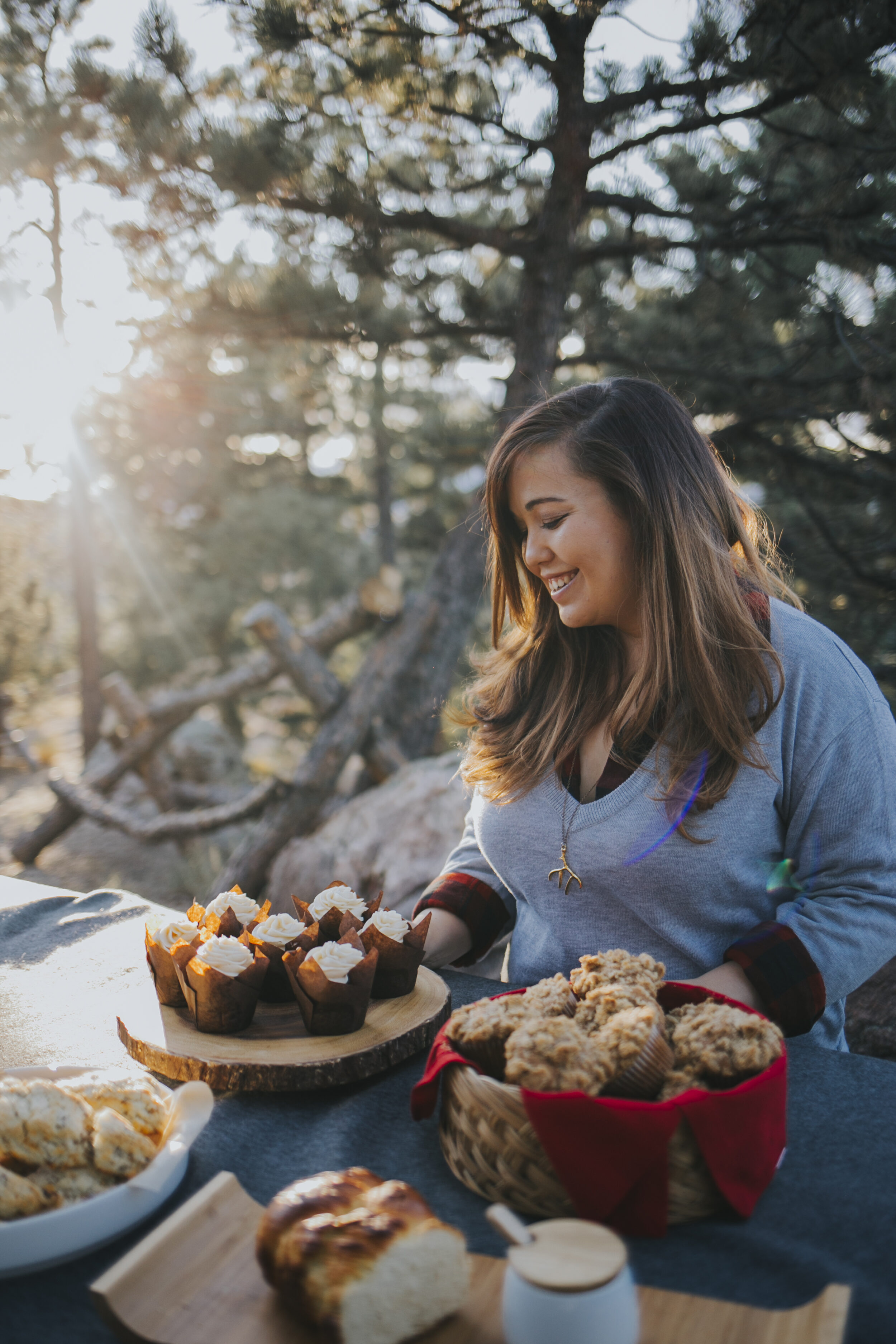 Hello and welcome! My name is Nicole, and Dough-eyed is a food blog for people who want to bake for their family and friends in high-altitude areas. Think of me as a friendly voice there with you in the kitchen, here to give you confidence when you're baking, and to help you with the struggles of baking at high-altitude. Come back every week for new recipes, tips, and advice on high-altitude baking!