Birthday Cake Blondies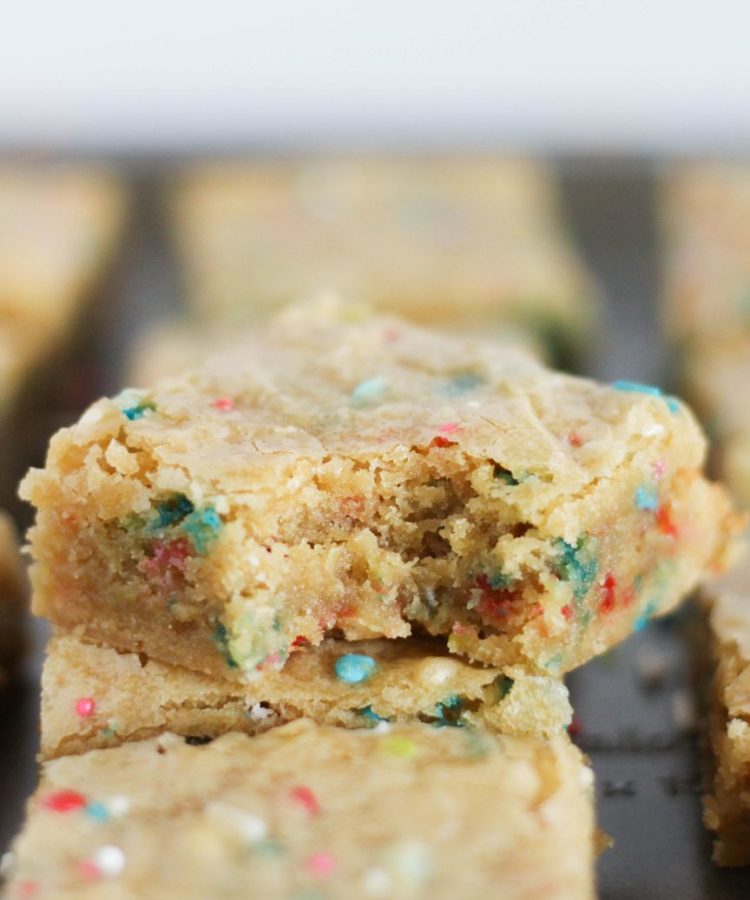 Hey guys, happy confetti day! Whatever day you're reading this, we're on the same page. I've got a killer blondie recipe, and today I'm turning it into a birthday cake version, and it's worth a bake I promise.
Actually, blondies (and brownies for that matter) are really simple to whip up. You literally need not a single excuse, and usually just one bowl to do it so. What are we waiting on at this point guys? Plus this recipe makes a full 9×13 inch cake pan full of blondies you'll dream about, so you can share with friends. If you want, whatever.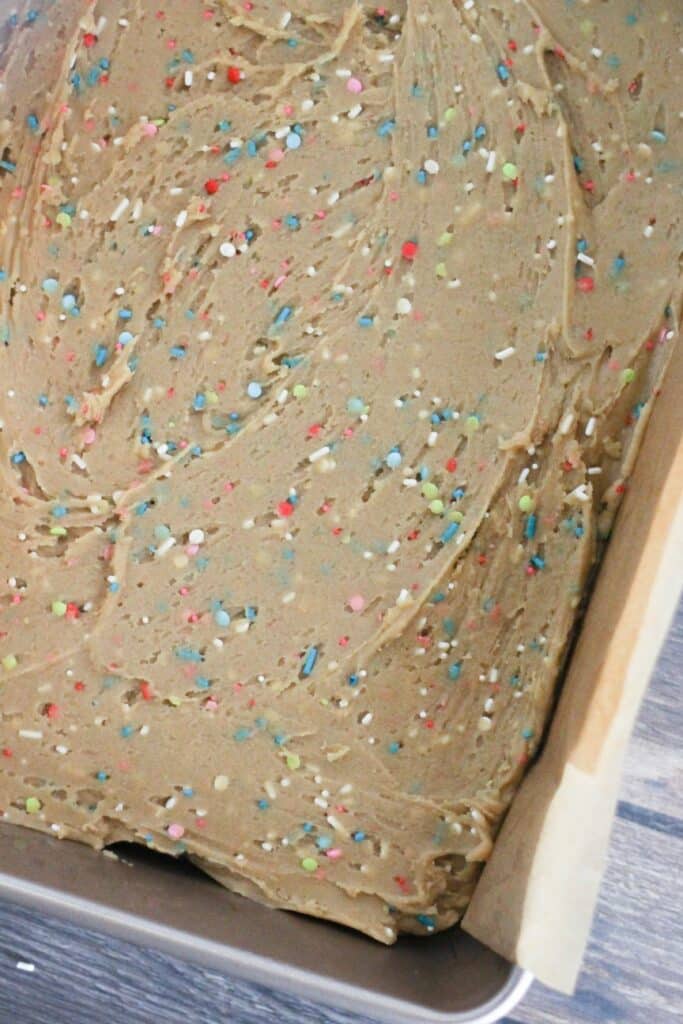 So you want to start out by melting some butter- I just do it in the microwave, in a large glass bowl that I'm going to do the whole thing in. Dishes you guys, they suck. Whisk in brown sugar, white sugar, and two eggs. Next is how we get to that birthday cake vibe- vanilla and almond extract. The almond extract really brings out that classic, sprinkle, vanilla-cake-thing we want to taste when anything is called birthday cake.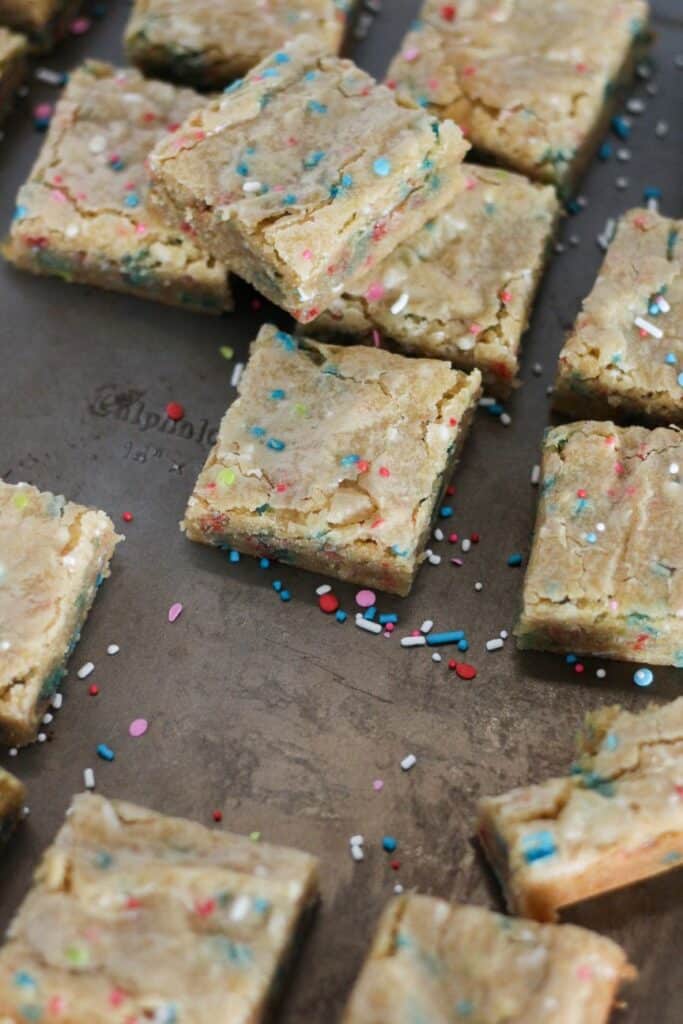 Then it's flour, salt, milk, and finally the sprinkles. Use whatever kind you like. Today I'm using a spring-colored mix (of random sprinkles I have in my pantry). I think jimmies and flat confetti sprinkles are kind of your best bet for that classic feel.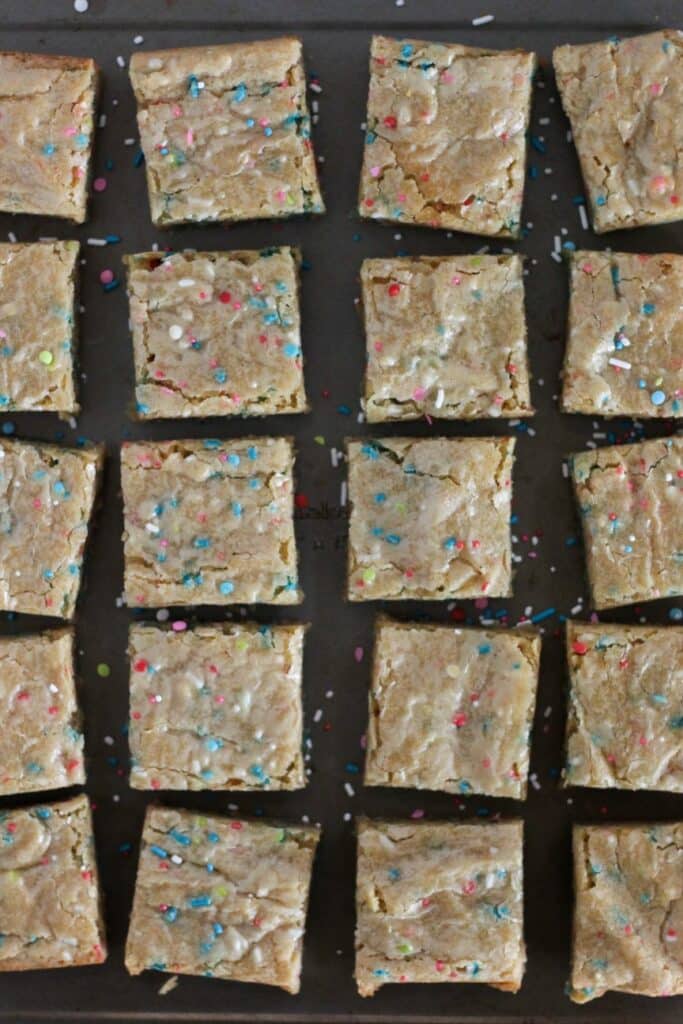 What you really want in blondies (similarly to brownies) is that papery, crinkly, delicate top layer, and you totally get that here. Beyond that, let's go for a soft, fudgey texture that you'll be addicted to, I promise.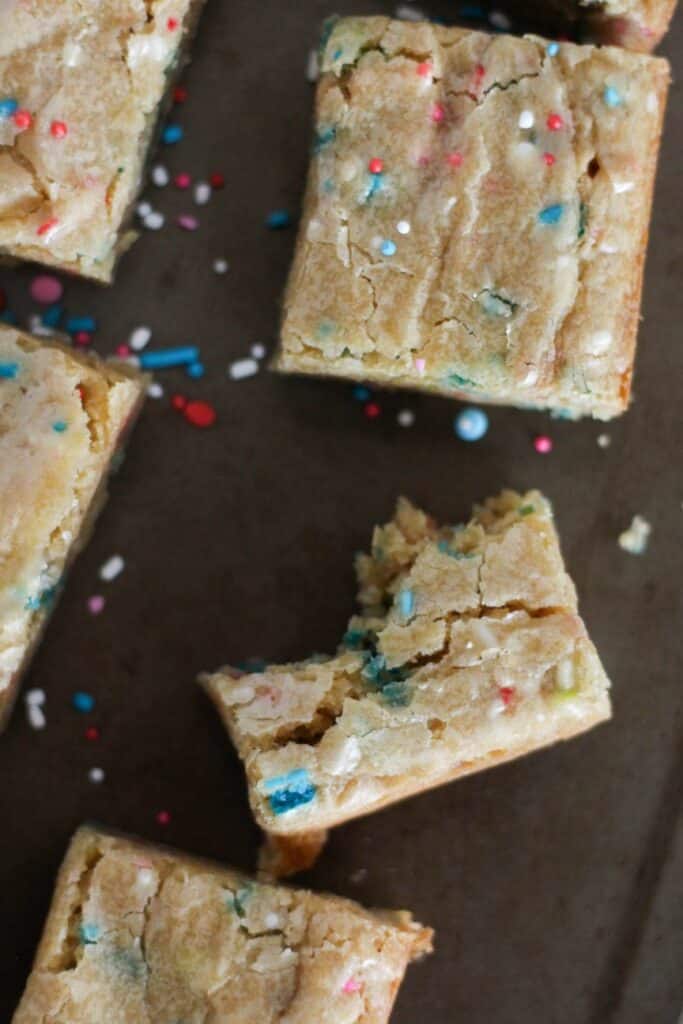 Wait, have we talked about what a blondie is? That feels like a missed point, sorry guys. Blondies are like, meant to be just like brownies except with a vanilla and brown sugar flavor instead of chocolate. I find that most people add in chocolate chips, but I'm really into this recipe sans any chocolate. Really guys.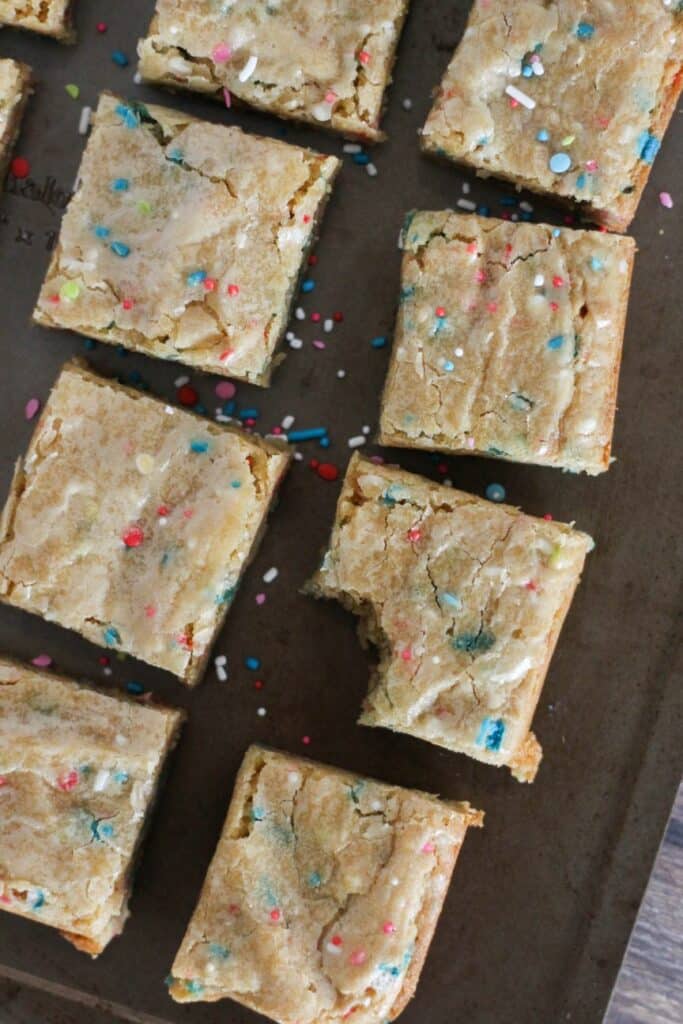 Okay, anyways, make this, it's awesome, you'll love it, enjoy!
Birthday Cake Blondies
Ingredients
1

cup

melted butter

1

cup

dark brown sugar

1

cup

sugar

2

eggs

1/4

cup

milk

2

tsp

vanilla extract

1

tsp.

almond extract

2 3/4

cup

flour

1

tsp.

salt

1/3

cup

sprinkles
Instructions
Preheat the oven to 350 degrees, and generously grease a 9x13 inch pan. Set aside.

In a large bowl, whisk together the melted butter, brown sugar, and regular sugar until smooth. Whisk in the eggs, milk, vanilla extract, and almond extract until the mixture is smooth.

Add the flour and salt to the mixture, and stir until combined. Gently stir in the sprinkles, working quickly because the batter will be starting to thicken as the butter comes back to room temperature.

Spread evenly in your prepared pan. Bake for 28-30 minutes, or until a toothpick inserting about 2 inches from the edge of the pan comes out clean. Cool completely, slice, and serve!
Comments