Banana Bread Crumble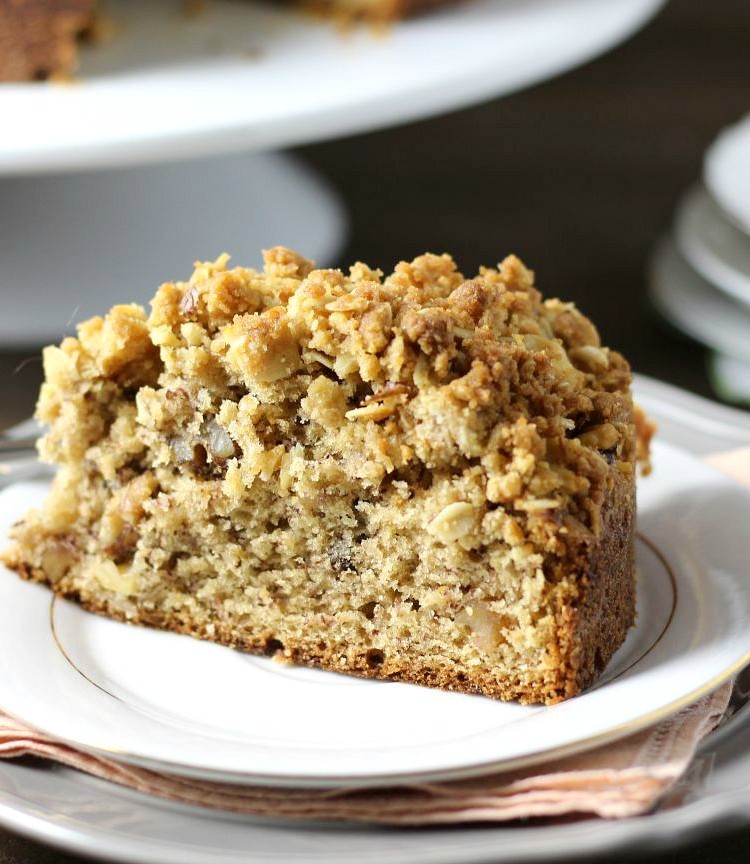 I'm really excited about this one guys! Today I'm sharing an update on my Grandma's banana bread recipe.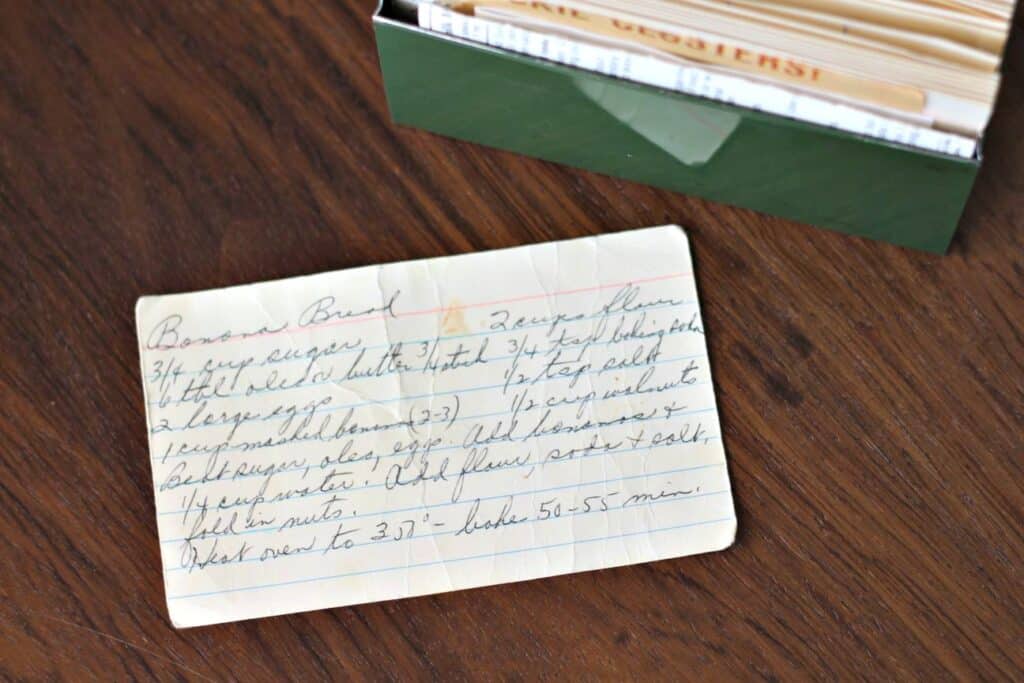 My Grandma used to keep all her recipes on hand-written cards. I try to do this as well, but I can't lie, it just doesn't always happen. She also had the prettiest handwriting, so my mom and I actually have several of her recipes framed and hanging in our kitchens.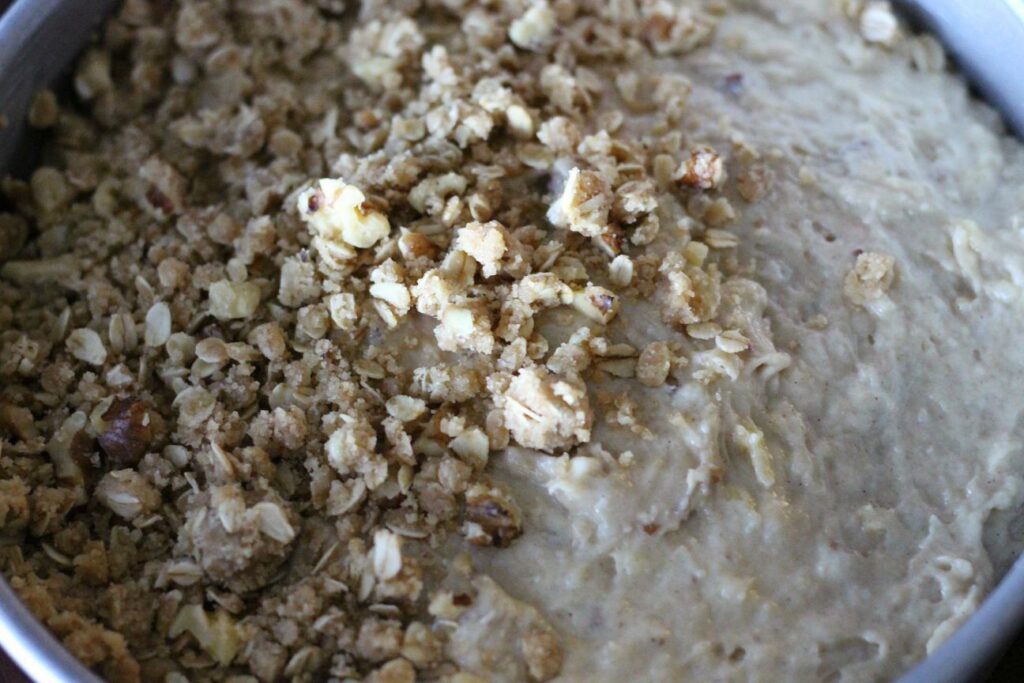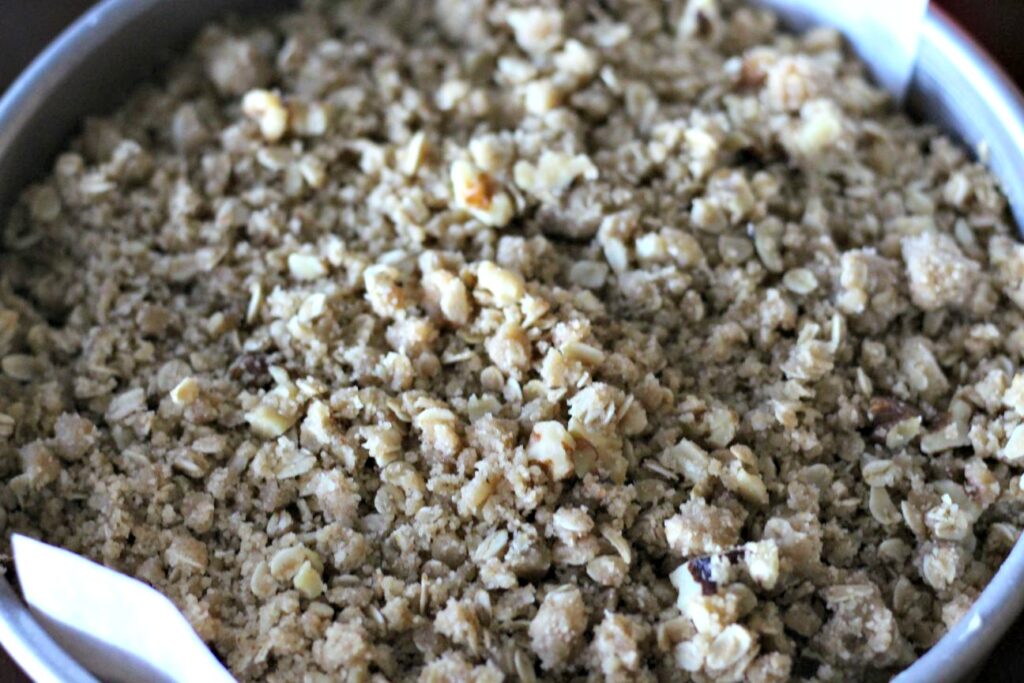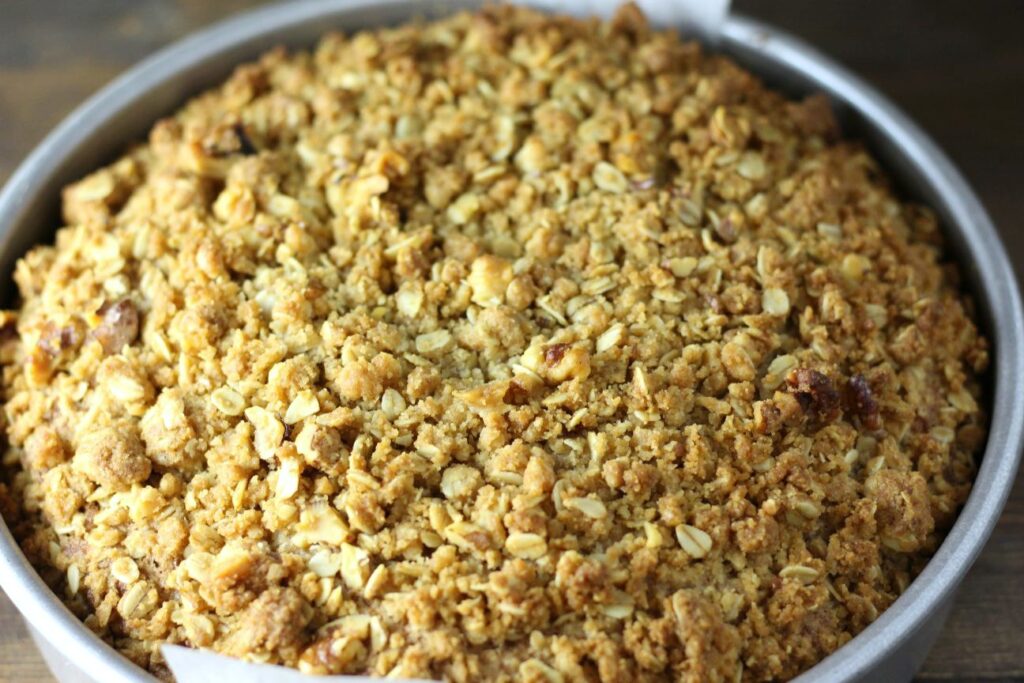 Banana bread is pretty popular with my husband and family, so occasionally I give in to the demands.
My mom and I have been using this recipe for years- it's simple, always works, and it's easy. I'm adding a few things this go around like cinnamon, nutmeg, and a walnut-oat crumble topping. The crumble top bakes up crispy and browned, and it pairs perfectly with a soft, tender banana bread.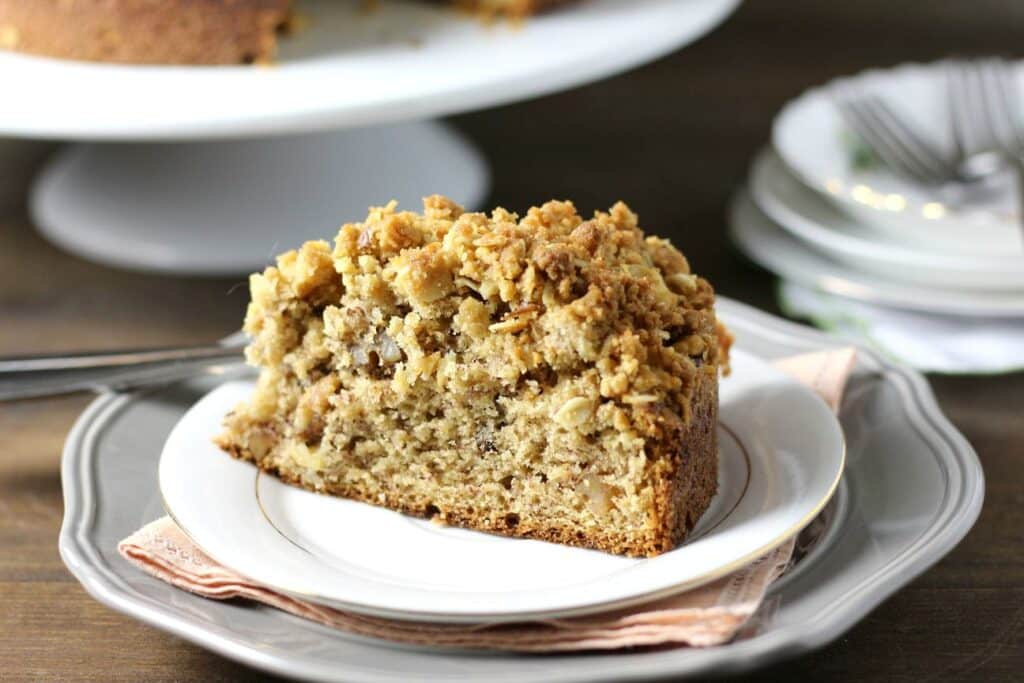 We're basically making banana coffee cake, and who wouldn't love that? The cinnamon and nutmeg make for a really warm, sweet flavor, and the crumble topping creates a more hearty breakfast cake. Yeah I said it, I eat it for breakfast, and you should too!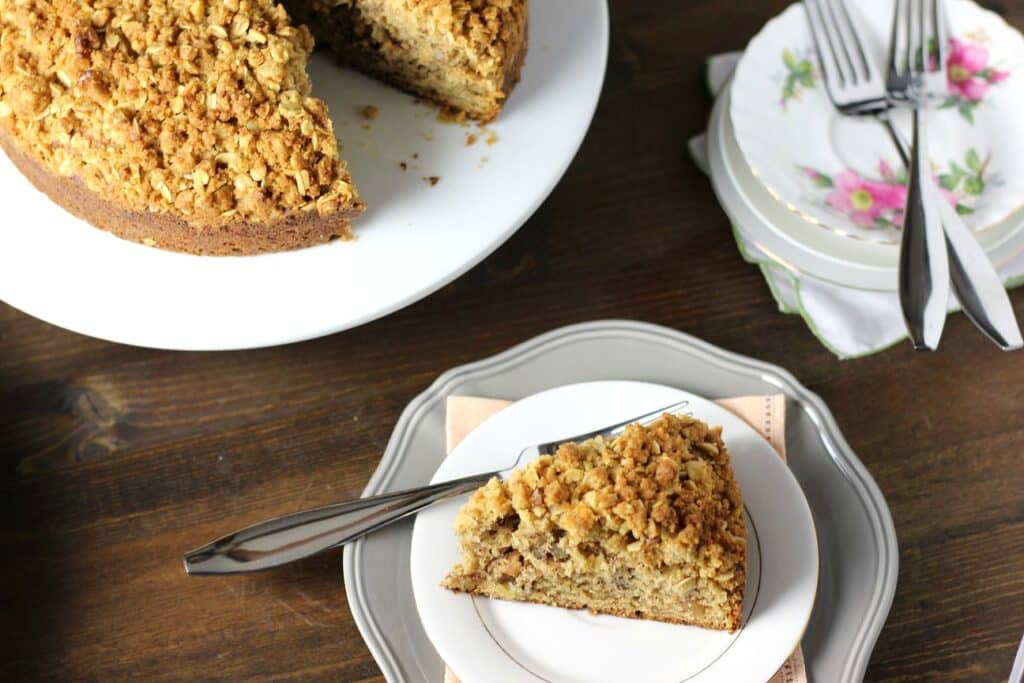 I used some pretty teacup saucers for this bread, and they're actually from my Grandma's teacup collection. Let's make 'em look pretty guys, it's what my Grandma would have done! (It still tastes awesome on paper plates)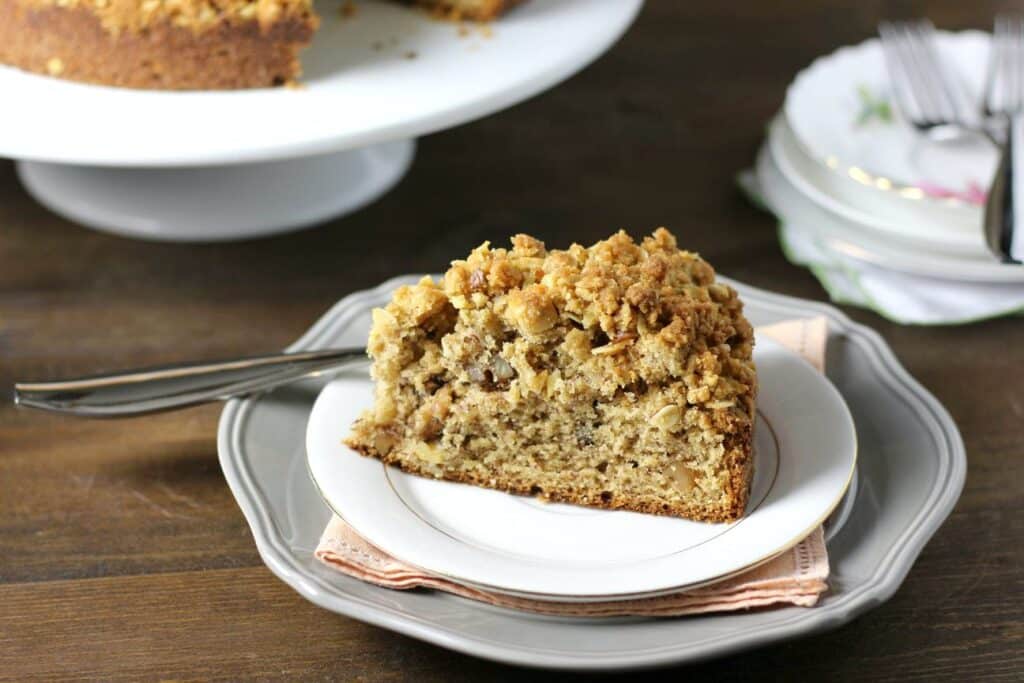 A few final notes about the bananas: If you don't have over-ripe bananas, or if over-ripe bananas gross you out (I get it), then you can actually just roast fresh bananas. To do this, just cook the bananas, peels and all, in a 400 degree oven for 15 minutes. The peels get completely black, and the inside becomes soft and flavorful, just like over-ripe bananas. Make sure you cool them completely- the inside gets VERY hot!
Enjoy!
Ingredients
For the Bread:
3/4 cup sugar
6 tbs. softened butter
2 eggs
1 cup mashed ripe banana
1 tsp. vanilla extract
3 tbs. water
2 cups flour
3/4 tsp. baking soda
1 tsp. salt
1/2 tsp. cinnamon
1/4 tsp. nutmeg
1/2 cup chopped walnuts
For the Crumble:
6 tbs. melted butter
3/4 cup flour
1/2 tsp. cinnamon
1/4 tsp. salt
1/2 cup brown sugar
1/2 cup old fashioned oats
1/4 cup chopped walnuts
Instructions
Preheat the oven to 350 degrees, and grease a 9 inch round cake pan
In a large bowl, beat together the butter and sugar and until smooth. Add in the eggs, banana, vanilla, and water.
Add in the flour, baking soda, salt, cinnamon, and nutmeg, and beat until combined.
Fold in the chopped walnuts, and pour the batter into your pan.
For the crumble, just mix everything together with a fork until a medium crumb forms. If yours comes out too dry, add a teaspoon of water. If it's too wet, add a teaspoon of flour.
Sprinkle the crumb over the top of the batter. You might have some leftover- you just want the top completely covered, but don't do a super thick layer of crumb.
Bake for 40 minutes at 350 degrees. Then, place a piece of foil over the top to prevent over-browning, and bake for an additional 10-15 minutes, or until a cake tester comes out clean.
Cool and enjoy!
https://www.dougheyed.com/banana-bread-crumble/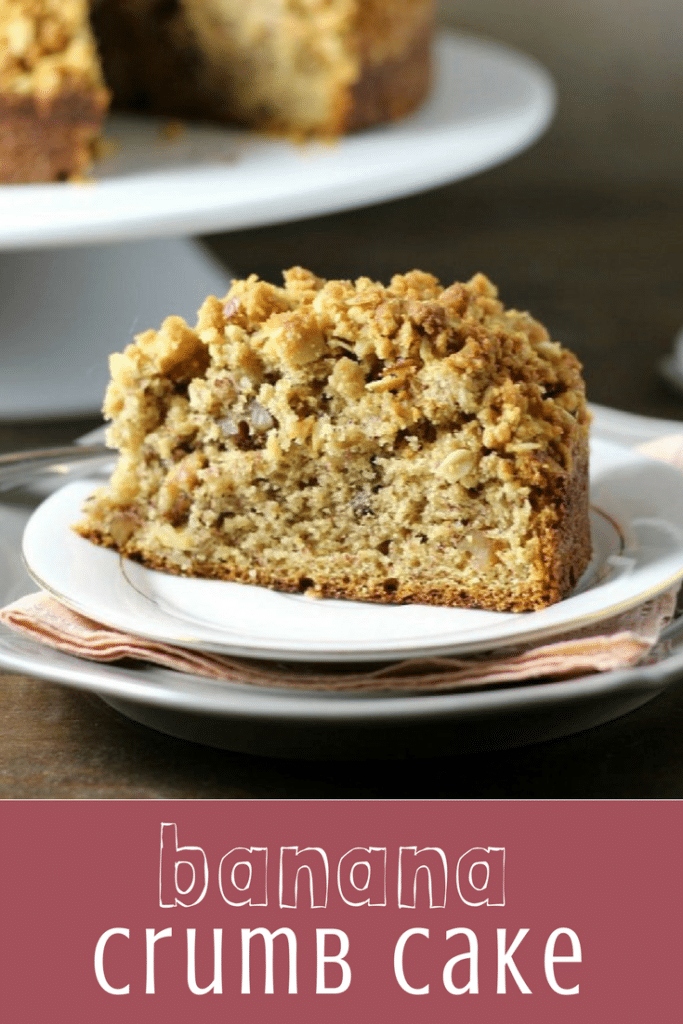 Comments