Tomato Garlic Focaccia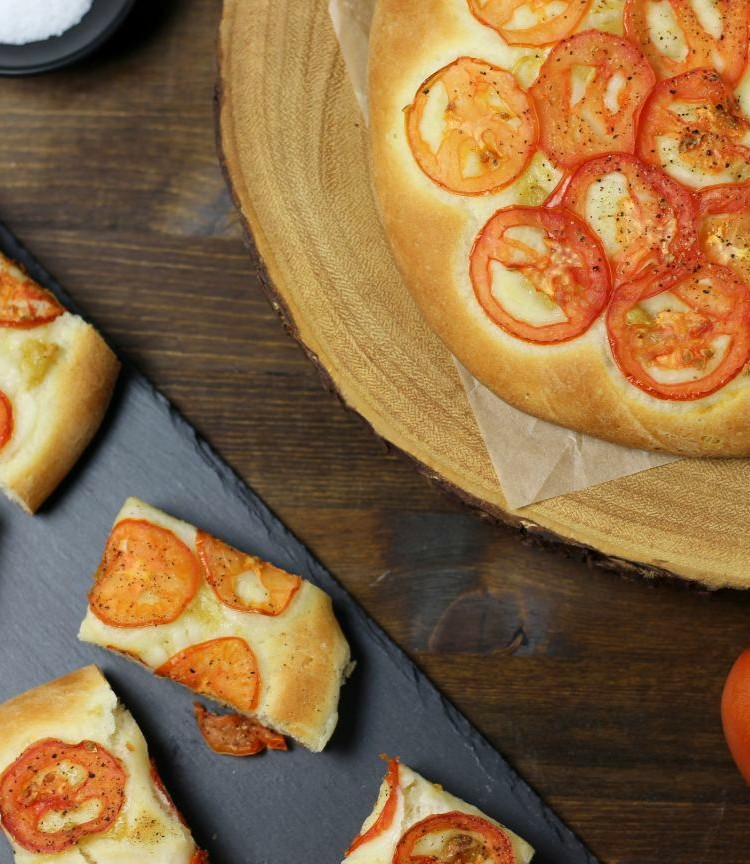 Hey guys! Today I'm sharing the rare savory recipe.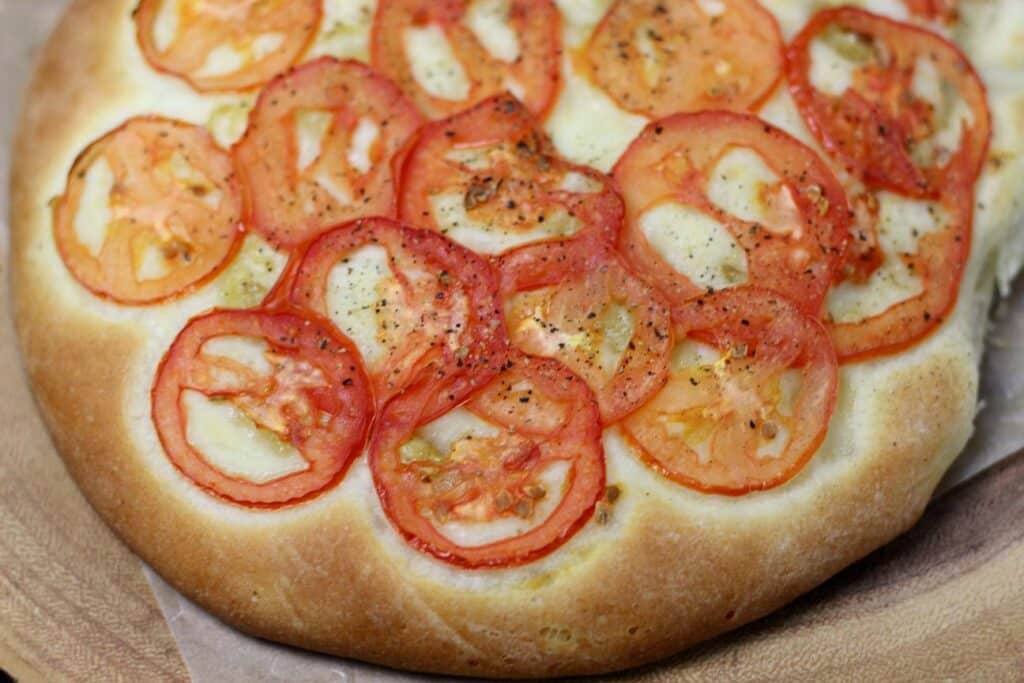 You guys know I'm a baker, and I tend to gravitate towards desserts. That being said, I also cook and bake a lot of savory foods as well. There's one more thing you should know- bread is my ultimate favorite food.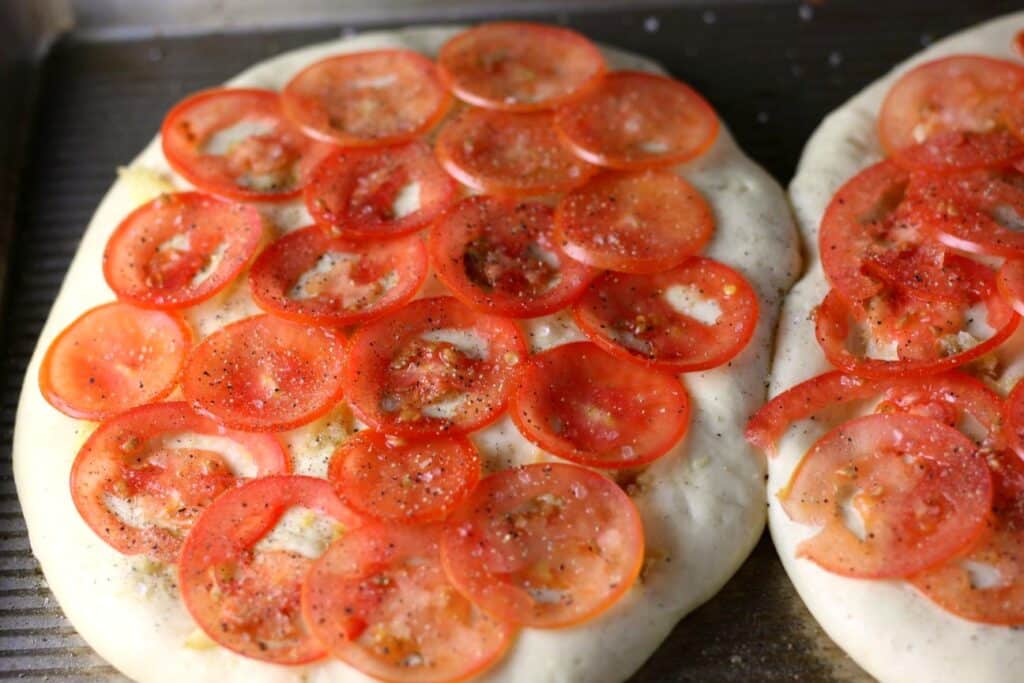 Breads tend to be a bit of struggle to bake at a high altitude, and I've got some great tips on getting it right, which you can find here.
Now, on to the focaccia! Focaccia is a super easy bread to make, and it's similar to pizza dough actually. I topped mine with thinly sliced tomatoes and chunks of roasted garlic. You can top yours any way you want- it's even great with just some salt and pepper on top!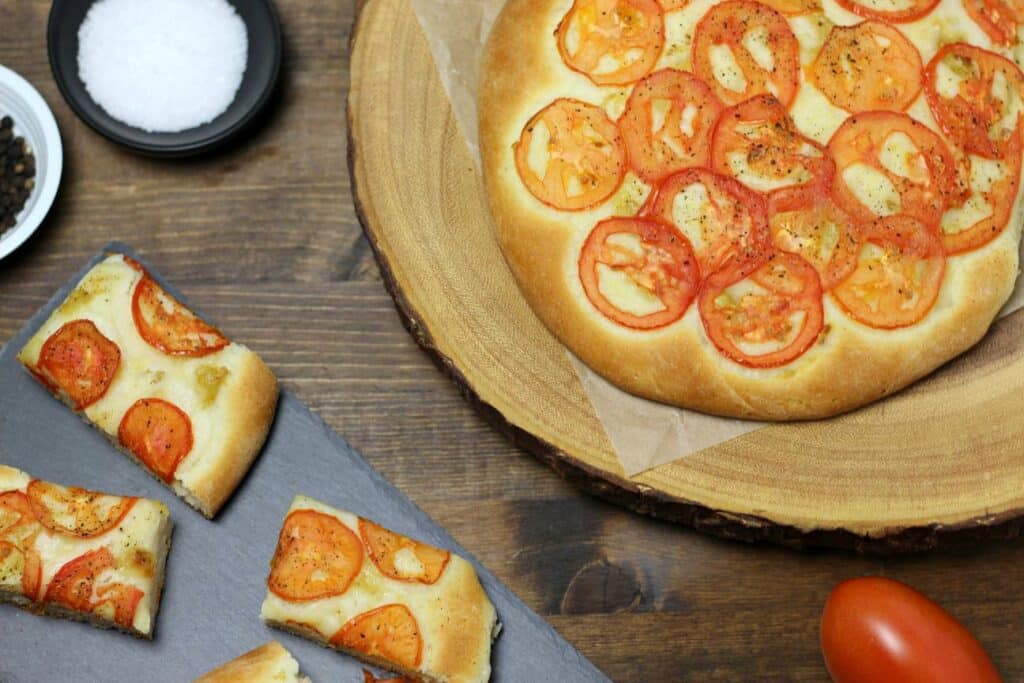 The tomatoes on top will bake into the bread a bit, and they become super flavorful from being roasted into the bread. This is a great side-dish bread, but to be honest, I ate like an entire loaf by myself as a dinner one night. Listen, it's got tomatoes, I think that makes it a whole meal.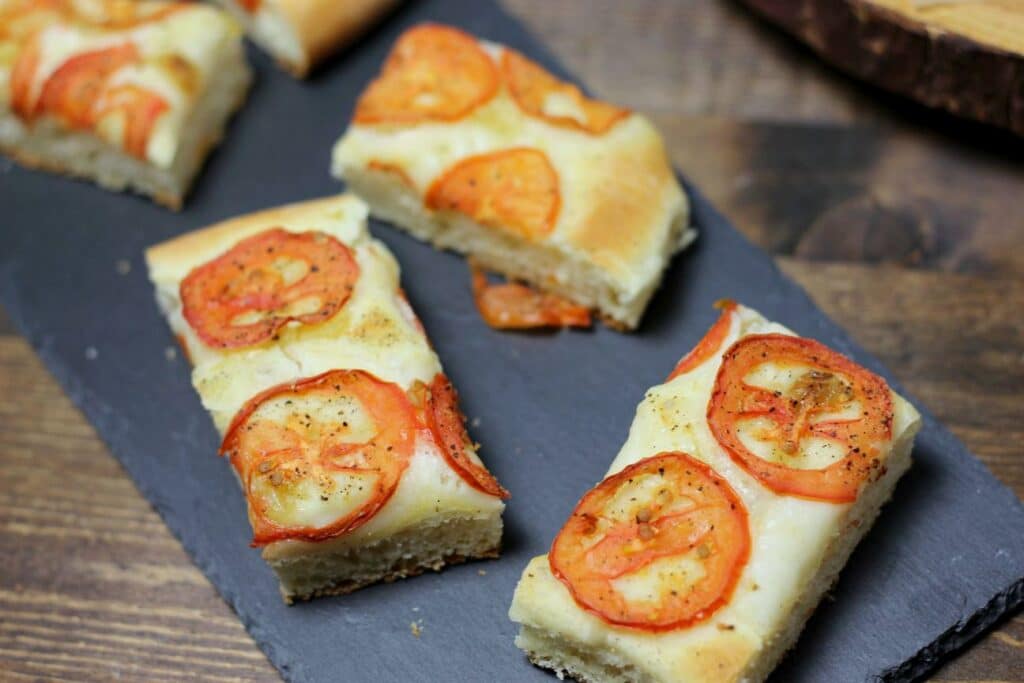 I promise you'll love this bread, and you'll love the fact that you don't have to do any rolling or shaping here. You just use your fingers to press it out onto your sheet pan, top it, and you're good to go!
Enjoy!
Ingredients
3/4 cup warm water (105-110 degrees)
2 tbs. warm milk
2 tsp. sugar
1 1/4 teaspoons quick rise dry yeast
2 1/4 cups all purpose flour
2 tbs. olive oil
1 tsp. salt
2-3 roma tomatoes, thinly sliced
1 head of roasted garlic, chopped
Coarse sea salt and pepper
Instructions
Mix together your water, milk, sugar, and yeast and let bloom for 5-10 minutes in the bowl of a stand mixer
With the dough hook attachment, add in the flour, olive oil, and salt, and knead until dough comes together. Add more as needed- the dough should be slightly sticky.
Turn out onto a floured surface and knead a couple of times by hand.
Place in a lightly oiled bowl and cover with plastic wrap. Leave in a warm area to rise until doubled in size, about 1 hour.
Divide the dough in half, and place each piece on a oiled baking sheet. with a little bit of olive oil on top, use your fingers to spread them out until about 1/2 inch thick. The dough should be dimpled.
Cover and let rise for another twenty- thirty minutes, until the dough has risen again by about a quarter.
Preheat your oven to 450 degrees. Spread the roasted garlic on top of each loaf, and then layer on your sliced tomatoes.
Sprinkle the tops with coarse sea salt and pepper.
Bake for 15 minutes, or until golden brown.
Enjoy!
Adapted from Cooking Channel TV
https://www.dougheyed.com/tomato-garlic-focaccia/
**Adapted from Food Network
Comments