Hey guys! Today I'm sharing the recipe for these pretty Frosted Strawberry Sugar Cookies that are perfect for Valentine's Day, or just for fun!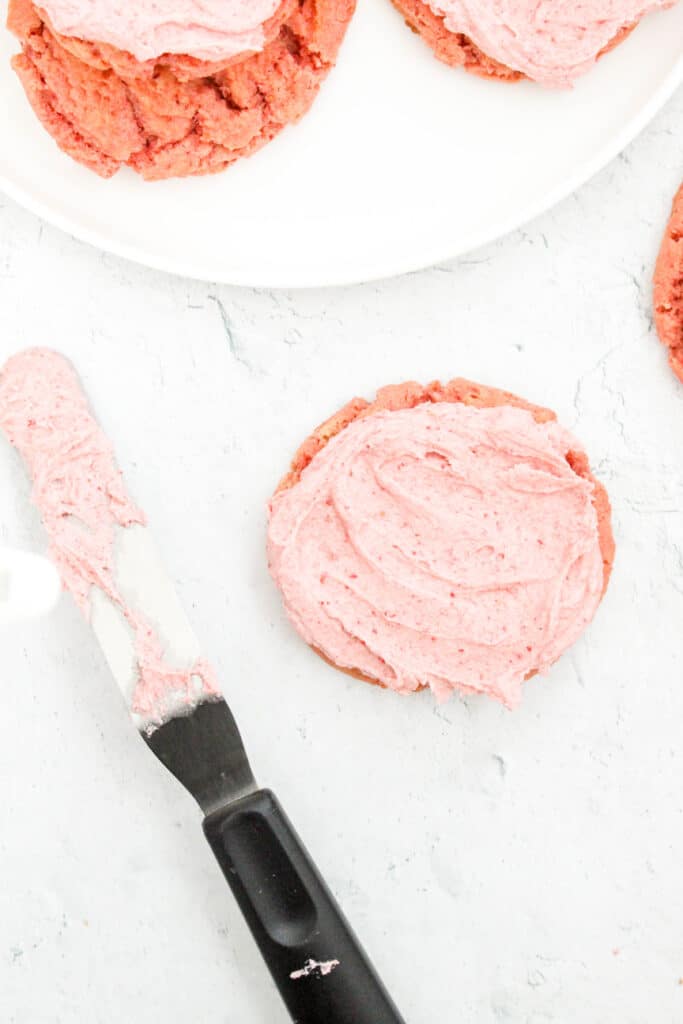 This recipe uses freeze dried strawberries, which gives you a great strawberry flavor without having to deal with moisture that fresh berries bring into baking. They come together really easily- let's get to it!
How to Make Strawberry Sugar Cookies
These cookies come together really easily, and the hardest part is just turning your freeze dried strawberries into a powder. I know some stores will sell it already in powder form, but I usually can only find whole freeze dried strawberries, so I just pop them into a food processor or blender and pulse until they turn into a fine powder.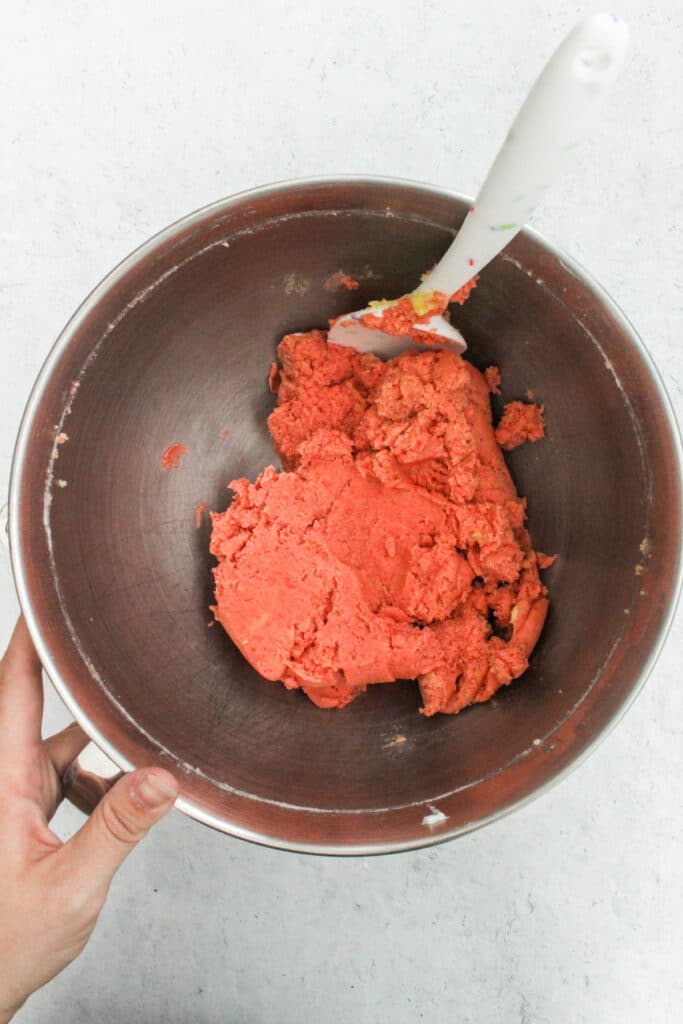 After that we're just mixing the dry ingredients together, and then whipping up the butter and sugar until fluffy. Add in the egg yolks and vanilla extract until just combined, and then add your dry ingredients in. This is a very thick dough, and it needs to be well mixed to fully come together!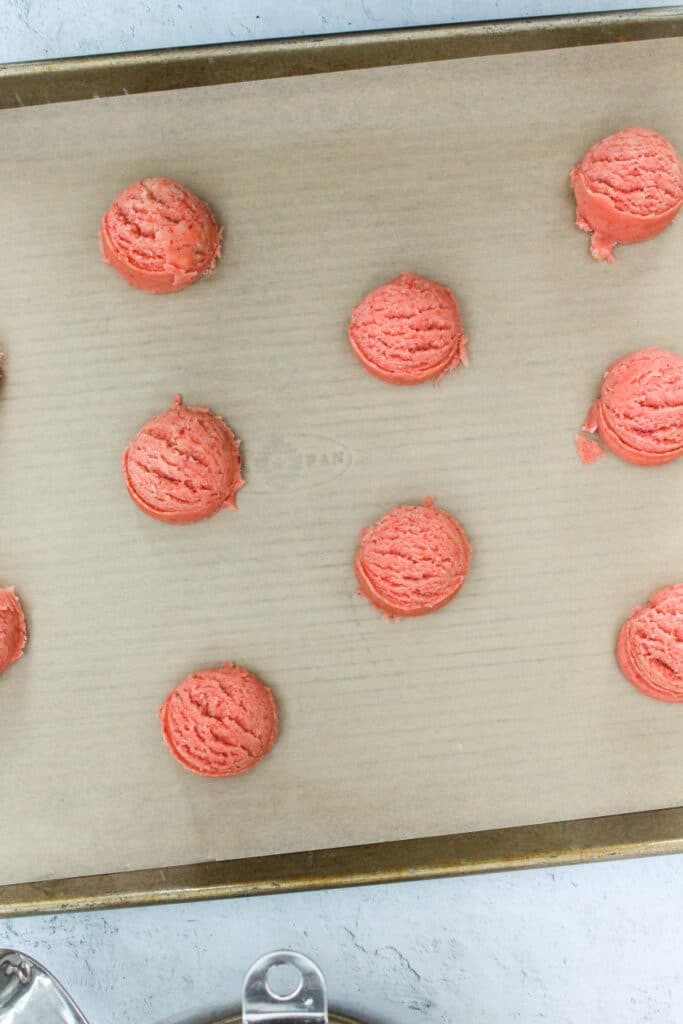 Scoop the dough out onto your baking sheet and pop the cookies into the oven. They should spread slightly, and they should be puffy and cracked all over when they are ready. You don't want to over-bake these ones- lean on the side of what you might think is under-baked!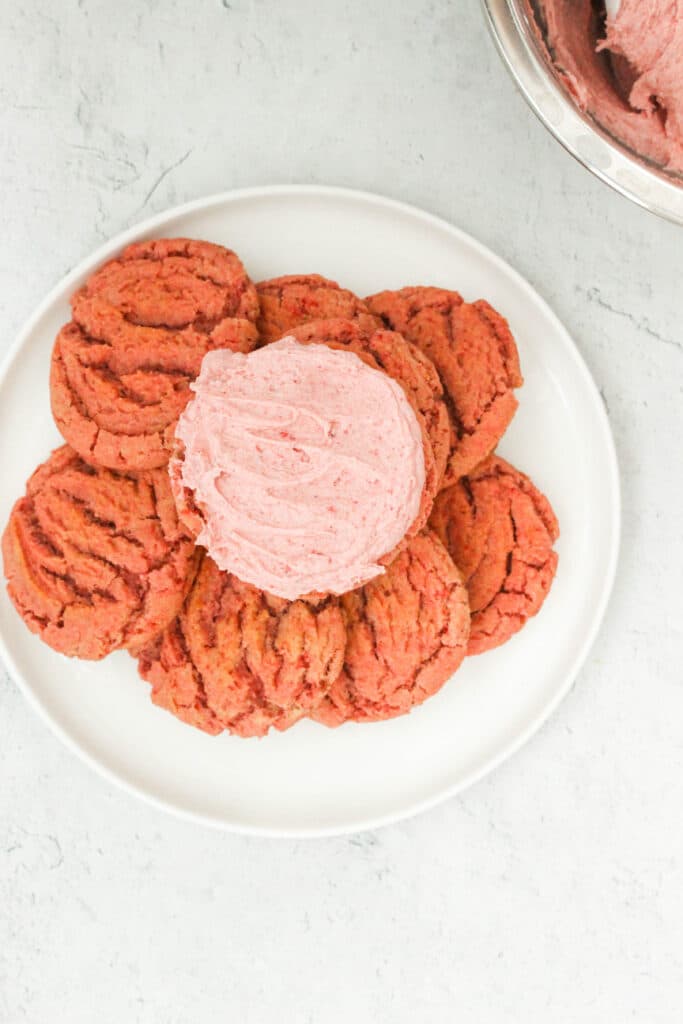 Then we're spreading a super simple strawberry buttercream on the tops of each and enjoying! Optionally throw some sprinkles on there too.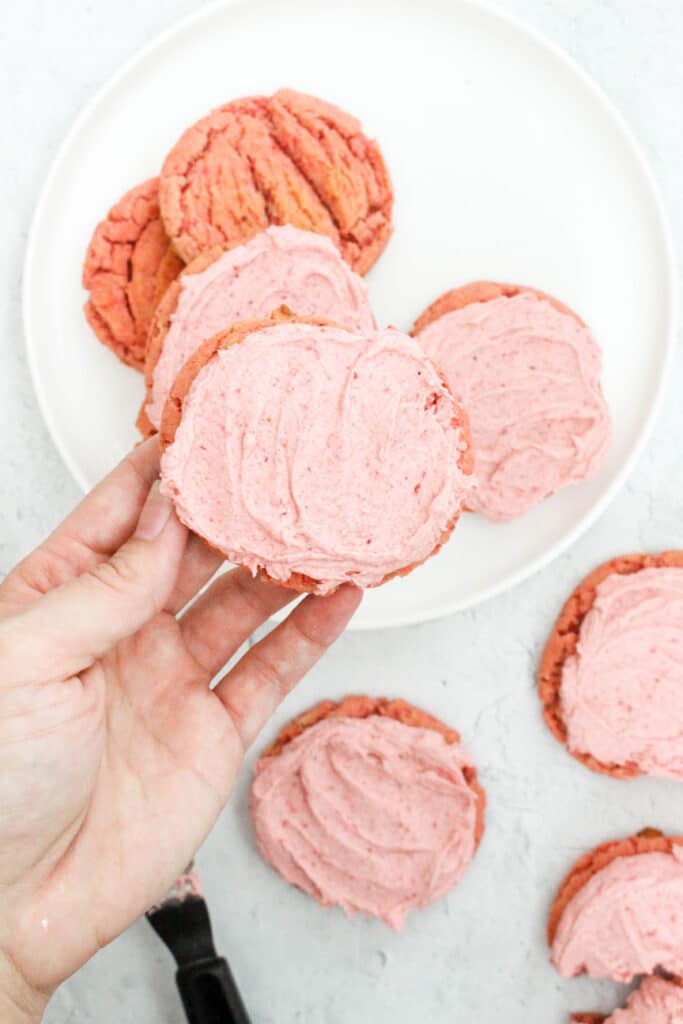 Tips & Tricks for Strawberry Sugar Cookies
These cookies are simple to make, and I have some tips and tricks to help you along the way!
How much freeze dried strawberries will I need for this amount of powder? I find that two packages of freeze dried strawberries is enough for this recipe once it's been blended into a powder. My store sells them in 1 oz. bags.
Do I need to add red food coloring to the cookies? You don't have to, no. But they won't be a bright pink without food coloring- the strawberry powder will color them slightly, but it won't be a full shade of pink.
Mix the dough well. This is a thick dough, and it may seem like it's not coming together at first, but you want to give it a good mix to bring everything together. If you have a stand mixer, I like to make this one in that, but an electric hand mixer will work as well.
Don't over-bake the cookies! You want these cookies to be lightly crisp on the outside and chewy on the inside. The cookies will be puffy and not completely set when they are finished baking- they will settle and finish cooking as they cool.
Cool the cookies completely before frosting to ensure that the frosting doesn't melt!
Keep your frosting ingredients at room temp, including the white chocolate, which should be melted but cool. This will help ensure that everything comes together into a smooth buttercream frosting.
I'm at about 5,000 ft. above sea level and I find that most people who live between about 3,000-7,000 ft above sea level do not need to make any adjustments to my recipes.
Hope you guys enjoy this one!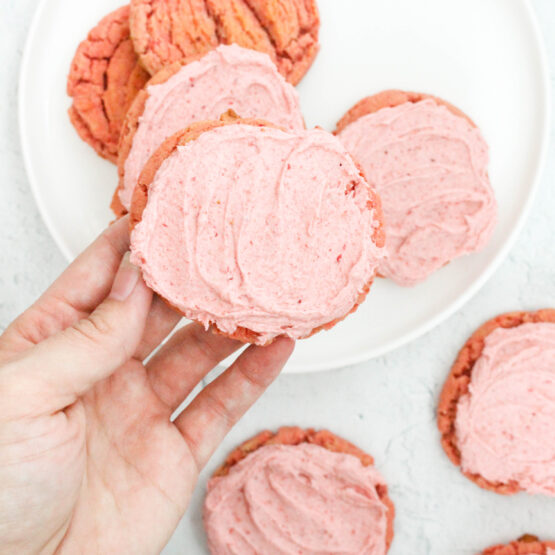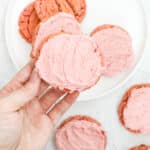 Frosted Strawberry Sugar Cookies
Ingredients
For the cookies:
2 1/2

cups

flour

1/4

cup

powdered freeze dried strawberries

1

tsp.

baking soda

1/2

tsp.

cream of tartar

1/4

tsp.

salt

1

cup

softened butter

1 1/4

cups

sugar

3

egg yolks

1-2

drops red food coloring

optional

1

tbs.

vanilla extract
For the frosting:
2

oz

melted white chocolate

1/2

cup

softened butter

1 1/2

cups

powdered sugar

3

tbs.

powdered freeze dried strawberries

1/8

tsp.

salt

1

tbs.

milk
Instructions
For the cookies:
Preheat your oven to 350 degrees. In a medium bowl, whisk together the flour, powdered strawberries, baking soda, cream of tartar, and salt. Set aside.

In a large bowl, beat together the butter and sugar until light and fluffy. Add in the egg yolks, vanilla extract, and beat until combined. Slowly add in the flour mixture and beat until fully combined.

Scoop out dough in 2-tablespoonfuls and place on a lined baking sheet about 2 inches apart. Bake for 12-13 minutes, or until cookies just begin to brown on the edges- do not over bake! They should be puffy and cracked all over, and they will settle as they cool.
For the frosting:
In a medium bowl, beat together the softened butter, powdered sugar, and powdered freeze dried strawberries until combined and very thick. The mixture may be a little clumpy at this point. Add in the salt and melted white chocolate, and beat until a thick frosting forms. Optionally, add in 1-2 tbs. milk as needed to reach your desired consistency.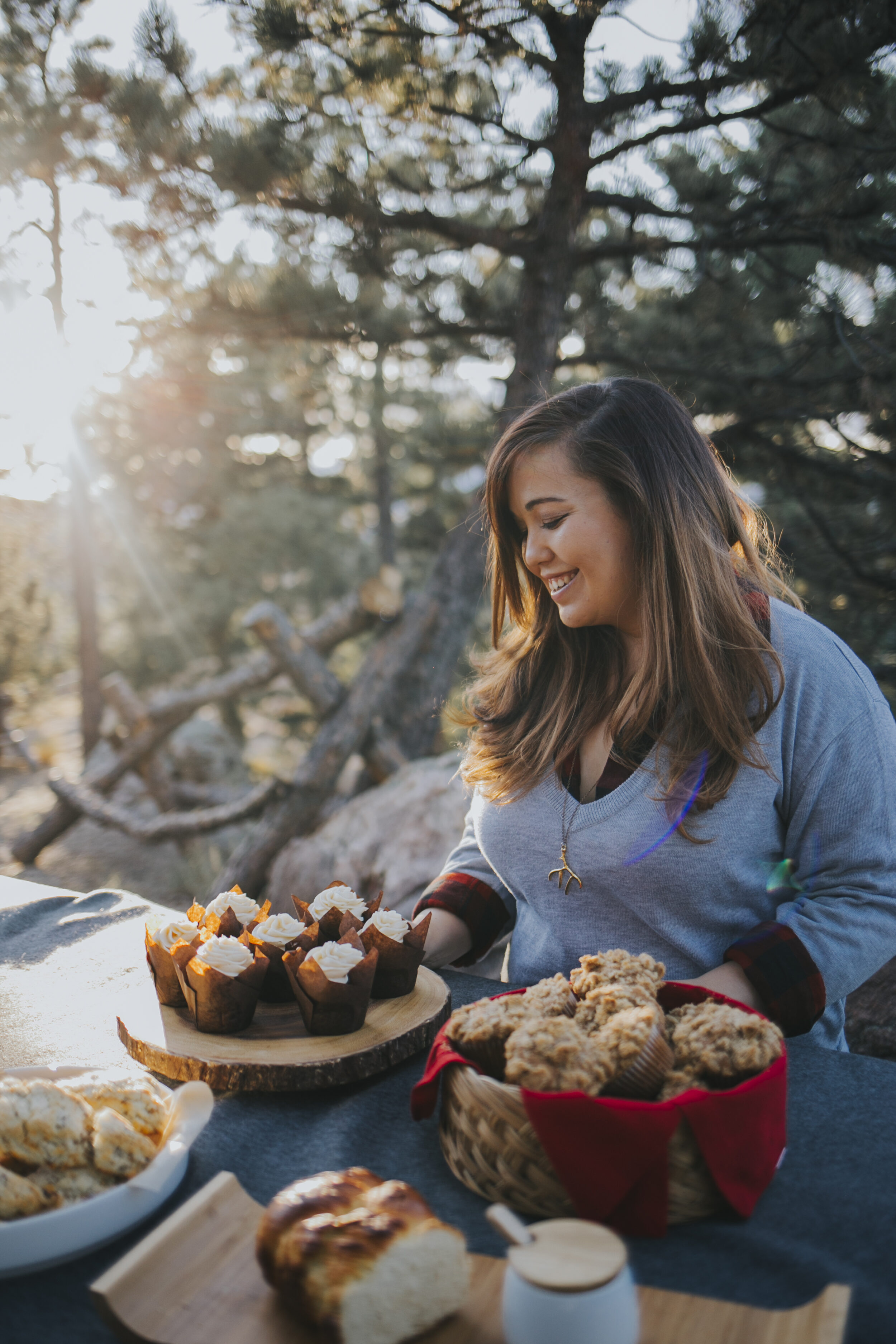 Hello and welcome! My name is Nicole, and Dough-eyed is a food blog for people who want to bake for their family and friends in high-altitude areas. Think of me as a friendly voice there with you in the kitchen, here to give you confidence when you're baking, and to help you with the struggles of baking at high-altitude. Come back every week for new recipes, tips, and advice on high-altitude baking!