Soft Ginger Cookies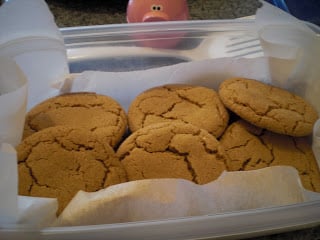 I can't even begin to explain how much I love cookies. I love baking them, I love eating them, and I love sharing them! Over the last few years, I've gone through a few phases of baking, and when I went through cookies I was searching for the perfect texture. These cookies embody just that.
After days of multiple cookie recipes, I finally decided what I think the best cookie should be. My dad, who can make these kinds of decisions in a split second, knew what I wanted to find too. Last Christmas I found a perfect chocolate cookie.
It has a crusty edge and top. It has a chewy, cake-like center, which can be hard to achieve without having a raw center. It's not too hard, and it's not too fluffy. It's big. Ah, the perfect cookie.
Ginger isn't really one of my favorite flavors, but in these cookies, it's delicious! They're like gingersnaps without the snap. They still come with a nice cracked top, but they're chewy with a light crisp on the outside. I hope you guys love the recipe!
Ingredients
For the cookies:
¾ cup soft butter
1 cup white sugar
1 egg
¼ cup molasses
2 ½ cup all-purpose flour
3 tsp. ground ginger
1 tsp. cinnamon
1 tsp. baking soda
½ tsp. salt
For coating:
½ cup white sugar
½ tsp. ground ginger
½ tsp. cinnamon
Instructions
Cream together butter and sugar in a large bowl. Add egg and molasses, mix well.
In a separate bowl, mix together flour, ginger, cinnamon, baking soda, and salt. In three parts, add dry ingredients to the butter mixture, blending well after each addition.
Roll dough into golf ball-sized balls. In a small bowl, mix together all ingredients for the coating. Roll the dough balls into the coating and place two inches apart on a baking sheet.
Bake cookies at 350 degrees for about 15 minutes. The cookies should look slightly golden, and should have cracked a bit.
https://www.dougheyed.com/soft-ginger-cookies/
Comments