Praline Chocolate Sweet Rolls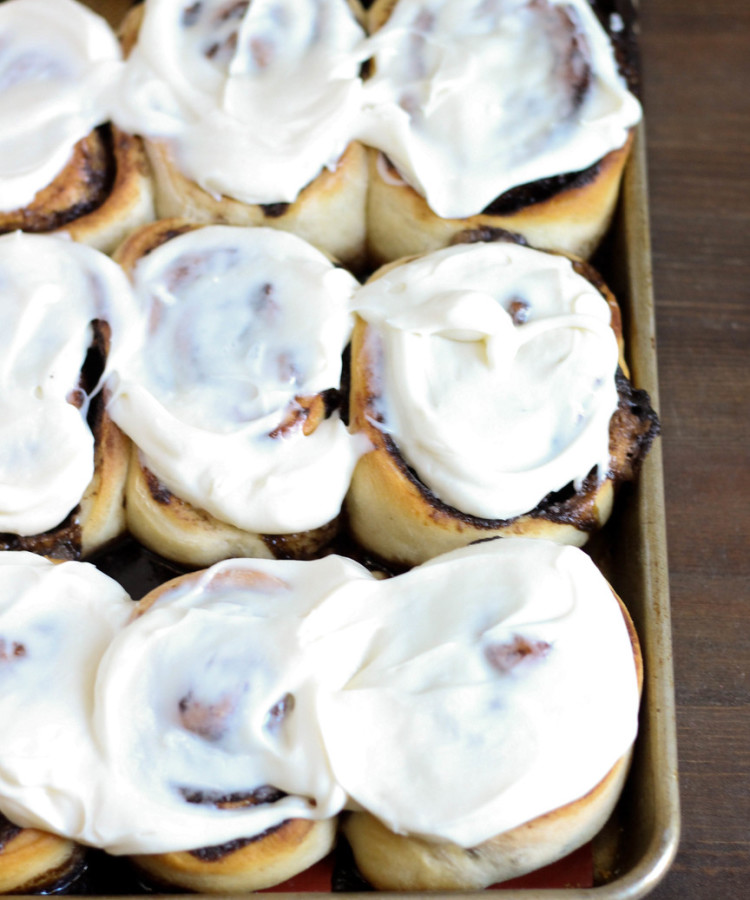 Fall is here and I'm so pumped. Bring on the seasons of holidays and baking and big feasts, I'm in.
I'm back in the kitchen after a few weeks of a break after I finished up and sent in all the recipes and other work for my upcoming book! After cramming in the last few recipes at the end there, I needed a little break from baking.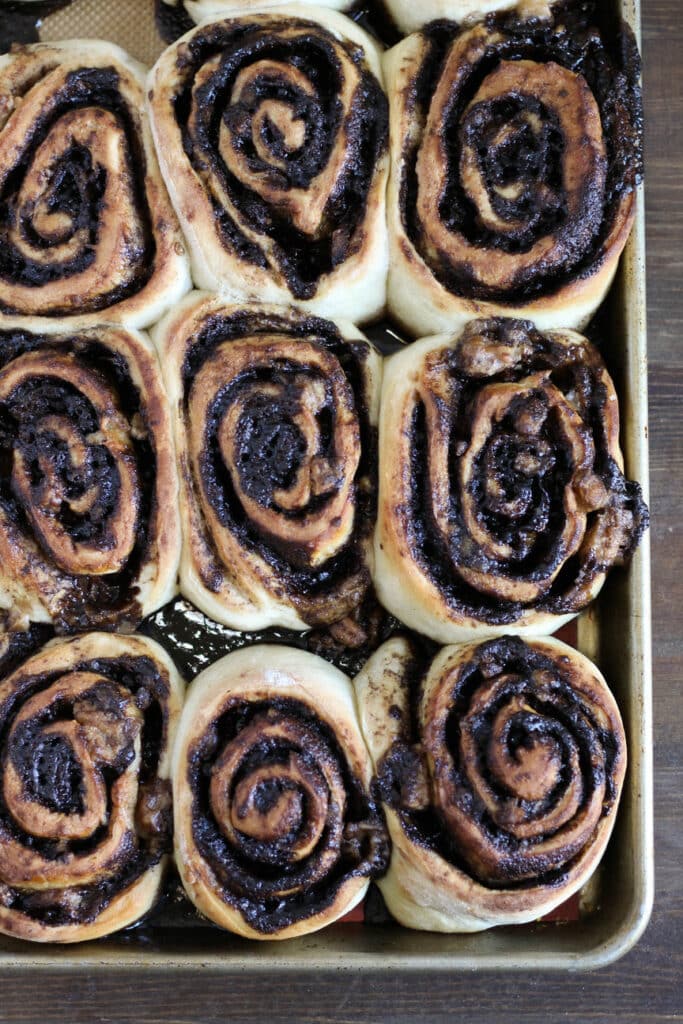 But now, fall has hit me and I'm so ready. I'm starting out this season with these Praline Chocolate Sweet Rolls, and omg, what a start.  These rolls are layered in flavor all throughout, and you'll love all the bold, unique tastes wrapped up together into a big 'ol fluffy, soft bun.
These babies start with homemade praline candies, sweet and crunchy. You'll need a candy thermometer to get these right since the temperature is so important. Sugars, butter, milk, bourbon and more will bubble away until they reach the soft ball stage, and you'll scoop it out and let it cool.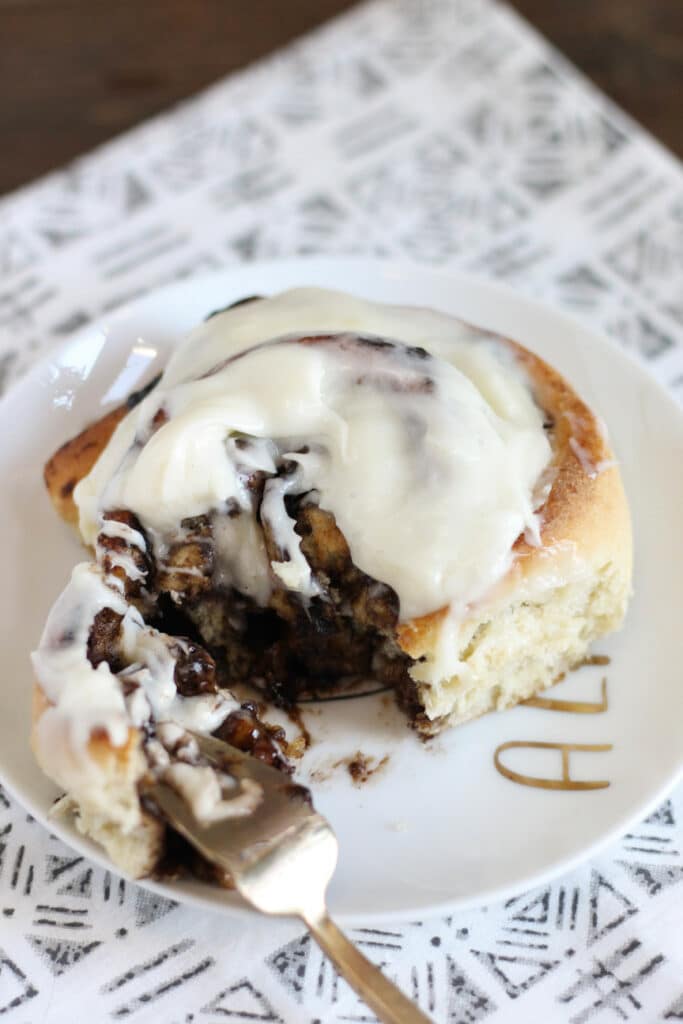 The remaining filling is made of softened butter, dark cocoa powder, brown sugar, and cinnamon, smashed together into a paste. You'll spread it over the fluffy, light dough, sprinkle on chopped pralines, and roll it all up like a present.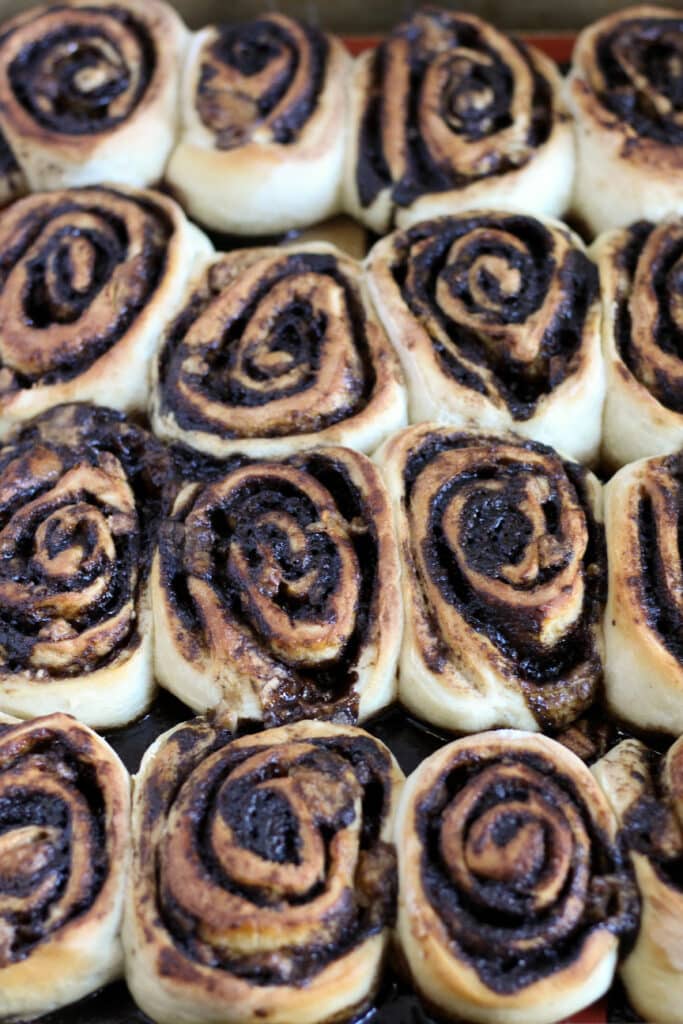 The best sweet rolls are generously covered in smooth frosting. I honestly get bummed out when I buy a roll somewhere and they skimp on the frosting. We all love it, why the heck aren't we ALWAYS covering rolls in frosting? Listen, we're already splurging on a sweet roll, we do not need to save the calories. 

These rolls are truly over the top, and they're worth every step. Don't wait, make 'em today.
Praline Chocolate Sweet Rolls
Ingredients
For the praline:
1 1/2 cups sugar
3/4 cup brown sugar
1/2 cup whole milk
1 tsp. vanilla extract
1 tbs. bourbon
6 tbs. butter
1/2 tsp. salt
1 1/2 cups roughly chopped pecans
For the dough:
1 1/2 tbs. active dry yeast
1/2 cup warm water (110-112 degrees)
2 tbs. sugar
1 cup whole milk
1 cup water
2 tbs. canola oil
2 tsp. salt
1 tsp. vanilla extract
1/2 tsp. cinnamon
1/4 tsp. nutmeg
5 cups bread flour
For the filling:
1/2 cup softened butter
2 tbs. dark cocoa powder
1 1/4 cup brown sugar
3 tbs. cinnamon
For the frosting:
1 8oz. package of cream cheese, softened
4 tbs. softened butter
2 cups powdered sugar
1 tsp. vanilla extract
2 tbs. milk
Instructions
For the praline:
Lay out two pieces of parchment paper on your counter, and have a small cookie scoop or a spoon ready to go.
In a medium pan, use a wooden spoon to stir together all of the ingredients over high heat. Once the mixture has started to boil.
Place your candy thermometer into the pan, and turn the heat down to medium-high.
Continue to stir the mixture constantly until it reaches the soft ball stage, or 240 degrees.
Remove from heat, and stir for about 1 minute, until it just begins to thicken.
Working quickly, use your scoop or spoon to scoop the praline onto your parchment paper. Let these cool completely and then roughly chop. Set aside.
For the dough:
Mix together the yeast, warm water, and sugar. Let this sit for 5 minutes until the yeast has bloomed.
Meanwhile, in a small saucepan, heat together the whole milk, 1 cup of water, canola oil, vanilla, cinnamon, nutmeg, and salt until about 120 degrees.
Pour the milk mixture into a stand mixture, or a large bowl. Add in 4 cups of flour to start, and beat together until combined.
Add in the yeast mixture, and beat together for several minutes. You will have a lumpy, very wet mixture at this point.
Add in another 1/2 cup of flour, and beat together. Continue slowly adding flour until dough leaves the sides of the bowl, and is no longer sticky.
Then, pull the dough out onto a floured surface and gently knead in a little more flour until it's smooth.
Place the dough into a lightly oiled bowl, and cover with plastic wrap. Let the dough rise for 30-35 minutes for the first round, until doubled in size.
After the first rise, punch down the dough, and knead on a floured surface once or twice. Place the dough back in the bowl, cover, and let it rise again for about 20-25 minutes this time, until risen by about 1/3.
For the filling:
Stir together the softened butter, cocoa powder, brown sugar, and cinnamon until a paste forms.
Roll out the dough to a large rectangle, about 20 inches by 12 inches.
Spread the filling evenly over the entire rectangle. The dough will be soft, so this will take some working.
Sprinkle the chopped pralines evenly over the top.
Roll the dough, starting on the longer end, until it has formed a log.
Slice off the uneven edges of the log first. Then cut the dough in half, and in a half again, until you reach 16 rolls.
Line a large baking sheet with parchment paper or a non-stick sheet, and evenly arrange the rolls on it.
Pre-heat your oven to 375 degrees, and allow the rolls to rise while it preheats, about 15 minutes.
Bake for 25-30 minutes, or until the rolls are golden brown.
For the frosting:
In a medium bowl, beat together the cream cheese, butter, and powdered sugar.
Add in the vanilla extract and milk, and beat together until smooth.
Scoop the icing onto the warm rolls, and spread. Enjoy!
https://www.dougheyed.com/praline-chocolate-sweet-rolls/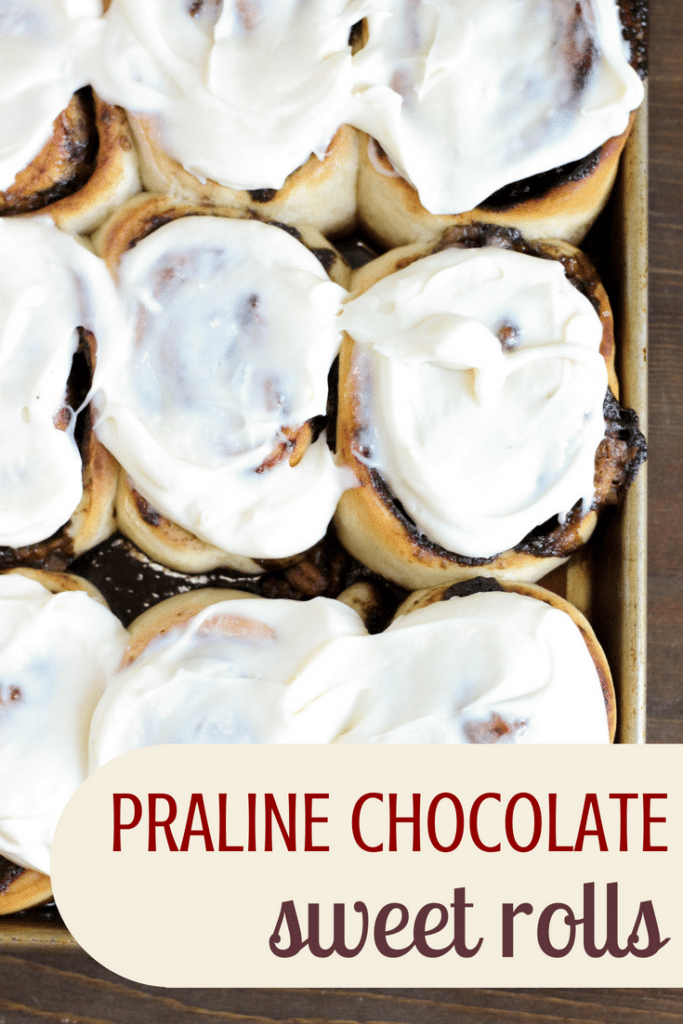 Comments