Peanut Butter Bacon Chocolate Chip Cookies (or just peanut butter)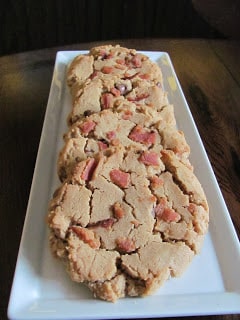 First of all, if you don't like bacon on everything, you're not an American. Second of all, these cookies don't even really taste like bacon so if you're thinking of not trying them, it's going to be a big mistake.
On to the fun stuff. I first made these cookies last summer on Father's Day. Well, it looks like eight months has clouded my memory of these amazing cookies. How did I spend all this time without making them again? You won't know either once you try them.
Again, they don't really taste much like bacon. These cookies just have a slight bacon back taste that reads more as salty. The smell of these babies coming out of the oven, however, is worth the work of making them.
I've adapted this recipe from the one featured in Food Network Magazine last year. You can omit the bacon, chocolate chips, or both for an equally delicious peanut butter cookie recipe. I made them both ways, so I posted pictures of both. Hope you like them!
Peanut Butter Bacon Chocolate Chip Cookies (or just peanut butter)
Ingredients
2 ¾ cups flour (2 ½ if you're not at a high altitude like me)
½ tsp. baking soda
½ tsp. baking powder
½ tsp. cinnamon
¼ tsp. salt
10- 12 pieces of cooked and crumbled bacon
¼ cup bacon drippings
1 stick soft butter
1 cup creamy peanut butter
1 cup white sugar
1 cup brown sugar
2 eggs
1 tsp. vanilla
½ cup chocolate chips
Instructions
In a medium bowl, mix together flour, baking soda, baking powder, cinnamon and salt. Set aside.
In a large bowl, mix together bacon drippings and butter until smooth. Add the peanut butter and mix until smooth.
Add both sugars, and mix until fluffy, about one minute.
Mix in eggs and vanilla. Slowly add dry ingredients. With a spatula, mix in half of the crumbled bacon, and all of the chocolate chips.
Scoop rounded tablespoons of dough onto a cookie sheet. Press dough down slightly with the bottom of a glass, and then press in remaining bacon crumbles to the tops of the cookies.
Bake 10- 14 minutes and 350 degrees, or until cookies are slightly golden.
Adapted from Food Network Magazine
https://www.dougheyed.com/peanut-butter-bacon-chocolate-chip-cookies-or-just-peanut-butter/
Comments