Hey guys- it's almost the end of the summer, huh? I prefer the cooler months of the year, but this summer has been a special one for sure, one where I really tried to enjoy all my time outdoors since it was often with other people around. For me, summer desserts are all about the fruit, so for one of my last this summer, let's talk about shortcake!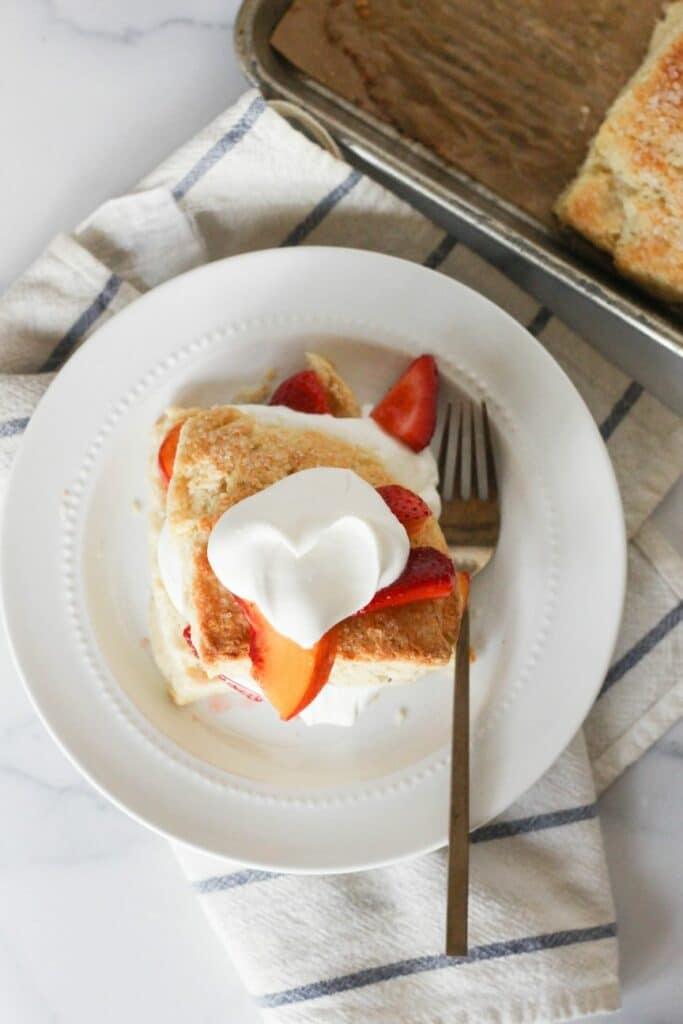 When I was a kid, I thought of shortcake as angel food cake. And the process is often similar- strawberries, whipped cream, the whole deal. But when I found out that a real shortcake was a lightly sweetened biscuit instead of angel food cake I was into it. I love this dessert a heck of a lot more than angel food cake if I'm being honest- the crunch from the sugar on top, the flakey biscuits, what's not to love? Let's get to it!
How to Make Peach Strawberry Shortcake
We're starting with the fruit. I like to just leave the peels on your peaches for this one- just wash, pit, and slice them thin. For your strawberries, go ahead and wash and hull them, and then cut them into quarters. Nothing has to be perfect here- you just want a little bit of variation in the sizes from the peach slices to the strawberries to make things interesting.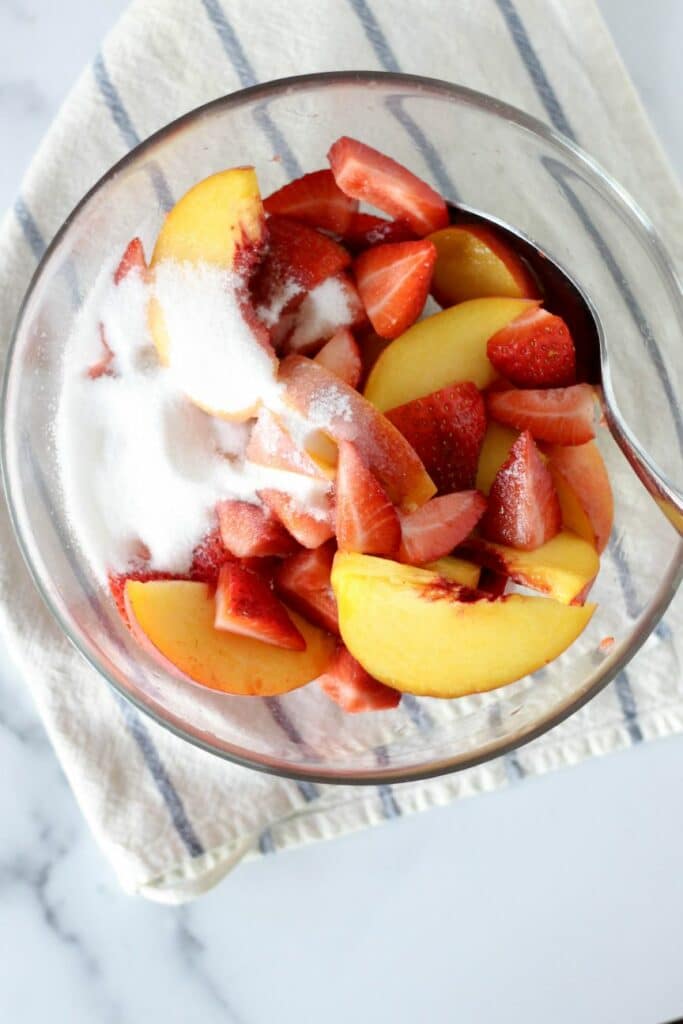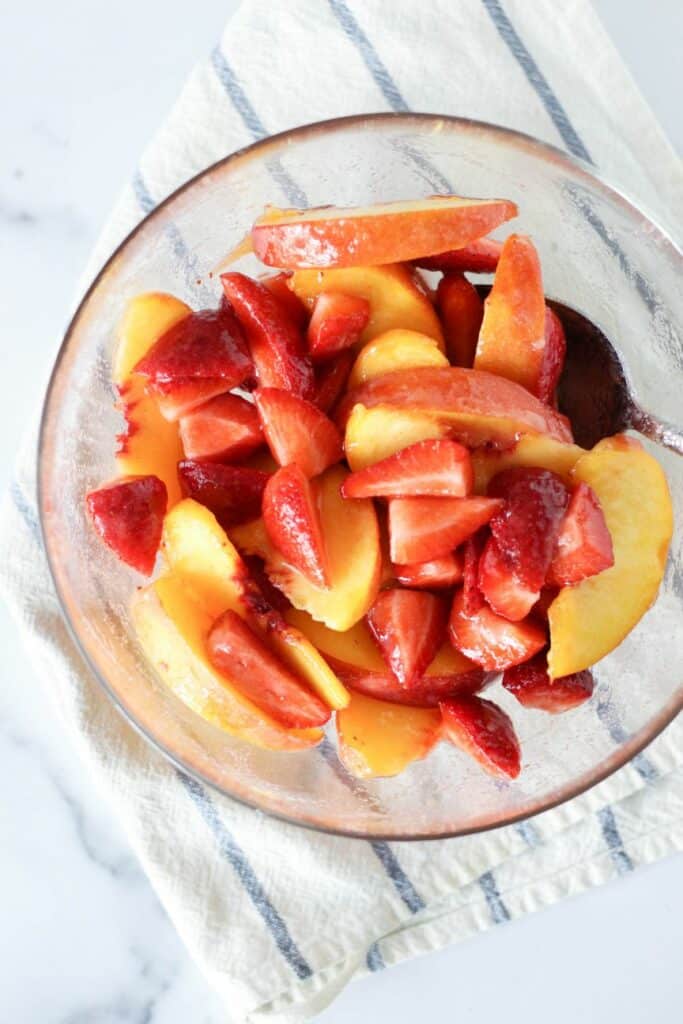 Then toss the whole affair with some lemon juice and sugar. This process is called macerating, and it just brings the juices and the natural sugars out of the fruit. Cover the mixture and place it in the fridge for at least an hour to really get the juices going. Meanwhile, whip up some heavy cream with some sugar and vanilla extract until you've got stiff peaks. If you aren't going to be serving it right away, I highly recommend beating in a tablespoon or two or instant vanilla pudding mix- it keeps everything stable!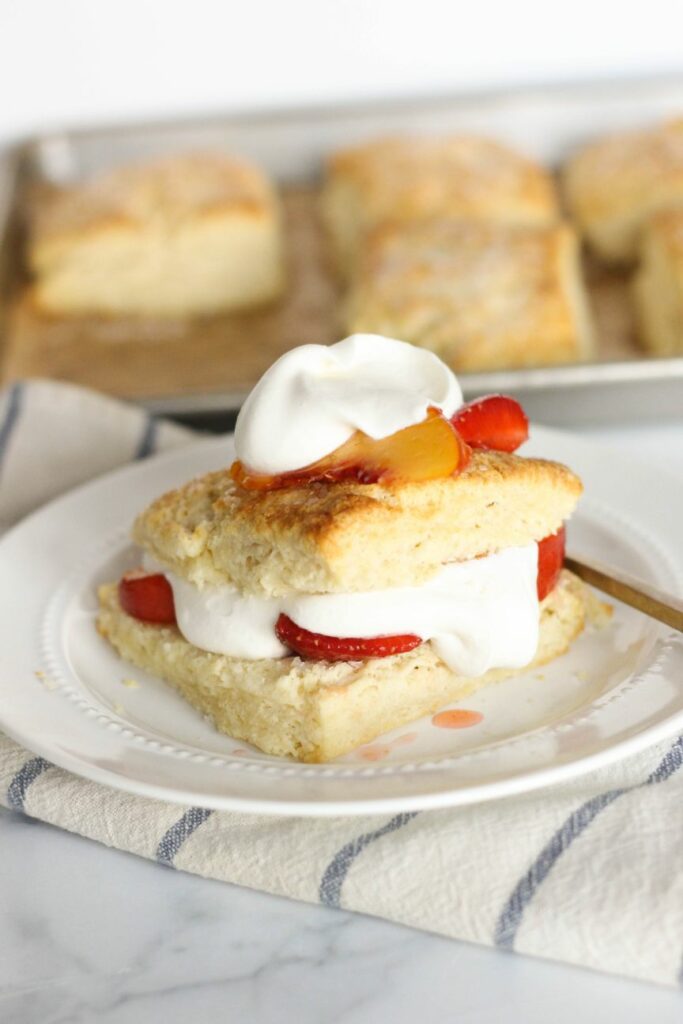 The shortcakes themselves come together just like biscuits. You want to cut the butter into the dry ingredients until it's well incorporated and there are small chunks of butter running throughout the mixture. I'm using buttermilk here, you can also use cream, but either way, stir it in with a fork until things are looking mostly combined and big clumps are forming in your bowl. Turn it out onto your counter and knead for a few turns just to bring everything together. And then we're just patting it out, and slicing into 6 large biscuits.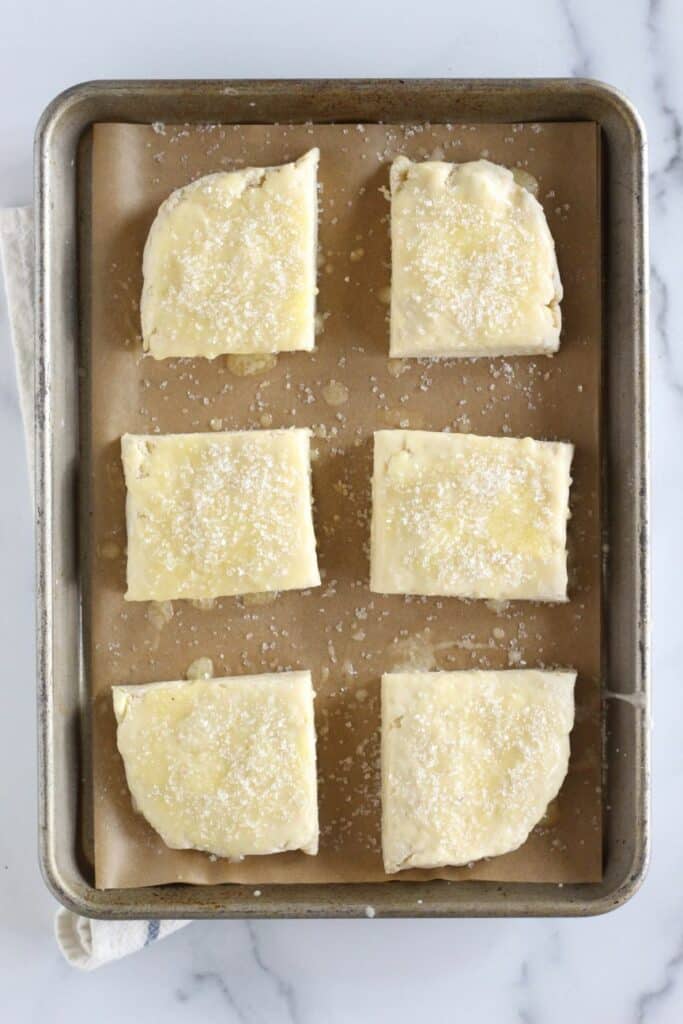 Topped with a brush of butter and a really generous sprinkle of coarse sugar, pop those babies into the oven until they are roasty toasty like this!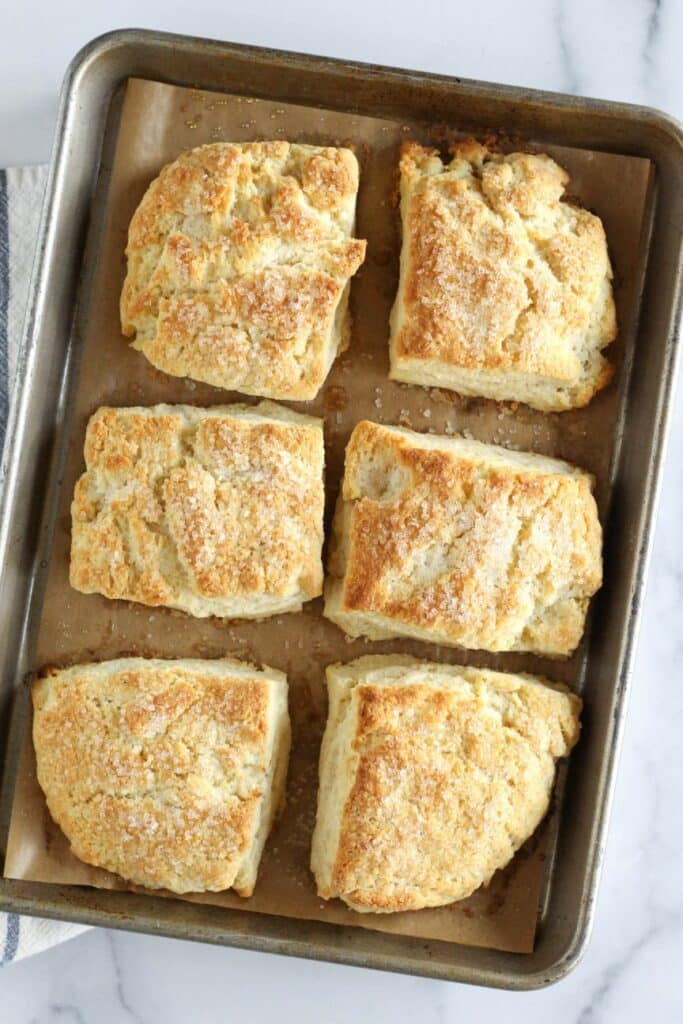 I like to serve this while the biscuits are still warm, and the fruit and cream are both cold. Slice a biscuit in half, and pile on the peaches, strawberries, juices, and a big dollop of whipped cream. More on top if you please!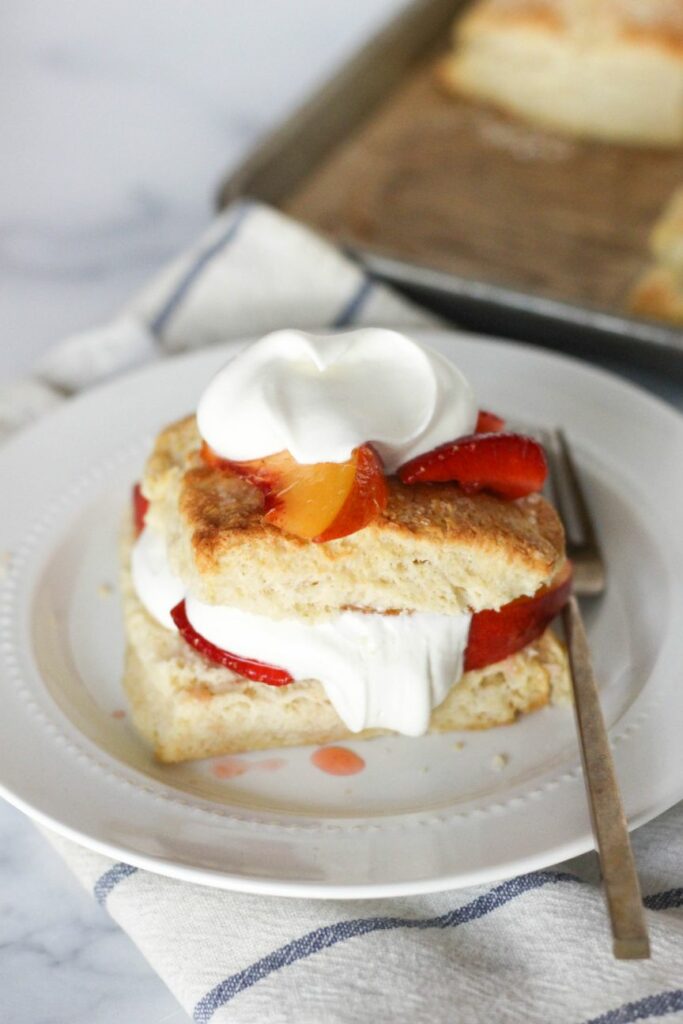 I hope you guys enjoy this last bit of summer- it's definitely one of my favs!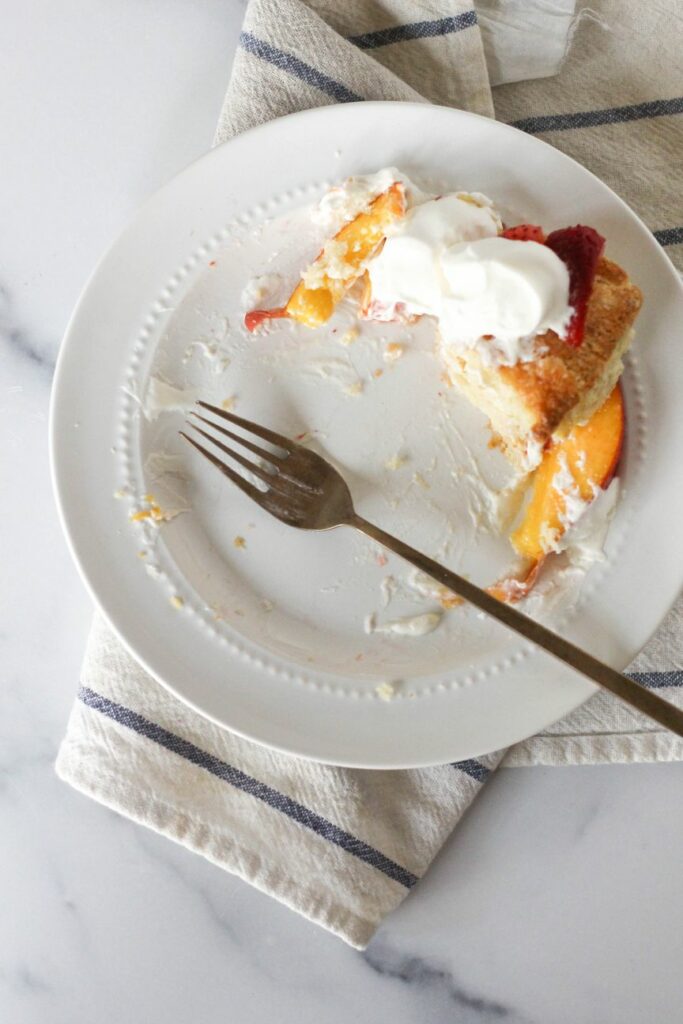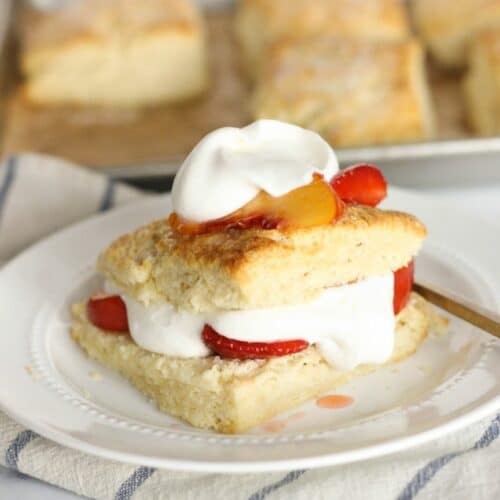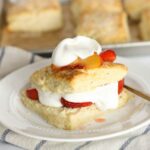 Peach Strawberry Shortcakes
Ingredients
For the fruit filling:
1

large peach (or two small)

1/2

pint

fresh strawberries

1/4

cup

sugar

1

tbs.

lemon juice
For the shortcakes:
2

cups

flour

1

tbs.

sugar

1

tbs.

baking powder

1

tsp.

salt

1/2

cup

cold butter, cut into small chunks

3/4

cup

cold buttermilk

1

tsp.

vanilla extract

2

tbs.

melted butter

3

tbs.

coarse sugar
For the cream:
1 1/2

cups

heavy cream

3

tbs.

sugar

1

tbs

instant vanilla pudding mix

(optional)

1

tsp.

vanilla extract
Instructions
For the fruit filling:
Wash, pit, and slice your peaches, and place them in a large bowl. Wash, hull, and slice your strawberries into quarters- toss them into the bowl as well. Stir in the sugar and lemon juice to coat everything evenly. Cover, and place the whole mixture into fridge for at least 1 hour before serving.
For the shortcakes:
Line a baking sheet with parchment paper and set aside.

In a large bowl, stir together the flour, sugar, baking powder, and salt. Using a pastry cutter or your hands, cut in the shortening until the mixture has small, pea-sized chunks of shortening throughout. 

Stir in the buttermilk and vanilla until the dough begins to form. Turn the dough out onto a floured surface, and knead together gently until the dough comes together completely, being careful not to over-work it. 

Pat the dough into a rectangle about 7-8 inches long and 4 or so inches wide- it doesn't have to be perfect. Cut the dough into 6 even shortcakes, and place on your lined baking sheet. Put the whole thing into the freezer for 20 minutes.

Meanwhile, preheat your oven to 400 degrees, and melt the butter to brush on top. Once the oven is preheated, pull the shortcakes out of the freezer. Brush the tops with melted butter, and sprinkle generously with the coarse sugar. Bake for 13-15 minutes, or until the tops are golden brown and the shortcakes have puffed.
For the cream:
In a large bowl, beat the heavy cream and sugar until stiff peaks form. If using the instant pudding mix, beat it in with the vanilla extract. You should have a firm, fluffy whipped cream.

To serve- slice a warm shortcake in half and spoon on some of the fruit mixture, including some of the juices. Add a generous dollop of whipped cream, and top with the top of the shortcake. Add more fruit and whipped cream on top if you like! Enjoy!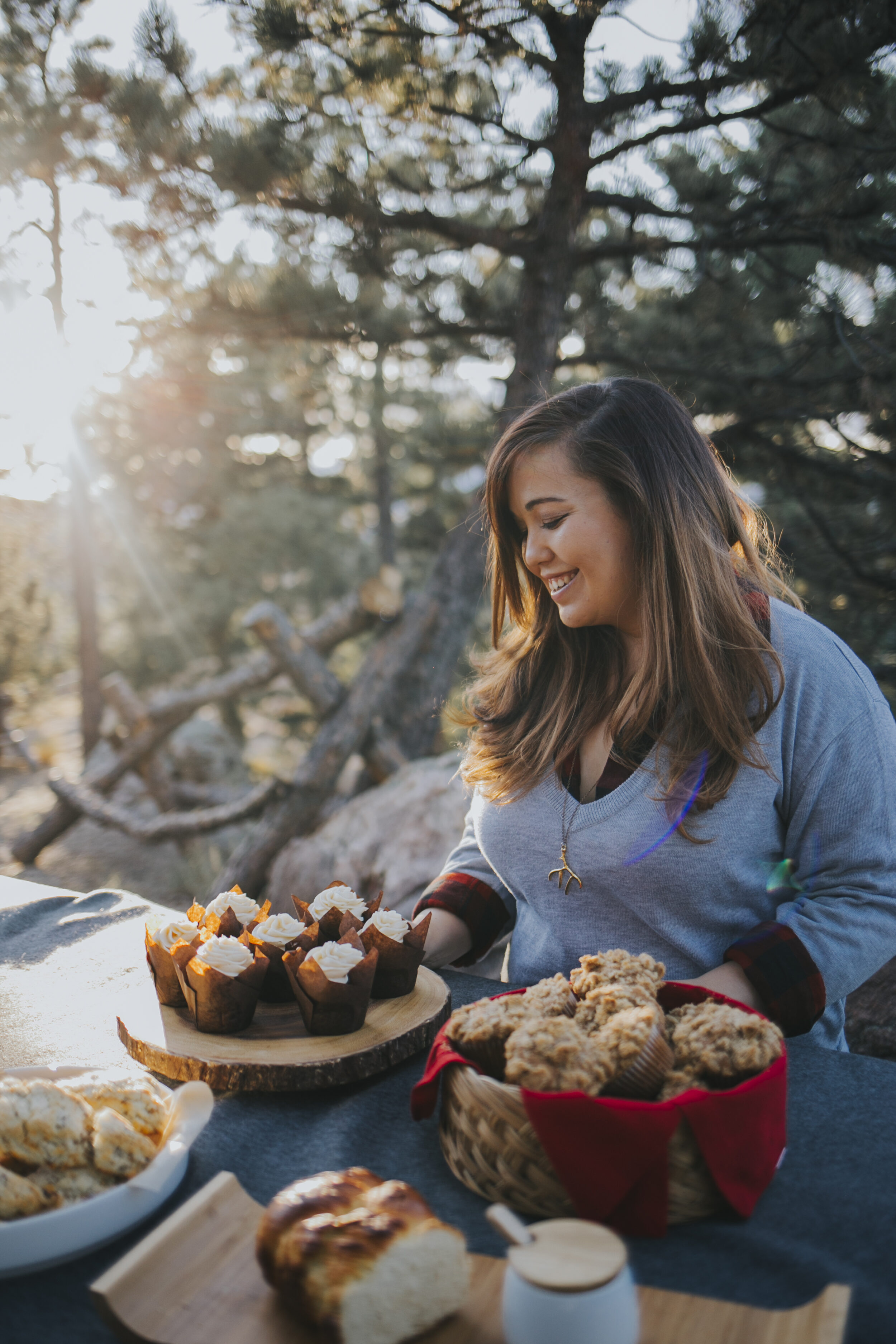 Hello and welcome! My name is Nicole, and Dough-eyed is a food blog for people who want to bake for their family and friends in high-altitude areas. Think of me as a friendly voice there with you in the kitchen, here to give you confidence when you're baking, and to help you with the struggles of baking at high-altitude. Come back every week for new recipes, tips, and advice on high-altitude baking!