Hey guys! I'm here with a super simple vanilla cake that uses an interesting method. You can use this cake as a base for a layer cake, tres leches cake, or frosted cake, but I really like it plain with a little powdered sugar dusted on top.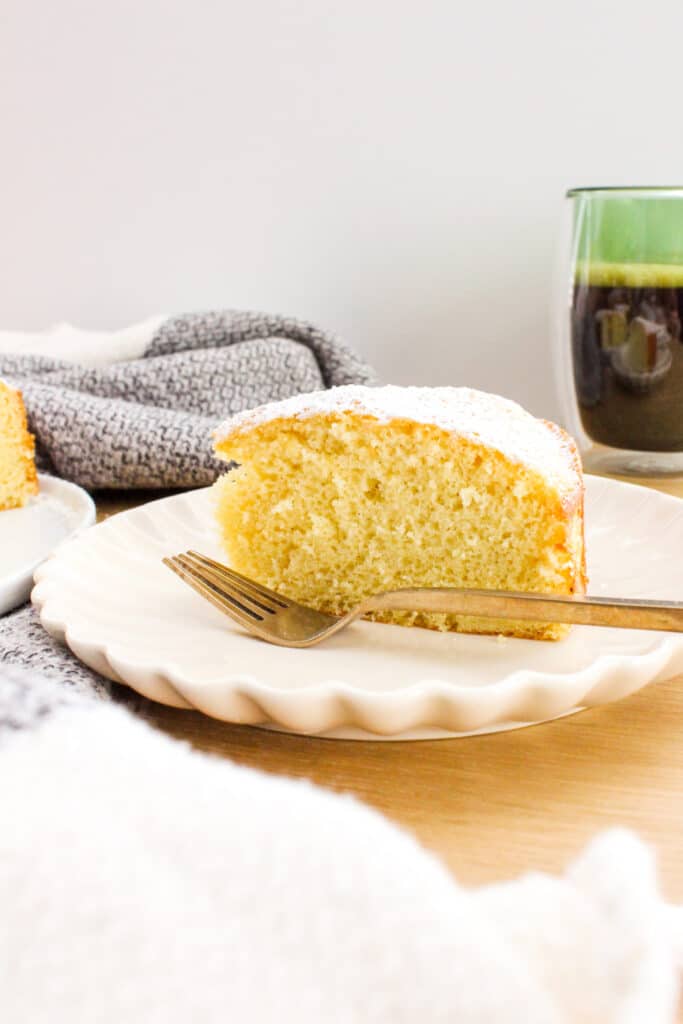 This is a hot milk cake, and it can all be mixed together by hand for a fluffy, simple sponge that tastes so good. Let's get to it!
How to Make Hot Milk Vanilla Sponge Cake
This is a sponge cake, but not a super classic version. We're still starting by whipping eggs and sugar until they become really thick and fluffy.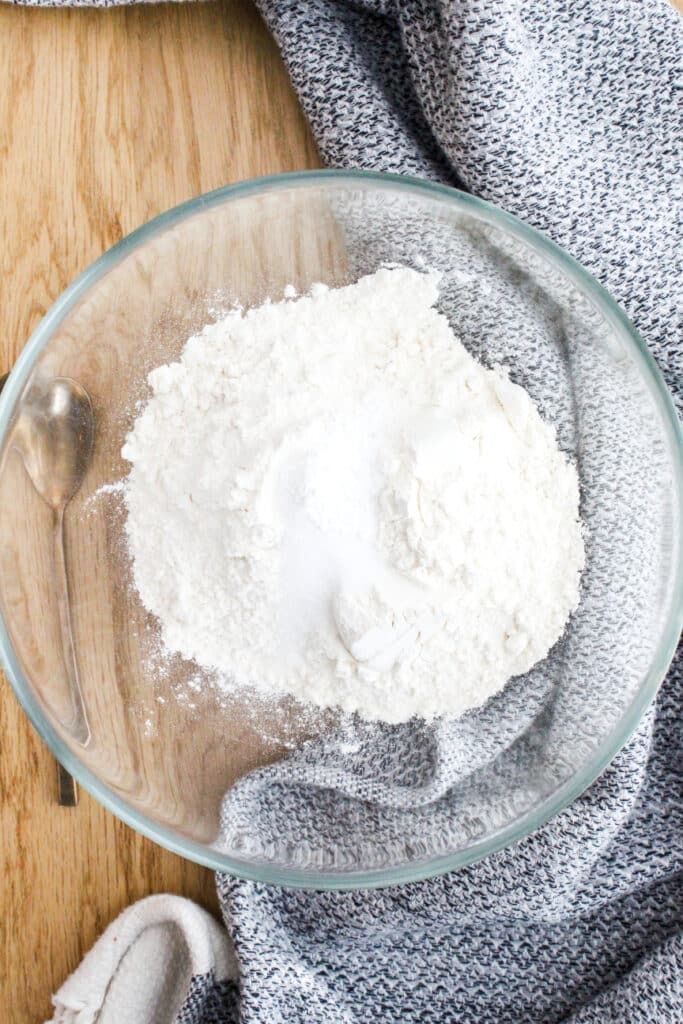 This takes about 5 minutes of beating with an electric hand mixer- here's what it looks like when it's just mixed, and then after it's fully thickened and whipped. This is when we're adding in some vanilla bean paste as well, and you want to be generous!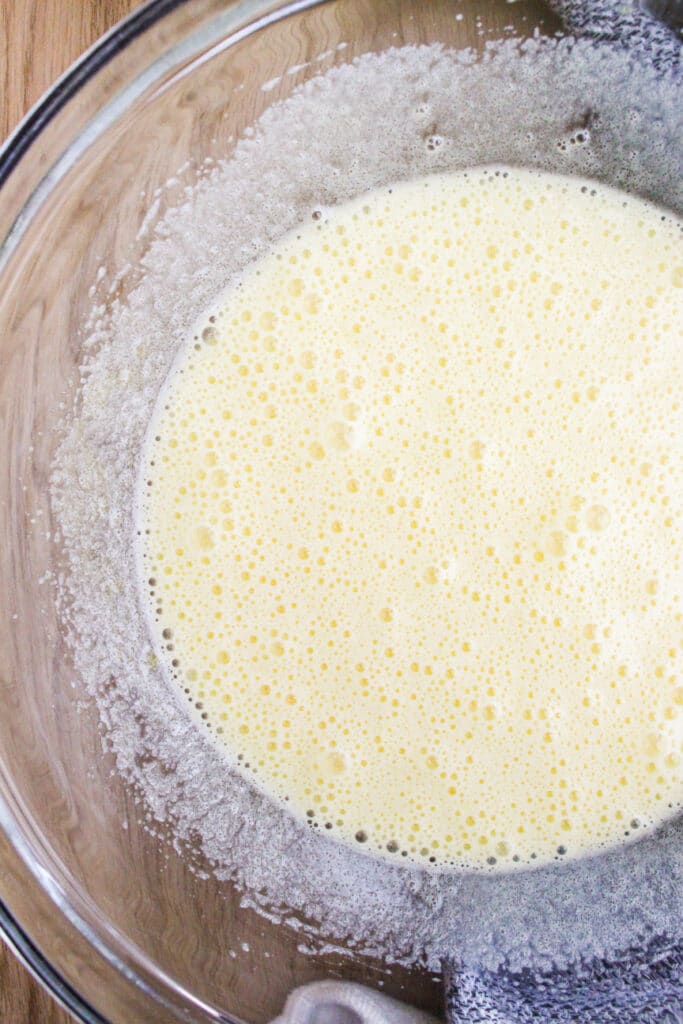 After that we're going to sift in the dry ingredients, which is flour, salt, and baking powder. A lot of traditional sponge cakes only use eggs to leaven the cake, but the addition of baking powder makes this cake a little more fool proof.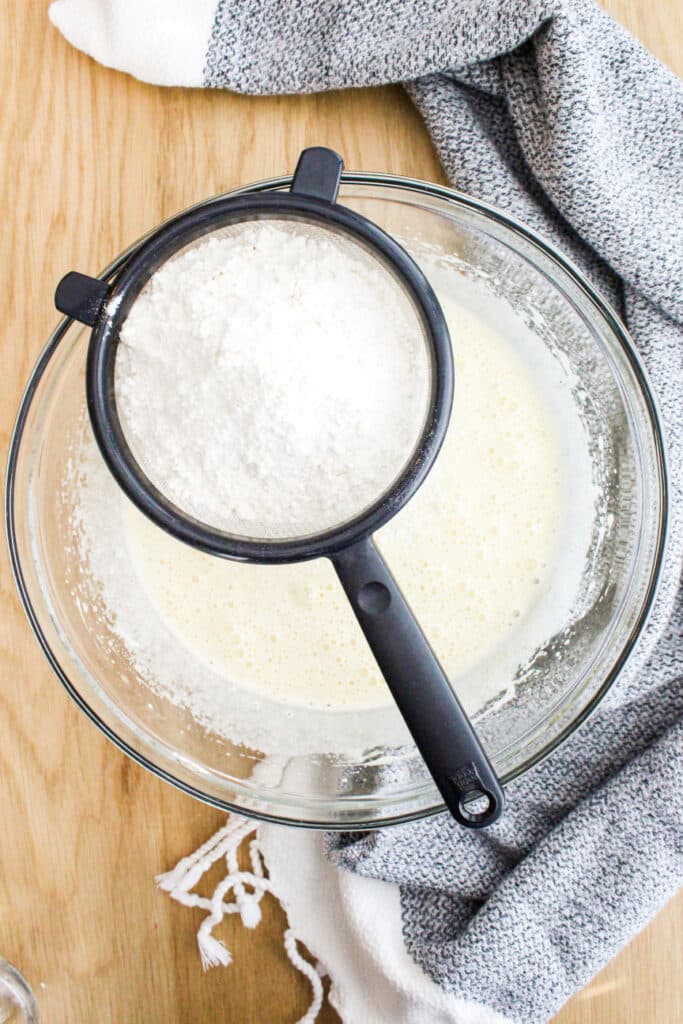 Finally, we're going to fold in some hot milk and melted butter. It seems a bit odd to add hot milk into a cake batter, but it works really well here. You want the milk to be hot to the touch, but not boiling. Once the batter is fully mixed, it's off to the oven.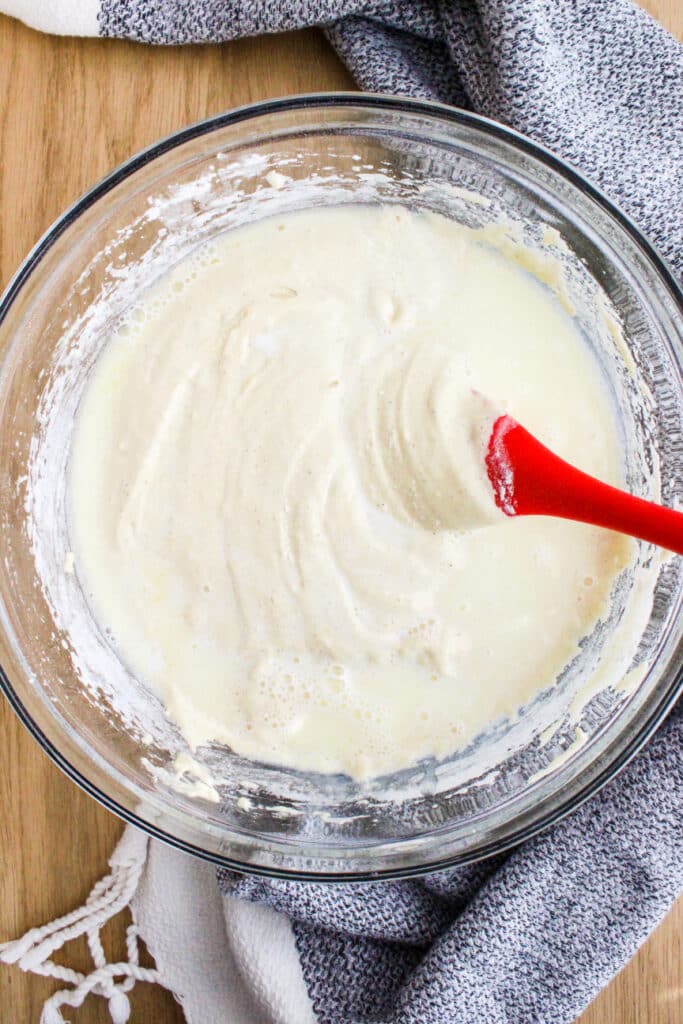 The cake will reach a deep golden brown when it's done baking. Let it cool in the pan, and then remove it to slice and serve! I like mine dusted with powdered sugar, but you can also frost it if you prefer with your fav frosting!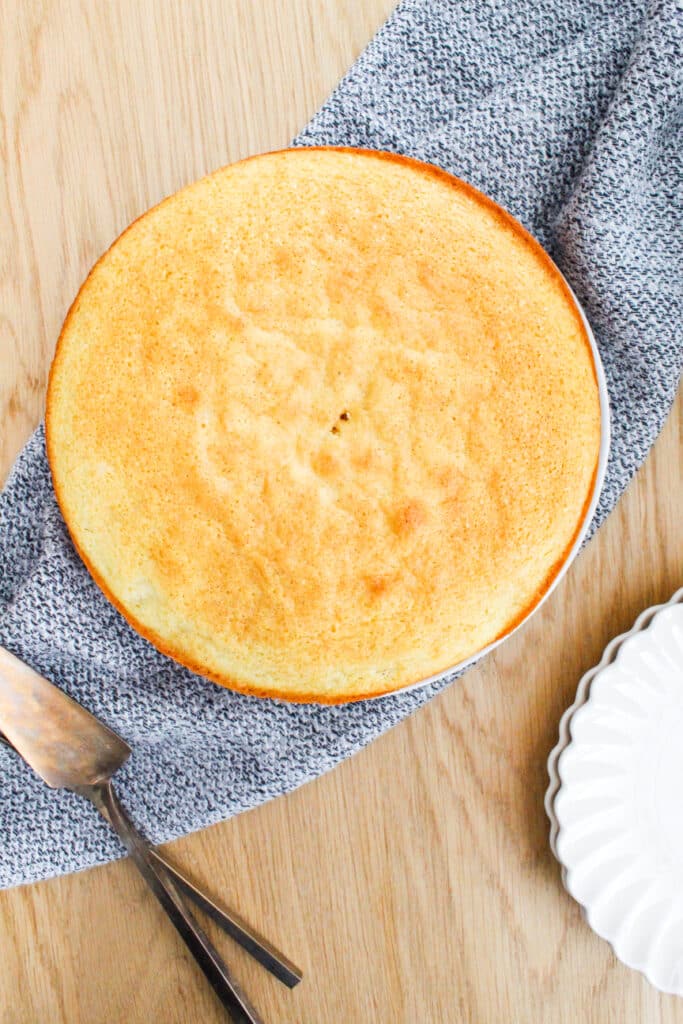 Tips & Tricks for a Perfect Hot Milk Sponge Cake
Here are my best tips and tricks for making a great hot milk sponge cake:
How do I know when I've beaten the eggs and sugar enough? You want to reach the ribbon stage. The mixture should light, fluffy, and thick, and it should drip off in long strands that sit on top of the mixture before melting into it.
Why do I have to sift the dry ingredients? When you're working with whipped eggs, you want to try to avoid deflating the air from the egg mixture. Sifting the flour allows you to gently add it to the mixture, and to make sure you can more gently fold it into the mixture without big clumps.
How do I know when the flour is well incorporated? You want to fold in the flour mixture gently, and be sure to turn your bowl as you go. You don't want any pockets of un-mixed flour.
How hot should the milk be? Your milk mixture should be hot to the touch, but not boiling. If your mixture boils on accident, just let it cool down for a few minutes before adding it to the batter.
Can I add other flavors to this cake? Yes! You can add citrus zests or other extracts to the batter if you prefer it. This is a simple cake, so you want to use a good amount of any flavor you choose.
I'm at about 5,000 ft. above sea level and I find that most people who live between about 3,000-7,000 ft. above sea level do not need to make any adjustments to my recipes.
Enjoy!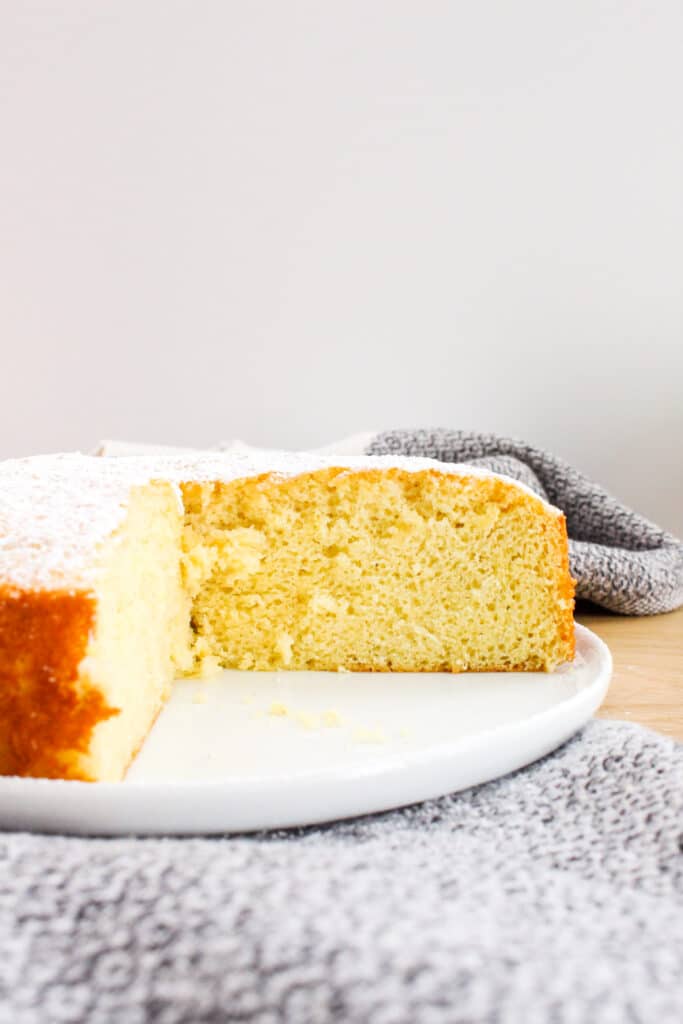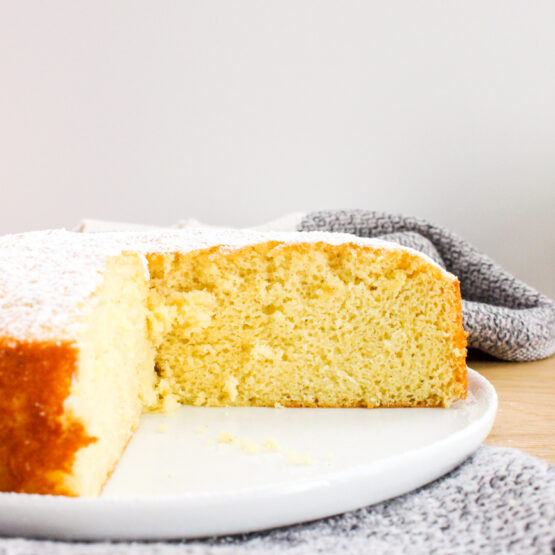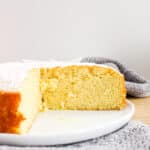 Vanilla Hot Milk Sponge Cake
Ingredients
1 1/2

cup

flour

3/4

tsp

baking powder

1

tsp

salt

3

eggs

1

cups

sugar

2

tsp

vanilla bean paste

2/3

cups

whole milk

2

tbs

melted butter
Instructions
Preheat your oven to 350 degrees and grease an 8 inch cake pan. Optionally, line the pan with parchment paper.

In a medium bowl, stir together the flour, baking powder, and salt and set aside. In a large bowl, beat together the eggs and sugar with an electric hand mixer until the mixture becomes very thick and pale. Continue whipping until the mixture is very thick and fluffy, and leaves ribbons on the batter when you lift the beaters. This should take about 5 minutes. Add in the vanilla paste and stir to combine.

Sift the flour mixture into the eggs, and gently fold it together until there are no steaks of flour remaining. In a microwave safe bowl, heat the milk and melted butter in the microwave for about 45-60 seconds, or until it feels very warm to the touch, but it's not boiling. Fold the warm milk into the batter until just combined. Pour the batter into your prepared pan and bake for 30-35 minutes, or until golden brown and a toothpick comes out with just a few crumbs. Cool completely in the pan before removing to serve. I like to serve it with a dusting of powdered sugar!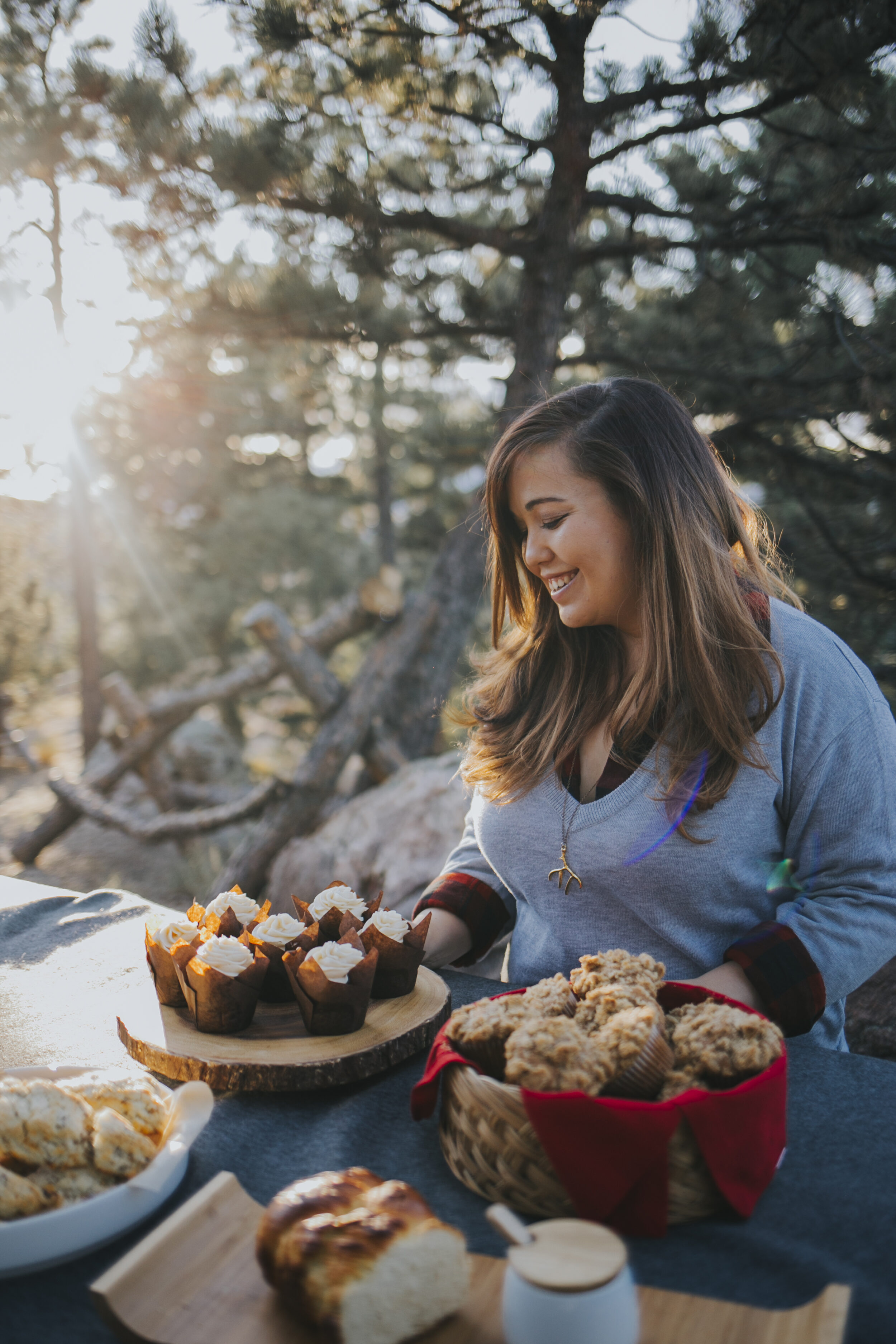 Hello and welcome! My name is Nicole, and Dough-eyed is a food blog for people who want to bake for their family and friends in high-altitude areas. Think of me as a friendly voice there with you in the kitchen, here to give you confidence when you're baking, and to help you with the struggles of baking at high-altitude. Come back every week for new recipes, tips, and advice on high-altitude baking!