Hey guys! Here with the perfect little summer recipe for you today- this is a recipe for a simple High-Altitude Strawberry cake!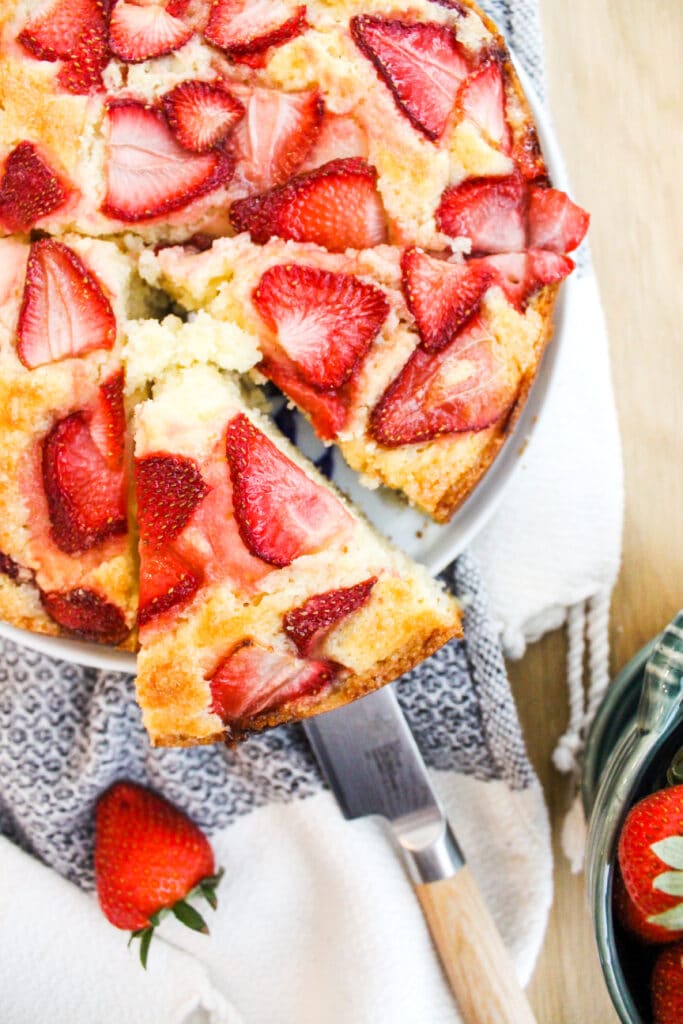 This is an un-frosted, strawberry-studded, single layer cake. It's a lovely way to use up some of those sweet strawberries you have laying around, and it's just lightly sweet. It comes together quick and easy- let's make it!
How to Make High-Altitude Strawberry Cake
This cake batter can be mixed entirely by hand, and it comes together pretty quickly. Start by whisking together the sugar, melted butter, and oil until everything is well combined. You won't get a light fluffy mixture here, you just need to mix until it's well combined.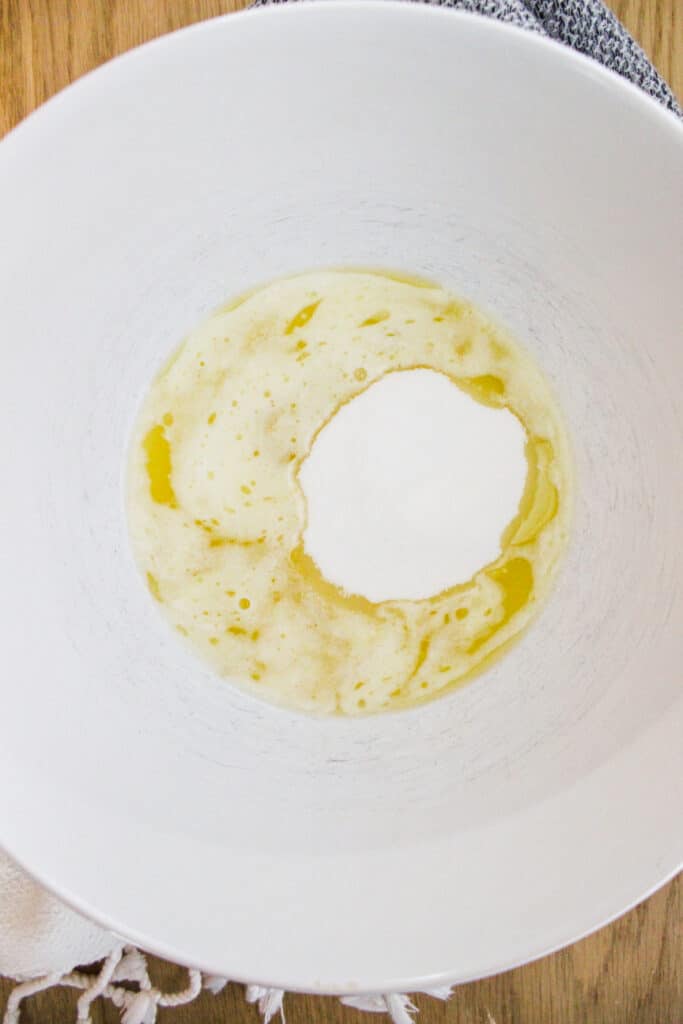 Then add in the egg and vanilla extract, and whisk to combine. Finally, we're adding in our dry ingredients in alternating additions with some buttermilk. The dry ingredients include some almond flour, which makes the cake a little more substantial feeling. The buttermilk helps contribute to a light, fluffy texture and moist crumb.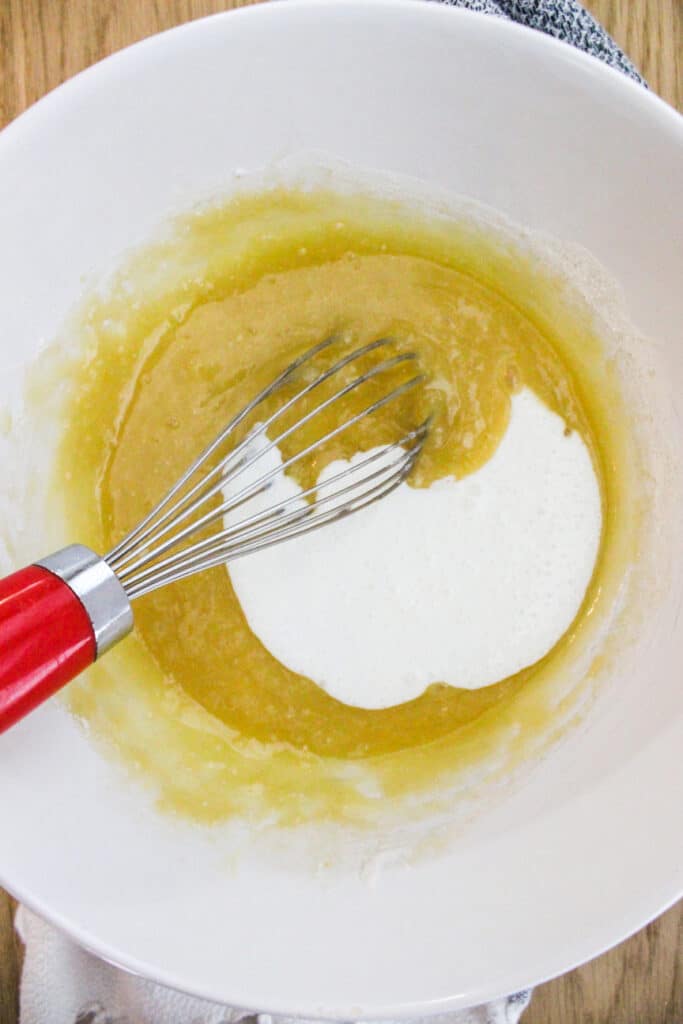 Once everything is well mixed, you should have a fairly thick batter. Spread it evenly in your prepared cake pan. Once everything is spread out, you want to evenly layer on a generous amount of sliced strawberries.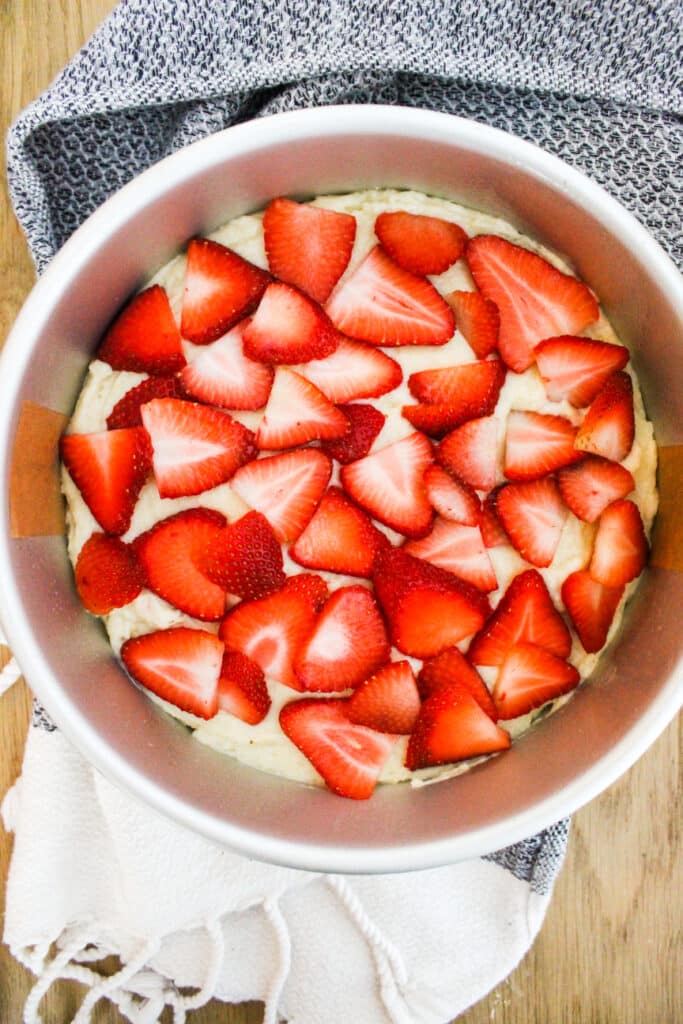 It may seem like a lot of berries, but it should cover the batter almost entirely in a single layer with just a few peeks of batter showing. Generously sprinkle the top of the cake with coarse sugar, and then it's off to the oven!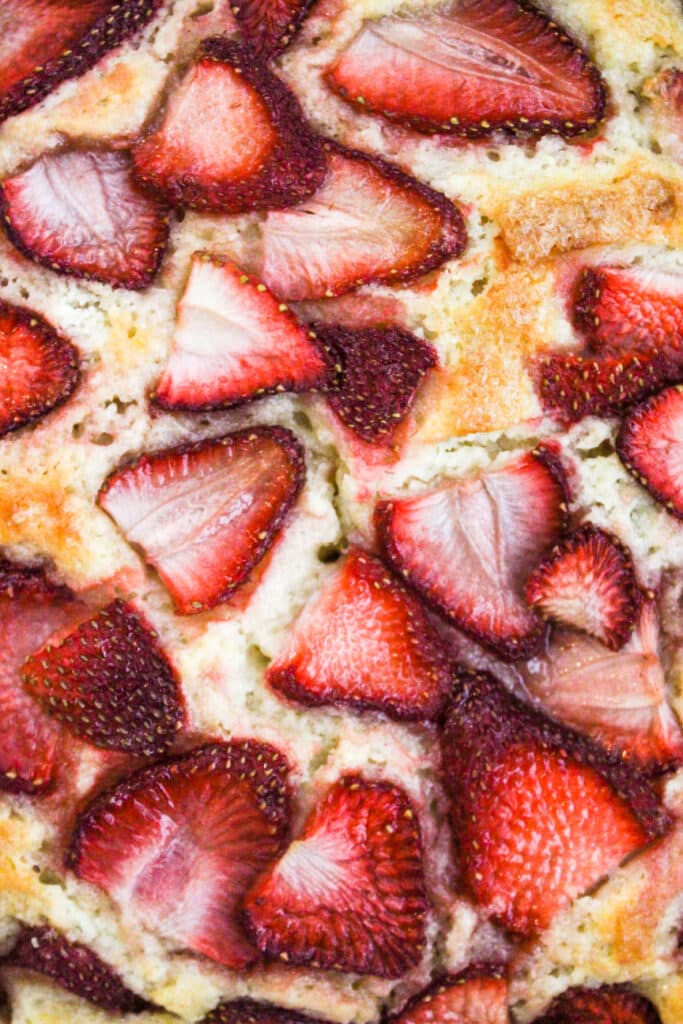 This cake takes a while to bake through because it uses fresh strawberries. The berries will release some liquid as the cake bakes, but don't worry! It will all bake together after about 45 minutes. You end up with a lightly crisp and juicy top to a fluffy cake.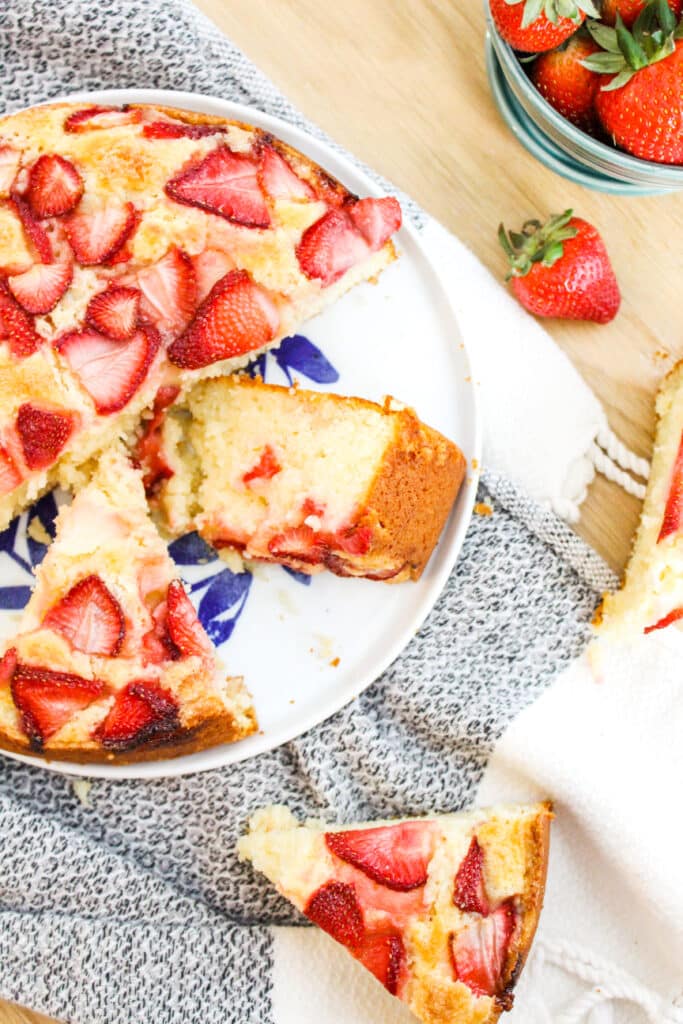 Tips & Tricks for Your Strawberry Cake
Here are some quick tips and tricks to help you along the way!
The batter can be mixed by hand, and I recommend it! It's always easier to avoid over-mixing a cake batter if you're doing it by hand.
Your batter should be fairly thick and smooth, but it does not need to be perfectly smooth. You want to mix until everything is just incorporated, but no need to remove all the lumps with excessive mixing here.
Use all the strawberries! It might look like too much, but you want a fairly even layer with only a little overlapping, and just a few peeks of the batter showing through it.
Don't skip the coarse sugar topping! You can use sanding sugar, sparkling sugar, sugar in the raw, or demerara sugar, but it adds a lot to the texture and overall sweetness of the cake, so I don't recommend skipping it all together.
How do I know when the cake is baked through? Use a cake tester, wooden toothpick, or skewer to test the cake. When inserted into the center, it should come out with just a few crumbs clinging to it.
Cool the cake completely in the pan before removing to slice and serve. This cake stays fresh for about 3-6 days on the counter if wrapped tightly.
I'm at about 5,000 ft. above sea level and I find that most people who live between about 3,000-7,000 ft above sea level do not need to make any adjustments to my recipes.
Enjoy!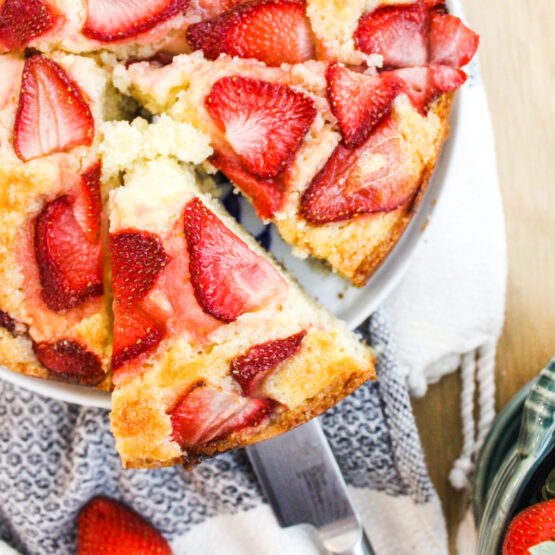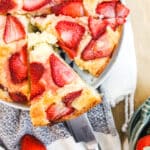 High-Altitude Strawberry Cake
Ingredients
1/2

cup

sugar

1/2

cup

melted butter

1/4

cup

canola oil

1

egg

2

tsp

vanilla extract

1 1/2

cups

flour

1/4

cup

almond flour

1

tsp.

salt

1/2

tsp.

baking powder

1/4

tsp.

baking soda

1

cup

buttermilk

1

cup

sliced fresh strawberries

3

tbs

demerara sugar
Instructions
Preheat your oven to 350 degrees, and generously grease an 8 inch cake pan. For easier removal, line the pan with parchment paper.

In a large bowl, whisk together the sugar, melted butter, and canola oil until combined. Stir in the egg and vanilla extract until just combined. In a medium bowl, stir together the flour, almond flour, salt, baking powder, and baking soda. Add the flour mixture and the buttermilk to the sugar mixture in alternating batches, stirring well between each addition, until all of the dry and wet ingredients have been stirred in.

Spread the batter evenly into your prepared cake pan. Top the cake batter with an even layer of sliced strawberries- you should use all the strawberries here even if it seems like a lot! Generously sprinkle the top with the demerara sugar. Bake for 45-50 minutes, or until a cake tester comes out clean. Cool the cake completely in the cake pan before removing and slicing to serve. Enjoy!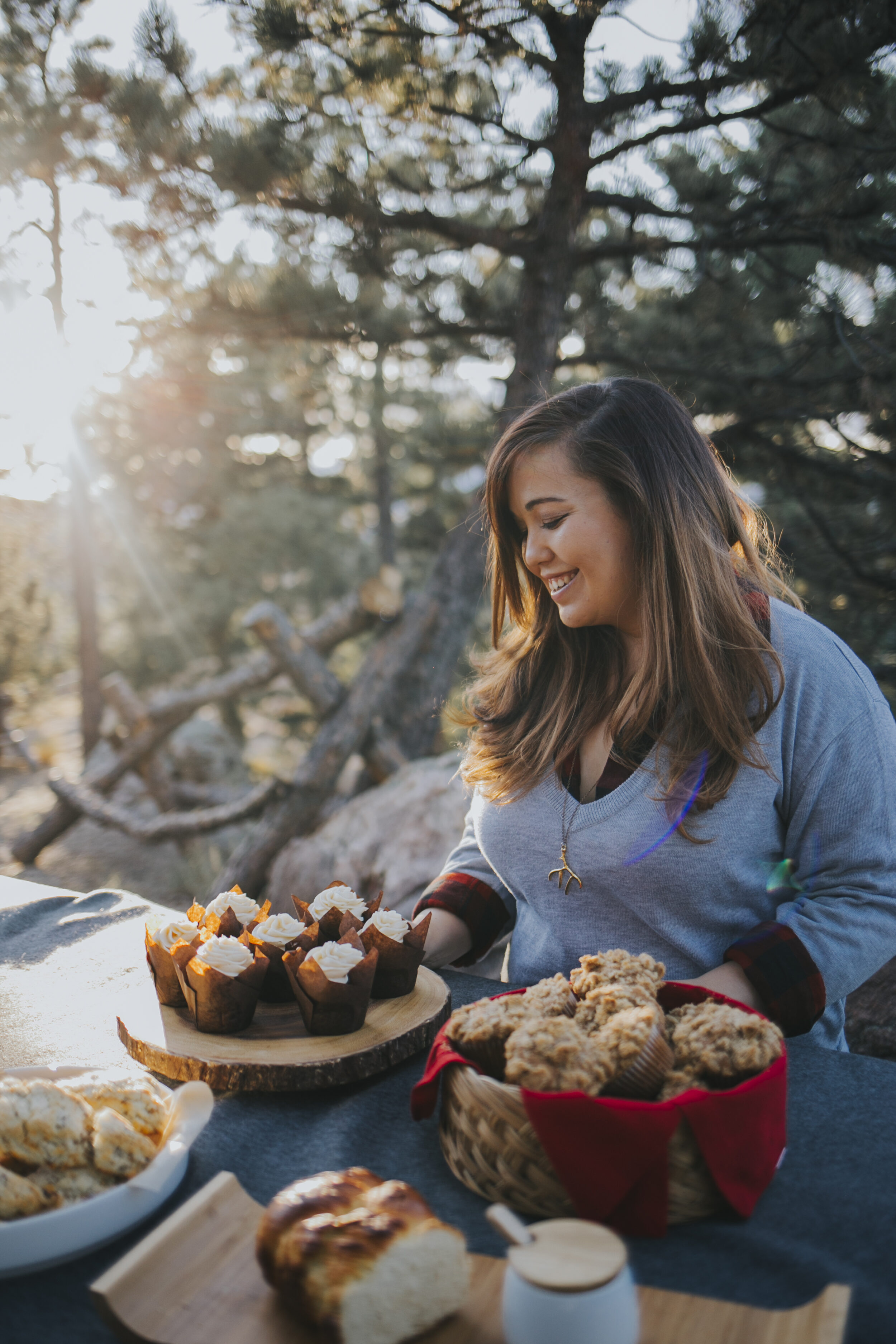 Hello and welcome! My name is Nicole, and Dough-eyed is a food blog for people who want to bake for their family and friends in high-altitude areas. Think of me as a friendly voice there with you in the kitchen, here to give you confidence when you're baking, and to help you with the struggles of baking at high-altitude. Come back every week for new recipes, tips, and advice on high-altitude baking!