Hey everyone! Today I'm sharing the recipe for a simple little snack cake- it's just an 8×8 inch cake with an easy frosting on top. Perfect for that quick cake craving fix, plus today we're on funfetti!
Like everyone else in America, I'm kind of obsessed with funfetti cake. This version is easy, fluffy, and I like to top mine with a little cream cheese frosting, which always reminds me of how I used to make the cake from a box as a kid. It's super easy- let's get to it!
How to Make Funfetti Snack Cake
This is a bit of an odd mixing method when it comes to cakes, but I've always found it to work really well for this recipe. Basically we're just putting everything for the cake in the bowl at one time (except the sprinkles) and mixing it all together at once.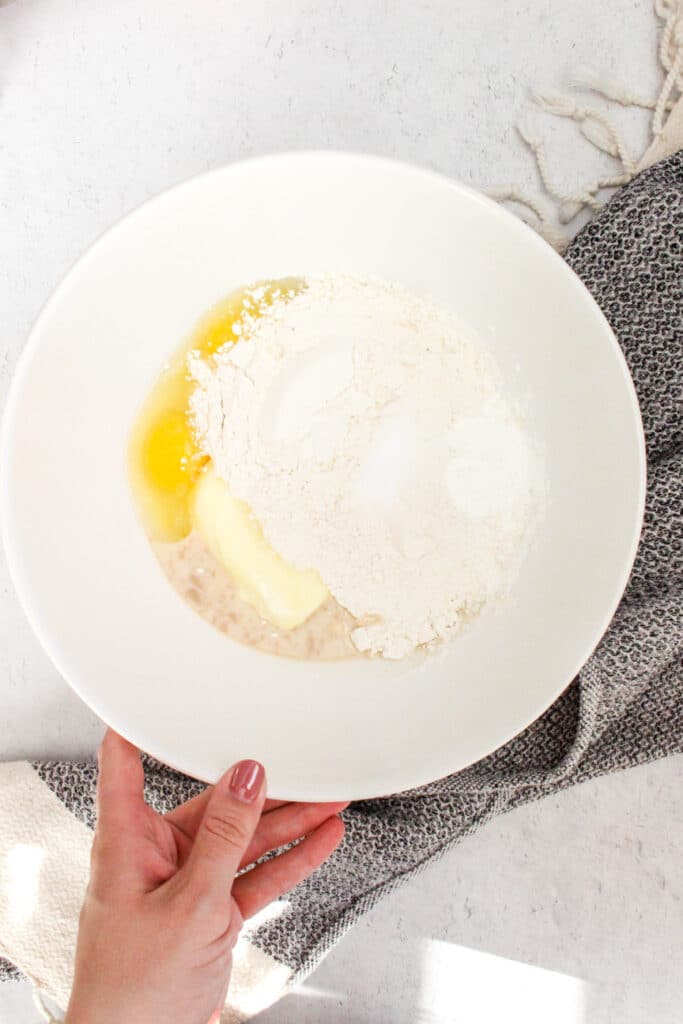 Not only is this method really easy, but it really helps prevent over-mixing, which is easy to do with a lighter, fluffier cake.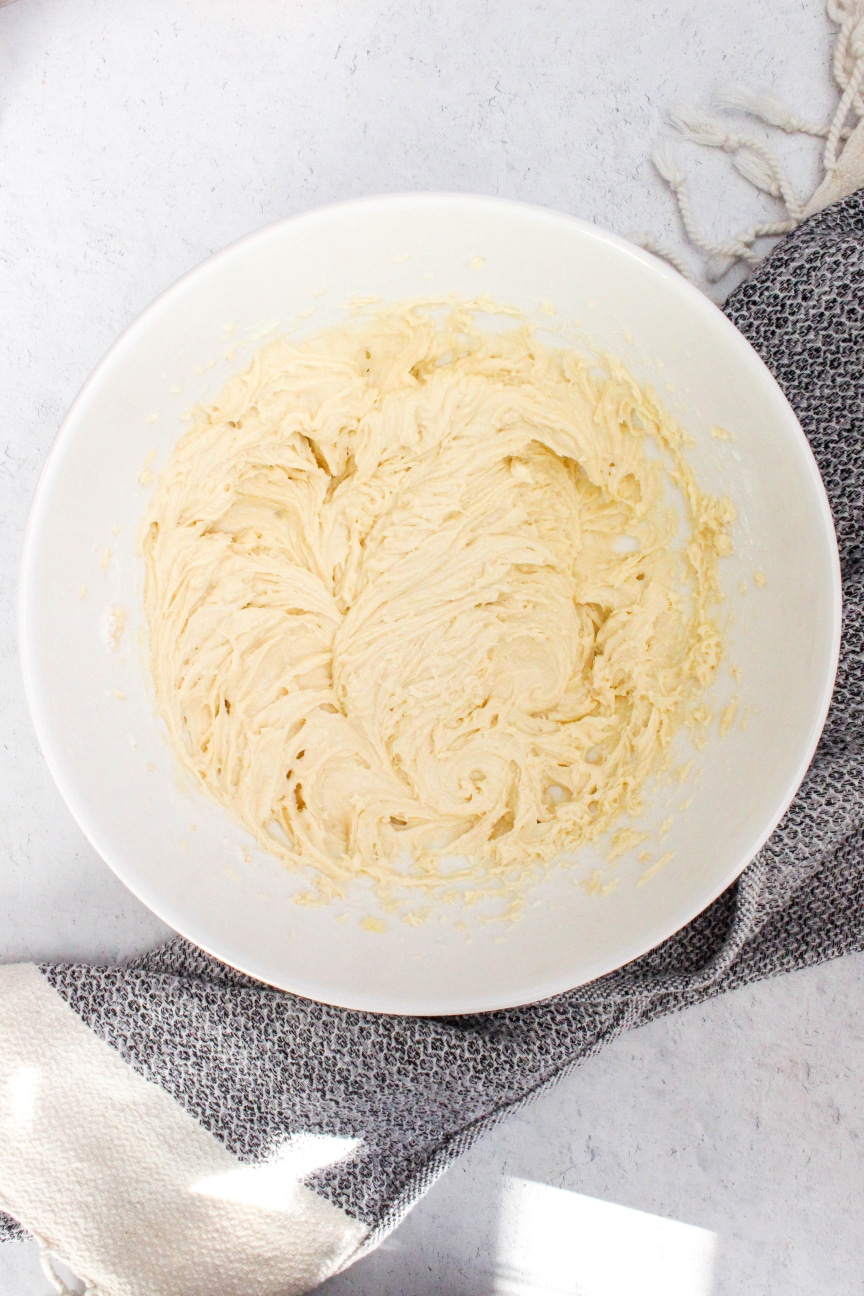 You just want to throw everything in, beat it together until it's just combined and thick, and then fold in your rainbow sprinkles. It's seriously that easy. Into the pan and off to the oven!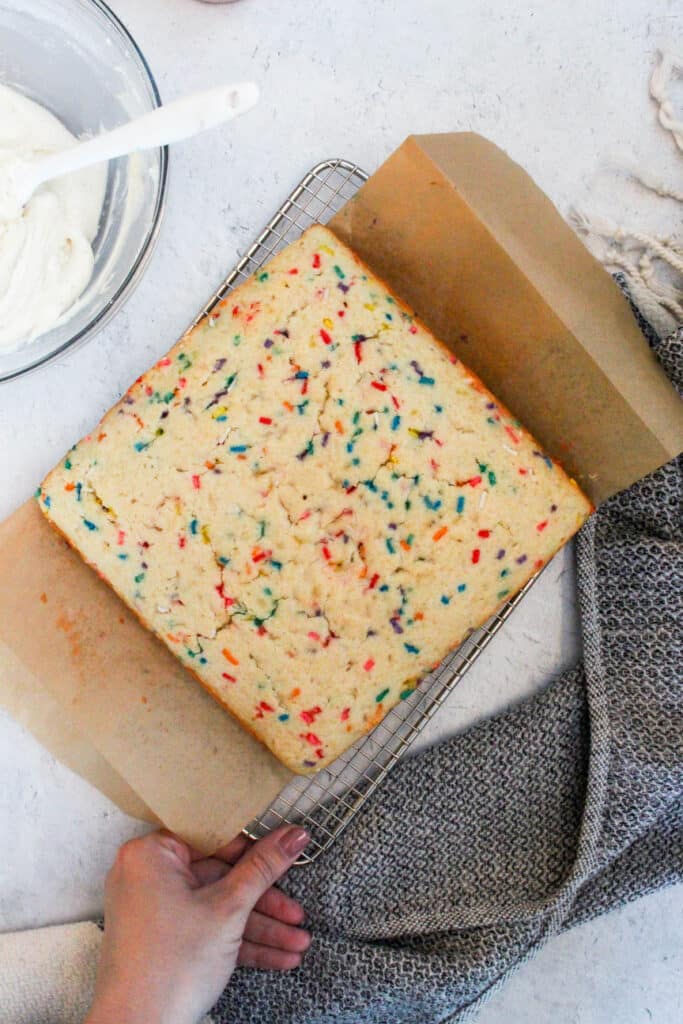 I'm making just a super simple cream cheese frosting for this one- it's basically just a little bit of butter and cream cheese, powdered sugar, salt, and vanilla extract. It comes out smooth and creamy, and just the right amount for this little cake!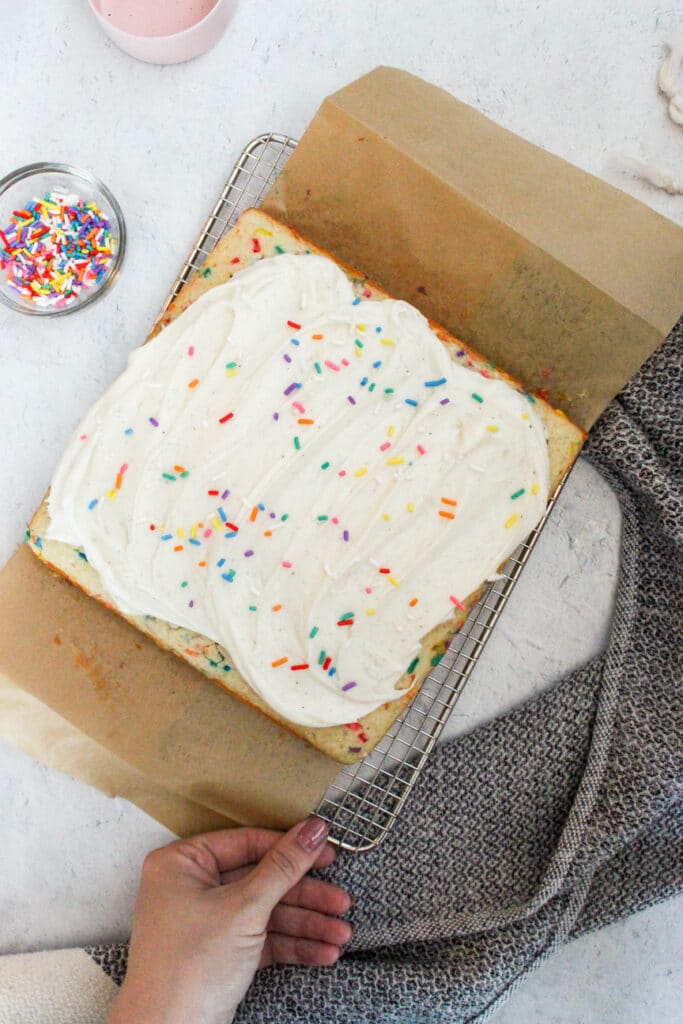 And that's it! She's here and ready for ya!
Tips & Tricks for Funfetti Snack Cake
This is one of my favs- here are my tips and tricks to make it great the first time!
Make sure you use room temperature ingredients for your cake batter. Since we're mixing everything at once, this is extra important here!
Mix everything for the cake batter together at once. This is an odd method I know, but it's not a typo, I promise! It helps to prevent over-mixing, and it creates an extra fluffy end result cake! Just mix everything together at once until just combined- the batter will be thick.
Use jimmy-style rainbow sprinkles for that classic funfetti vibe, or you can use flat confetti style sprinkles for something more like Rainbow Chip cake!
Can I skip the sprinkles? Sure, if you just want a simple cake, or if you don't have any sprinkles on hand, that's ok! It'll still taste wonderful.
Can I skip the almond extract? Yes, you can. The almond extract gives the cake that classic birthday-cake flavor that we all remember from boxed mixes, but you can go for just vanilla if you prefer it!
Be sure to use softened cream cheese and butter for the frosting. If your cream cheese is not room temp, it won't blend well in the frosting. Likewise, if it's too soft (from microwaving it) it will make the icing too thin.
What if my frosting is too thin and runny? This is commonly due to overly soft or warm cream cheese or butter. You can pop it in the fridge for 5 minutes, mix, and then chill again for another 5 minutes and repeat until it's a bit thicker. Or, you can add more powdered sugar until you reach a good consistency.
I'm at about 5,000 ft above sea level and I find that most people who live between about 3,000 and 7,000 ft above sea level do not need to make any adjustments to my recipes.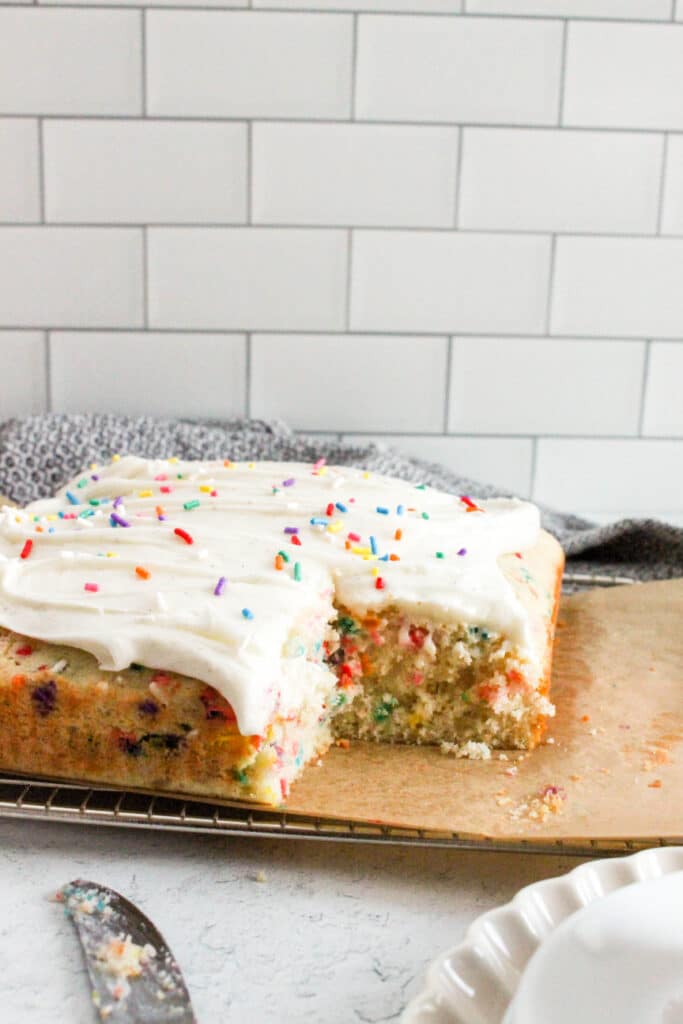 Enjoy!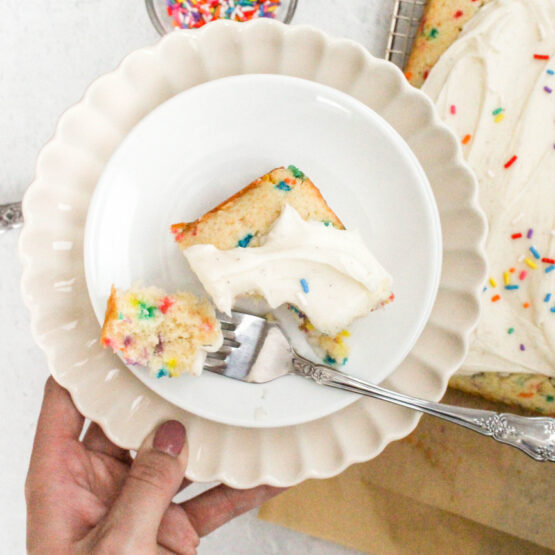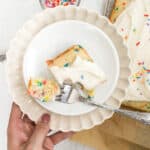 Funfetti Snack Cake
Ingredients
For the cake:
1/2

cup

softened butter

1/2

cup

sugar

2

eggs

1/4

cup

sour cream

2

tsp.

vanilla extract

1/2

tsp.

almond extract

1 1/4

cups

flour

1

tsp.

baking powder

1/2

tsp.

salt

3

tbs

milk

1/4

cup

rainbow sprinkles

jimmy-style
For the frosting:
4

oz.

softened cream cheese

2

tbs.

softened butter

3

cups

powdered sugar

1/8

tsp.

salt

1

tsp.

vanilla extract
Instructions
For the cake:
Preheat your oven to 350 degrees, and grease one 8-inch square baking pan with baking spray. Optionally, line the bottom with parchment paper for easier removal. Set aside.

In a large bowl, beat together the butter, sugar, eggs, sour cream, vanilla extract, almond extract, flour, baking powder, salt, and milk. I know it sounds weird to mix everything at once, but trust me, it works well here. The batter will be thick.

Fold in the sprinkles gently until well distributed. Spread the batter evenly in your prepared baking pan. Bake for 22-25 minutes, or until a cake tester comes out clean. Cool completely before frosting!
For the frosting:
In a medium bowl, beat together the softened cream cheese and softened butter until smooth and well combined. Slowly beat in the powdered sugar until you have a very thick mixture. Then add in the salt and vanilla extract and beat until well combined. You should have a thick, smooth frosting. Frost your cooled cake, and top with more sprinkles before slicing and serving!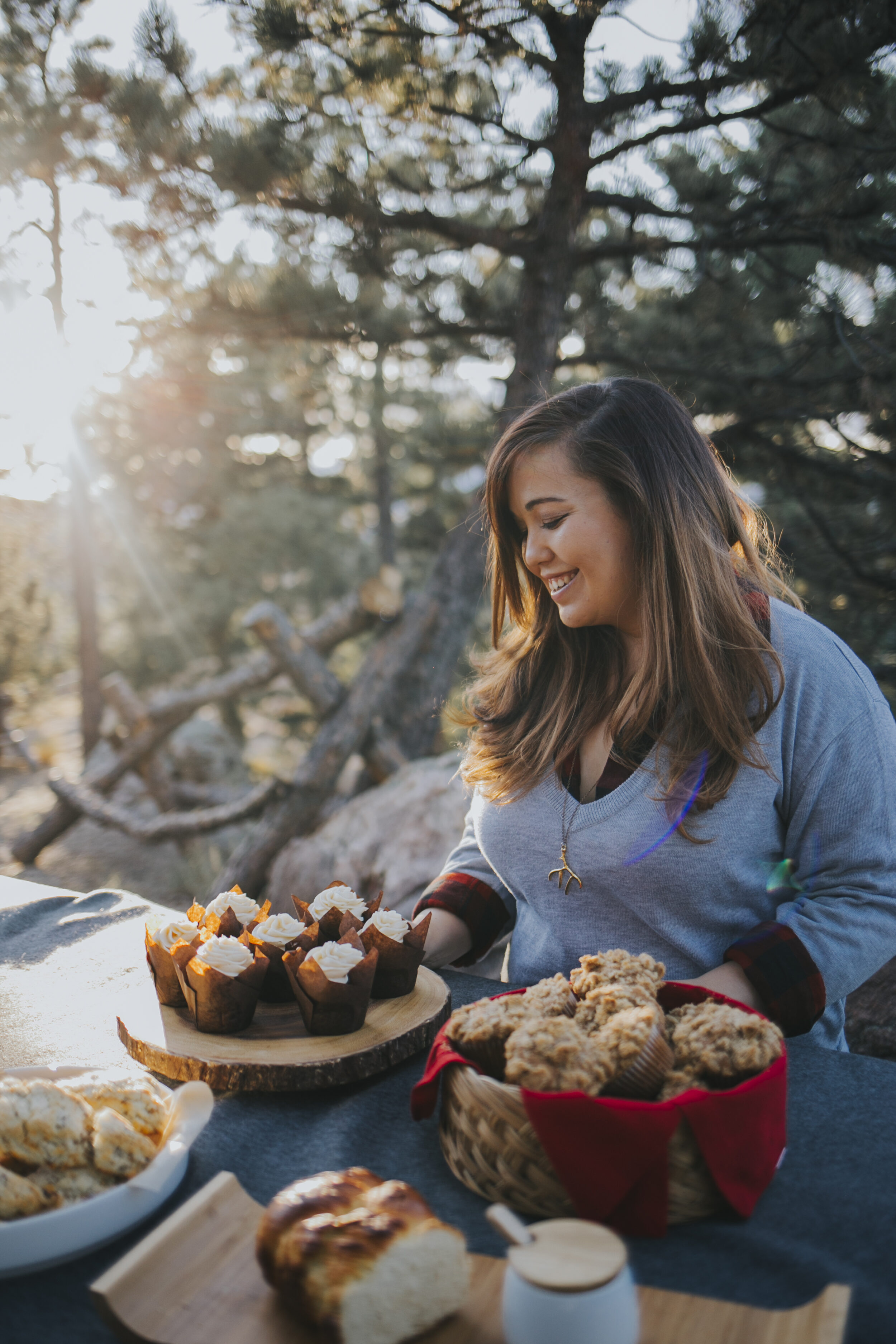 Hello and welcome! My name is Nicole, and Dough-eyed is a food blog for people who want to bake for their family and friends in high-altitude areas. Think of me as a friendly voice there with you in the kitchen, here to give you confidence when you're baking, and to help you with the struggles of baking at high-altitude. Come back every week for new recipes, tips, and advice on high-altitude baking!