Hey guys- today we're making a little Chocolate Loaf Cake topped with cream cheese frosting, and it's the perfect easy treat.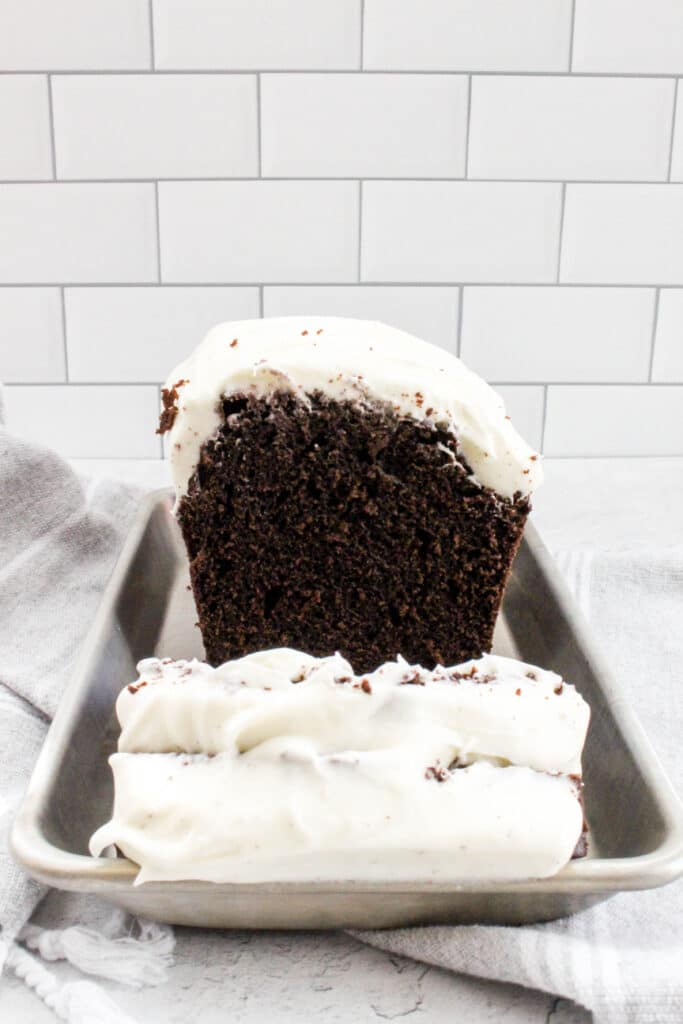 I'm really into frosted loaf cakes lately because they give you all the qualities of a big ol' frosted layer cake, but it's so much less work. This loaf cake is basically a chocolate pound cake, and it's so yummy. Let's get to it!
How to Make Chocolate Loaf Cake
You can mix this cake entirely by hand, and it's super easy to pull together. We're starting by whisking up some sugar, vegetable oil, vanilla extract, and eggs until well combined. Then we're going to add in our dry ingredients and some buttermilk in alternating additions.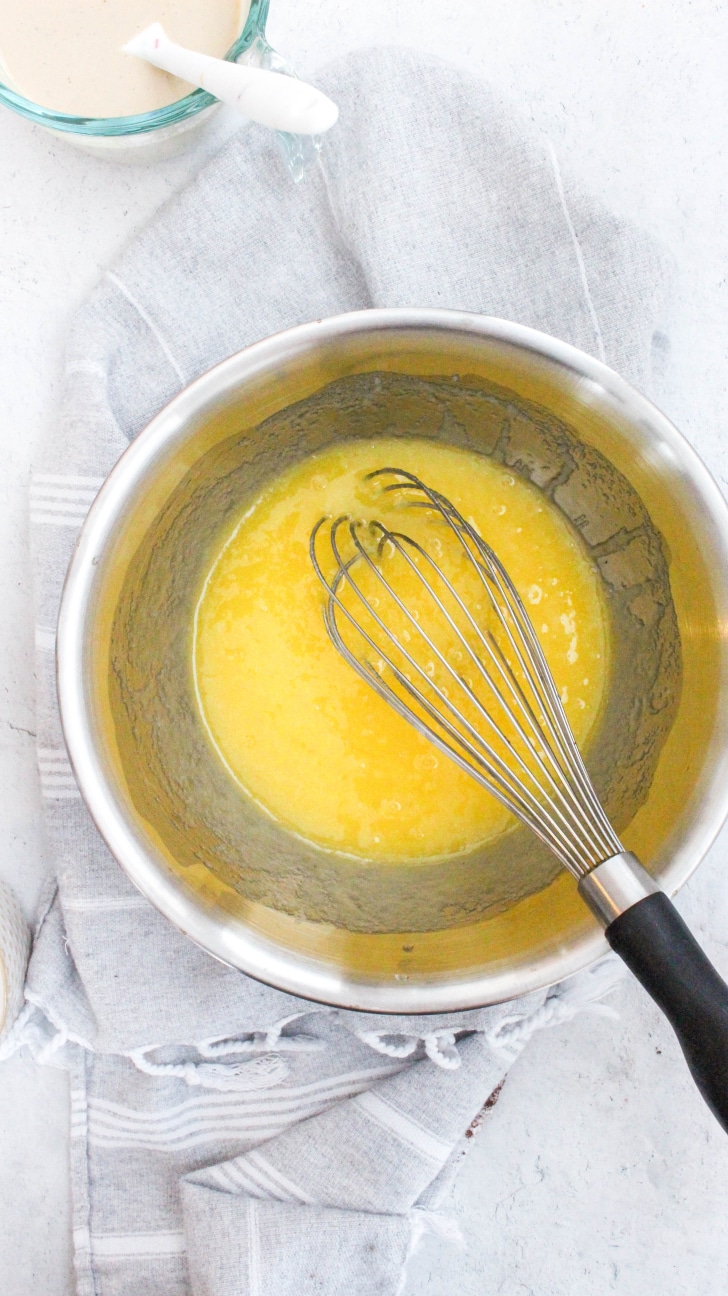 Once your batter is completely mixed, it's time to throw it into a loaf pan and then it's off to the oven. You'll end up with a tall pound cake, and you want to make sure that it cools completely before you move on to the frosting.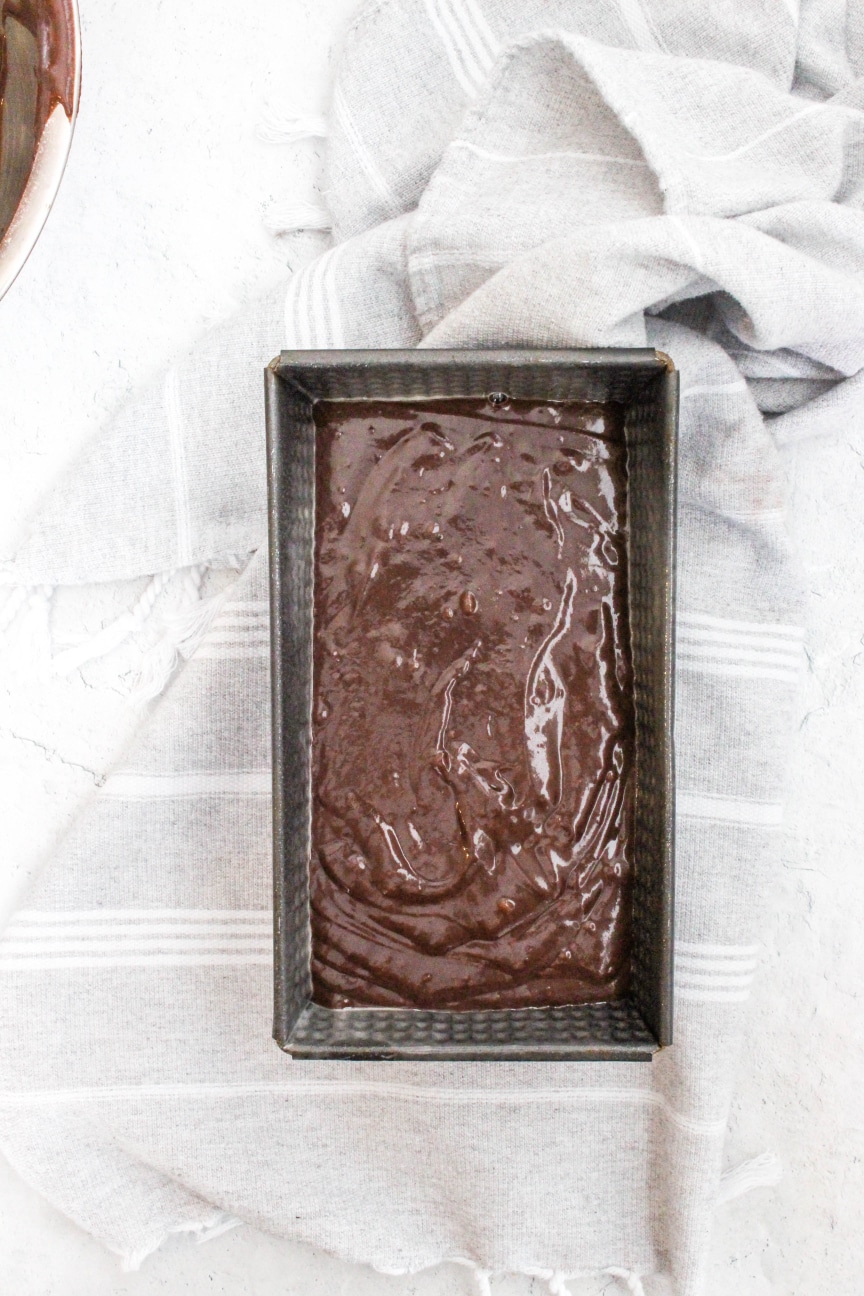 I like to top this cake with a simple cream cheese frosting that comes together quickly. Cream cheese frosting is easy to overbeat, so you really just want to mix until it's thick and spreadable- if you go to far, it can become thin and too runny. That said, it's a fairly soft but still spreadable frosting!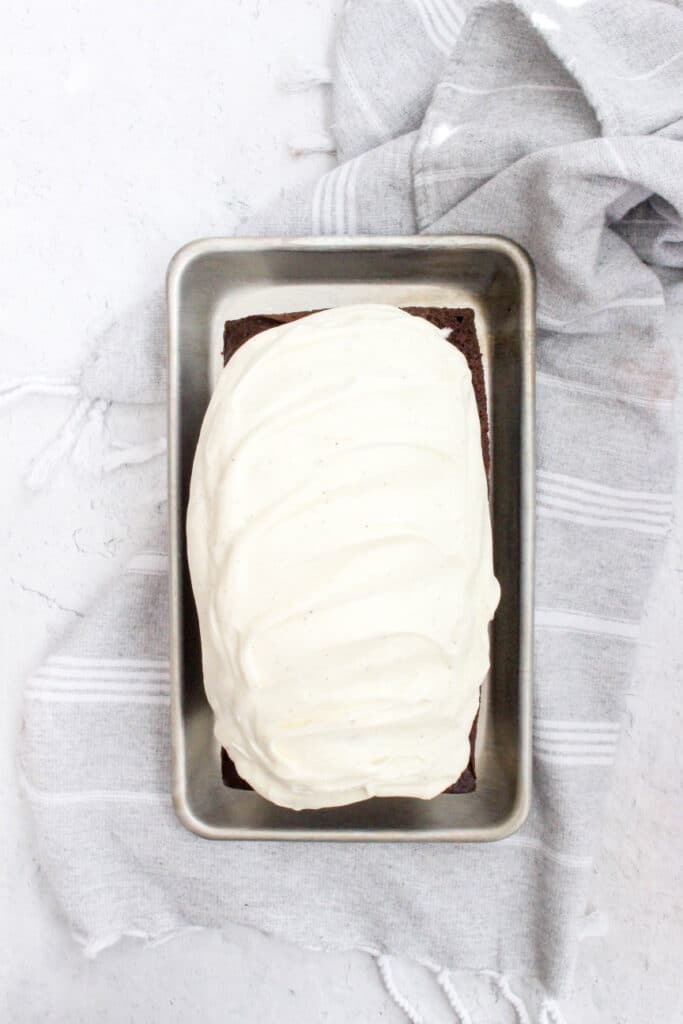 And then we're just slicing and serving up this beauty!
Tips & Tricks for Chocolate Loaf Cake
This is a simple cake, but I have some tips and tricks to help you along the way!
You can mix the cake batter entirely by hand. I find this to be a great method here- when you're working with batters that are thin enough, mixing by hand helps ensure that you don't over-mix anything!
Do I have to use dutch-processed cocoa powder? I highly recommend using dutch-processed cocoa powder here, and in all my chocolate recipes. It gives you a much richer chocolate flavor! Hershey's sells a "special dark" cocoa that's available in many grocery stores that works great.
Do I have to use the coffee? Please do the coffee! It won't make your cake taste like coffee, promise! It really just brings out the chocolate flavor, and it's so yummy.
What if I don't have buttermilk? You can make your own buttermilk substitute by adding about 1 tsp. white vinegar to your measuring cup before adding whole milk to fill to the required 3/4 cup. Let the mixture sit for about 5 minutes before using. BUT, you need to use buttermilk or this substitute for this recipe. It keeps things moist, and it affects how the cake will rise.
What size eggs do you use? I always use large eggs for my recipes- that's what it most available in my area, and it works great for baking!
Soften your cream cheese completely before making the frosting or the frosting will become lumpy.
Don't overbeat the frosting. Cream cheese frosting is delicate, and while it will be a softer frosting even when done right, over-mixing can create a thin, soupy frosting!
I am at about 5,000 ft. above sea level and I find that most people who live between about 3,000-7,000 ft above sea level do not need to make any adjustments to my recipes.
Hope you guys enjoy this one!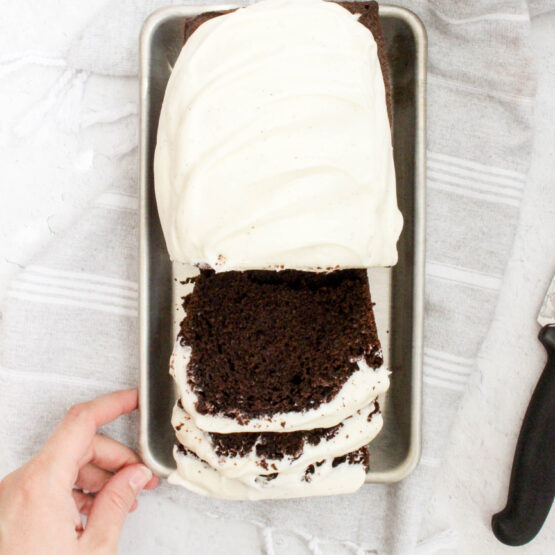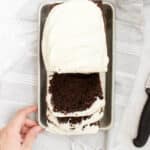 Chocolate Loaf Cake
Ingredients
For the cake:
1 2/3

cups

flour

1/3

cup

dutch-processed cocoa powder

1

tsp.

salt

1/2

tsp.

baking powder

1/4

tsp.

baking soda

3/4

cup

buttermilk

1/4

cup

brewed, cooled coffee

3/4

cup

sugar

1/2

cup

vegetable oil

2

eggs

2

tsp

vanilla
For the frosting:
4

oz.

softened cream cheese

1/4

cup

softened butter

2 1/2

cups

powdered sugar

1

tsp.

vanilla extract

1/8

tsp.

salt
Instructions
For the cake:
Preheat your oven to 350 degrees, and generously grease an 8-inch loaf pan. Line the pan with parchment paper on the bottom optionally with overhanging pieces for easier removal.

In a small bowl, stir together the flour, cocoa powder, salt, baking powder, and baking soda, and set aside. In a small bowl, stir together the buttermilk and coffee and set aside. In a large bowl, whisk together the oil and sugar until combined, and then whisk in the eggs and vanilla extract. Pour in about 1/3 of the flour mixture, and whisk to combine. Then add in about 1/2 of the milk mixture, and repeat until all of the flour and all of the milk has been added. Whisk until just combined and smooth.

Pour the batter into your prepared cake pan. Bake for 50-55 minutes, or until a cake tester comes out clean. The cake should look set and puffed. Cool the cake completely in the pan before removing and frosting.
For the frosting:
In a large bowl, beat together the cream cheese and butter until smooth, then add in the powdered sugar slowly and beat until a thick frosting forms. Add in the vanilla extract and salt and mix to combine. Frost your cooled cake generously, slice, and serve!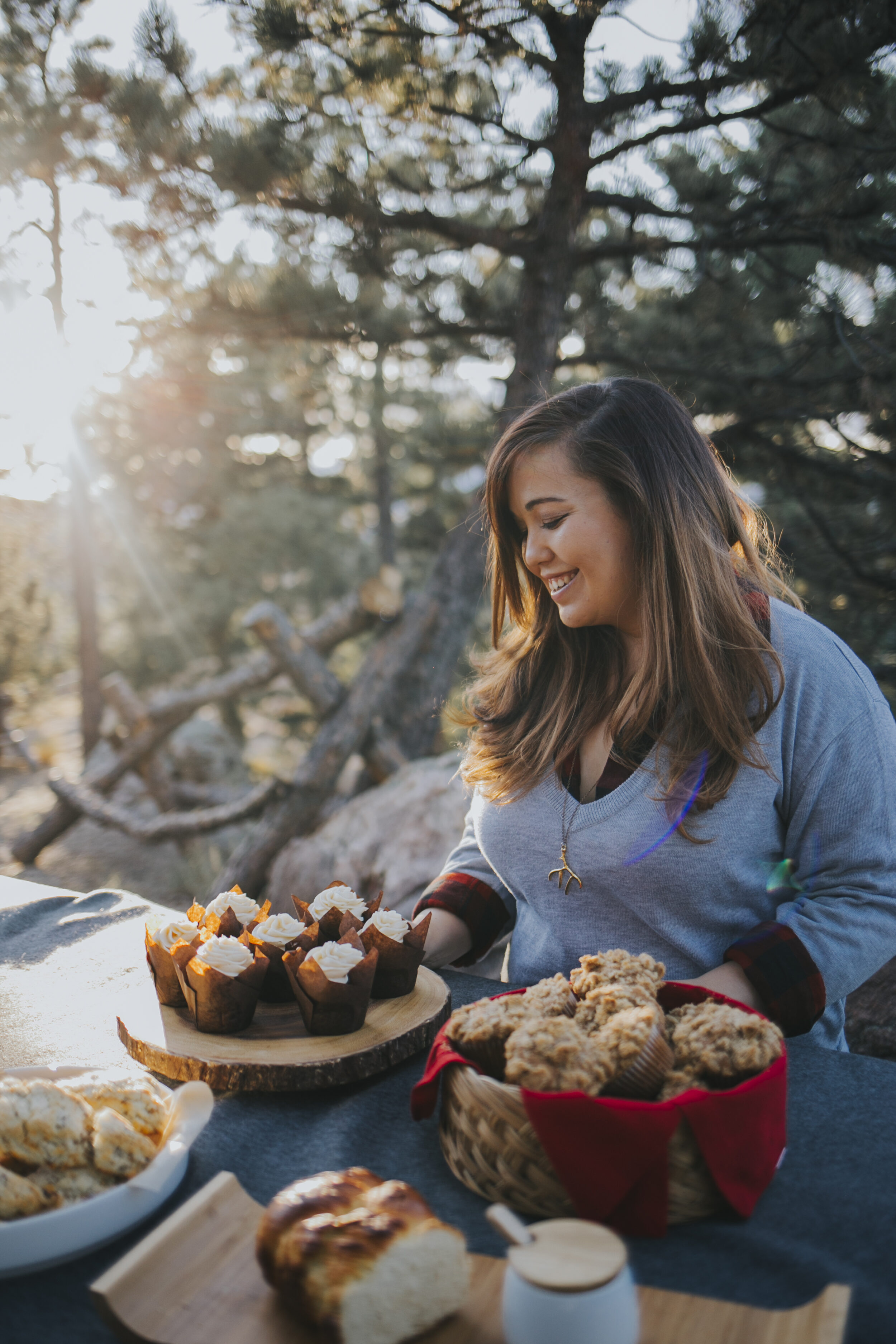 Hello and welcome! My name is Nicole, and Dough-eyed is a food blog for people who want to bake for their family and friends in high-altitude areas. Think of me as a friendly voice there with you in the kitchen, here to give you confidence when you're baking, and to help you with the struggles of baking at high-altitude. Come back every week for new recipes, tips, and advice on high-altitude baking!