Chocolate Maple Pecan Granola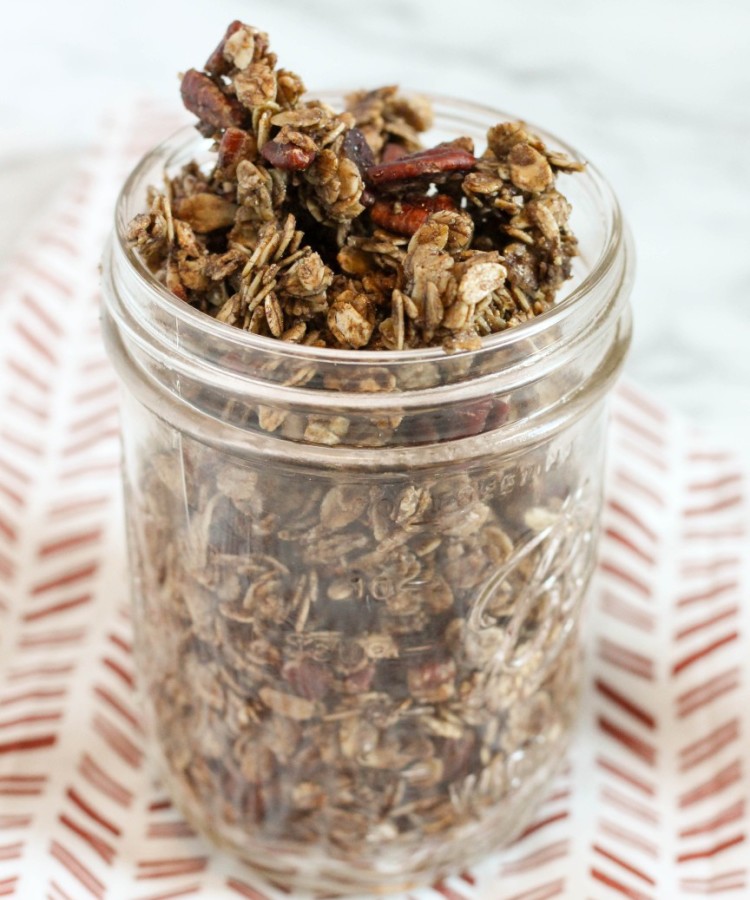 Hey!
Happy Friday everyone! Today I'm announcing the winners of the recent giveaway with Rodelle Vanilla and Breckenridge Distillery! TBH, I'm so jealous I don't get to keep all this stuff for myself- it's all really cool.
The responses were fantastic, and it was so great to hear from everyone!! So, our two winners of Rodelle goodies are Sally W. & Manda and the two winners of the Breckenridge Distillery swag are Ginger & Jeffrey! Look for me reaching out guys!!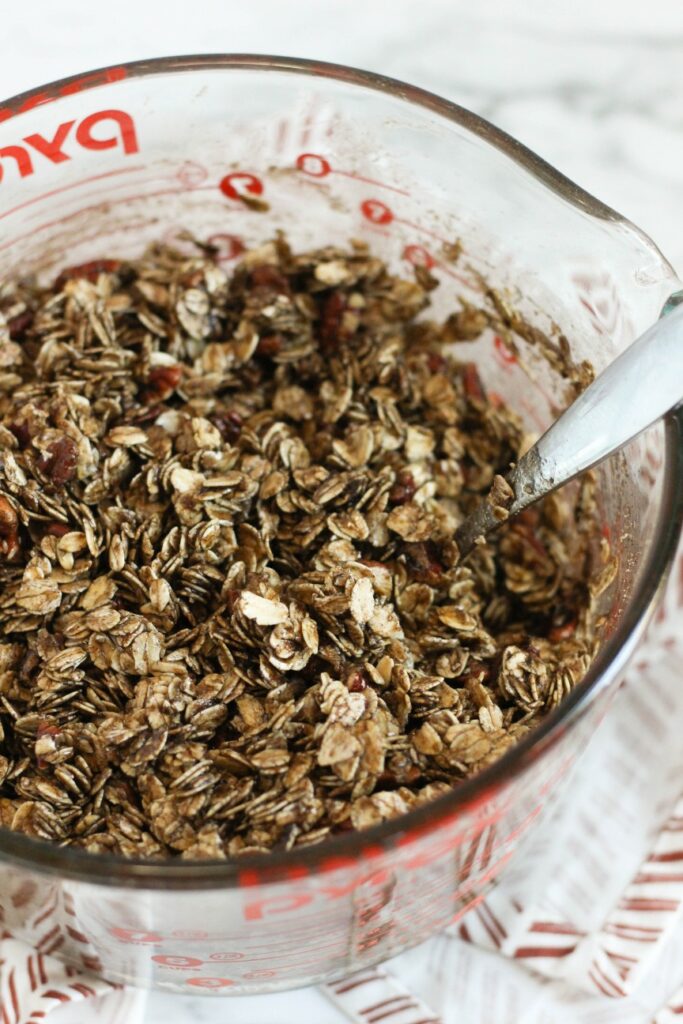 Onto the granola! Granola is like. Silly-easy to make you guys. It's so yummy, and like really customizable. Because I don't know about you, but it feels like every time I buy a new type of granola, I always wish it were just slightly different. Make it how you want it guys.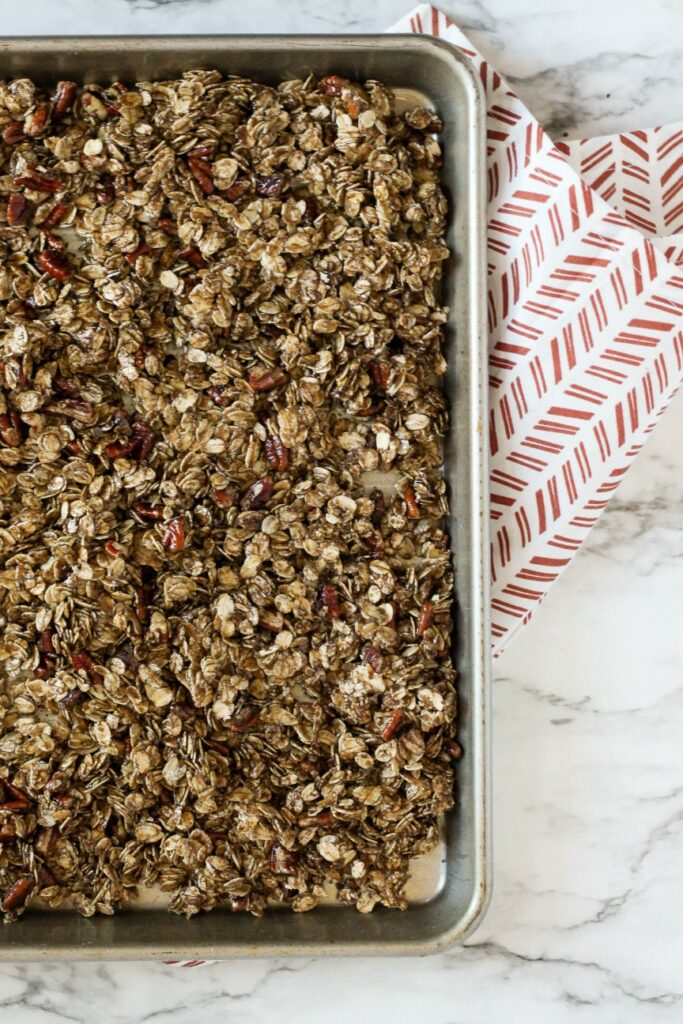 You want to stick with generally the same amounts of wet to dry ingredients when you customize. You'll want to be sure to keep the egg white and oil in tact in this recipe as well- they offer important components. The egg white will help bind things and create a crispy end result, and the oil is another binder in the mix. You can sub butter for oil though!
So I've added a little bit of cocoa powder here, as well as maple syrup. The flavors are my kind of treat, and my husband and I just snacked on this bag all week long- it's so good!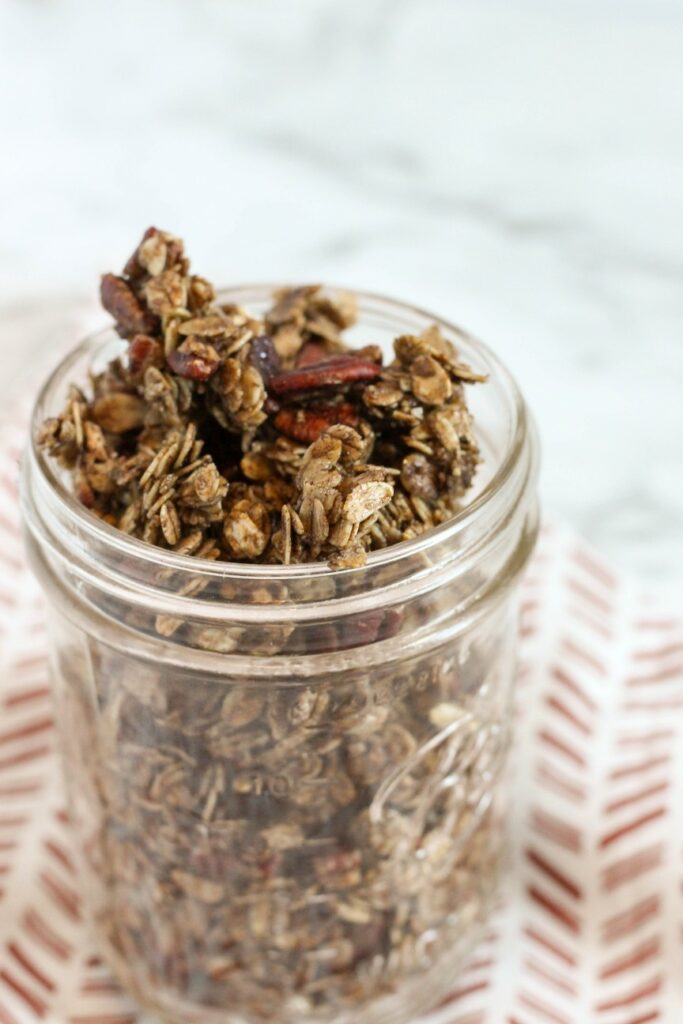 I've got to keep things short today guys- it's about to be a busy weekend! I hope you love the recipe, it's so easy and really tasty!
Chocolate Maple Pecan Granola
Ingredients
4

cups

old fashioned oats

1

cup

chopped pecans

1/2

cup

brown sugar

1/2

tsp

cinnamon

1

tbs.

dark cocoa powder

1/4

tsp.

salt

1/4

cup

canola oil

1/3

cup

maple syrup

1

egg white

1

tsp.

vanilla extract
Instructions
Preheat your oven to 300 degrees, and have a large clean sheet pan ready to go, preferably with edges.

In a large bowl, stir together the oats, pecans, brown sugar, cinnamon, cocoa powder, and salt. In a medium bowl, whisk together the oil, maple syrup, egg white, and vanilla extract. Pour the wet ingredients into the dry, and stir until completely coated. This might take a few minutes, but take your time- you really want everything well coated.

Spread the mixture evenly in your sheet pan. Bake for 30 minutes, stirring once during baking. Cool completely in the pan, and then break up to desired size, and store in an air-tight container. Enjoy!
Comments