Today we're making some really yummy muffins and honestly, making muffins on a Sunday night and eating them for breakfast through the week is the absolute best!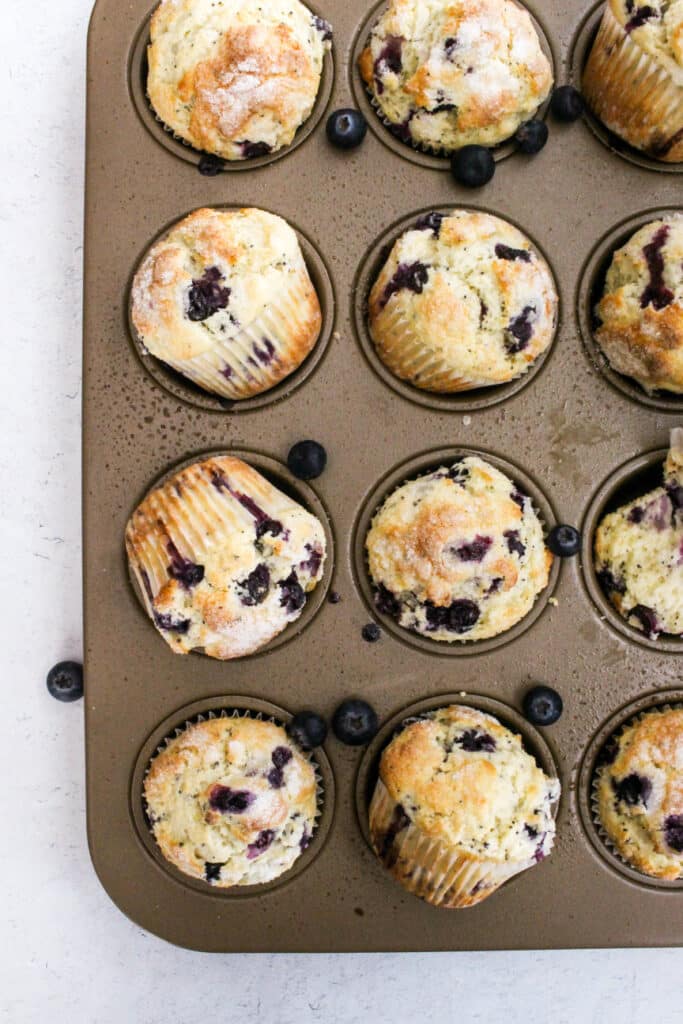 These are my Blueberry Poppyseed Muffins, and they have just a little hint of lemon. They're super easy to make, and it makes 12 muffins total, so let's get to it!
How to Make Blueberry Poppyseed Muffins
One of the best parts of making muffins is just how easy they are to pull together. We're stirring everything together by hand, and the idea is to make sure you don't overmix anything. So we're starting by mixing together the dry ingredients, and then separately whisking together the wet ingredients. Then pour the wet into the dry.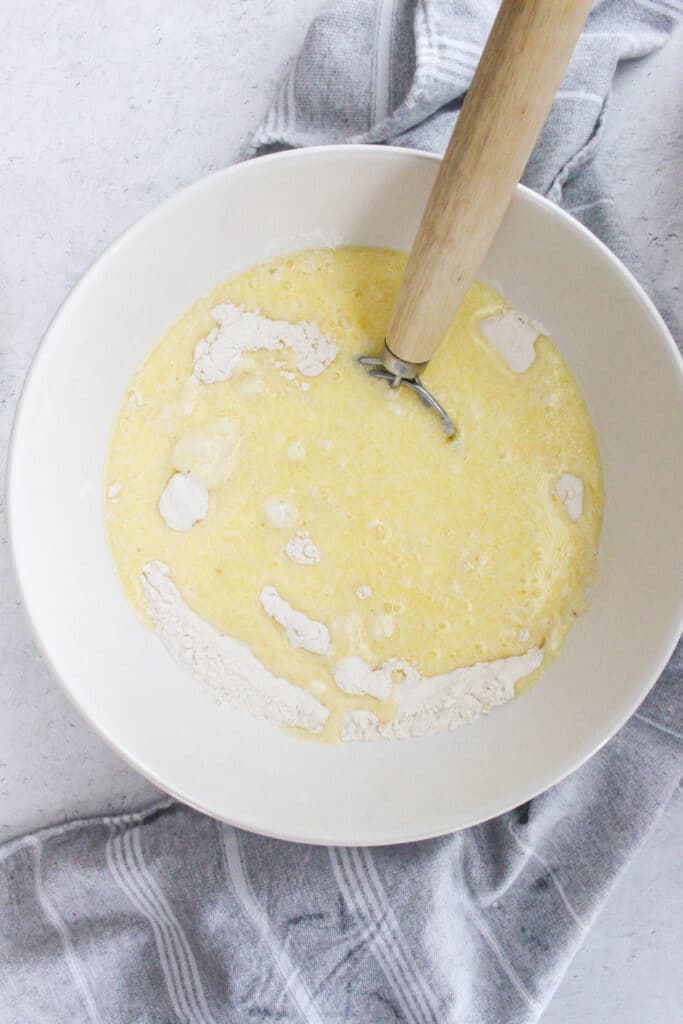 And then gently start stirring it together. Before everything is mixed in, you want to add in your poppyseeds and blueberries. This gives the blueberries a little light coating of flour as they get mixed in, and that ensures that they won't sink to the bottom of your muffins.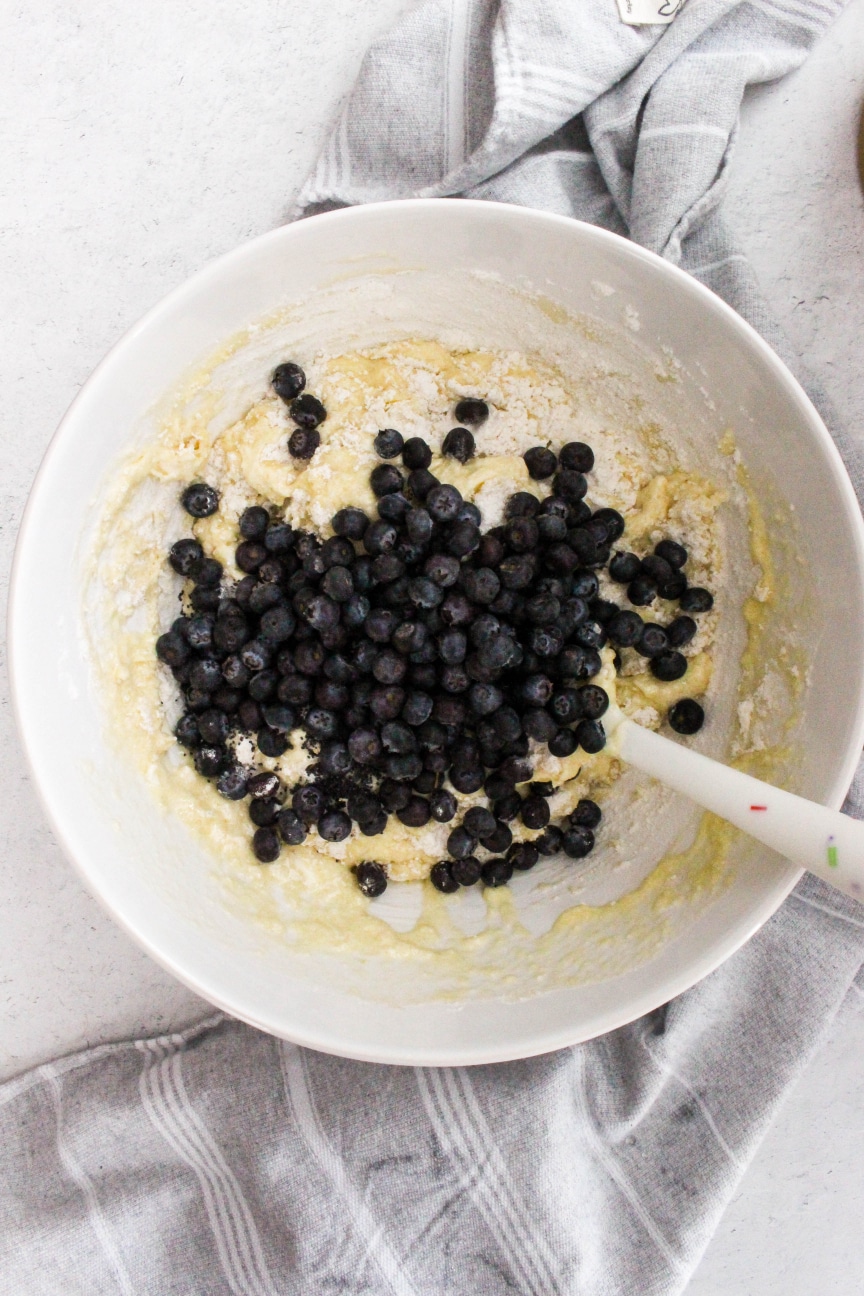 Once everything is well mixed and you have no remaining pockets of flour, you want to cover your batter and let it rest for 30 minutes while your oven preheats. This is an important step!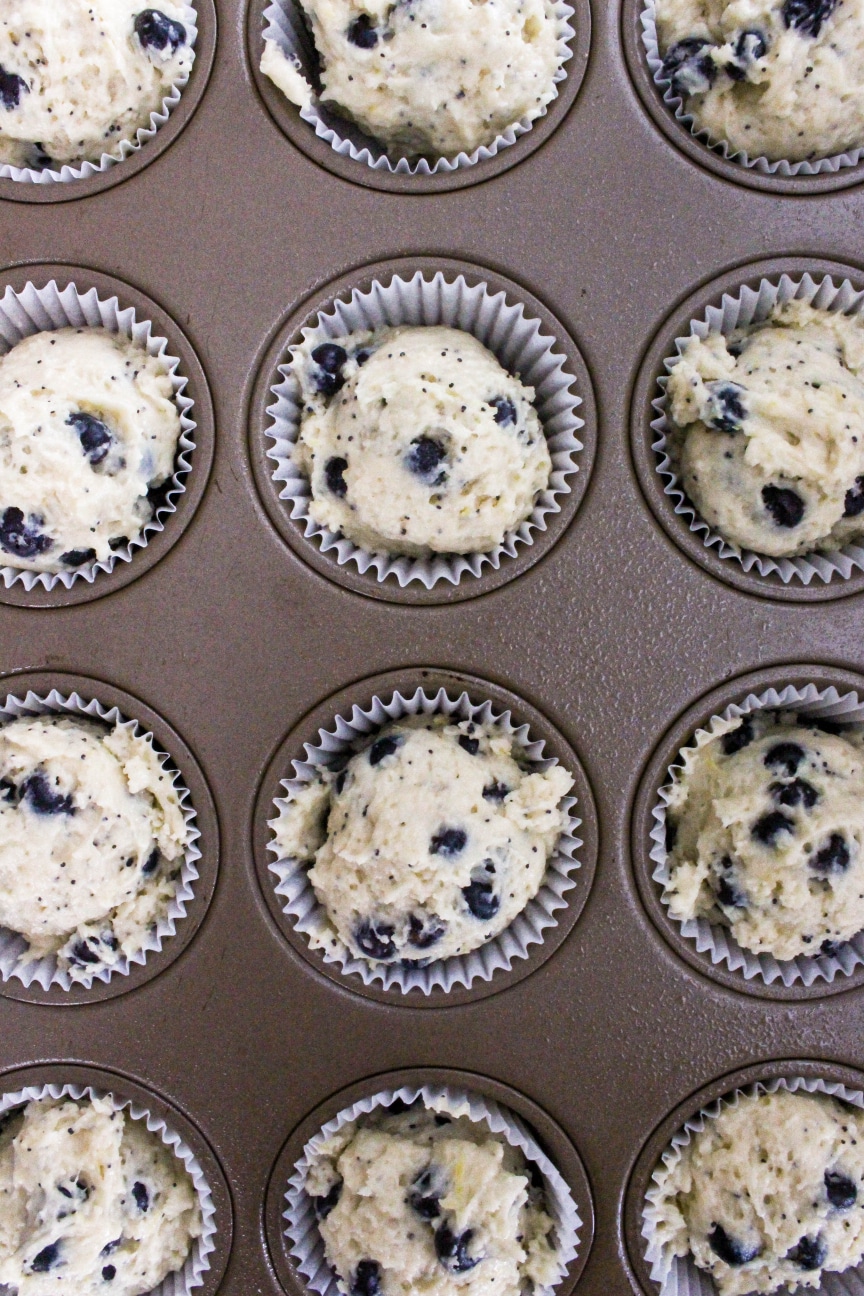 We want to give the baking powder time to really activate and rest before popping them into a hot oven. You'll get beautiful domed tops this way!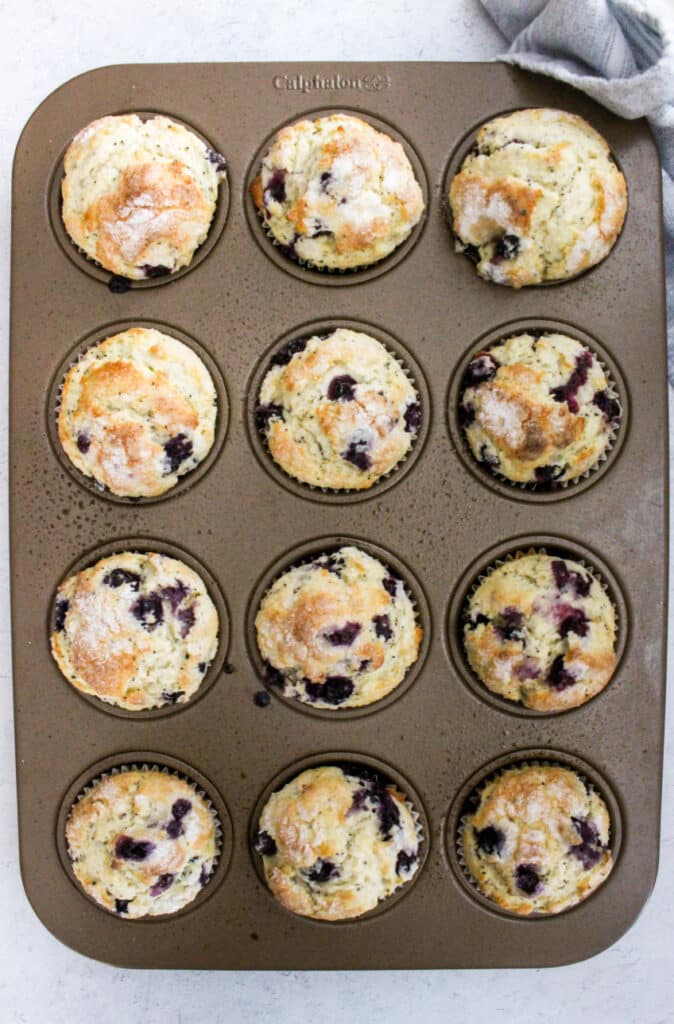 I like to sprinkle the tops of my muffins with a little granulated sugar which will result in a lightly crisp top, and helps the muffins brown really well as they bake. And that's it!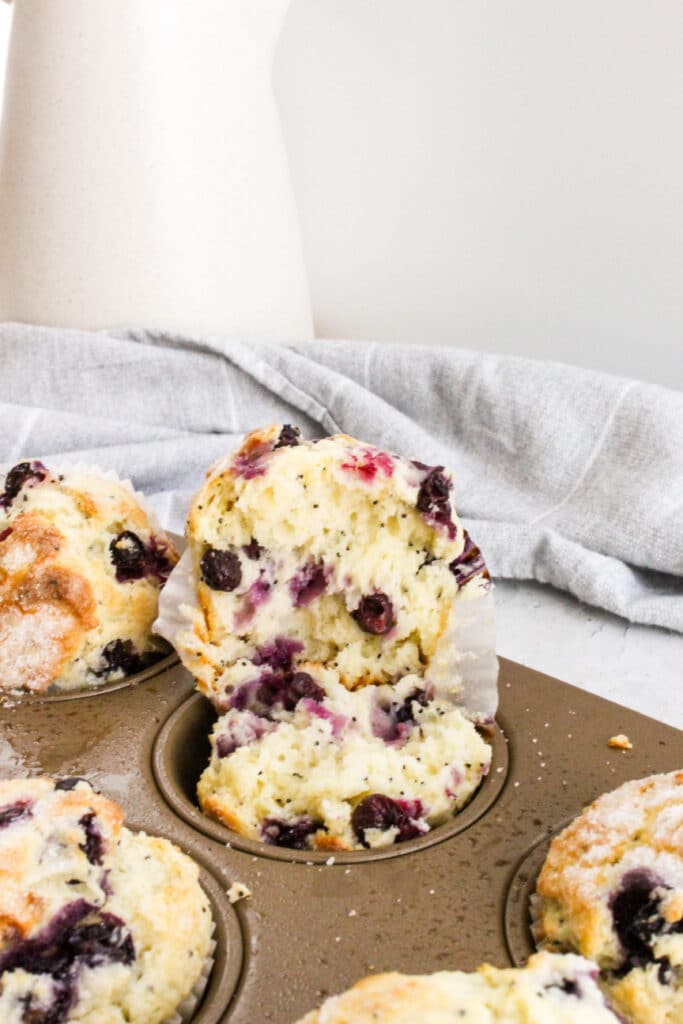 Enjoy these babies warm or store them in an airtight container for 3-5 days. You can also freeze the baked muffins for 3 months, and pop one out to thaw whenever you want a little breakfast treat!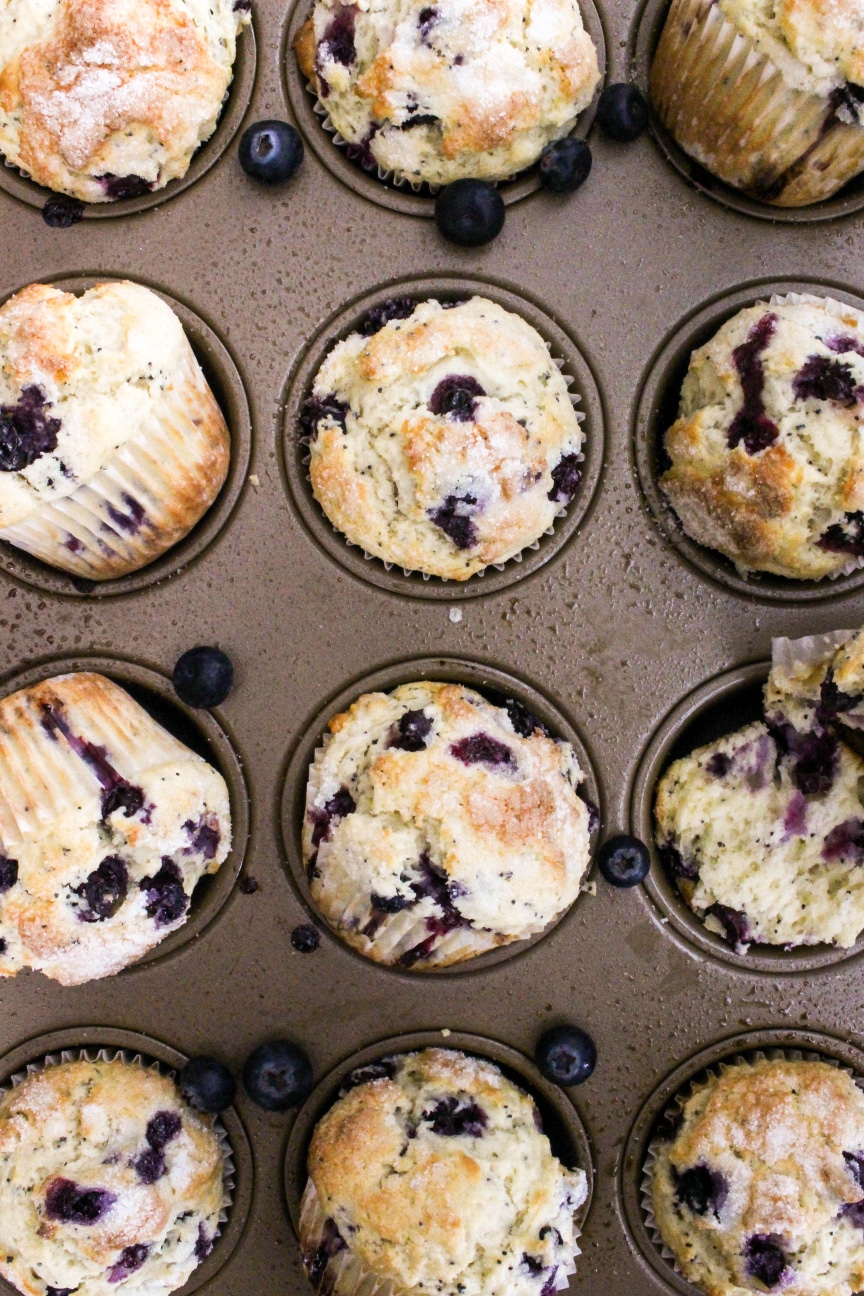 Tips & Tricks for Perfect Blueberry Poppyseed Muffins
Here are my best tips for the perfect muffins!
Don't over mix your batter. This is especially important with muffins, and I recommend just stirring everything together by hand until it's just incorporated. This will give you tender, fluffy muffins!
These muffins are just lightly lemony, but if you want a more pronounced lemon flavor, you can add in 1 tsp. of lemon extract to make everything pop!
Can I use other berries in this recipe? Yes, you can use any other small berries that you like- raspberries or blackberries would be lovely. I would not use strawberries just because they have a high water content.
Don't skip the rest period. It's so important to let the muffin batter rest before baking! It makes sure that you'll get tall, domed muffin tops, and it's worth the wait!
Be generous with the sugar on top because it's going to make a really perfect crisp topping, and it helps the muffins get nice and brown!
You can use the base recipe here for any kind of muffin. You can leave out the lemon (replace the juice with more milk), poppyseeds, and blueberries and swap in chocolate chips, or nuts, or anything you want!
I'm at about 5,000 ft. above sea level and I find that most people who live between about 3,000-7,000 ft above sea level do not need to make any adjustments to my recipes.
Enjoy!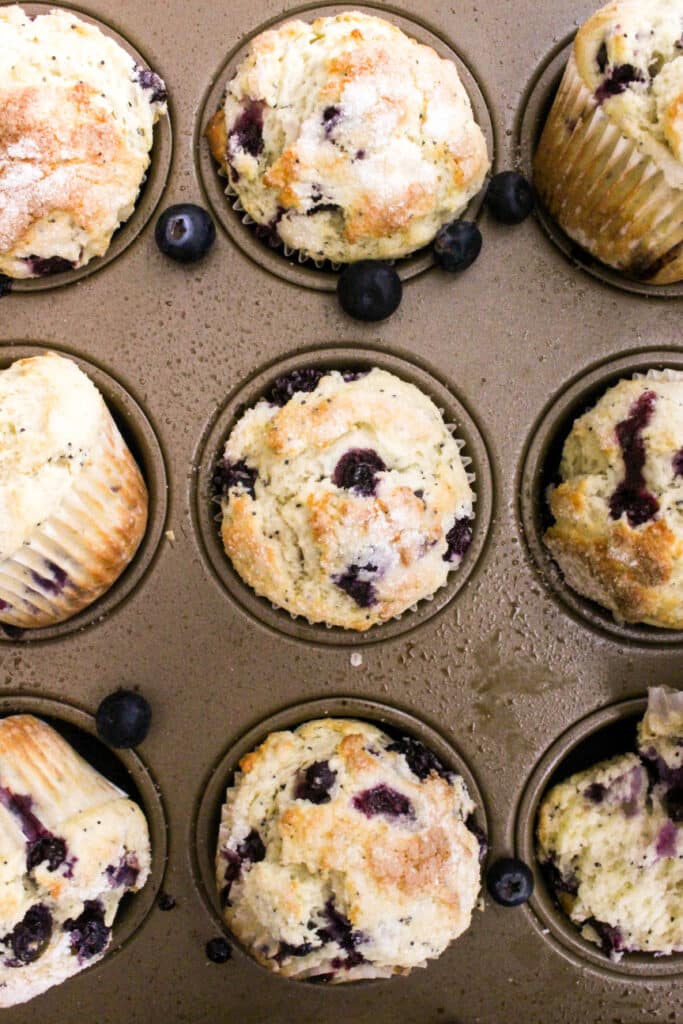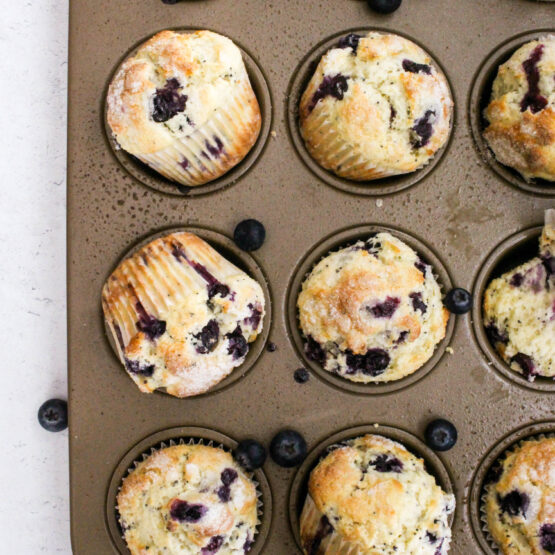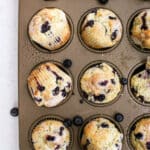 Blueberry Poppyseed Muffins
Ingredients
2 1/2

cups

flour

2/3

cup

sugar

plus more for sprinkling on top

2

tsp.

baking powder

1/2

tsp.

salt

2-3

tbs.

fresh lemon zest

from one lemon

1/2

cup

milk

1/2

cup

melted butter

1/4

cup

lemon juice

1/4

cup

sour cream

2

eggs

1

pint

fresh blueberries

1

tbs.

poppyseeds
Instructions
In a medium bowl, stir together the flour, sugar, baking powder, salt, and lemon zest. In a small bowl, stir together the milk, melted butter, lemon juice, sour cream, and the eggs. Pour the wet ingredients into the dry.

Stir together for just a couple of turns. While there are still pockets of dry flour in the mixture, toss in your blueberries and poppyseeds. Continue to stir together until no dry pockets remain, but do not over-mix.

Cover, and let the batter rest on your counter for 30 minutes. This will help everything come together before baking, and it also helps to ensure you get high-domed muffins.

Preheat your oven to 400 degrees. Spray your baking pan with baking spray- you want the spray to coat the top of the pan mostly to prevent overhang from sticking. Line with paper cups.

Once your batter has rested for a full 30 minutes, scoop evenly into your prepared pan. The muffin cups should be very full here, with the batter coming up almost the top of the cups. Generously sprinkle the tops with more sugar.

Bake for 16-20 minutes, or until the muffins are puffed, lightly golden brown, and a toothpick comes out with just a few crumbs on it. Once removed from the oven, use a butter knife to ensure that any overhanging parts don't stick to the pan. Cool the muffins completely in the pan, and enjoy!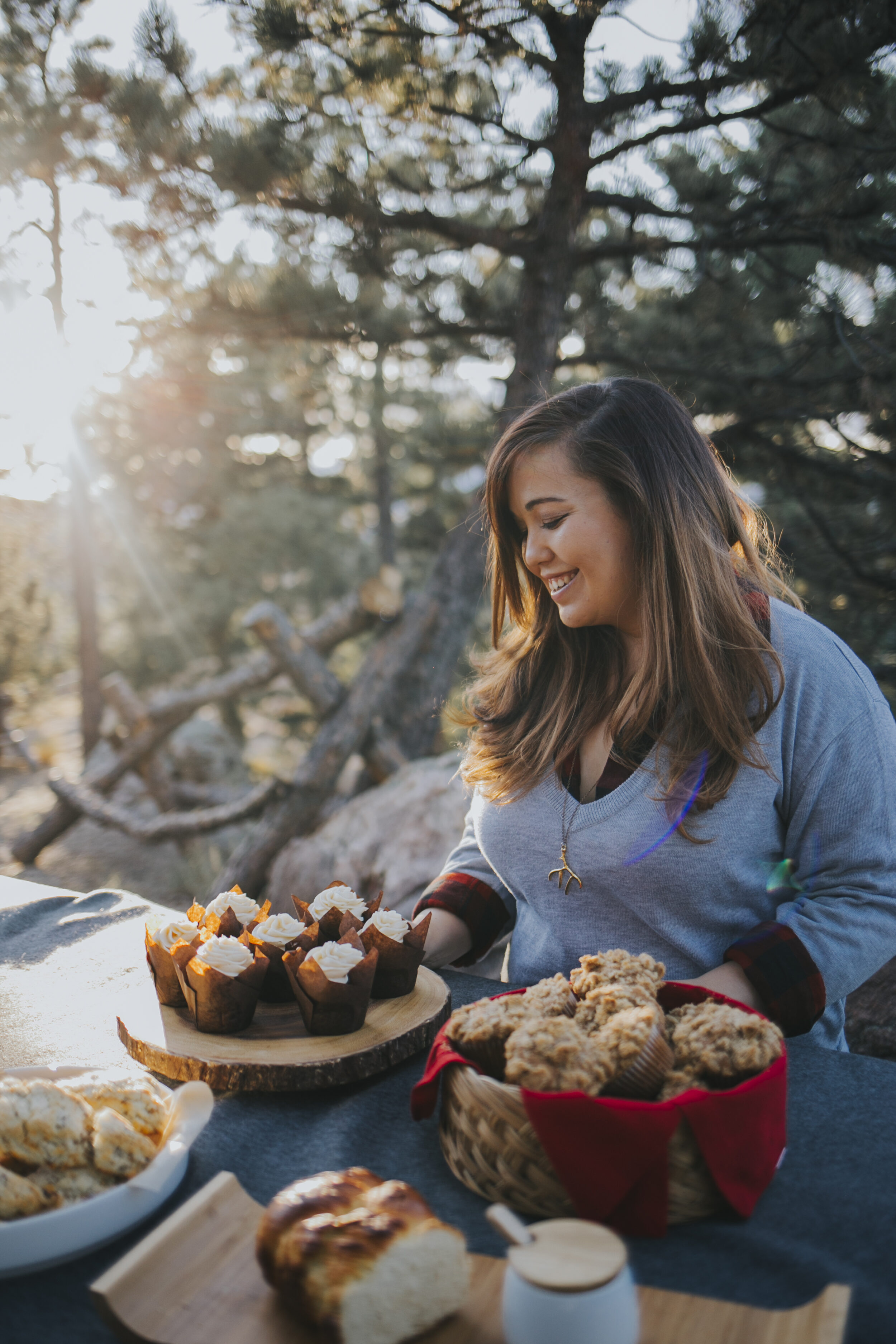 Hello and welcome! My name is Nicole, and Dough-eyed is a food blog for people who want to bake for their family and friends in high-altitude areas. Think of me as a friendly voice there with you in the kitchen, here to give you confidence when you're baking, and to help you with the struggles of baking at high-altitude. Come back every week for new recipes, tips, and advice on high-altitude baking!