Hey guys! Today I'm sharing a recipe from my new cookbook High-Altitude Breakfast for these super yummy Pumpkin Waffles. We're all in the thick of fall baking, and it's the perfect time to make yourself a sweet little fall breakfast too.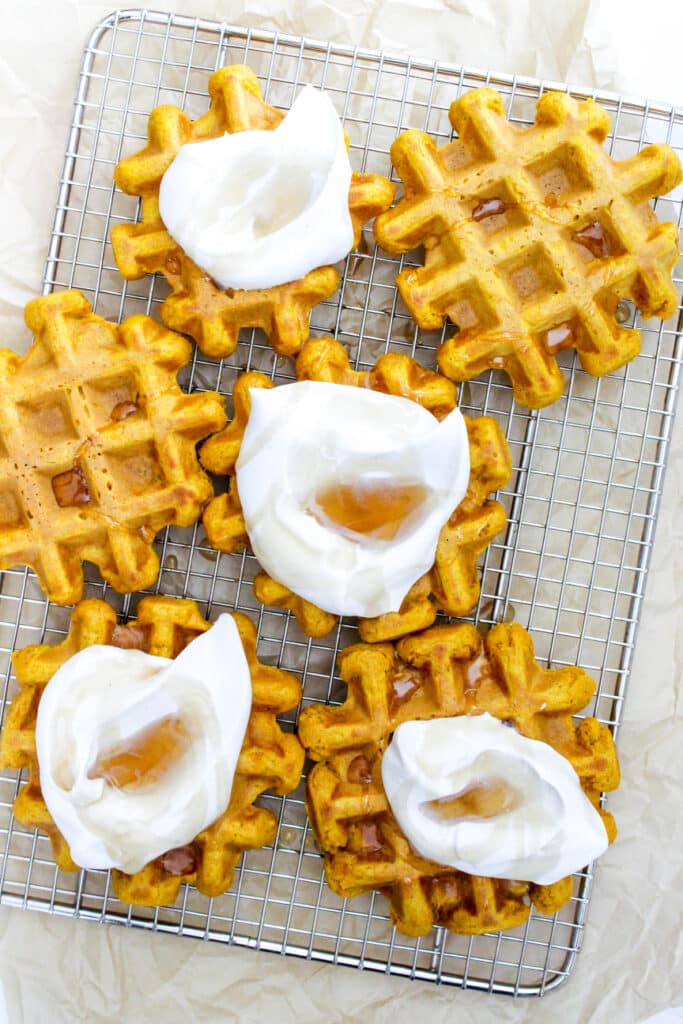 Homemade waffles are pretty simple to pull together, and such a perfect weekend breakfast. You do need a waffle iron for this recipe. I'm using a Belgian waffle iron, but you can use whatever you have, no problem. Let's get to it!
How to Make Pumpkin Waffles
If you want to get fluffy, crispy waffles, there's a few steps involved to make sure you get the perfect texture in the end. This batter has 3 main parts- dry ingredients, wet ingredients, and the eggs. We're starting out by stirring together the dry ingredients, including a bunch of warm spices.
In another bowl, stir together the wet ingredients, including some pumpkin puree. Stir the wet mixture into the dry. The last portion are the eggs- we're whipping them together with a touch more sugar until they become fluffy and airy, and then folding them into the batter gently. Here's the batter before adding the eggs: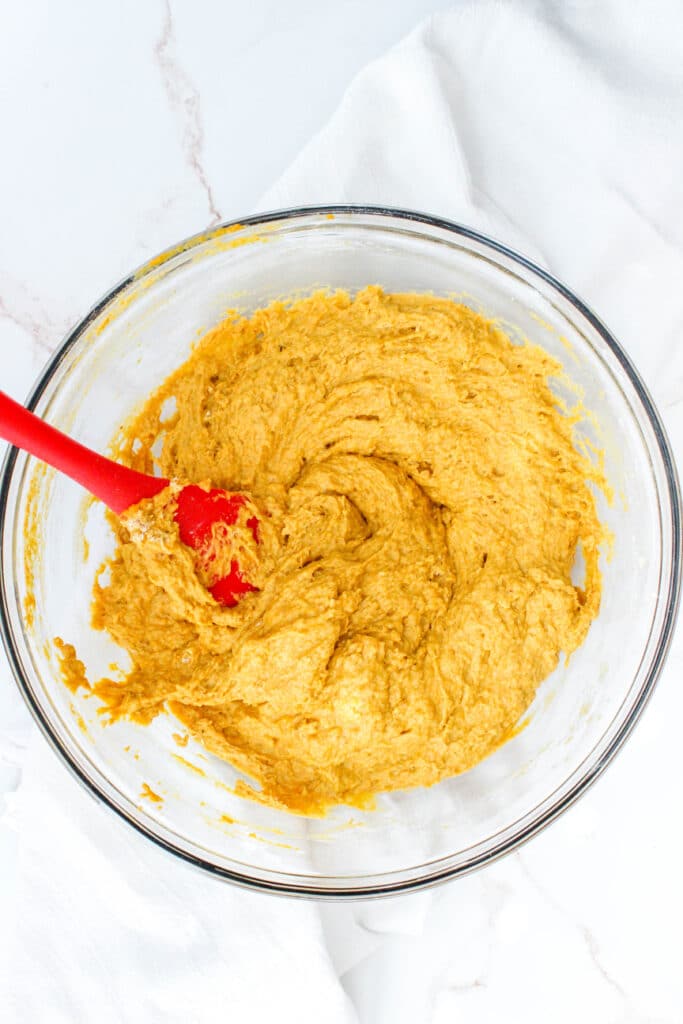 And here's what it looks like after the eggs have been folding in: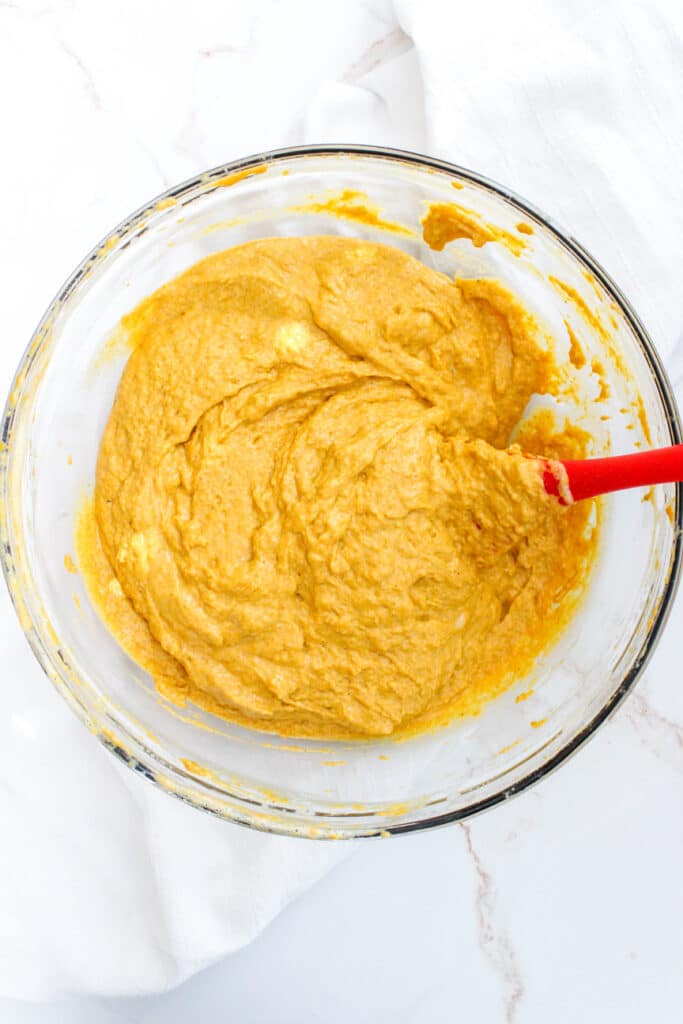 One of the most important steps for a great waffle at home is to let the batter rest. This allows the baking powder to activate and all the flavors to get to know each other. This helps the batter rise more as it cooks, creating something super fluffy!
Once you're ready, cook them up in your iron according to the instructions for your machine. I like to cook mine on the highest heat setting to get that crispy edge all over. You can keep the waffles warm in a low oven while you finish cooking the rest of the batter.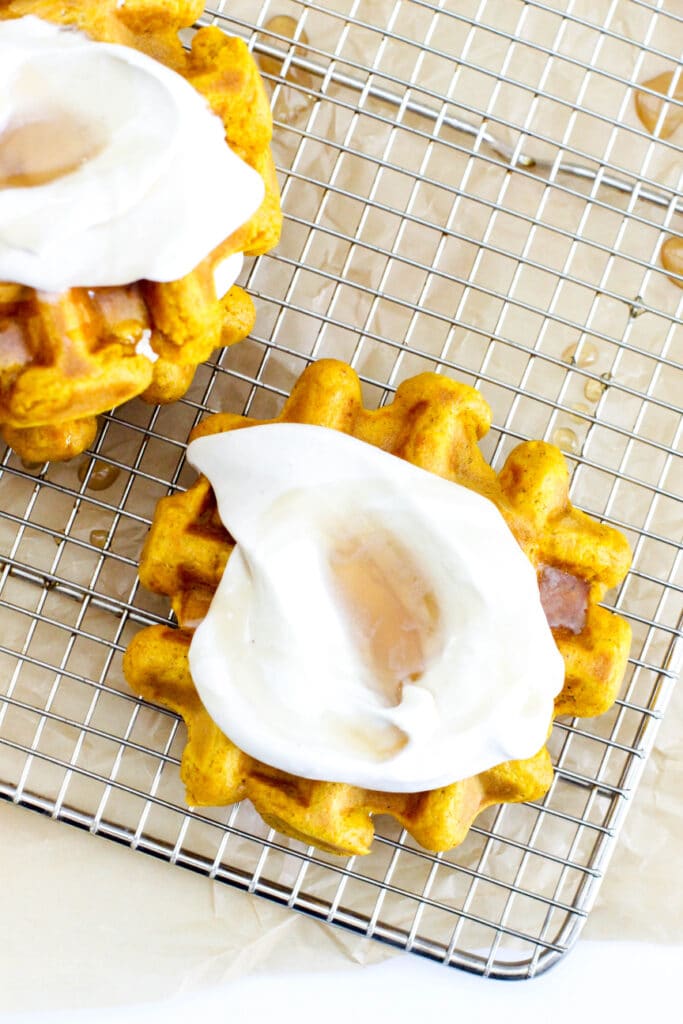 I like to serve them warm with some whipped cream and maple syrup. Hope you guys enjoy this perfect little fall recipe! My new cookbook is available now everywhere that books are sold, and I can't wait to share more recipes with you!
Tips & Tricks For Pumpkin Waffles
I've got some tips and tricks to make sure you end up with the perfect Pumpkin Waffles!
Whip the eggs until light and fluffy. They will become foamy and thick, almost tripling in volume as you whip them. This helps incorporate more air into the batter.
Keep it gentle and fold everything together slowly, especially the eggs. Take your time and don't beat out any of the air in the batter.
Let the batter rest before cooking. This is the key to light, fluffy waffles. Let the batter rest at room temperature for 30 minutes before starting to cook them in the iron!
Use any warm spices that you prefer. I went with a pretty classic mix here to compliment the pumpkin flavors, but you can substitute any spices that you prefer.
If your iron has heat settings, go for a higher setting to help ensure that you get a crisp outside on all your waffles. It's perfect for soaking up syrup.
Freeze the leftovers. You can reheat any leftover waffles in the toaster straight from the freezer!
I'm at about 5,000 ft above sea level, and I find that most people who live between 3,000 and 7,000 ft above sea level do not need to make any adjustments to my recipes.
Enjoy!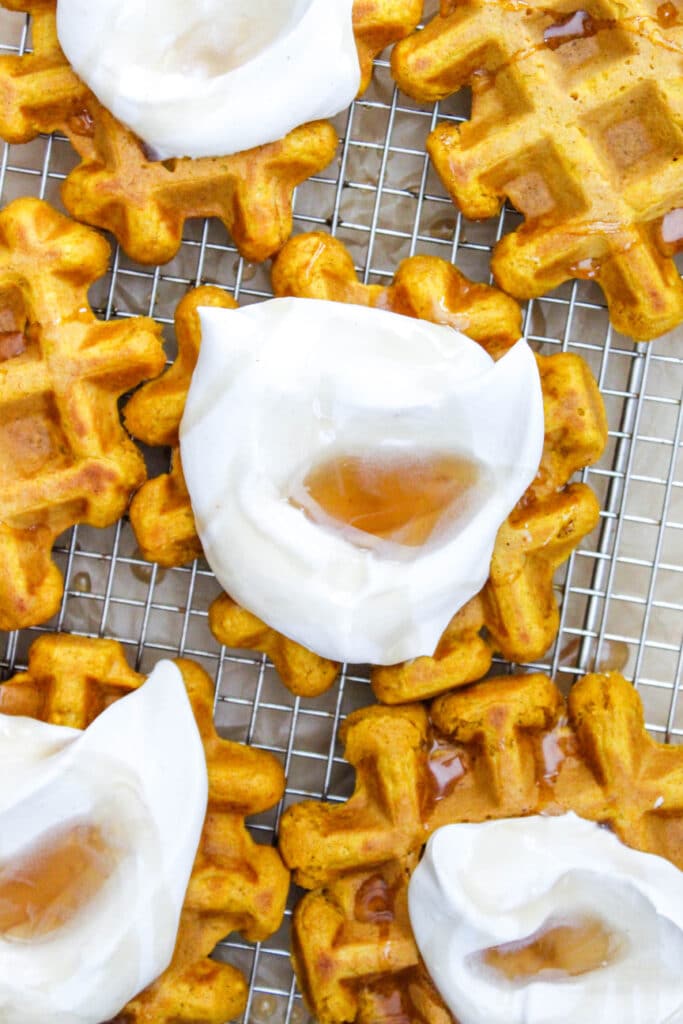 Pumpkin Waffles
Recipe originally appears in "High-Altitude Breakfast"
Ingredients
2 1/2

cups

all-purpose flour

1/4

cup

plus 1 tablespoon firmly packed brown sugar

2 1/2

teaspoons

baking powder

1

teaspoon

ground cinnamon

plus more for serving

1

teaspoon

ground ginger

1/4

teaspoon

ground allspice

1

teaspoon

salt

1

cup

whole milk

1

15-ounce

can prepared pumpkin puree

1/4

cup

canola oil

2

teaspoons

vanilla extract

2

eggs

Whipped cream and syrup to serve
Instructions
In a large bowl, stir together the flour, 1⁄4 cup of the brown sugar, the baking powder, cinnamon, ginger, allspice, and salt. Set aside. In a small bowl, stir together the milk, pumpkin puree, oil, and vanilla extract, and set aside.

In another bowl, using an electric mixer on high speed, beat together the eggs and the remaining 1 tablespoon brown sugar until the mixture is very thick, fluffy, and pale, about 5 minutes. Stir the reserved milk mixture into the flour mixture until just incorporated. Then, gently fold in the beaten egg mixture until completely incorporated. Let the batter rest, covered, at room temperature for about 30 minutes. Meanwhile, preheat your waffle iron according to the manufacturer's instructions.

Spray the grates of the waffle iron with cooking spray and cook the waffles according to the manufacturer's instructions. I use a high heat setting, and cook the waffles until deep golden brown, 5 to 6 minutes.

Serve with whipped cream, cinnamon, and syrup.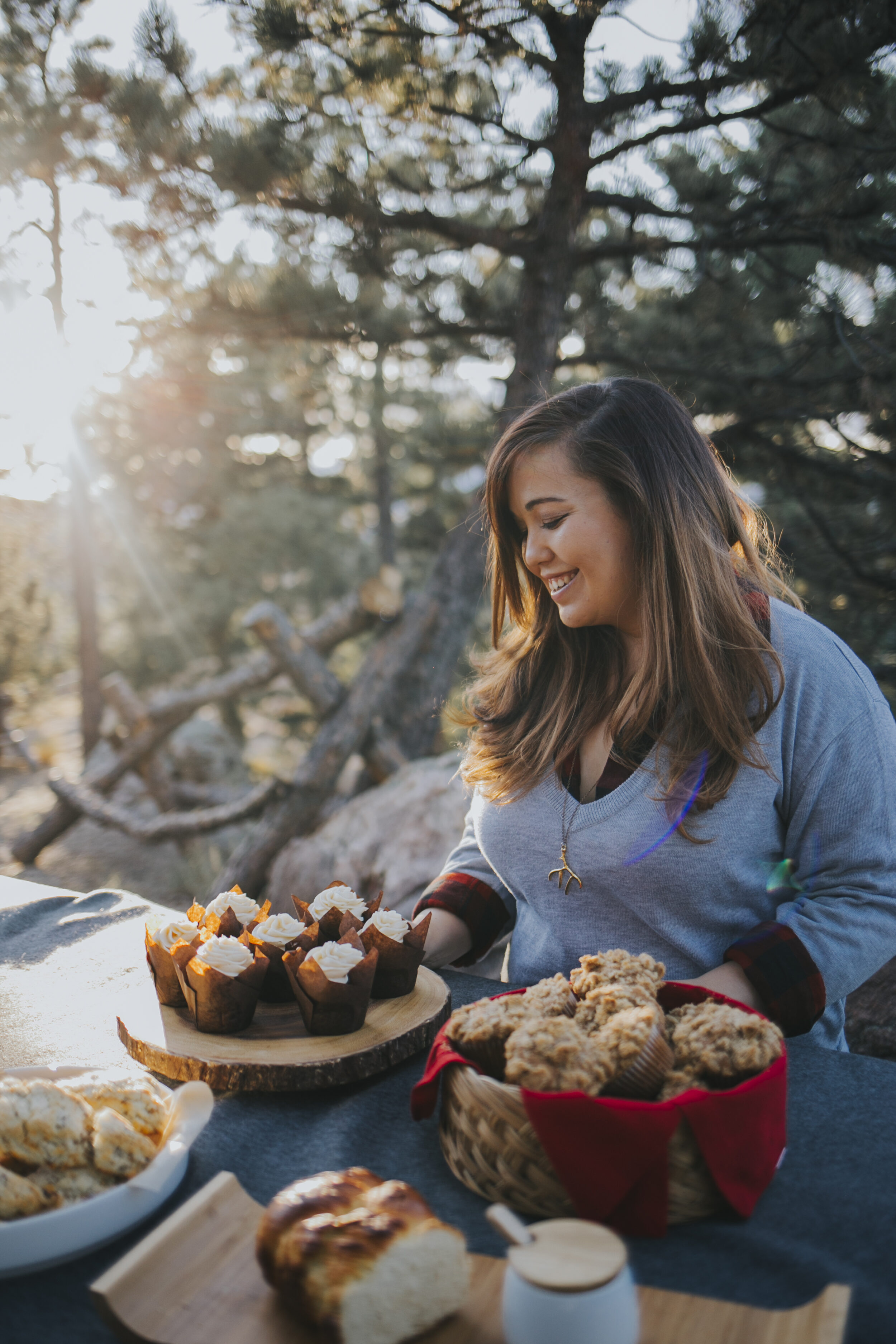 Hello and welcome! My name is Nicole, and Dough-eyed is a food blog for people who want to bake for their family and friends in high-altitude areas. Think of me as a friendly voice there with you in the kitchen, here to give you confidence when you're baking, and to help you with the struggles of baking at high-altitude. Come back every week for new recipes, tips, and advice on high-altitude baking!