Pumpkin Bread with Almonds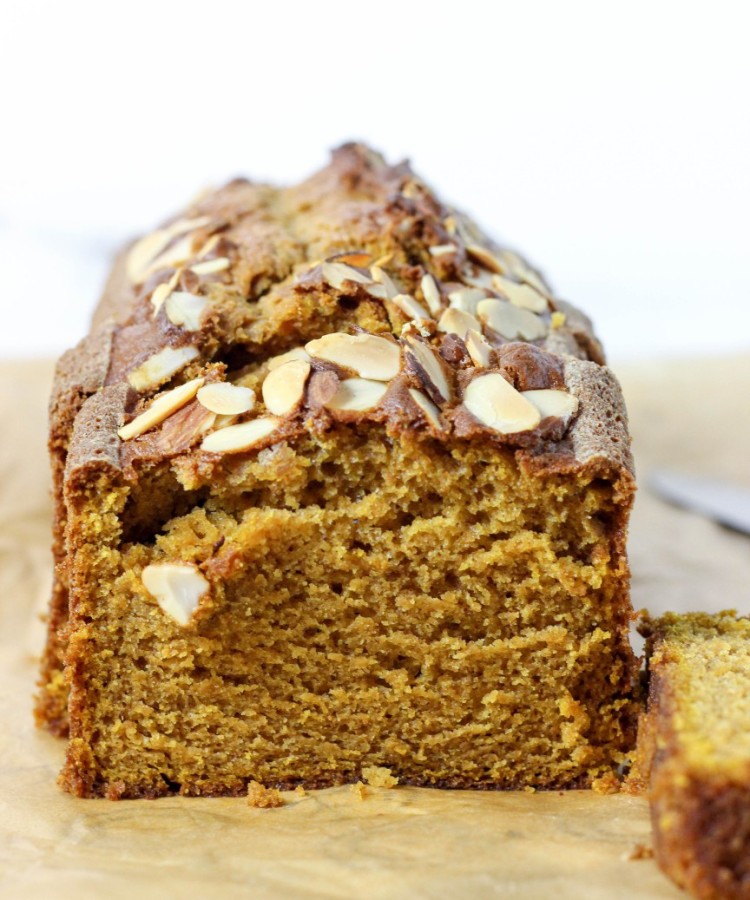 Hey everyone!!
Happy holiday season, amirite? There's a lot of (obvious) reasons why I love the winter and the holiday season, but here's what I'm happy for today- I'm over here eating baked goods at an alarming rate all dang year, and now it's time for everyone else to join in!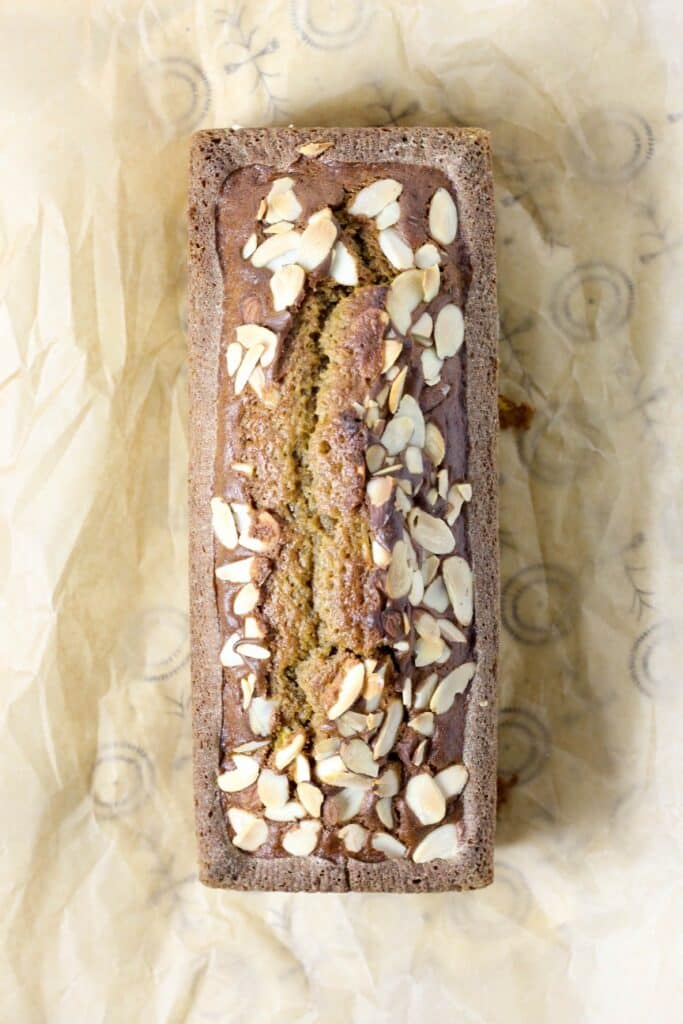 I hear there are a lot of people who aren't into Christmas celebrating this early, but man, I'm into it. I feel like once I grew up and started taking on a lot of the work that goes into making Christmas wonderful for the people around me, I realized it's a lot of work to only enjoy for a few weeks. So I'm gonna enjoy that as loooong as possible!
Alright anyways, we're here to bake, right? And you guys love pumpkin bread, obviously, right? Right. So this is actually a variation on one of my older recipes on the blog for a pumpkin bundt cake, but sometimes you don't need an entire cake. Sometimes just a loaf will do.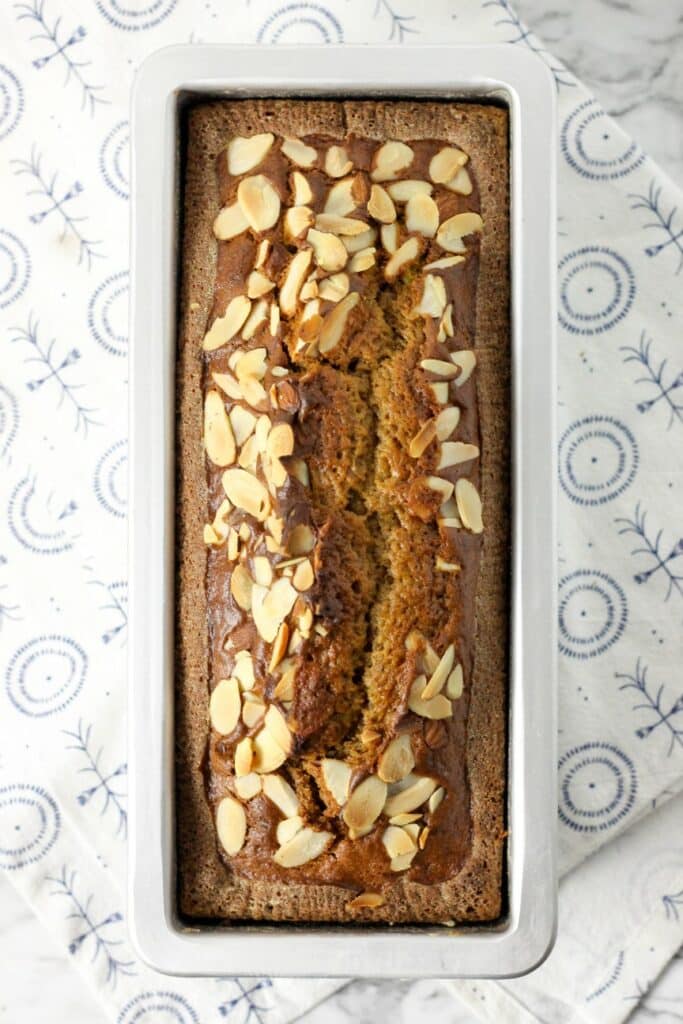 When you sprinkle sliced almonds over the top, they all roasty-toasty in the oven, and that added crunch on top of a slice of pumpkin bread is just right. Plus it's super easy- we aren't making a whole crumb topping (yet) or anything like that, just tossing some sliced almonds over the top, and bakin' her up.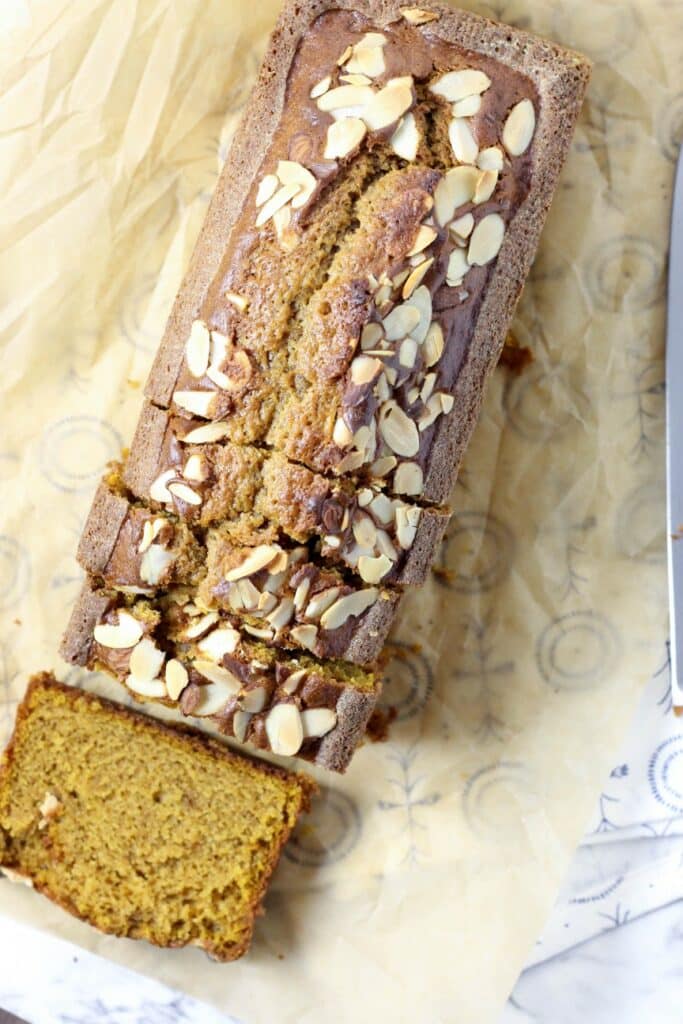 So you know all the good things about pumpkin bread guys- it's spicy and tastes like the fall and winter, and it's got this deep orange color that just makes me happy, and it's got just the right texture to make everyone enjoy every last crumb. ENJOY IT GUYS- tis the season!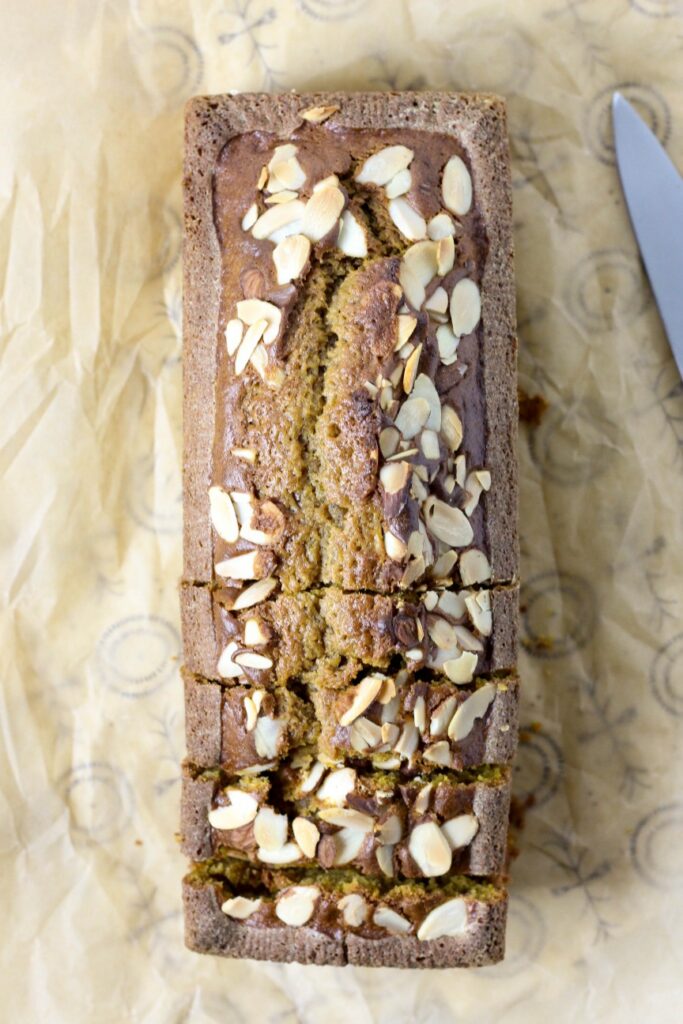 Pumpkin Bread with Almonds
Ingredients
1 3/4

cup

flour

3/4

tsp.

baking soda

1/2

tsp.

salt

1

tsp.

cinnamon

1/2

tsp.

nutmeg

1/4

tsp.

ginger

1/4

tsp.

allspice

1/4

tsp.

cloves

2/3

cup

sugar

1/2

cup

brown sugar

1/2

cup

canola oil

3

eggs

1

cup

pumpkin puree

1

tsp.

vanilla extract

1/3

cup

buttermilk

1/4

cup

sliced almonds
Instructions
Preheat your oven to 375 degrees, and grease a 9 inch loaf pan. Set aside.

In a medium bowl, whisk together the flour, baking soda, salt, cinnamon, nutmeg, ginger, allspice, and cloves. Set aside.

In a large bowl, beat together the sugar, brown sugar, and oil until combined. Add in the eggs, pumpkin puree, and vanilla extract and beat until combined.

Slowly add in the flour mixture in alternating additions with the buttermilk, starting and ending with the flour mixture. Beat until the batter is smooth. It will be fairly thin.

Pour the batter into your prepared pan, and sprinkle the sliced almonds evenly over the top. Bake for 45-50 minutes, or until a toothpick comes out clean. Cool completely, slice, and enjoy!
Comments