Hey guys! Time for another super easy fav recipe- blondies are one of the easiest desserts and you can really put so many twists on them. These ones are stuffed with chopped pistachios, white chocolate chunks, and topped with flaky salt.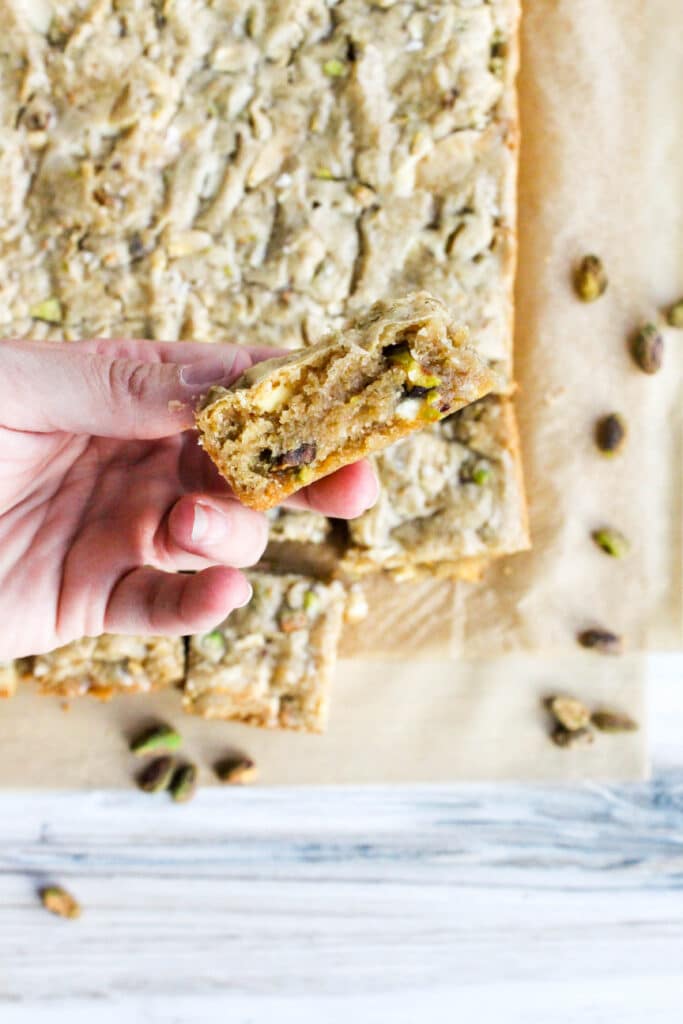 Blondies are also super easy to make and they come together entirely by hand- no need to pull out a mixer! Let's get to it.
How to Make Pistachio Blondies
I like to stir these bars together entirely by hand- starting with melted butter, sugar, and brown sugar, and then popping in some eggs, milk, and extracts. For this version, I like to do both vanilla extract and almond extract, which helps bring out the pistachio flavor.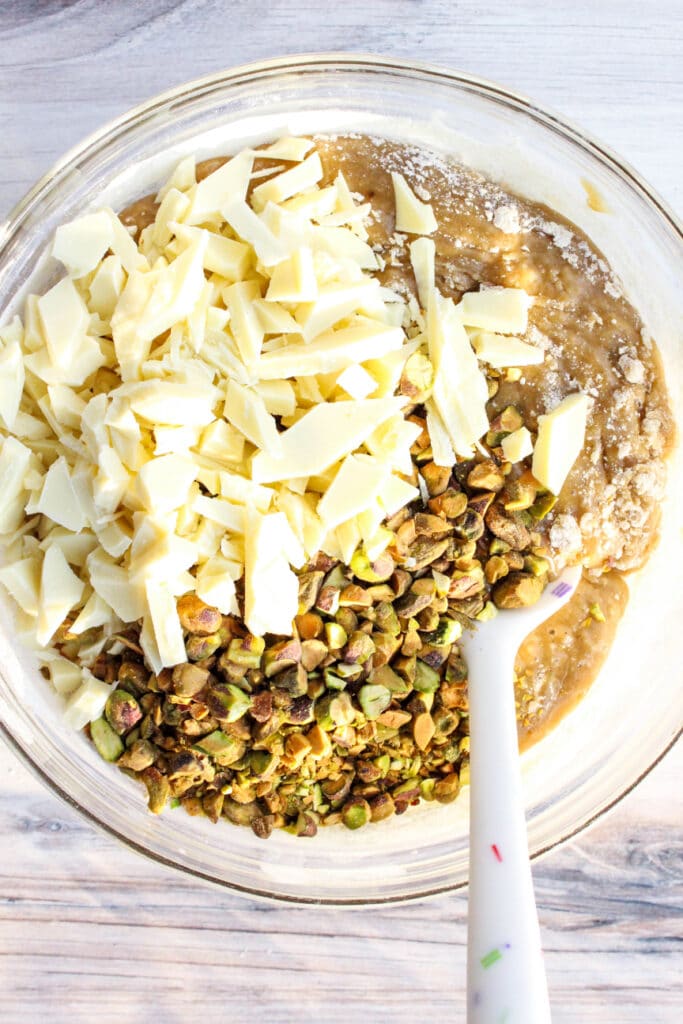 After stirring in the dry ingredients, we're adding a heaping pile of chopped pistachios and white chocolate chunks- I love chopping up a white chocolate bar for this one so you get lots of different sized pieces running through it.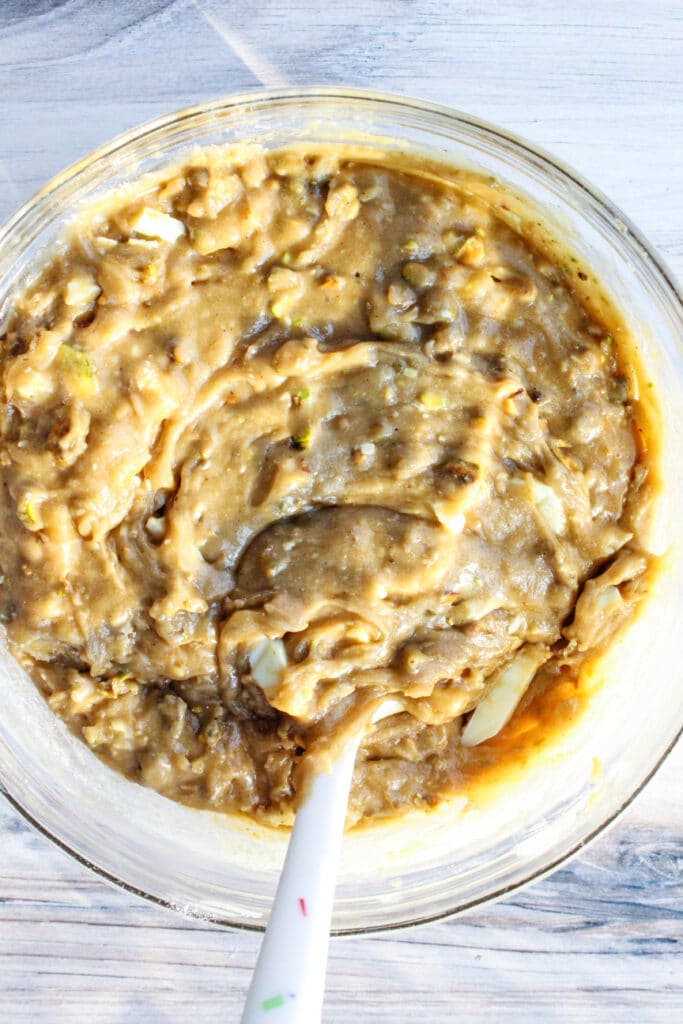 Spread the batter into your prepared baking pan, and you want to move fairly quickly as the batter will thicken as it sits and the butter becomes solid again. Optionally, sprinkle some flaky salt over the top for a little extra flavor kick.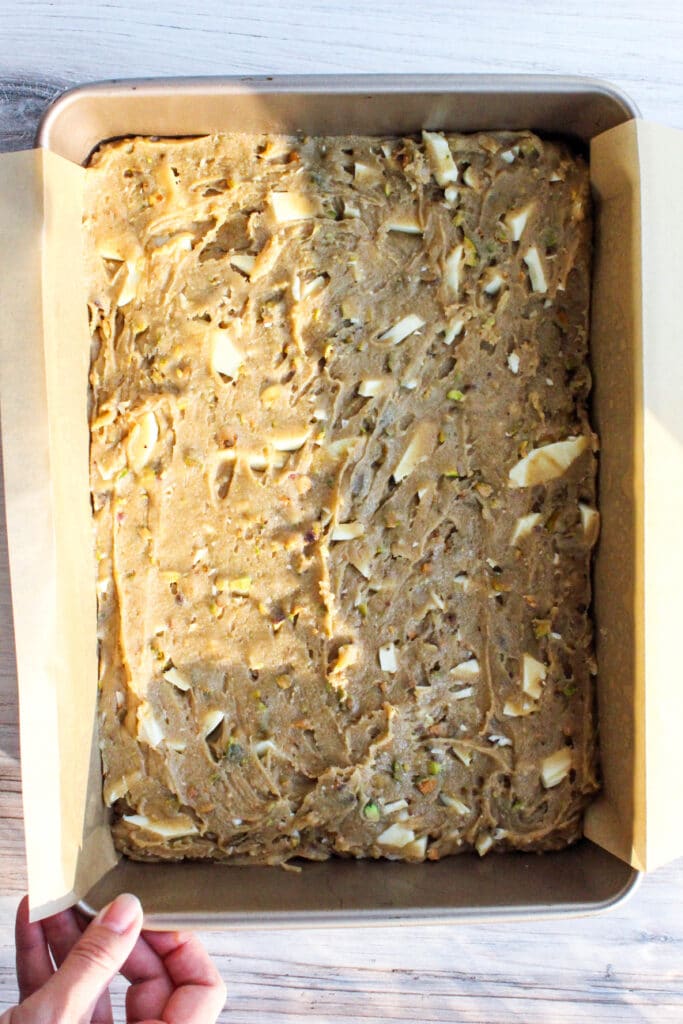 These should come out of the oven looking set, and with a light papery top. Don't over bake these bars- they are even better if they're slightly under done, plus they will set a little more as they cool!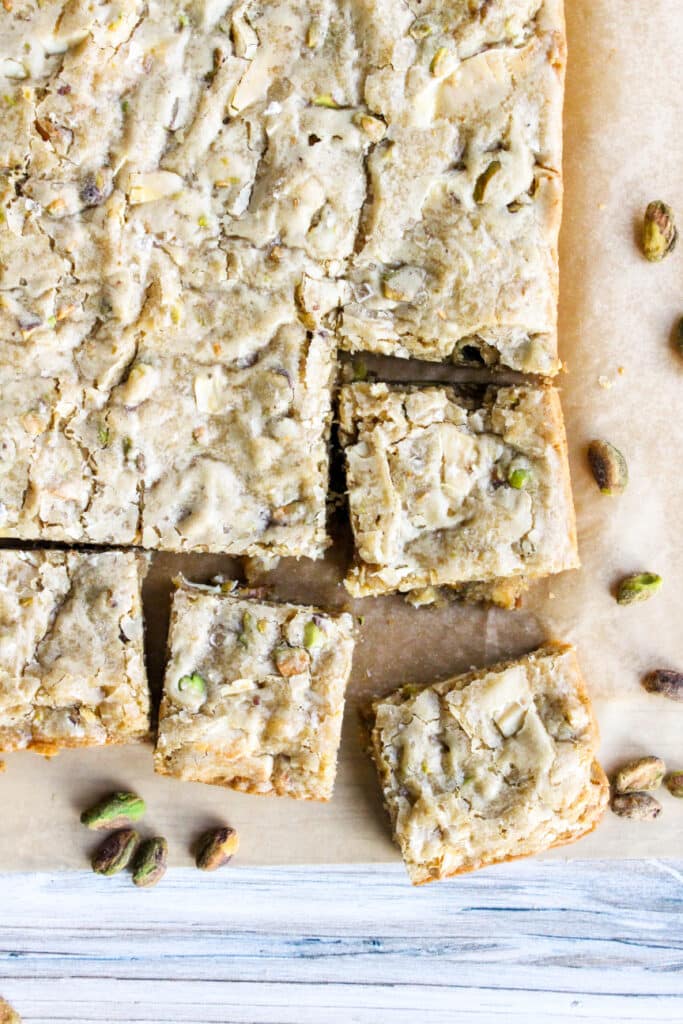 And that's it! Cool em, slice em, and eat em!
Tips & Tricks For High-Altitude Blondies
I've got a few tips to make sure you end up with great blondies every time!
Mix it by hand to ensure you don't over mix anything. If you go with a mixer, you're also more likely to cool the butter in the recipe faster, which will make it much harder to spread in the pan.
Have everything ready before you start so you can work pretty quickly here while the butter cools down.
Use any nuts or chocolate that you like or have on hand, but really white chocolate and pistachio are a super yummy combo!
Don't over bake the blondies. They will continue to set as they cool off, and they are super yummy when they're just slightly fudge-y.
Line your pan with parchment paper for easier removal after your blondies have cooled. Because they have that papery top, you really can't flip them over to turn them out without ruining it. The parchment paper will allow you to remove them easily!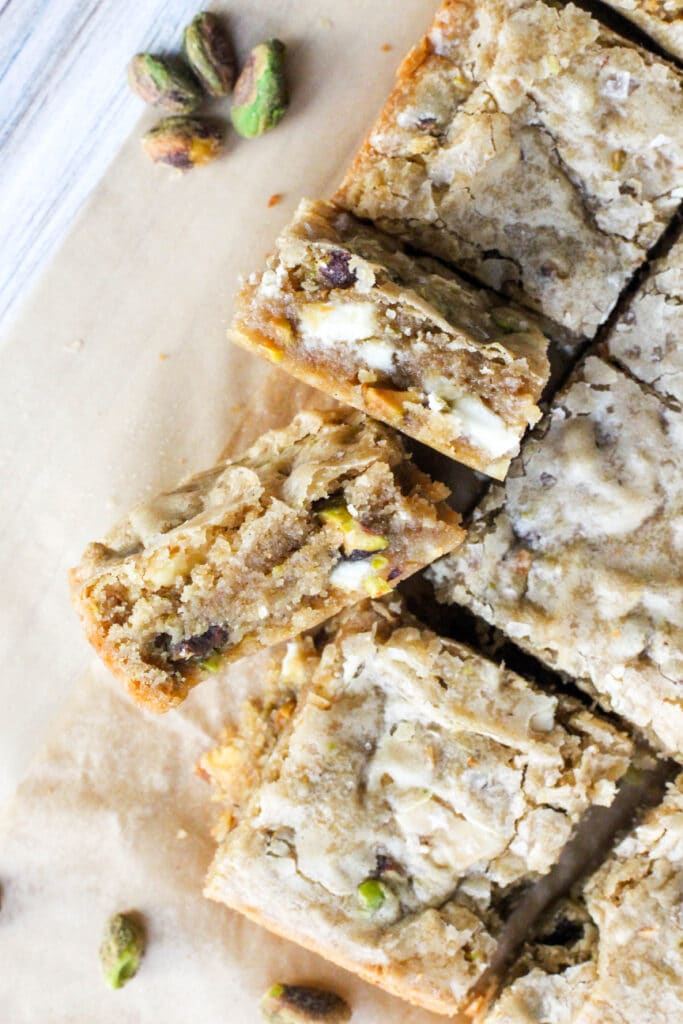 Enjoy!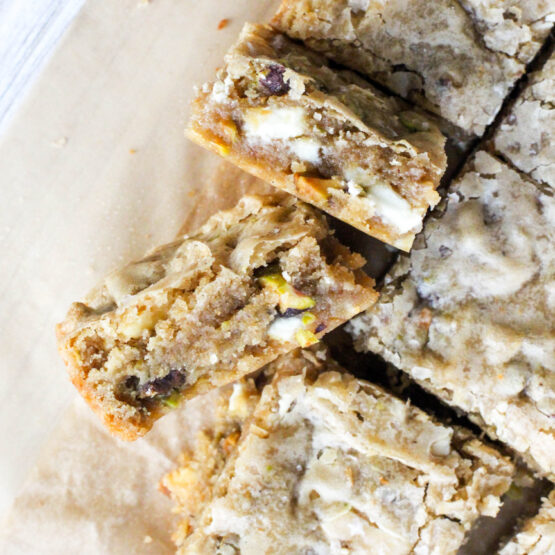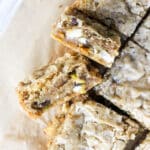 Pistachio White Chocolate Blondies
Ingredients
1

cup

melted butter

1

cup

dark brown sugar

1

cup

sugar

2

eggs

1/4

cup

milk

2

tsp

vanilla extract

1

tsp.

almond extract

2 2/3

cup

flour

1

tsp.

salt

1

cup

roughly chopped pistachios

6

oz

roughly chopped white chocolate

1-2

tsp.

flaky salt
Instructions
Preheat the oven to 350 degrees, and generously grease a 9×13 inch pan. Set aside. In a large bowl, whisk together the melted butter, brown sugar, and regular sugar until smooth. Whisk in the eggs, milk, vanilla extract, and almond extract until the mixture is smooth.

Add the flour and salt to the mixture, and stir until combined. Gently stir in the chopped pistachios and white chocolate, working quickly because the batter will be starting to thicken as the butter comes back to room temperature.

Spread evenly in your prepared pan. Sprinkle the flaky salt over the top of the batter evenly. Bake for 28-30 minutes, or until a toothpick inserting about 2 inches from the edge of the pan comes out clean. Cool completely, slice, and serve!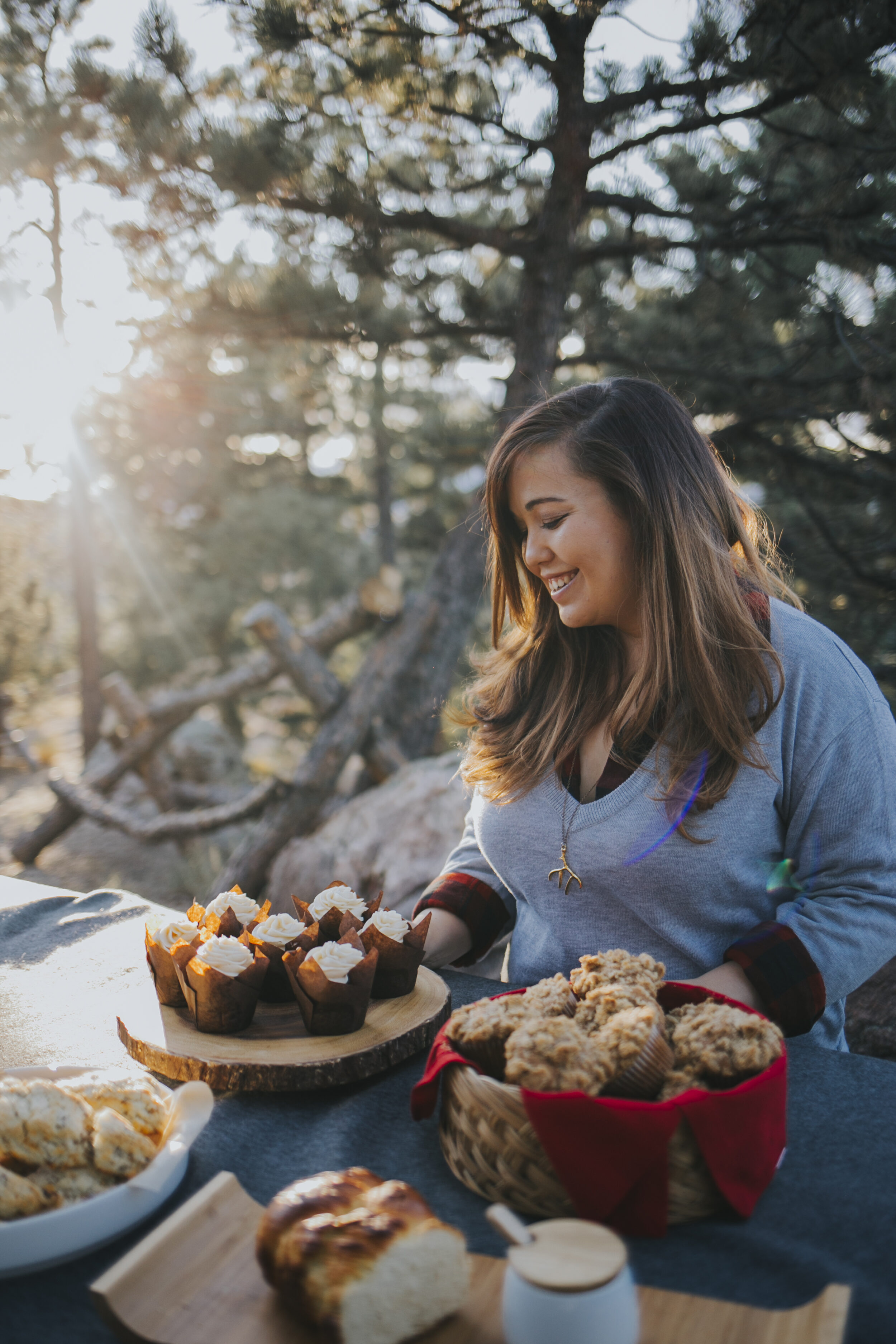 Hello and welcome! My name is Nicole, and Dough-eyed is a food blog for people who want to bake for their family and friends in high-altitude areas. Think of me as a friendly voice there with you in the kitchen, here to give you confidence when you're baking, and to help you with the struggles of baking at high-altitude. Come back every week for new recipes, tips, and advice on high-altitude baking!