Hey guys! I've been working on this recipe for a while now, and it's always been on my list for years. If you've never made kolaches, I seriously can't rave about them enough. This is totally my kind of dessert.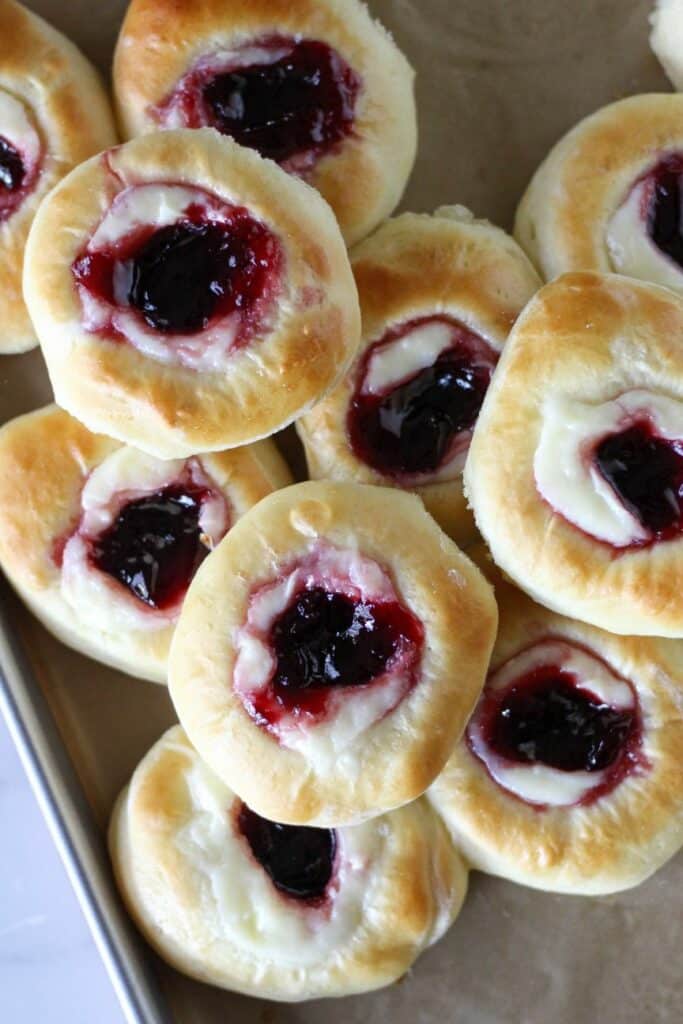 Kolaches are a kind of sweetened, enriched bread, kind of like brioche, with a filling dolloped in the center, kind of like a danish. For today, I'm doing a sweet cream cheese filling and cherry jam. If there's ever a time to splurge on jam, this is one of them!
How to Make High-Altitude Kolaches
The nice thing about this recipe is that even though there's a few steps to get through, we're at a high-altitude here, which means the dough is rising quickly! The recipe overall feels fairly quick to me, and hopefully to you too!
We're starting by making the dough, which is an enriched dough. This means it has sugar, milk, butter, and eggs along with the basic flour, salt, and yeast. These ingredients create a more flavorful, soft dough that is perfect for this recipe.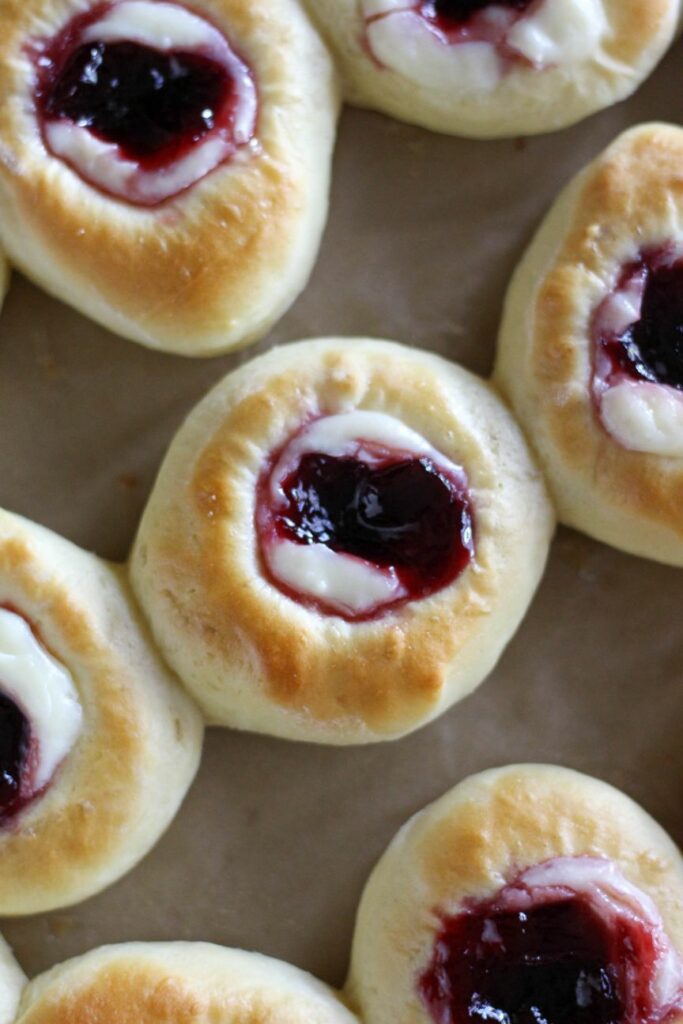 I really recommend using a stand mixer if you have one because there's a lot of kneading to be done, and the dough is fairly sticky. Once you've added the flour, when the dough is kneading in your mixer, it should still stick to the sides of the bowl a little bit as it goes because it's fairly sticky. But when poked, it shouldn't stick to your fingers, so add a touch more flour if it does. After a long stint kneading, it should look something like this: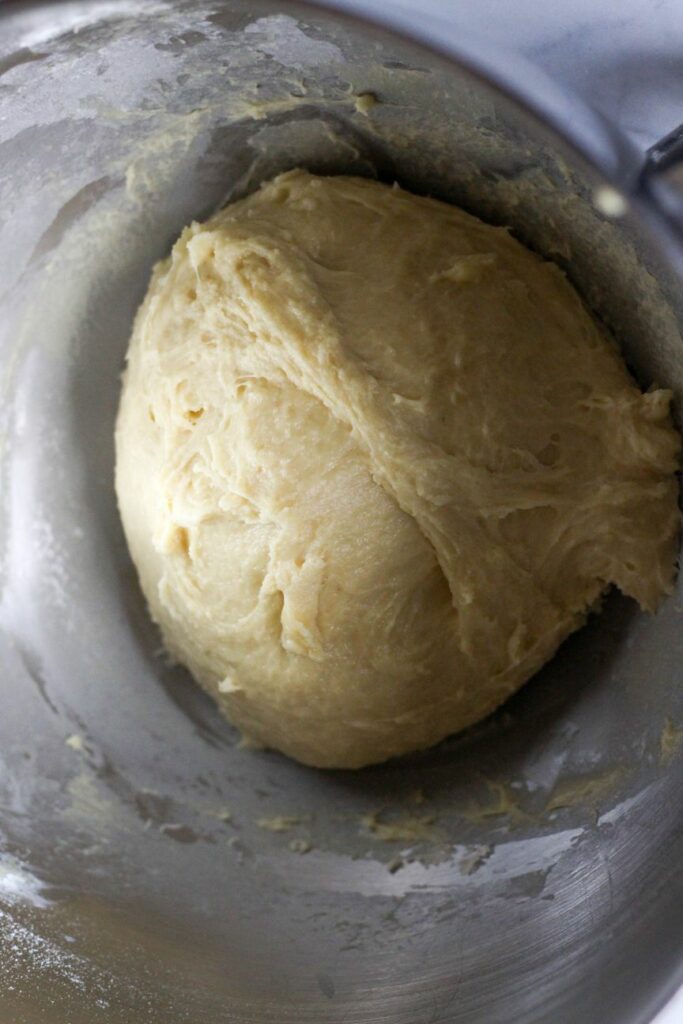 Once it's risen, generously flour your work surface. Scrap out your dough, and coat it generously in flour to make it easier to work with. Then, we're just patting it out with our hands until it's about 1/2 inch thick. You can use a rolling pin, but I don't think it's needed here as the dough is soft, and easy to work with. Use a 2 1/2 inch round cutter, or as close to that size as you have, to cut out circles of dough. The dough can be kneaded back together and cut one more round.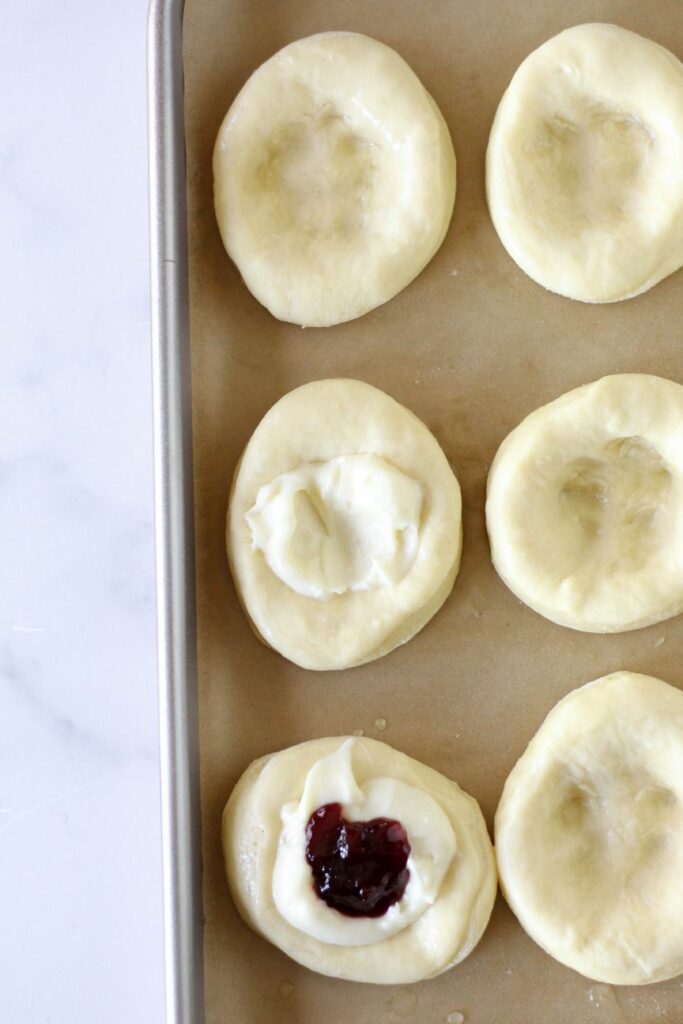 Place all the rounds on a large baking sheet, with just a little space between each one, and cover to let it rise again- this time for only about 20 minutes while your oven preheats. Once they have puffed just a little bit, you can start pushing indents into the center. They should be fairly large, and you want to press pretty firmly to make sure they don't just immediately puff back up.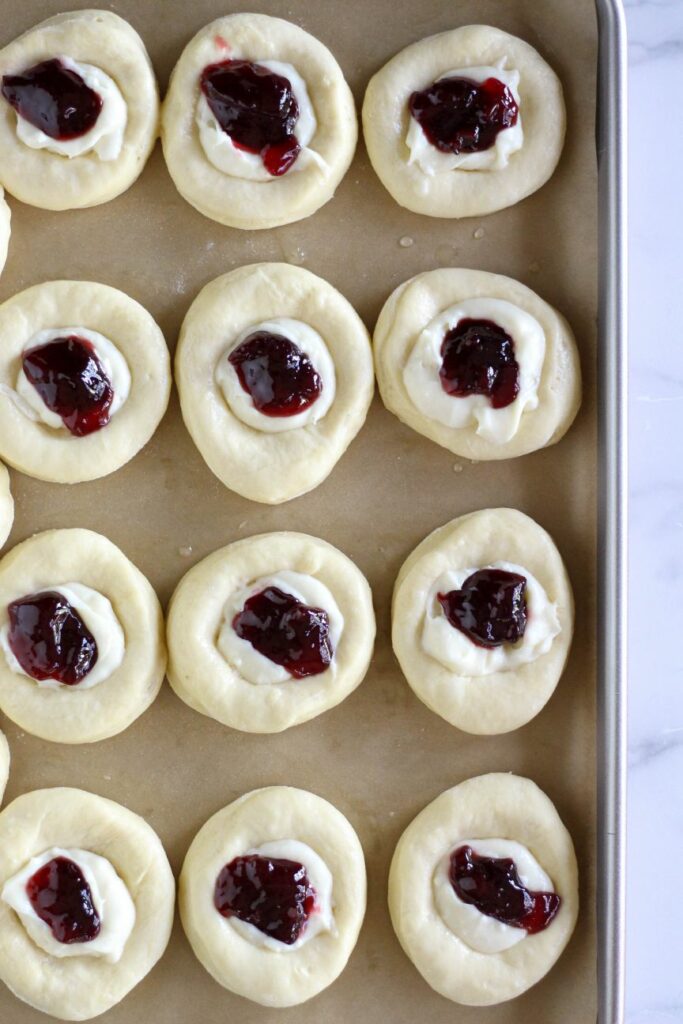 Brush the buns with your egg white at this point- it's much easier to do it before filling them instead of after! Then you just want to spoon the fillings in, and pop em in the oven until golden brown. These are a seriously unique treat that you can flavor any way you'd like! Hope you guys enjoy these ones!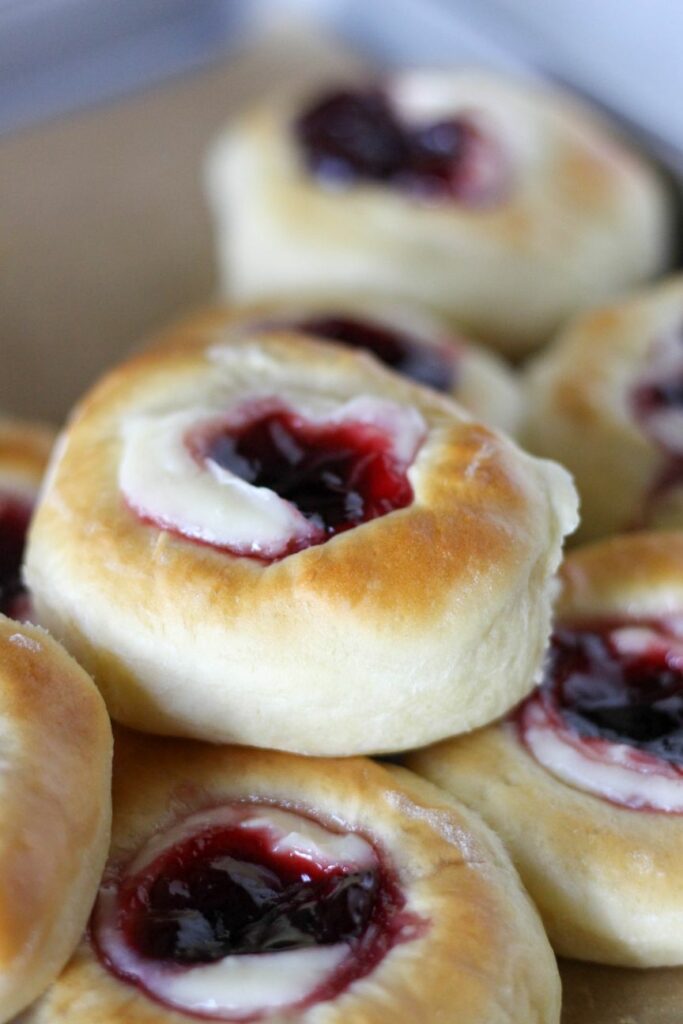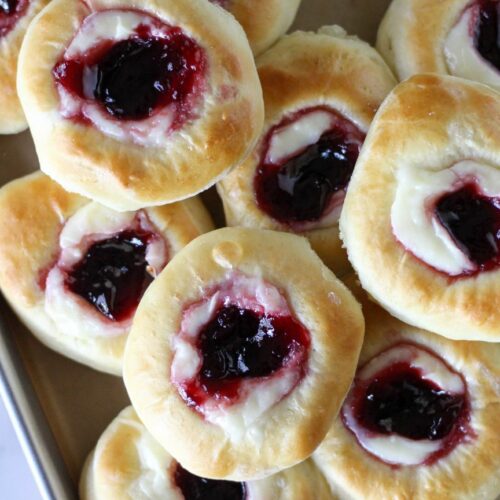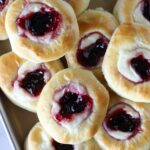 Cherry Kolaches
Ingredients
For the dough:
1

cup

whole milk

1/4

cup

sugar

2 1/4

tsp.

active dry yeast

(one packet)

2

egg yolks

2

tbs.

melted butter

1

tsp.

salt

3- 3 1/2

cups

flour

1

egg white
For the filling:
8

oz.

cream cheese, at room temperature

1/3

cup

sugar

1

tsp.

vanilla extract

1/3

cup

cherry jam
Instructions
For the dough:
In a microwave safe bowl, heat the whole milk and sugar in the microwave, stirring occasionally, until it reaches 110-115 degrees on an instant read thermometer. Stir in the active dry yeast, and set aside to bloom for about 5 minutes, until it looks puffy and foamy on top.

In the bowl of a stand mixer, add in the egg yolks, melted butter, and salt. Once the yeast mixture has bloomed, add it to the stand mixer as well, and stir everything together until combined. Add in 3 cups of flour, and use the dough hook to knead until it comes together. The dough should still be sticking to the bottom and sides of the bowl a little bit, and will be fairly sticky. When you poke it with your finger, it should feel sticky, but should not result in a clump of dough sticking to your finger, so add more flour as needed. Knead the dough for about 10 minutes on medium speed, or until it is stretchy and starting to look fairly smooth.

Scrap the dough off the dough hook, and scrap the sides of the bowl to form more of a cohesive ball. Then, cover the bowl with plastic wrap, and let the dough rise for about 30-45 minutes, or until it has risen significantly, by about 1/3 in size. Meanwhile, line a large baking sheet with parchment paper.

Scrap the dough out onto a heavily floured work surface, and coat all sides in flour to make it easier to work with. Using your hands, press the dough out until you have a circle that is about 1/2 inch thick. It doesn't have to be perfect- you can use a rolling pin if you prefer, but the dough should be really soft and easy to work with using your hands.

Using a 2 1/2 inch round cutter, or the closest you have to that size, cut out rounds from the dough, and place the rounds onto your prepared baking sheet with about 1/2 inch space between each round. Cover with plastic wrap, and let the dough rise for about 20-25 minutes while your oven preheats, and you make the filling. Preheat your oven to 375 degrees.
For the filling:
In a medium bowl, stir together the cream cheese, sugar, and vanilla extract until smooth. Have this mixture, and your jam, ready to go for the next step.

Once the dough rounds have puffed, press down the centers firmly. You want to make fairly large indents in the dough, and press firmly down- you don't want to break through the bottom of the dough, but you want to make sure that it won't just puff right back up. Generously brush around the edges of the dough rounds with your egg white- this is much easier to do BEFORE filling the dough rounds.

Dollop about 2-3 tsp. of the cream cheese mixture into each round, and use a spoon to spread it to fill the indent in the dough, and to make a little divit on top of the cream cheese mixture. Then, spoon about 1 tsp. of jam into the space on top of the cream cheese mixture.

Bake the kolaches for 15-17 minutes, or until the dough has become a light golden brown all over. Cool and enjoy!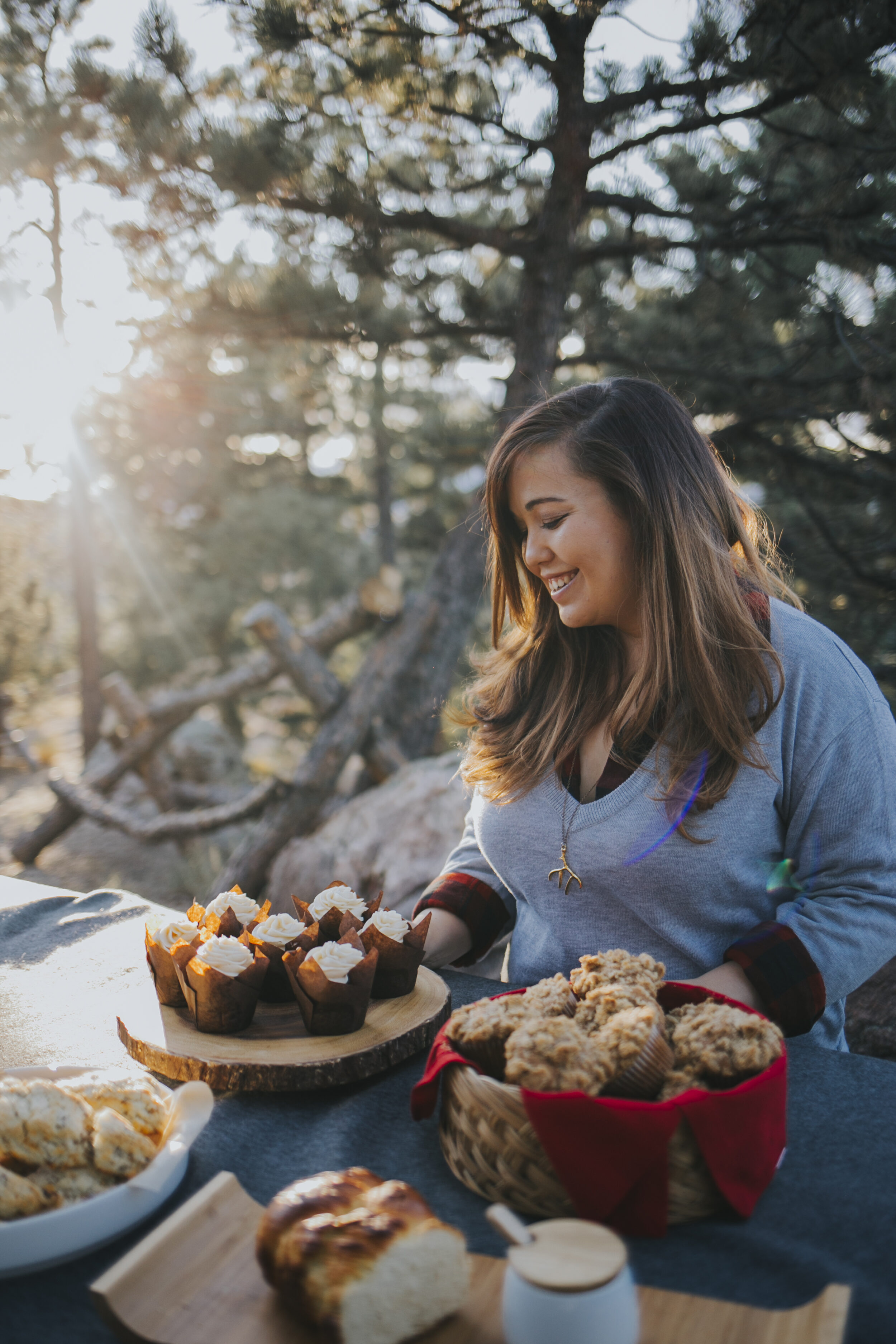 Hello and welcome! My name is Nicole, and Dough-eyed is a food blog for people who want to bake for their family and friends in high-altitude areas. Think of me as a friendly voice there with you in the kitchen, here to give you confidence when you're baking, and to help you with the struggles of baking at high-altitude. Come back every week for new recipes, tips, and advice on high-altitude baking!