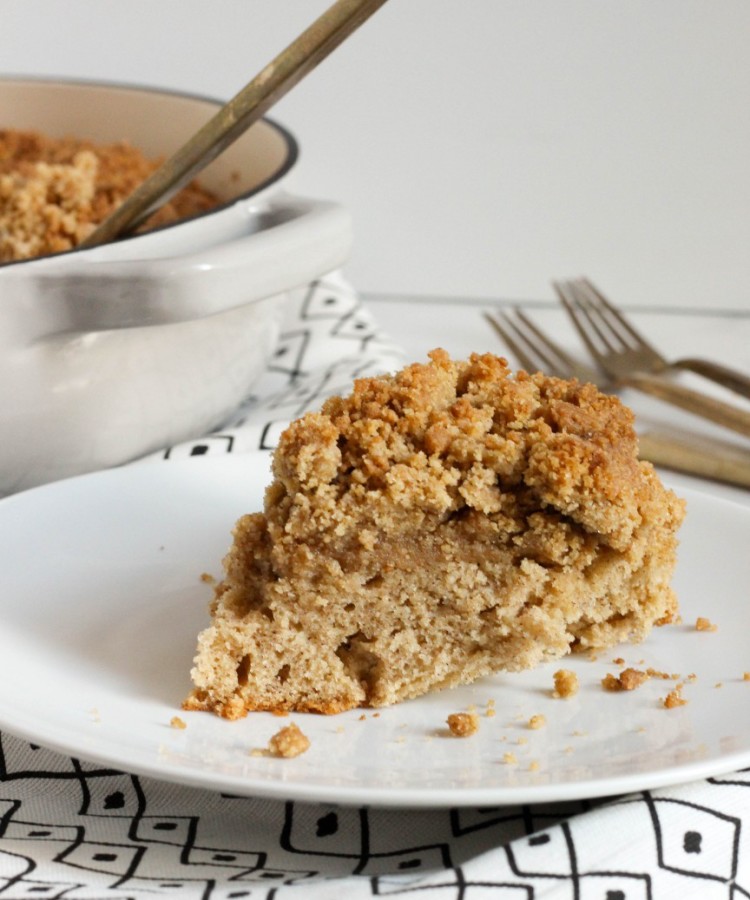 Hey guys! Happy first snow if you're here in Denver! Actually it might have already done a light snow a few days ago, but this is the first like. Snowy day so. HAPPY FIRST SNOW!
I know I like JUST posted another crumb cake recipe, but since it's all cold out, it just feels right to do this. Let's break it down.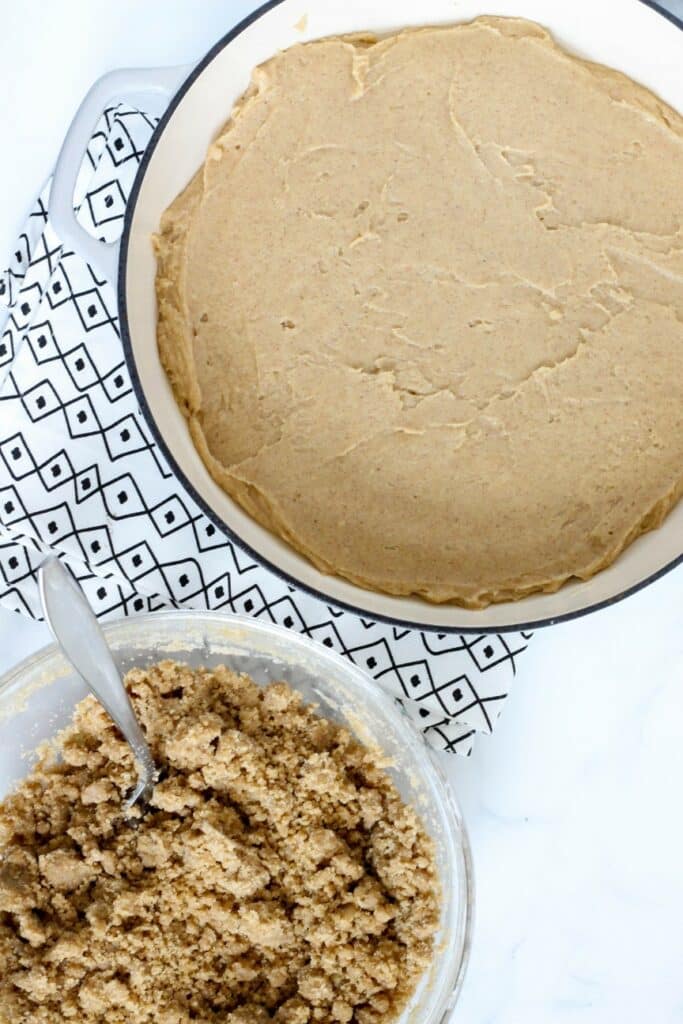 So traditional crumb cake is vanilla cake topped with a brown sugar and cinnamon crumb. This is just a simple twist- I'm adding spices to the cake portion to make for a warm, spicy, very fall tasting cake. We're still topping it off with big crumbs stuffed with cinnamon and sugar, and when you bring them together you get something that is just too perfect for a day like today.
I baked mine in a braiser-style dutch oven. You can make yours in one those too, or in a traditional 6 quart dutch oven. Or in cast-iron skillet, though I've done it that way. I think it would work well though!
I've been poking around the interwebs looking for the origin of crumb cake, and it seems to be originally German. Traditionally it was made with a yeast dough, instead of a cake batter base, so that might be something I dive into on a day where I'm feeling adventurous.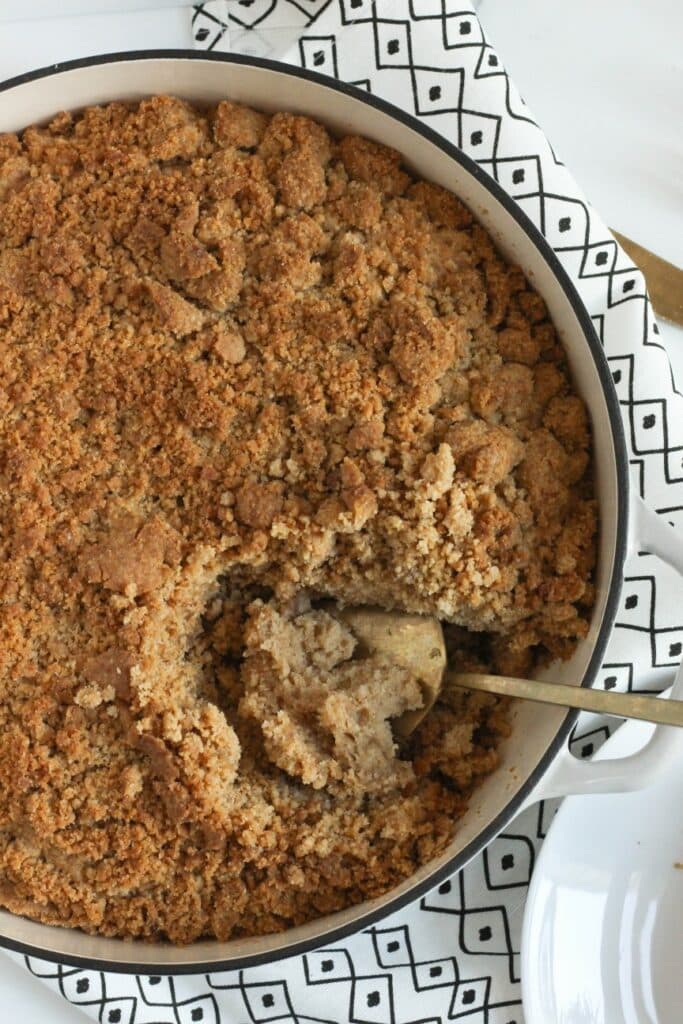 I'm so excited for winter. I really love winter here in Colorado, so this first snow is legit making me smile. It's the holiday seeeaaasssonnn guys! I may or may not already be doing some Christmas shopping and planning. I'm aware it's October haha. It just feels like the holidays are so fleeting, and I really like to stretch em out as much as possible. Oops.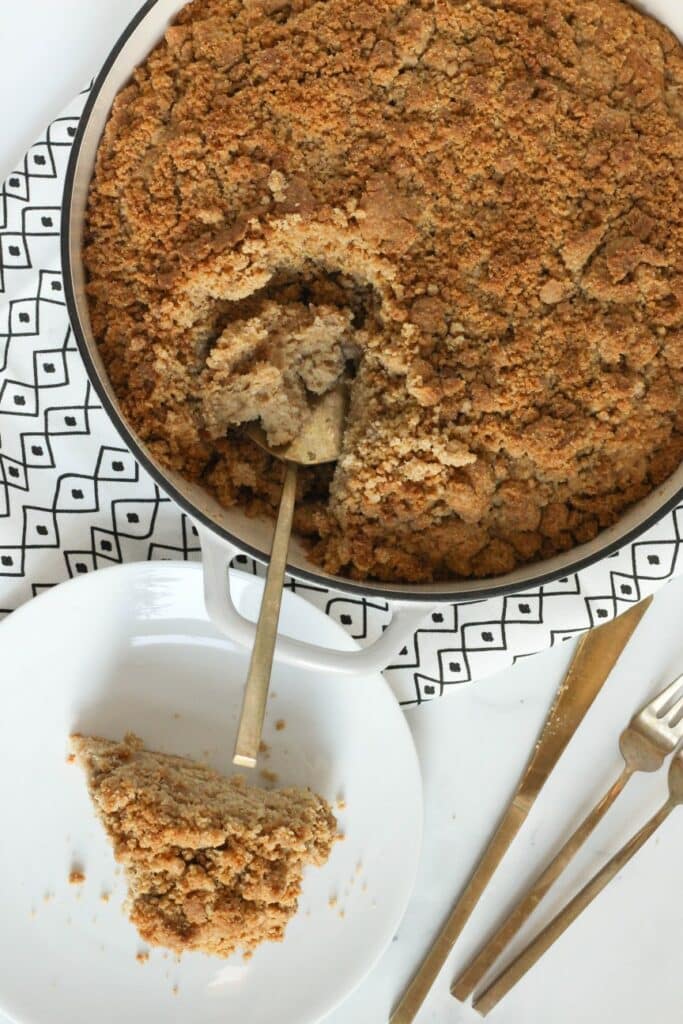 And anyways, it's not as though I bake any less any other time of the year, but fall and winter are like. THE baking seasons. Everyone wants to make baked goods, everyone wants to eat baked goods, everyone wants their homes to smell like baked goods.
So here we are. This will make your house smell bonkers delicious, plus then you get to freakin eat it guys!
Spice Crumb Cake
Ingredients
For the cake:
3

cups

cake flour

1 1/2

tsp.

cinnamon

1/4

tsp.

allspice

1/4

tsp.

nutmeg

1/4

tsp.

baking soda

1

tsp.

salt

1

cup

softened butter

1

cup

sugar

3

eggs

2

tsp.

vanilla extract

1/2

cup

buttermilk
For the crumb:
2

cups

cake flour

3/4

cup

brown sugar

1/2

cup

sugar

1/4

tsp.

salt

1/2

tsp.

cinnamon

3/4

cup

melted butter
Instructions
For the cake:
Preheat the oven to 350 degrees, and grease your dutch oven. Set aside.

In a medium bowl, whisk together the cake flour, cinnamon, allspice, nutmeg, baking soda, and salt. Set aside.

In a large bowl, beat together the butter and sugar until fluffy. Beat in the eggs and vanilla until combined. Add in the flour mixture and buttermilk alternating in several additions, starting and ending with the flour mixture. The batter will be thick. Spread evenly in your prepared pan.
For the crumb:
In a medium bowl, stir together all the ingredients with a fork. Mash together as needed to get the butter evenly distributed, and to create large crumbs. Sprinkle evenly over the cake batter. Bake for 40-45 minutes, or until a cake tester comes out clean. Enjoy!