Hi everyone! Today is a special post- it's actually my 100th recipe on the blog!
I'm going savory for number 100 with these soft pretzel twists, and they're super easy to make actually. Let's just have a real moment here, where we all admit to ourselves that soft pretzels are one of God's gifts to earth. Like what self-respecting carb-lover does NOT like soft pretzels?
It's actually one of the easier bread types to make because it only has to rise once, which means there's less chance to screw it up basically. It does, however, have the odd step of boiling the dough before baking it, but that's what gives it that pillowy texture we all love.
Here's the idea; you make the dough, give it a bit to rise, until it doubles in size and looks about like this: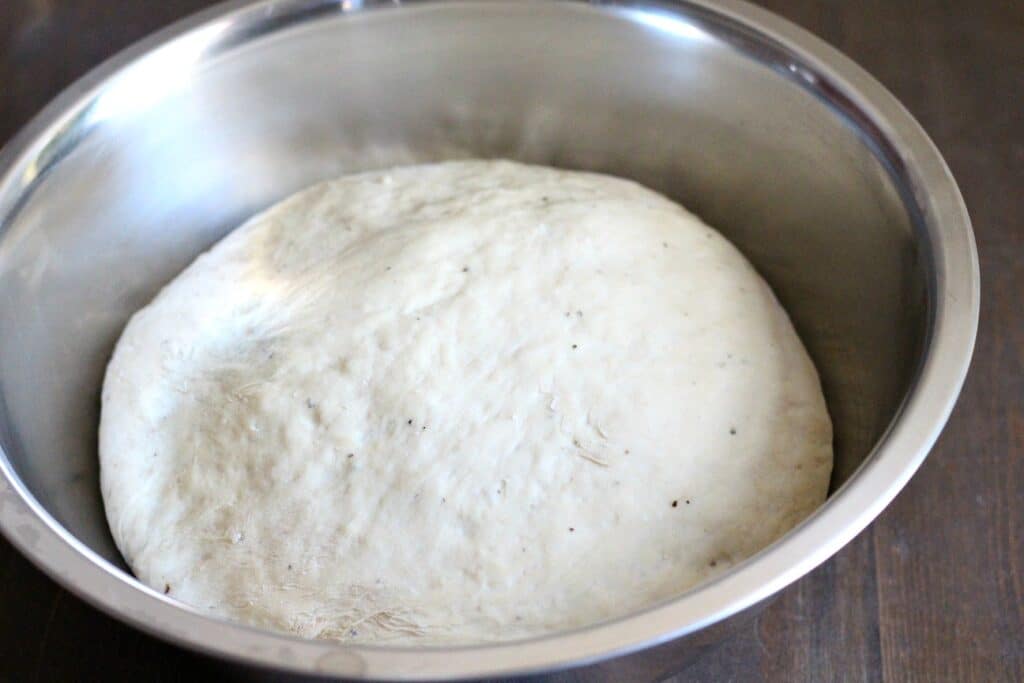 Then, divide your dough in half, in half again, and then into fourths. Roll into a rope, fold it in half and twist. Then tuck the ends into the loop so you end up with a twisted roll shape, like this: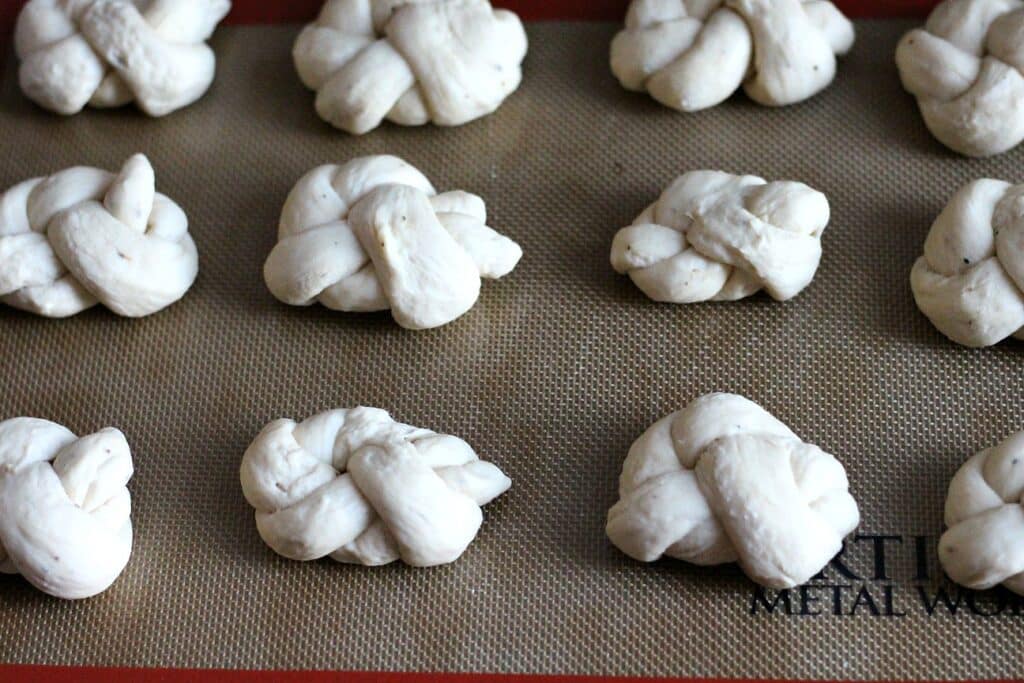 Next, you'll boil the dough twists in water mixed with baking soda for about 30 seconds. Place it on your baking sheet, brush on an egg wash, and sprinkle coarse salt and pepper over the tops: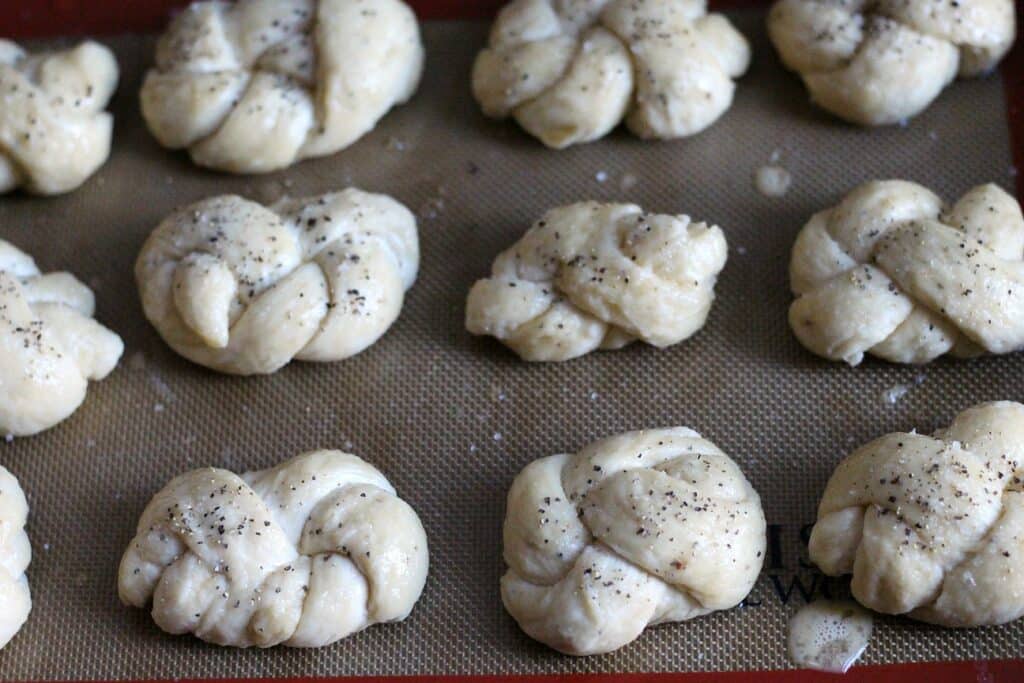 Then bake 'em up! Here's what they look like all pretty and golden: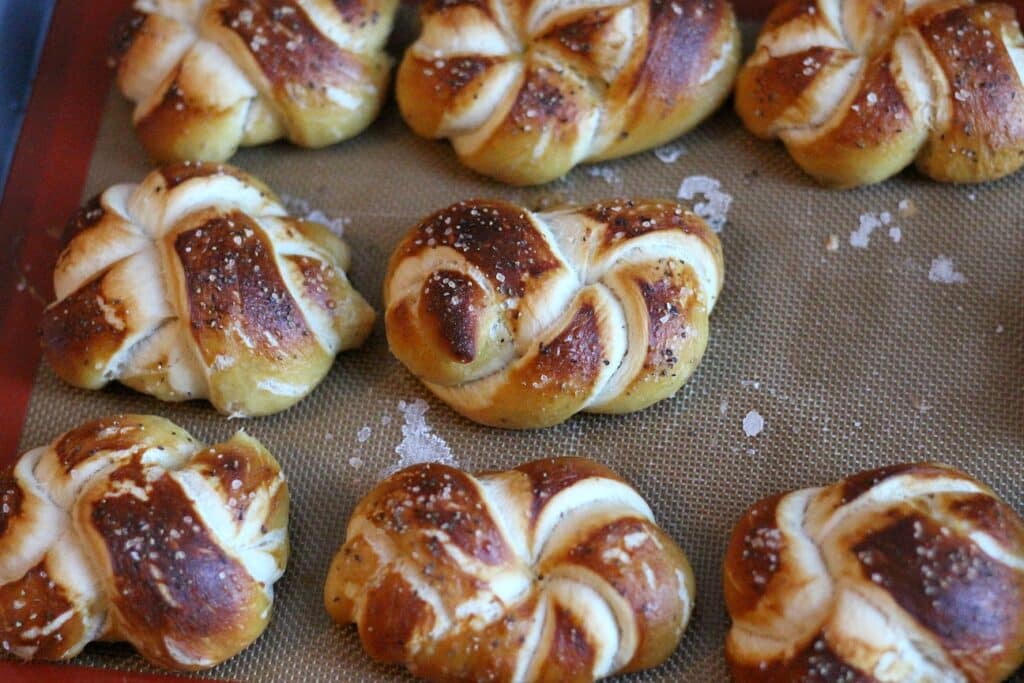 Even if you haven't been following Dough-eyed for too long, I hope you celebrate this 100th post with me, and bake up some pretzel twists. You can use them as slider buns, a twist on dinner rolls, or just with nacho cheese- the classic.
Enjoy!
Ingredients
1 ½ cups warm water (around 125 degrees)
2 tbs. brown sugar
1 pkg. active dry yeast
6 tbs. melted butter
2 ½ tsp. salt
4 1/2 – 5 cups flour
2 quarts water
¼ cup baking soda (that's right, a whole quarter cup!)
1 egg beaten with a little water
Coarse salt and pepper for topping
Instructions
If you have a stand mixer, use the paddle attachment. If not, a hand mixer will work. In a large bowl, mix together warm water, brown sugar, yeast, and melted butter. Let stand for about five minutes.
In the meantime, mix together the salt, and 4 ½ cups flour
Add the flour mixture to the yeast mixture and combine until dough pulls away from the sides of the bowl. The dough shouldn't be too sticky, so use more flour if needed.
Knead the dough on a flat surface for about five minutes, and form into a ball. Grease a medium bowl with a small amount of oil. Toss the dough in the bowl, flipping to coat the top. Loosely cover with plastic wrap, and let the dough rise for 30 minutes to an hour, or until it has doubled in size.
Preheat your oven to 425 degrees. In a large pot, bring two quarts (eight cups) of water to a boil. Add the baking soda to the boiling water quickly and be careful because it might splatter!
Prepare two sheet pans with a non-stick silpat sheet.
Divide your dough in half, then in half again. Then, each of those halves should be divided into four.
Roll each small section into a rope. Then fold it in half, and twist, and finally, fold the ends of the twisted rope into the loop on the top. This should create a twisted roll shape.
Use a slotted spoon to boil and remove about four pieces at time, for about 30 seconds each. You can put the boiled pieces directly onto your prepared sheet pan.
Then, brush the pieces with your beaten egg mixture and immediately top with salt and pepper. Bake for about twelve to fifteen minutes, until golden brown!
https://www.dougheyed.com/soft-pretzel-twists/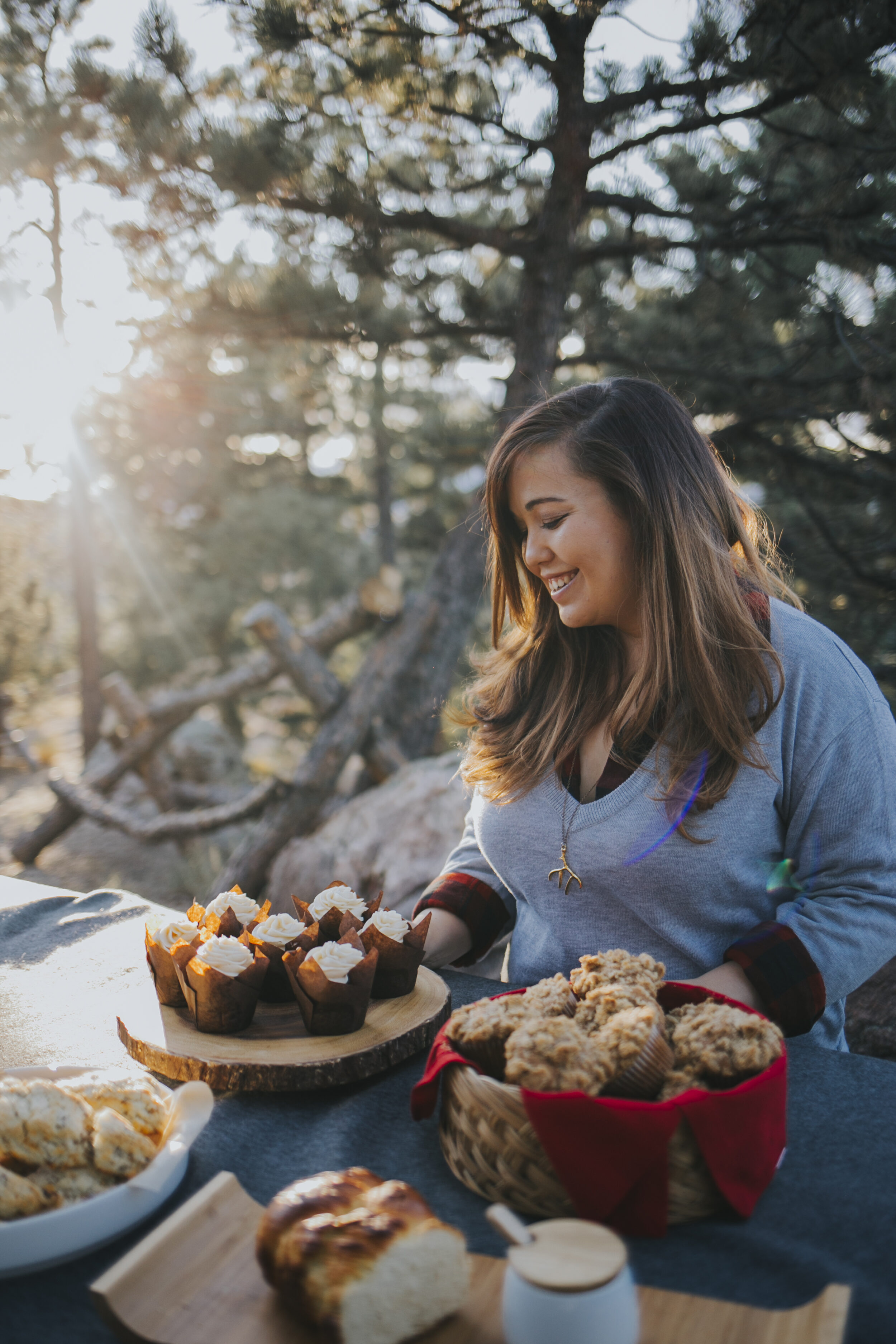 Hello and welcome! My name is Nicole, and Dough-eyed is a food blog for people who want to bake for their family and friends in high-altitude areas. Think of me as a friendly voice there with you in the kitchen, here to give you confidence when you're baking, and to help you with the struggles of baking at high-altitude. Come back every week for new recipes, tips, and advice on high-altitude baking!