High-Altitude Vegan Chocolate Cake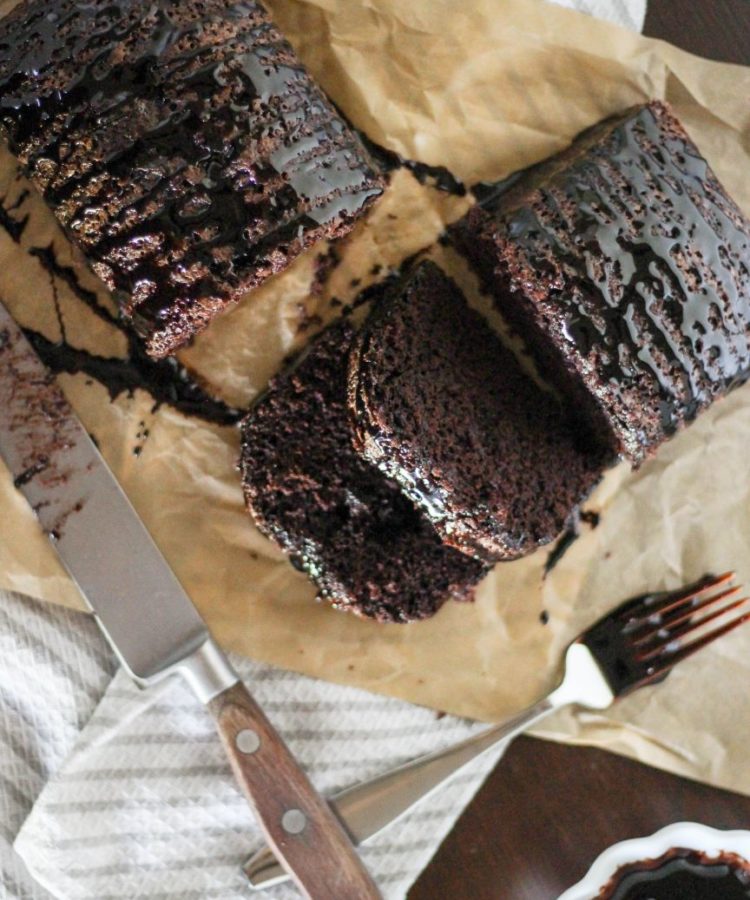 Hey guys! I've got a vegan cake for you today and it's something pretty dang special. It's so good actually, and so simple, that I've been using it as my go-to chocolate cake recipe.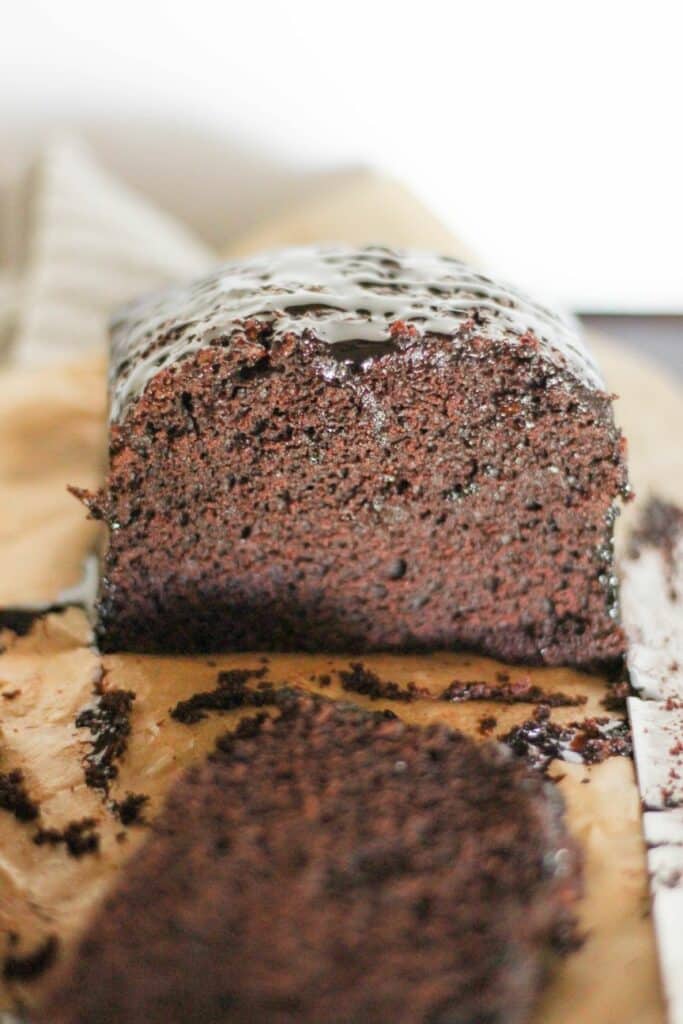 You can bake this into cake layers, into cupcakes, or into a loaf like I did here. No matter what, you'll end up with a fluffy, super chocolatey, perfectly textured, vegan cake. I first worked on this recipe because I was looking for a great vegan option for a friend's birthday. I did not expect that I'd use this recipe for anything and everything!
Here's the thing about vegan baking- I am not a big fan of using weird ingredients in baking. I mean, don't get me wrong, I definitely will do it, but in general, I prefer to just keep to simple ingredients, and things that you can find at most grocery stores. But this cake doesn't use anything weird whatsoever. You almost certainly have everything you need to make it already.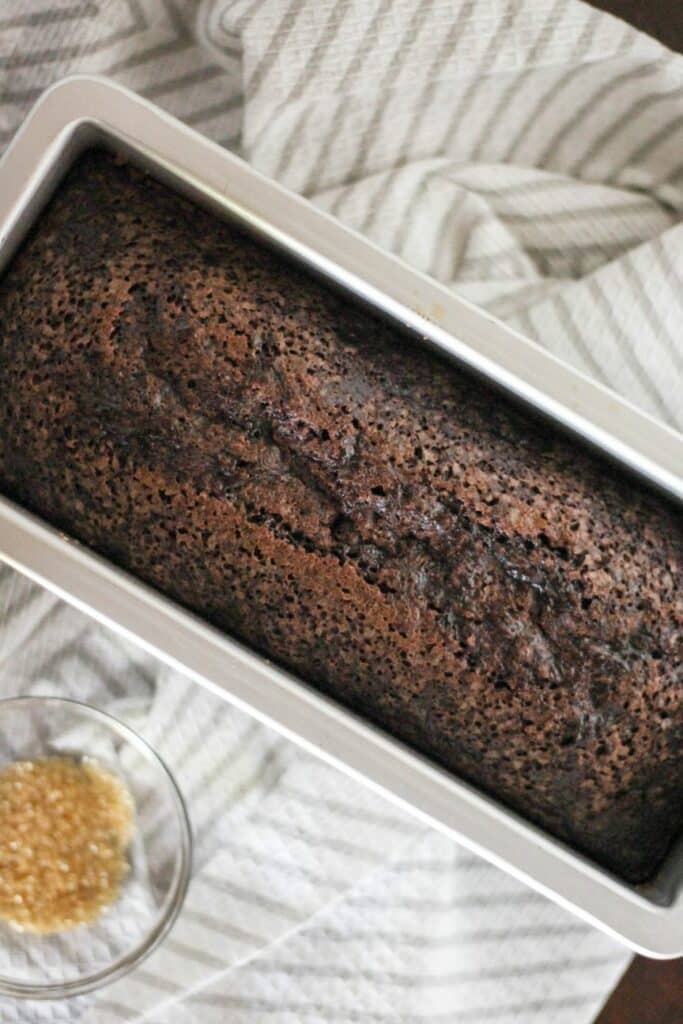 Of course, I'm always worried about how the flavor is going to come through as well when you are omitting dairy and eggs from a recipe. You won't miss it at all here though- and I strongly recommend you go for dutch processed cocoa powder. There's really not a ton of it in the recipe, so the dark stuff will really give you a strong chocolate flavor!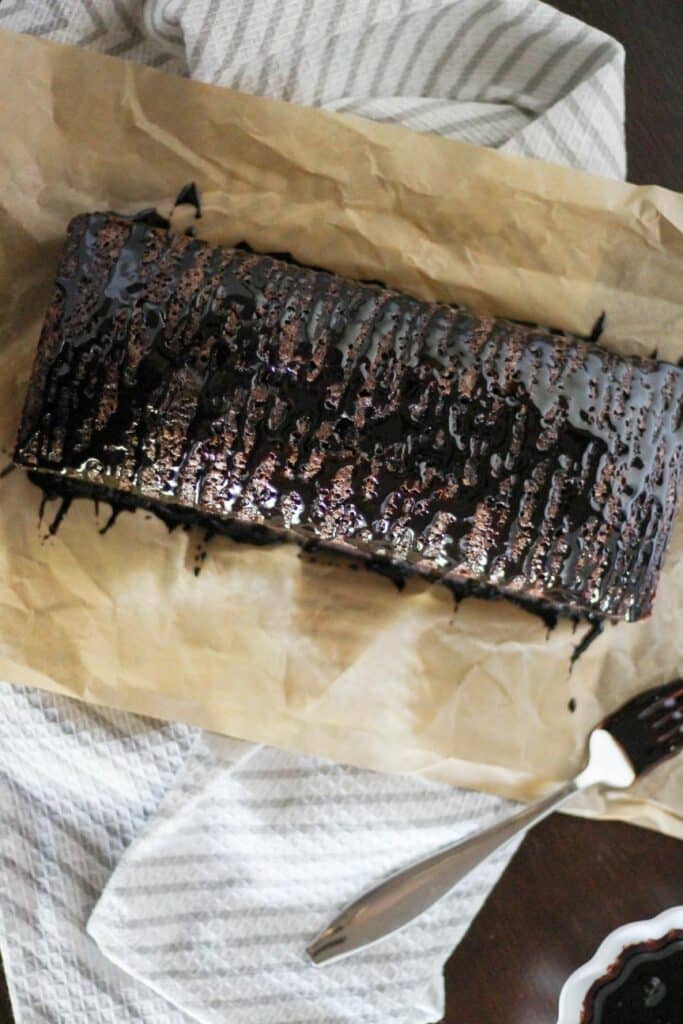 I've also included a chocolate sauce of sorts to drizzle over the top. It's almost like a syrup, and it adds to the effect of an indulgent cake overall. It's super simple to whip up as well, but feel free to top this cake however you'd like!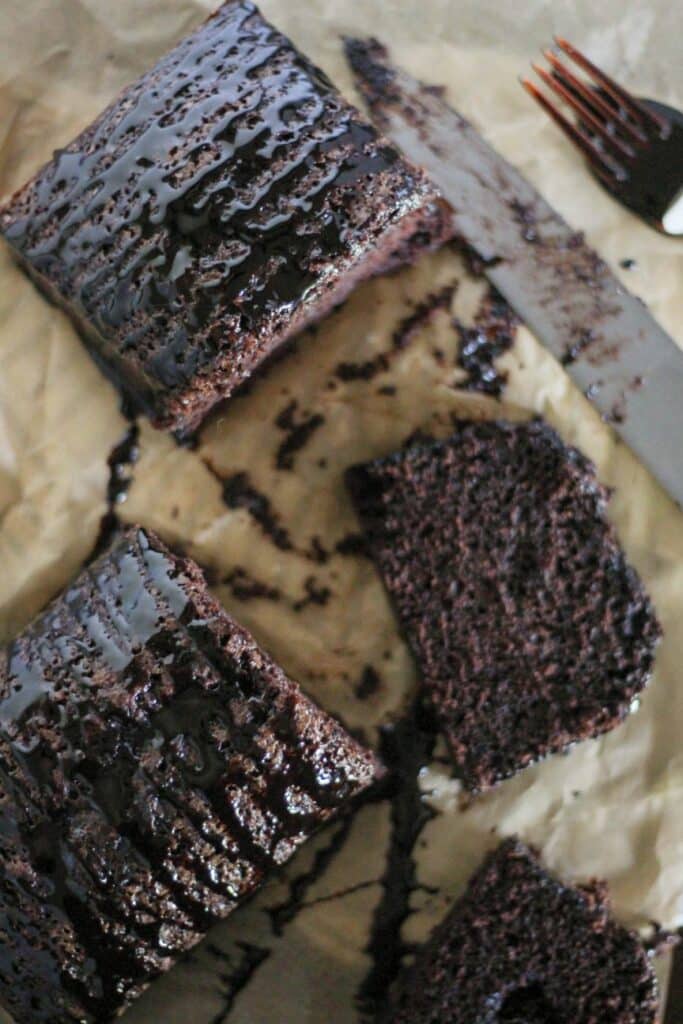 Enjoy!
Vegan Chocolate Cake
Ingredients
For the cake:
1 3/4

cup

flour

1

cup

sugar

1/4

cup

dutch process cocoa powder

1/4

tsp.

instant espresso powder

(optional)

1/2

tsp.

salt

3/4

tsp.

baking soda

1

tbs.

vanilla extract

1

tsp.

white vinegar

1/3

cup

vegetable oil

1

cup

water
For the chocolate syrup:
1/3

cup

sugar

2

tbs.

dutch process cocoa powder

2

tbs.

water
Instructions
For the cake:
Generously grease an 8 inch loaf pan, and preheat your oven to 350 degrees. (see notes for other baking options)

In a large bowl, whisk together the flour, sugar, cocoa powder, espresso powder, salt, and baking soda. In a medium bowl, stir together the vanilla extract, white vinegar, oil, and water.

Pour the wet ingredients into the dry mixture, and whisk to combine until completely smooth. The batter will be fairly thin. Pour into your prepared baking pan, and sprinkle with able a tablespoon of coarse sugar (optional).

Bake for 50-55 minutes, or until a cake tester comes out clean. Cool before removing from pan and serving.
For the syrup:
In a small saucepan, stir together the sugar, cocoa, and water until combined. Cook over medium heat until it reaching a rapid boil. Pour into a heat-safe container to cool until the cake is cooled. The sauce will be very thin, but it thickens as it cools. Drizzle over the cake before slicing and serving. Enjoy!
Recipe Notes
For cupcakes- line a 12 cup muffin tin with paper liners. Follow all instructions the same, except bake for about 20-22 minutes, or until a toothpick comes out clean. 
For a layer cake- this recipe will make one 8-inch round cake. You can double it or triple it. The bake time will be about 30-35 minutes for this option. 
Comments