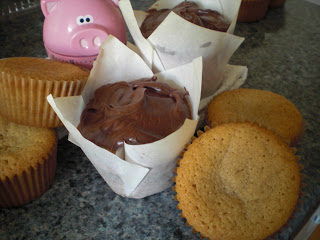 So, I love peanut butter. Like a lot. Probably my favorite sandwich is a good old PB&J. I eat peanut butter by the spoonful from the jar whenever my boyfriend isn't looking.
I always thought that putting peanut butter into cake would be relatively difficult because of the sticky, thick texture. It's actually really easy to do and it makes for a really great, moist, cake. I recently paired this cake with a thick fudge frosting, but it's really delicious with berry-flavored frosting as well.
This recipe uses two ingredients you might not have in your pantry; superfine sugar, and self-rising flour. If you can't find them in your supermarket, you can make them yourself. I don't usually actually buy superfine sugar because it's really easy to make. You can just put regular white sugar into a blender and blend until it becomes very fine.
Self-rising flour is something that makes baking cakes really simple, and I highly recommend you have some on hand. To make it yourself, just combine two level cups of all-purpose flour with one tablespoon baking powder and whisk together very well.
Peanut Butter Chocolate Cupcakes
Ingredients
½ cup room temperature butter
¾ cup super-fine sugar
2 eggs
½ cup smooth peanut butter
1 tsp. vanilla
1 cup self-rising flour
Instructions
Mix all the ingredients together with a mixer until just combined. Scoop into cupcake pan with liners. Gently tap the pan on your counter before baking to level off the batter. Bake for about 20 minutes, or until a toothpick comes out clean, at 350 degrees. Enjoy!
https://www.dougheyed.com/peanut-butter-chocolate-cupcakes/