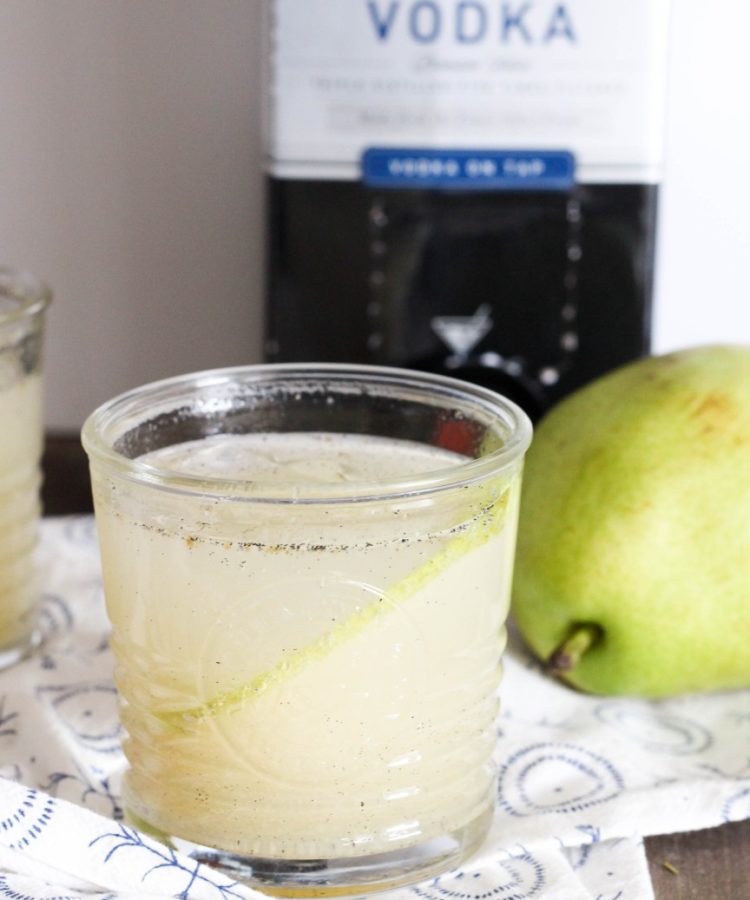 Hey everyone! It's the weekend, and I've got the prettiest pear cocktail ready for you guys today using Black Box Spirits Vodka!
Pears are in season right now, so this recipe calls for fresh Anjou pears, cooked in a syrup with vanilla bean seeds, and blended to a smooth puree. Real talk, I don't like pears normally. I know, I know, we're all shocked.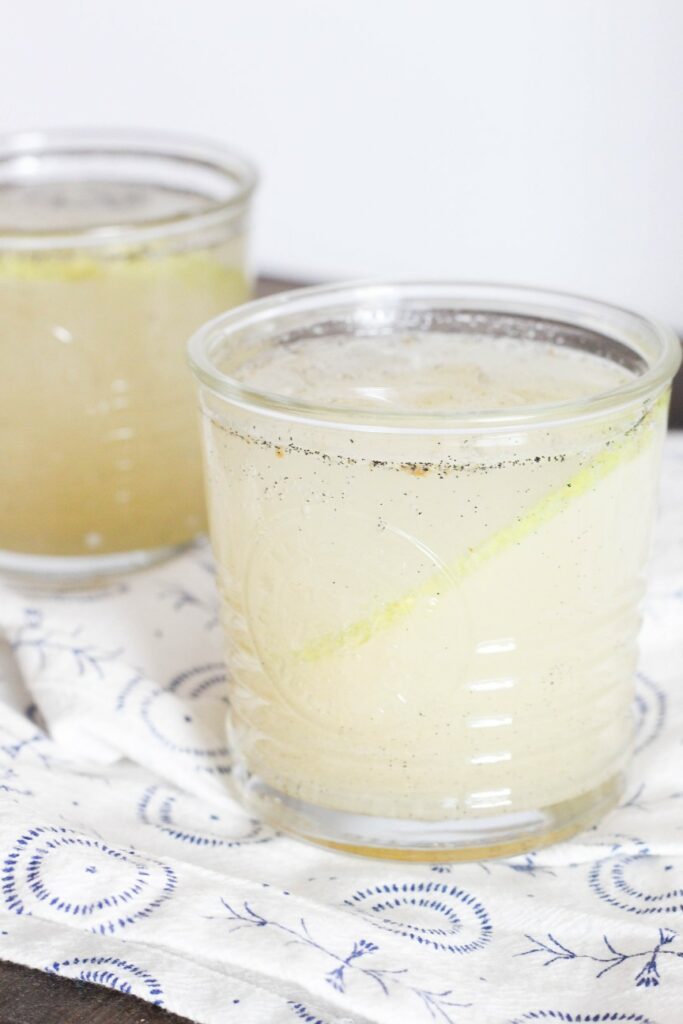 But when you combine lightly cooked pears, a bit of lemon juice, and vanilla, the combo is refreshing and sweet and I LOVE it. The lemon juice brings a touch of bright, freshness to the cocktail, but it doesn't make things taste lemony at all.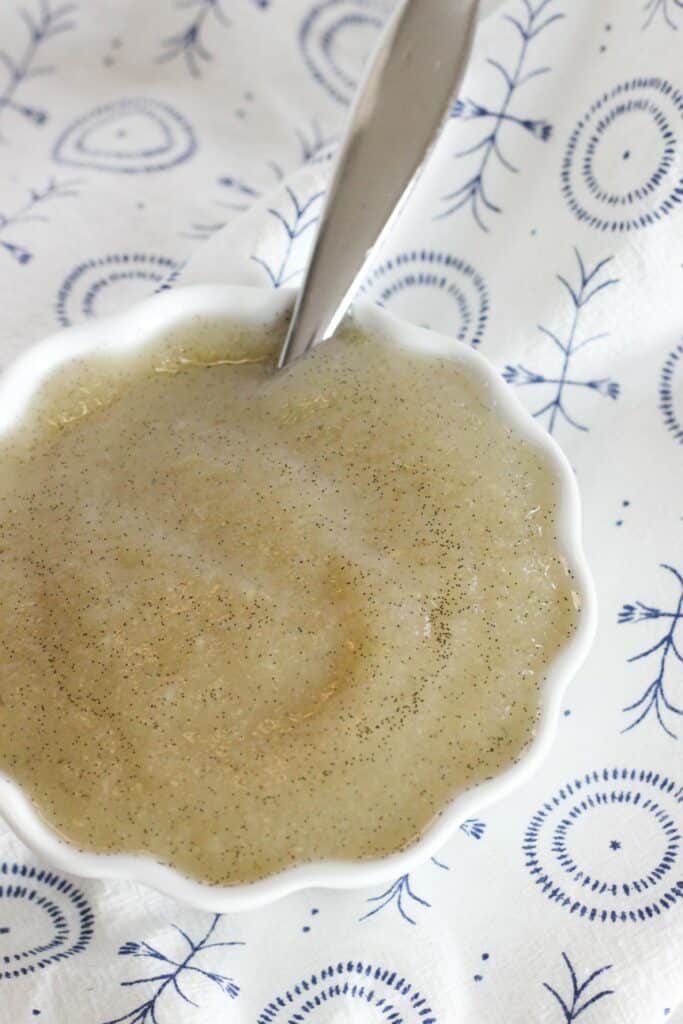 I'm delighted to be working with Black Box Spirits for this recipe, if you guys haven't tried their products, today is the day. They come in boxes, with a tap right on there, and honestly it's so perfect. It's easy to store, the tap works beautifully, and you don't have to deal with pulling down a heavy glass bottle from a high shelf.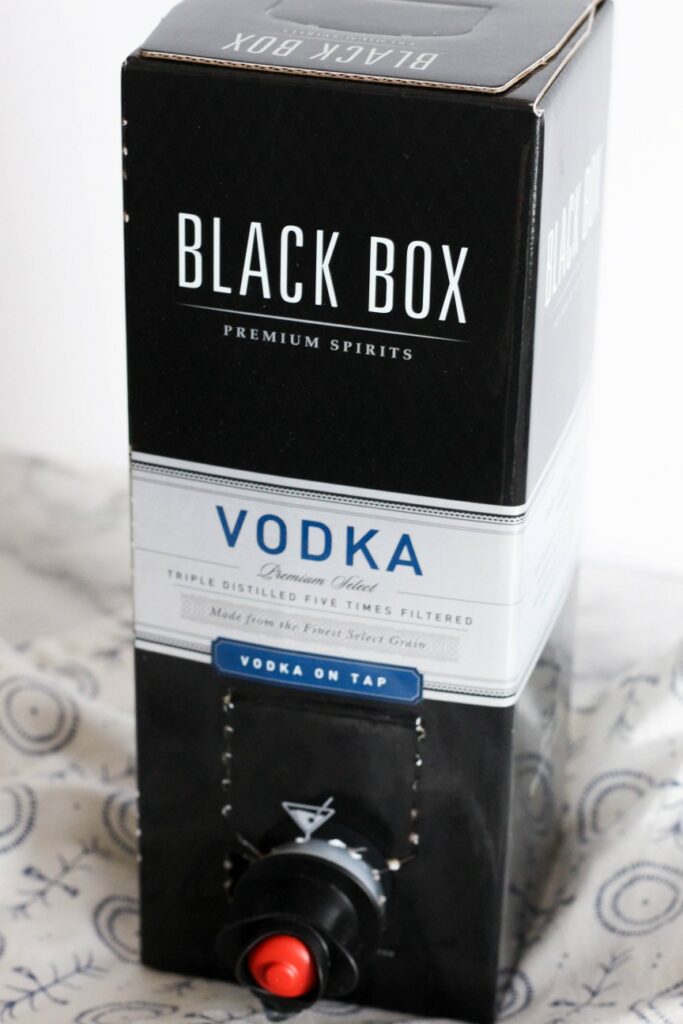 Not to mention, uhm, the alcohol! I don't normally drink liquor straight, but I wanted to try this vodka to see what I could expect when mixing it into a cocktail, and to decide how strong to make it. It's really easy to drink, and the vodka blends well into this drink! Dangerous if you ask me. 🙂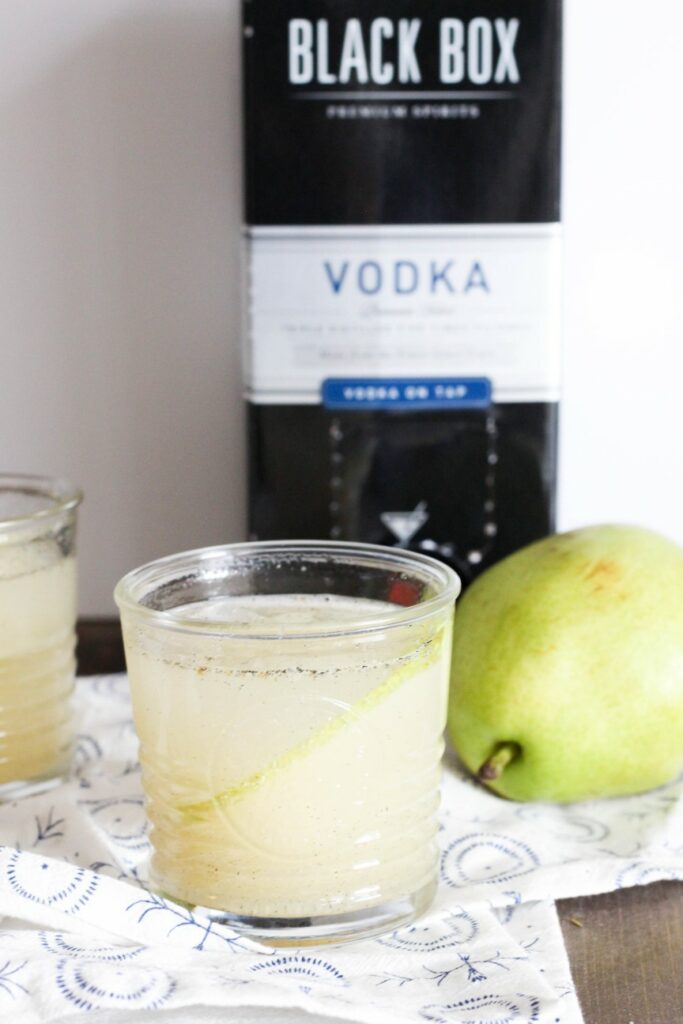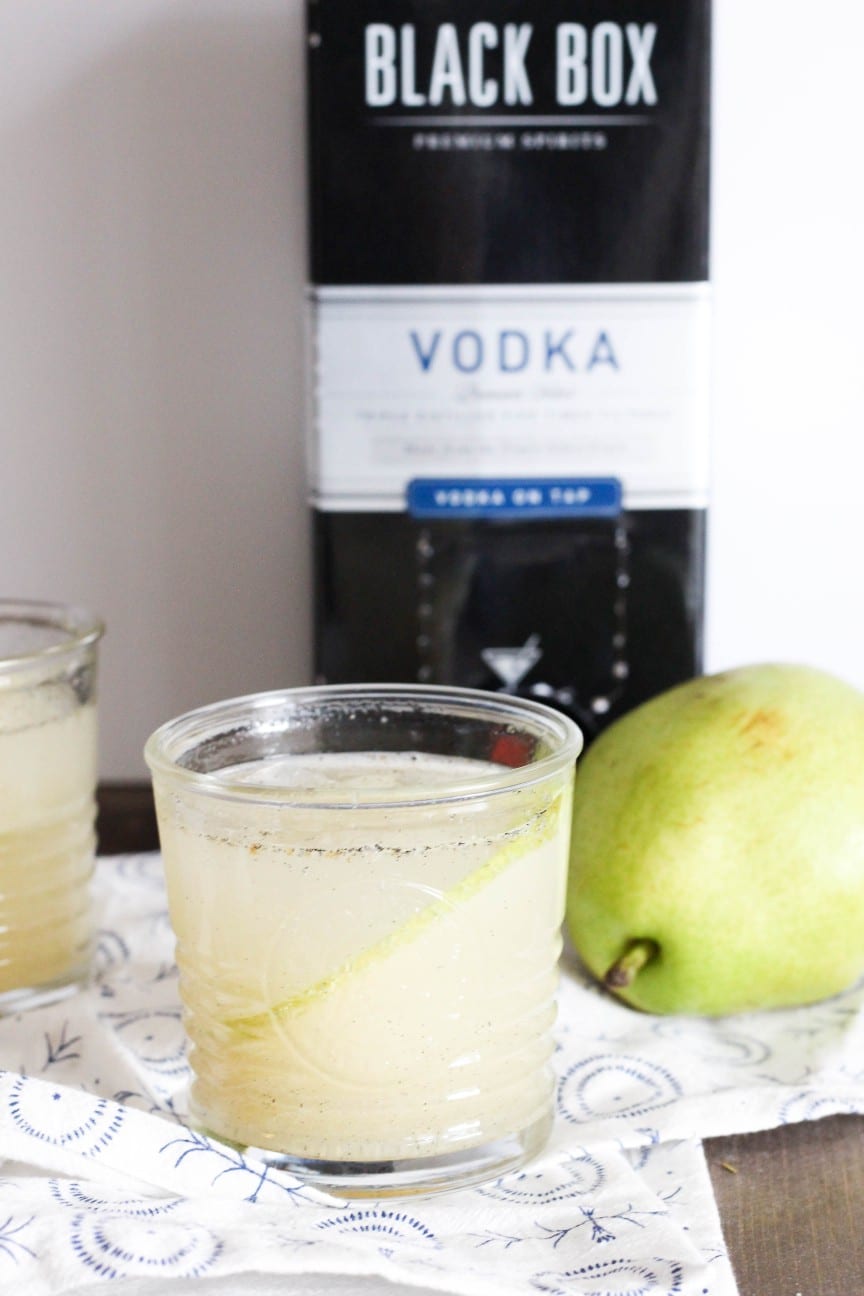 So anyways, back to the cocktail mix. I used a whole vanilla bean in this recipe, plus a dash of vanilla extract because I REALLY love vanilla. If you'd like it to be a little lighter, just go for the vanilla bean. I love the little black flecks in this drink, it's so pretty!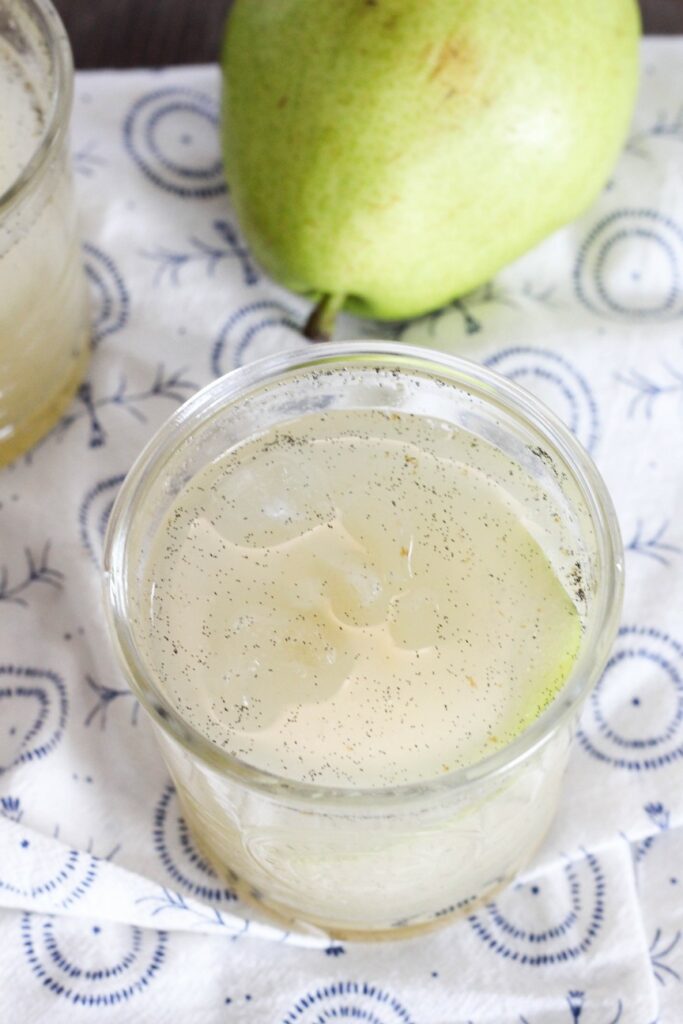 My vanilla bean was a little dried out, but it's an easy fix. You can simply cut the vanilla bean width wise (not down the length like you would to scrape out the seeds) and put it in with the pears to cook away. This softens the bean right up, and then you pull it out, slice it down the middle, and scrape out the seeds like you normally would! Good as new.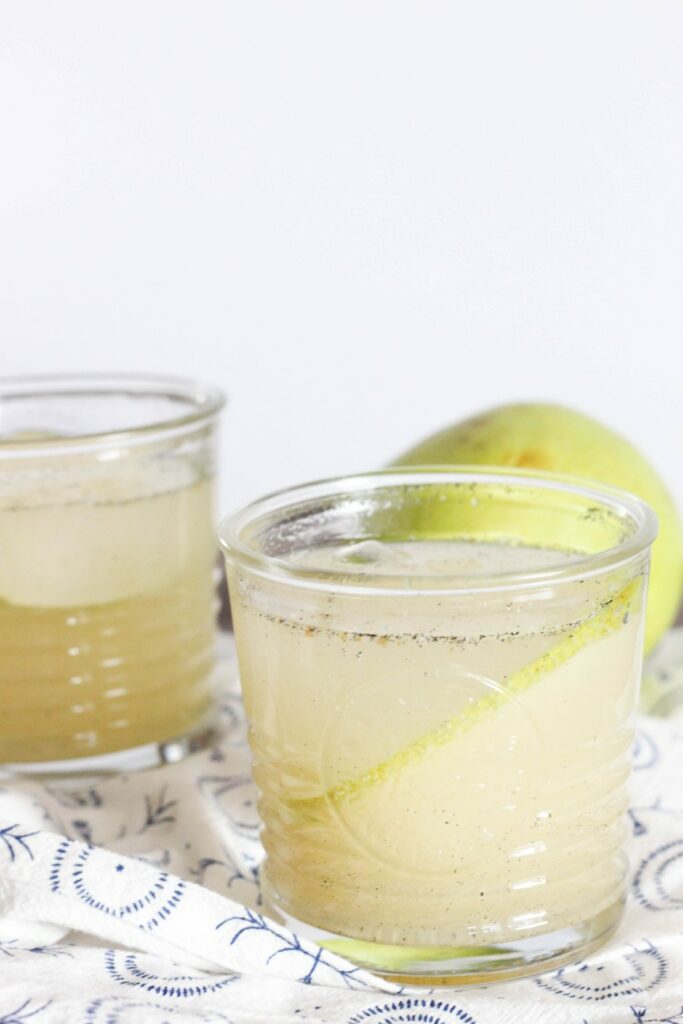 So anyways, enjoy this one guys, it's one of my new favs!
This post was sponsored in partnership with Black Box Spirits. 
Vanilla Pear Fizz Cocktail
Ingredients
For the Pear Puree:
1

large

Anjou pear, peeled and cored

3

tbs.

sugar

2

tbs.

lemon juice

1

vanilla bean pod

1/4

tsp.

vanilla extract
For the cocktails:
5

oz.

pear puree

5

oz.

Black Box Spirits Vodka

1/3

cup

club soda
Instructions
For the Pear Puree:
Chop your peeled and cored pear into small cubes. It does not have to be perfect. Slice your vanilla bean pod in half width-wise.

In a small saucepan, stir together the chopped pear, sugar, lemon juice, and vanilla bean pod. Cook over medium-high heat for 5-10 minutes, or until the pears have softened.

Remove from the heat, and pull out your vanilla pod halves. Slice them in half length-wise and scrape out the seeds with the back of your knife. Stir into the pear mixture, along with the vanilla extract.

Transfer the mixture to a food processor or blender, and blend until completely smooth, about a minute. Transfer to a bowl and let cool.
For the cocktail:
Add the pear puree and vodka to a shaker with ice. Gently shake 2-3 times. Divide evenly between two cocktail glasses with ice. Top with the club soda, using more or less as needed. Add a slice of a pear or lemon peel for garnish, and enjoy!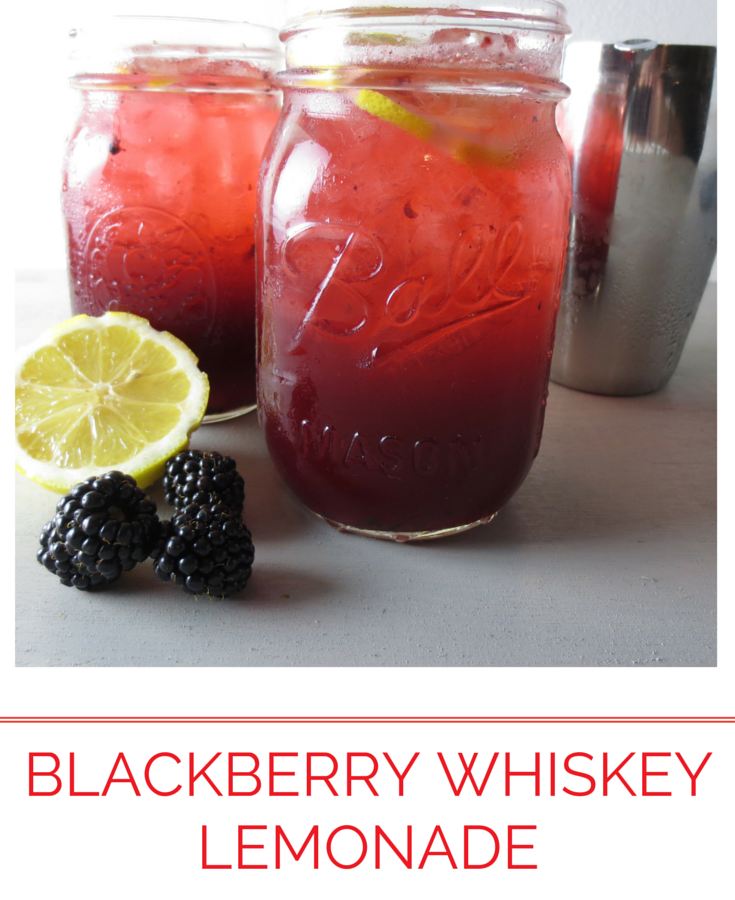 Sometimes you just a need a cocktail on a Sunday afternoon.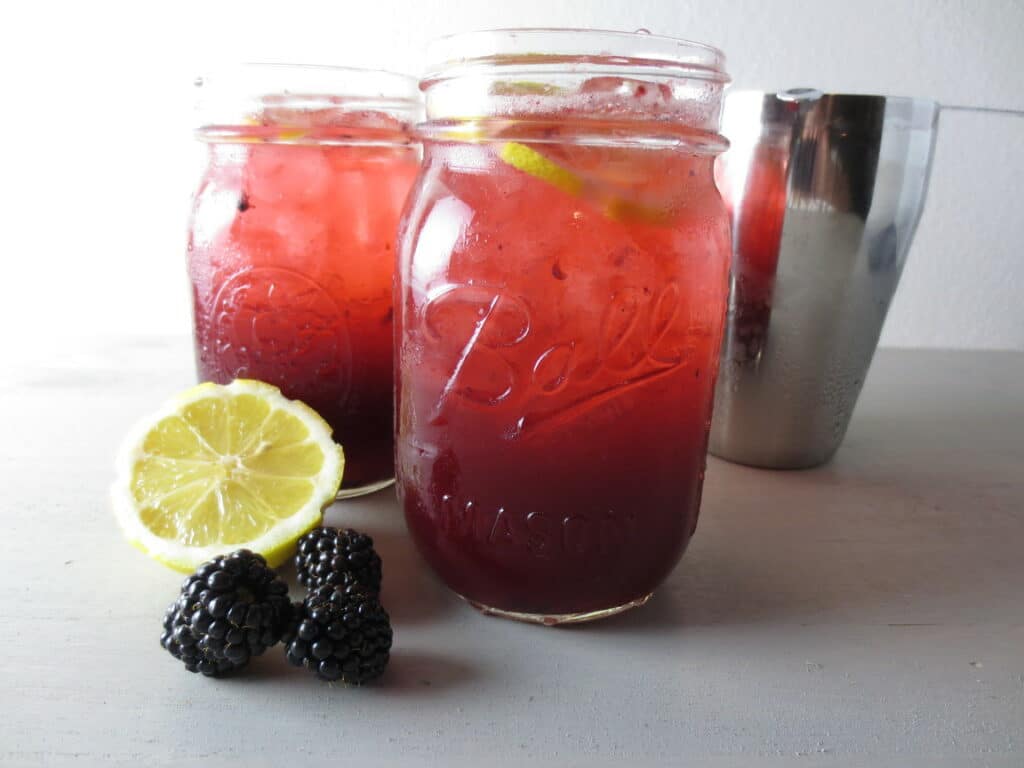 In case you can't tell from the large amount of condensation on the glasses in these photos, our house is pretty hot lately. Our cooler is broken, and while we are in the process of fixing it, we're in for a toasty couple of days. Basically, this results in a cocktail requirement.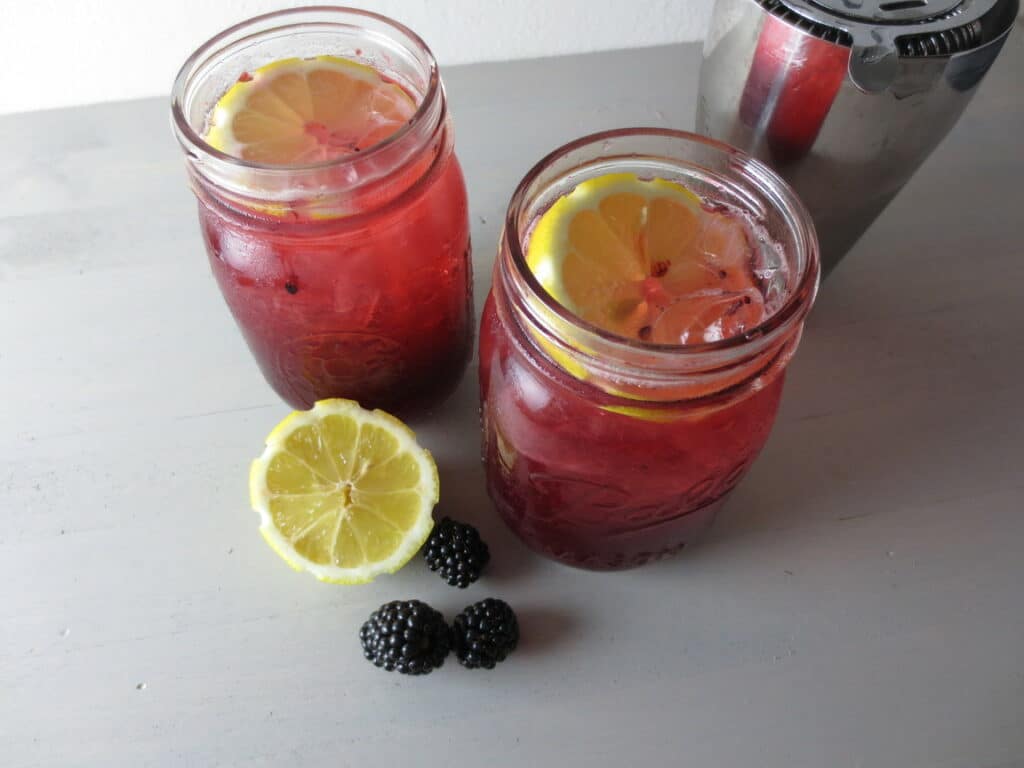 I've been really into local alcohol lately- I just bought a bottle of local whiskey for my dad for Father's day, and these cocktails are made with Leopold Bros. Blackberry Whiskey- another locally distilled liquor. Last year, when I got married to my lovely husband, we put together gift bags for our out of town guests that were filled with locally made products like soda, chocolate, coffee, and beer- all made in Colorado. Ever since then, I'm loving the idea of using ingredients and sweet finds that are made right here in my favorite state!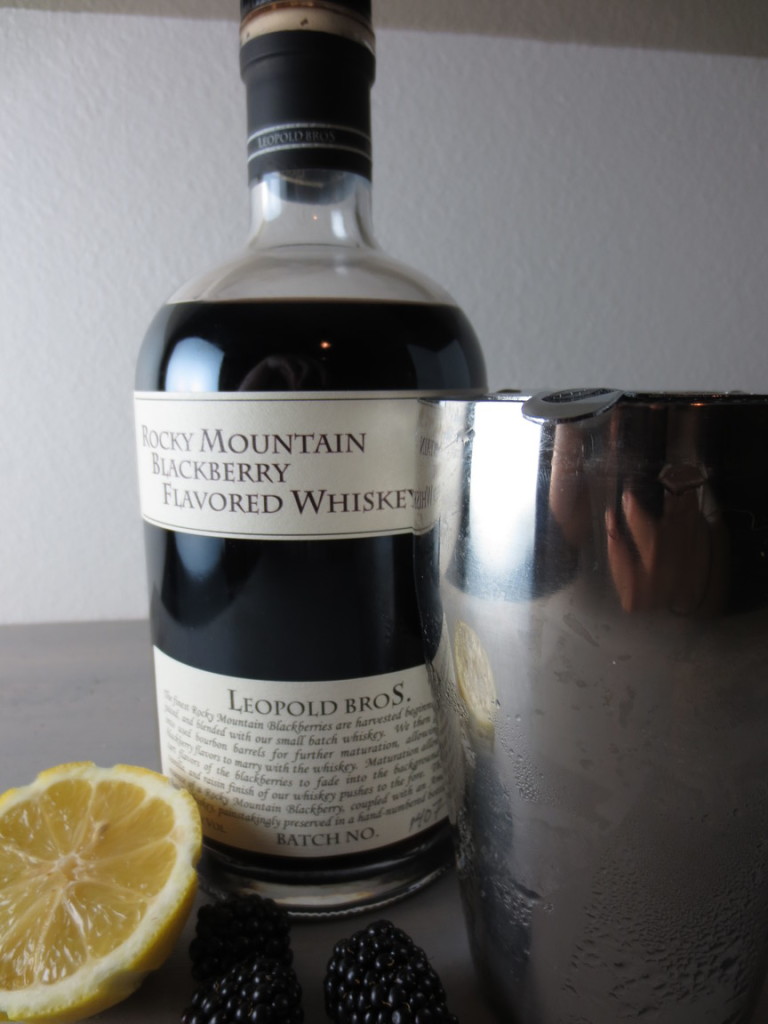 Also, I'd really recommend this whiskey- it works PERFECTLY in this cocktail, and it tastes and smells incredible! If you don't have access to Leopold Brother's Whiskey, or any blackberry flavored whiskey- regular will do the trick as well.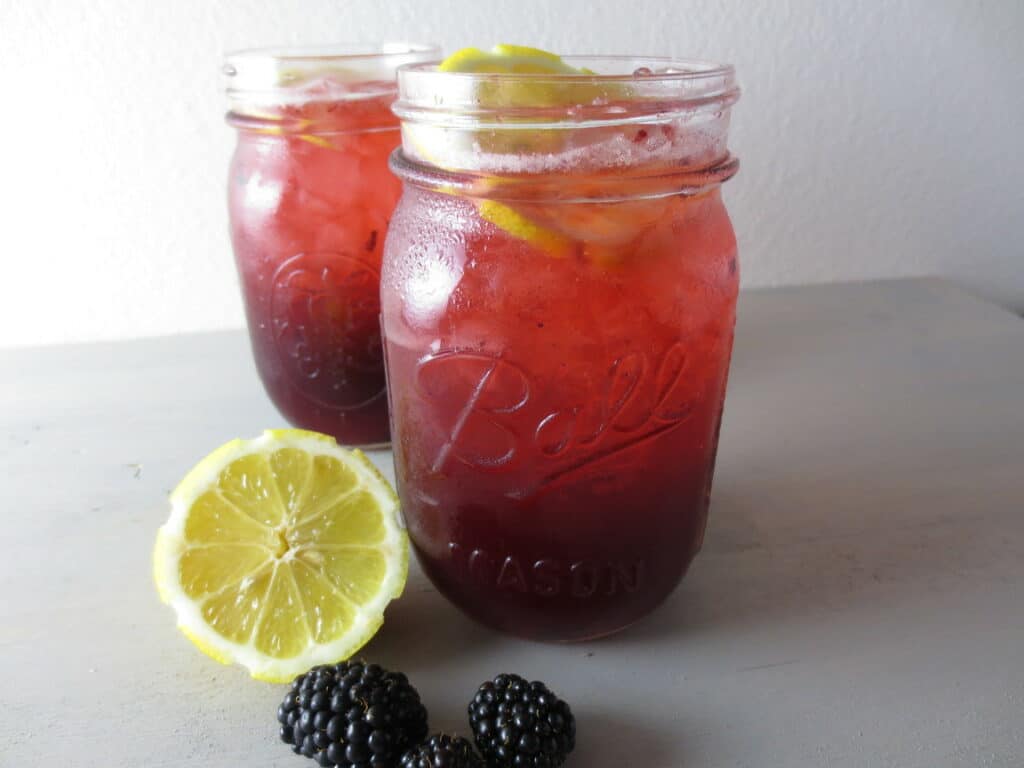 This is a pretty simple recipe- it's my first try at making a real cocktail at home, and I'm pretty excited about the results! I hope you guys enjoy it this summer!
Blackberry Whiskey Lemonade
Ingredients
8-10

fresh blackberries

2.5

ounces

blackberry whiskey

1

ounce

simple syrup

1

cup

lemonade

Splash of seltzer
Instructions
In the bottom of your shaker, muddle the blackberries

Add in the whiskey, simple syrup, and lemonade

Fill your shaker with ice, and give it a good shake!

Fill two 8 ounce glasses with ice. Pour the shaken lemonade into your glasses

Pour a splash of seltzer over each cocktail for a little fizz, and garnish with lemon if desired

Drink your cocktail on a porch, ideally while laying on a hammock