Stripe Shortbread Cookies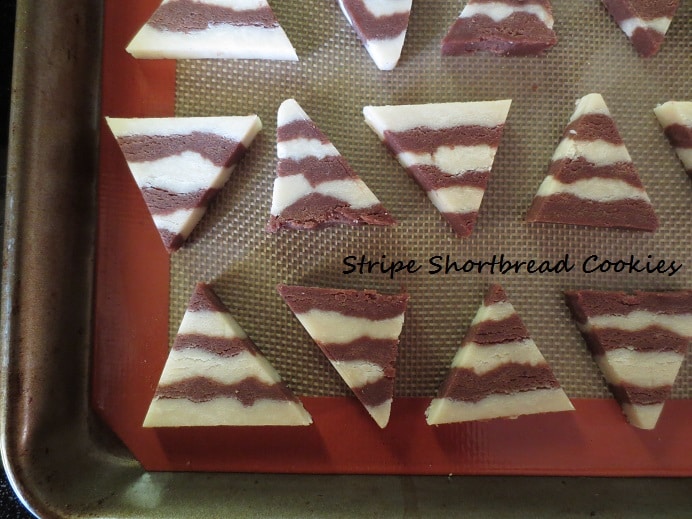 I'm so excited that Christmas is almost here!! Houses in my neighborhood are getting decorated, my friends and family are coming into town, and 'tis the season for cookie baking! This year I decided to try some stripe cookies, and while they ended up a little wavy, yours could probably be straight if you wanted.
So I basically just made a classic shortbread and a chocolate shortbread. Then I pushed them in alternating layers into a loaf pan with my hands, hence the waviness. Options for straight lines are: use another loaf pan to press your dough down- a glass doesn't really work that well with these types of relatively soft dough; roll out chunks of your dough and cut to fit inside the loaf pan. I was too lazy for either method, but I actually still think these look pretty anyways.
The most important part about making these cookies is chilling properly. I actually put in layers of dough two at a time, and then chilled the loaf pan for fifteen to twenty minutes in between. Then, after all the layers were in, I refrigerated it for thirty minutes, and stuck it in the freezer for fifteen. This makes it considerably easier to cut, as the dough is regularly relatively soft.
These flavors are complimentary, and the cookies are cute and fancy. I sliced my loaf and then cut each slice into triangles, but you can cut them however you want. Enjoy!
Stripe Shortbread
Ingredients
For the Classic Shortbread
2

sticks room temp. butter

2/3

cup

powdered sugar

Vanilla

Salt

2

cups

flour
For the Chocolate Shortbread
2

sticks room temp. butter

2/3

cup

brown sugar

Vanilla

Salt

1

tsp.

cinnamon

1/4

cup

cocoa powder

2

cups

flour
Instructions
For both recipes, to be made separately
Beat together the butter and sugar

Add the vanilla, salt, and cocoa powder and cinnamon for the chocolate cookies

Add the flour, and mix until combined.
For the layers
Line a loaf pan with plastic wrap.

Take one third of the classic dough, and spread evenly at the bottom of the pan.

Take one third of the chocolate dough and spread evenly over the bottom layer.

Chill for twenty minutes. Repeat with the remaining dough.

Chill for thirty minutes. Then freeze for fifteen minutes. Slice as you like.

Bake at 350 degrees for 15-18 minutes, until edges are golden.
Comments