Soft Chocolate Sugar Cookies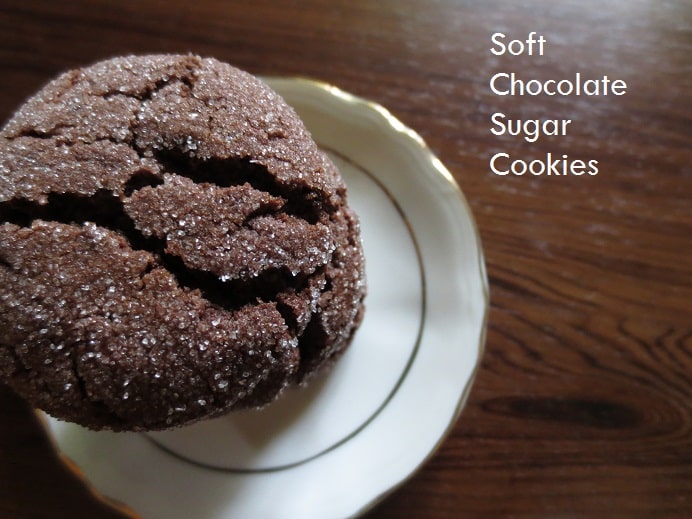 Of all the hundreds of cookie recipes I've ever made, sugar cookies are always my favorite. I'm kind of a basic girl when it comes to my favorite things really; vanilla cake, vanilla ice cream, vanilla lattes- all my favorites. It might be boring, but basics like vanilla and chocolate are really just comfy flavors for me.
I'm not sure why, but I've never actually tried to make a chocolate sugar cookie, and normally just stick to the old stand-by vanilla flavor. This weekend I tried two recipes, one that I found in an old Food Network magazine that was a total flop- they came out paper thin, which is an altitude difference that I can usually compensate for but had trouble with this recipe.
Plus, they were roll out and cut cookies which are more time consuming. When you want a cookie, you want it now. I mean, who actually chills their dough for a whole two hours anyways? I'm not ashamed to admit that I never do. Like really, never.
So after that disaster, I set out to create a scoop cookie recipe for faster over baking time, and for a chewy, soft texture that roll-out cookies often lack anyways. What I've landed on is something wonderful. I even just mix these cookies completely by hand, so you don't have to worry about having the whole shebang in your kitchen to make em!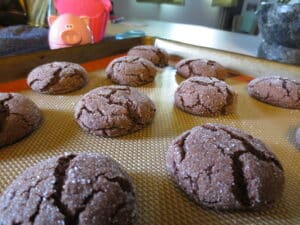 These cookies are reminiscent in texture to one of my very first blog posts (before I had a decent camera, mind you) back when I was in Boston as "Small Kitchen, Big Head"- Soft Ginger Cookies.
Enjoy!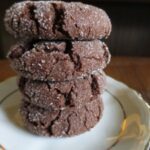 Soft Chocolate Sugar Cookies
Ingredients
2

cups

flour

3/4

cup

cocoa powder

1/2

tsp.

baking soda

1/4

tsp.

baking powder

Salt

Pinch

of Cinnamon

1

stick + 6 tbs. butter

melted and cooled

1

cup

brown sugar

3/4

cup

granulated sugar + more for rolling

1

tsp.

vanilla

1

egg

1

egg yolk

1

tbs

coffee
Instructions
In a medium bowl, mix together the flour, cocoa, baking soda, baking powder, salt, and cinnamon.

In a large bowl, mix together melted butter, brown sugar, 3/4 cup granulated sugar, and vanilla.

Add the egg and egg yolk, and whisk together until mixture is smooth.

Switch to a spatula or wooden spoon and slowly mix the flour mix into the wet mixture in three parts. Before adding the last part of flour, add the coffee.

Roll into tablespoon sized balls, and roll into extra sugar. Place on a lined baking sheet.

Press cookies down lightly with the bottom of a glass. Bake at 350 for 10-12 minutes, until puffy and cracked.
Comments