My Latest Greatest Find- A Pizzelle Cookie Maker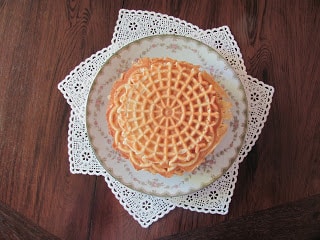 I've recently been visiting my local thrift stores looking for random dishes so I can take some cool pictures for my blogs. I've found a few great plates and bowls, and one awesome cookbook stand made of cast iron, so I continue to go on these searches. Yesterday I found something seriously amazing.
I don't usually even look at the small appliances because, well, they kind of suck. However, I've recently been searching for a mini crock pot to melt chocolate in for candy making and such, so I decided I'd take a look. The crock pots were all pretty terrible, but then I started looking at the random irons sitting next to it. Alongside a really weird iron that looked like a ravioli maker, (as if that makes sense) was this gem; a Vitantonio Pizzelle Maker. As it turns out, they don't even make these babies anymore and the ones that you can find on Ebay are going for around $150. My price? $7.55 after tax.
Of course, other companies do still make pizzelle makers, but judging by their prices, they just aren't the same quality. This thing is heavy, and it's probably only been used once, if ever.
Don't know what pizzelle cookies are? They're delicate, lacey cookies that have a similar taste and texture to fresh waffle cones, like the ones at Baskin Robbins, and like the ones in the pictures, in case that wasn't clear. When I was kid, I used to think they were so cool, even though they don't really taste that sweet.
I made a batch of these cookies today that produced about a hundred of them, so I've cut the recipe in half because, really, who needs that many lace cookies? The iron makes two cookies at a time, which makes it sound like it would take forever, but they only cook for about 30 seconds each so it actually goes pretty quickly. AND, another great benefit is that buying these cookies in the store is ridiculously expensive for some reason. Now I can just make 'em at home.
These cookies remind me of my Grandma like you wouldn't believe. She was the kind of woman who worked hard her whole life, and so once she was older and could afford some nicer things, she wasn't afraid to splurge on a few delicacies. These cookies are fancy and beautiful, just like she was. In light of this memory, I took the pictures of the cookies on one of her delicate china plates that we only use for special occasions, and sometimes not even then.
So here's to finding something amazing that I could actually afford, and remembering my Grandma in an odd way. If you have one of these awesome irons, here's the recipe I used!
My Latest Greatest Find- A Pizzelle Cookie Maker
Ingredients
3 eggs
¾ cup sugar
1 stick butter, melted
1 tsp. vanilla
1 ¾ cup flour
2 tsp. baking powder
½ tsp. cinnamon
¼ cup milk
Instructions
Beat the eggs and sugar together until slightly fluffy. Add the butter and vanilla, mix well.
In a separate bowl, mix the flour, baking powder, and cinnamon together. Add to the egg mixture until incorporated.
Mix in the milk.
Add about a tablespoon for each cookie in your iron, close, and cook for about 30 seconds. Use a spatula to remove, and place on a cooling rack.
https://www.dougheyed.com/my-latest-greatest-find-a-pizzelle-cookie-maker/
Comments