Chocolate Cheesecake Bars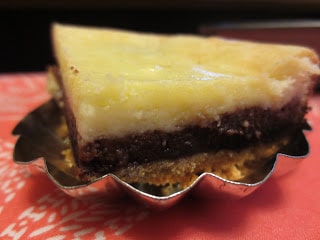 So here's the thing: I do not love cheesecake as much as the next guy. I love cheesecake WAY MORE THAN THE NEXT GUY. As a side note, if I actually know you and you don't like cheesecake, I'm going to have to reconsider our friendship.
These bars are super easy to make, and while they do take some time to cook and cool, it's far faster than a whole cheesecake. This means you won't have to wait ages while your mouth waters and you nibble on extra graham cracker crumbs. Don't worry, I've got your back here. Now have a go at these babies.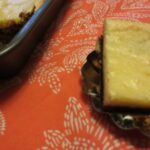 Chocolate Cheesecake Bars
Ingredients
2

cups

graham cracker crumbs

3

tbs.

sugar

1/2

stick melted butter

16

oz.

cream cheese

softened

2

eggs

3/4

cup

sugar

1/4

cup

heavy cream

Vanilla

1/2

cup

chocolate chips
Instructions
Mix together the crumbs, sugar, and butter until well combined. Press into a greased 7×11 inch pan (or an 8×8) firmly. Bake at 325 for 8 to 10 minutes, then let cool. Melt chocolate, being careful not to over heat it, set aside.

Mix together the cream cheese, eggs, sugar, cream, and vanilla. I used vanilla bean paste here, but you can use whatever kind of vanilla you have. Don't over mix here, you don't want your bars to get large cracks in them.

Divide the cheesecake mix in half. Mix the melted chocolate into one half of the batter. Pour one half on top of the crust, and spread evenly. Then do the same with the other half on top.

Bake at 325 for 45-55 minutes or until just beginning to get golden on top. The middle will still jiggle a bit.

Let cool to room temp, and then refrigerate until cool. Enjoy!
Comments