Cheesecake Brownies (or just brownies)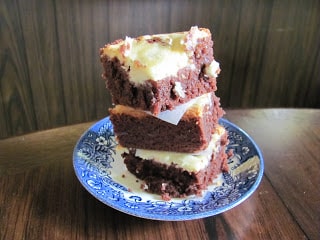 I heard on the news about a week ago that the Girl Scouts are out with cookies again this year. Ever since that day, I've been driving around every grocery store on the weekends looking for a little cookie stand, and haven't come across a single one.
I suppose they just haven't made it to the stores just yet, but I feel teased by 9 News. If these girls don't come out with their crack-cookies near me pretty soon here, I might have to travel to greater lengths then the three grocery stores down the street from my house.
Anyways, since I can't have the cookies yet, I've resigned myself to baking something rather incredible in order to control the Thin-Mint cravings; cheesecake brownies. Now, I spent most of my childhood begging my mother to buy a box of the Pillsbury version of these. Now that I spend my own money on such things, I see why she never wanted to buy them. This recipe, however, if you're a pretty regular baker, is pretty darn cheap.
Also, if you have amazing family members who may have purchased you a Kitchen Aid mixer recently, these brownies are a seriously easy task. If not, I suggest you grab some new family members. Anyways, enjoy these ones. They might be a million calories a piece, but they're the best brownies I've ever made.
Cheesecake Brownies (or just brownies)
Ingredients
For the brownies:
1 cup room temp. butter
2 cups sugar
½ cup cocoa powder
1 tsp. vanilla extract
4 eggs
1 ½ cups flour
½ tsp. baking powder
½ tsp. salt
For the cheesecake topping:
1 8oz. pkg. of cream cheese at room temp
2 tbs. sour cream
1 tbs. milk
1 tsp. vanilla
1 egg
½ cup sugar
Instructions
For the brownies:
In a stand mixer, (yay I can say that now! A hand mixer is fine too though) beat together the butter and sugar until fluffy
Add the cocoa powder and vanilla until just combined
Add the eggs one at a time
Mix together the flour, baking powder, and salt in a separate bowl. Slowly add to the mixer. If your batter looks way to thick, add a tsp. of milk.
Spread batter into a very well-greased 9×13 inch pan, or, if you have one, a 7×11 inch brownie pan.
For the cheesecake topping:
Mix it all together with a whisk until smooth. Pour over the top of your brownies, and swirl it up a little with a butter knife.
Bake the brownies at 350 degrees for 45 minutes, or until set. The topping may start to crack a little, that's totally fine.
https://www.dougheyed.com/cheesecake-brownies-or-just-brownies/
Comments