Banana Bread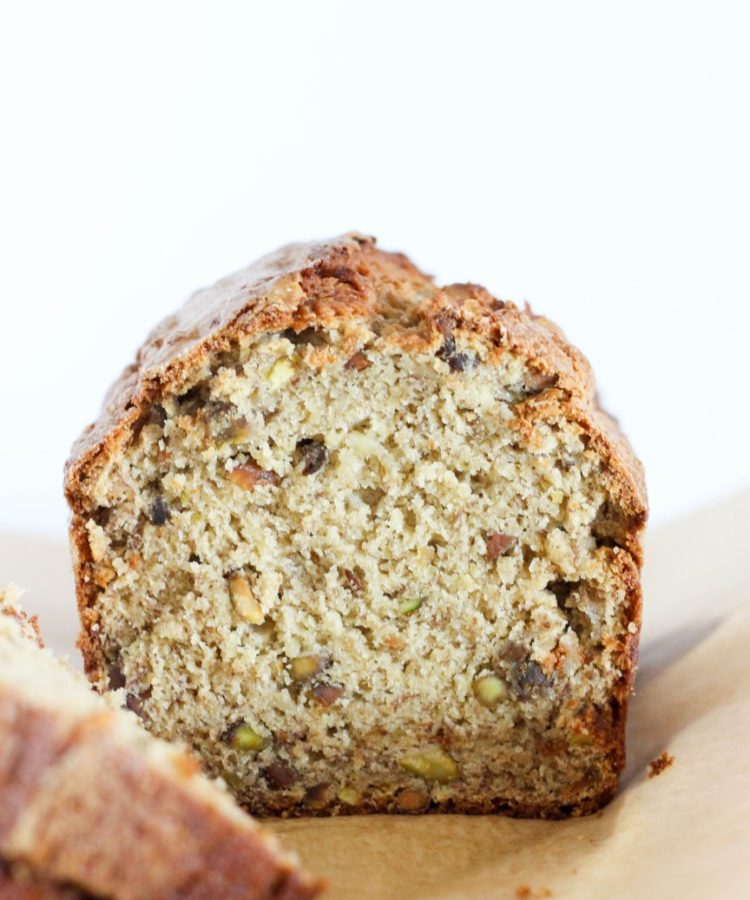 Hey guys! Today I'm jumping back into one of my favs- my Grandma's Banana Bread recipe. You've seen me make a version of this before, Banana Crumb Cake, which you can also find in my book, Sugar High. This time around, we're adding chopped pistachios and baking it up classic, in a loaf.
I've got a couple of tricks up my sleeve. I wanted to make this cake a little more moist. Don't get me wrong, the original is a great recipe, and it's a perfect coffee cake. But I wanted to make things a bit more cake-like for the loaf version. So I added some extra mashed banana to give it a little extra.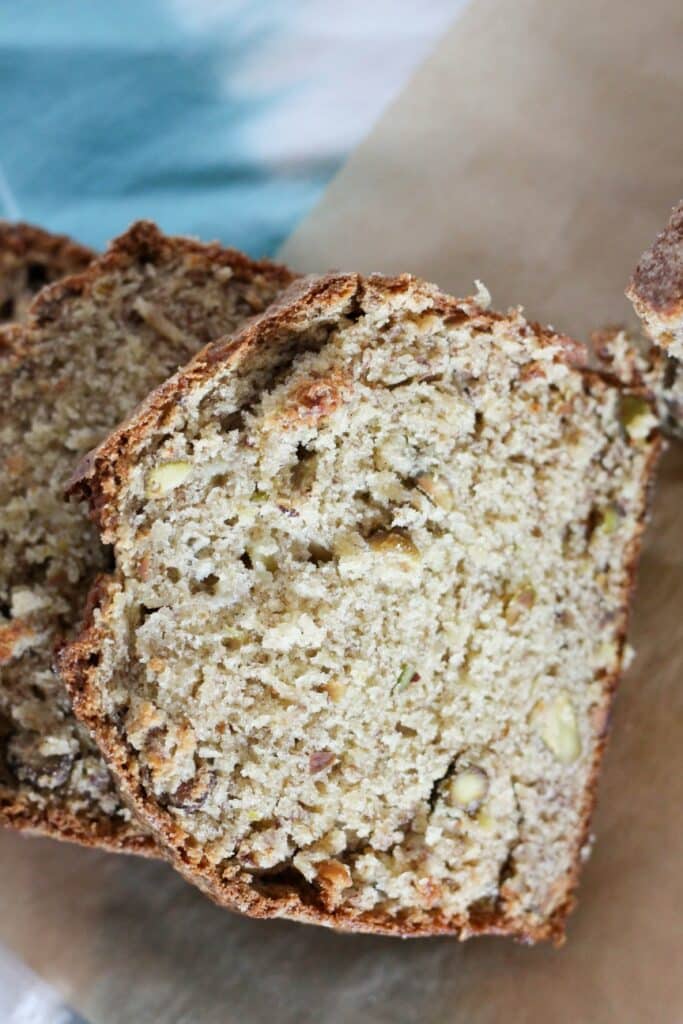 Okay and also, this is my new favorite trick ever guys. You know I bake a lot of loaf cakes, it's kind of my current favorite. I really love a cake that stands on its own without the need for frosting, and I love the ease of loaf recipes. PLUS, I love that sugary, crisp top that you get on many of those cakes, including this one. I've seen a lot of info online recently about dusting your cake pans with things other than flour, including just using regular granulated sugar and guys. It's everything.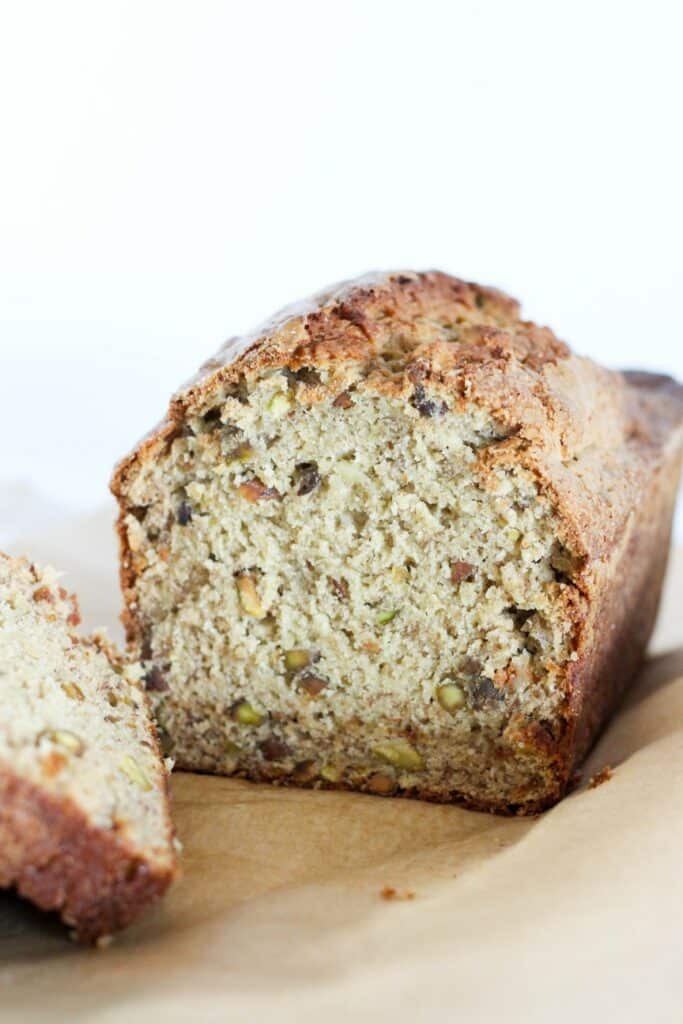 Instead of just getting that sugary top, you can have it all over the edges of your loaf cake. It's sheer perfection. So ya know, look out for me using this like, idk, all the time from here on out.
So anyways, sugary crust, we got it. I know the classic option for banana bread is walnuts, but I had some extra pistachios from this recipe last week, and it's just a nice little twist. Honestly, throw any nuts you've got on hand in here, or even a handful of chocolate chips alongside 'em. You know what you like, you got this. But for the record, pistachios are a great choice.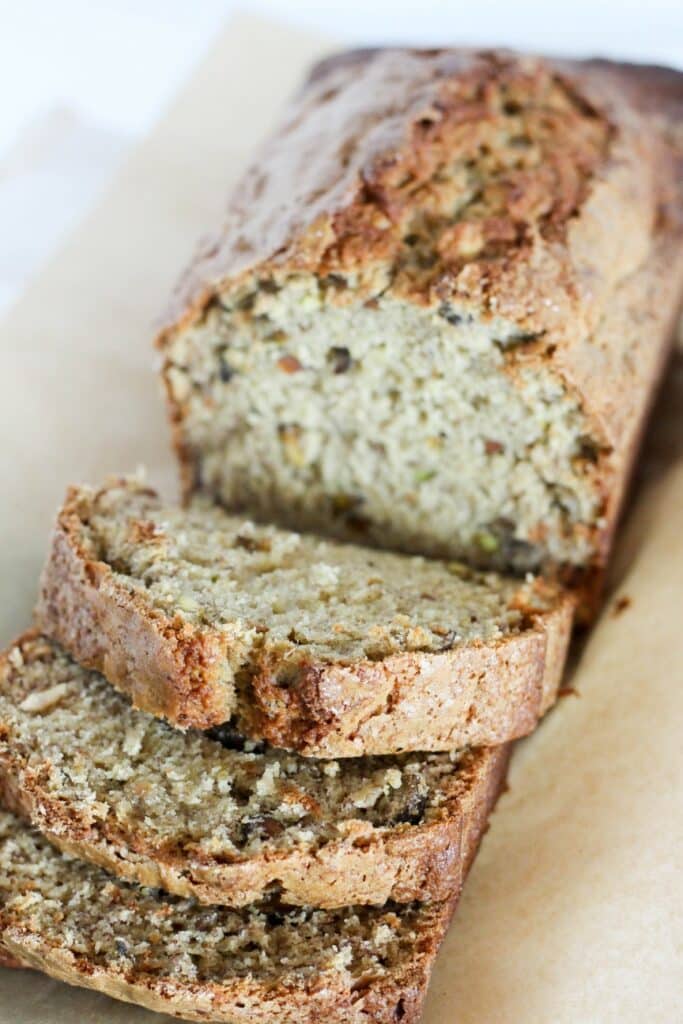 Today we're all snowed in, it's been a pjs-all-day type of Saturday, and you can find me curled up on the couch with a slice of this pretty thing. Enjoy!
Banana Bread
Ingredients
3/4

cup

sugar, plus more for dusting

6

tbs.

softened butter

2

eggs

1

tbs.

vanilla extract

1 1/2

cups

mashed bananas, over-ripe

about 3 large bananas

2

cups

flour

3/4

tsp.

baking soda

1

tsp.

salt

1/2

tsp.

cinnamon

3/4

cup

roughly chopped pistachios
Instructions
Preheat your oven to 350 degrees, and generously spray an 8 inch loaf pan with cooking spray. Sprinkle the bottom and all sides with granulated sugar, and shake out any excess. Set aside.

In a large bowl, beat together the sugar and butter until fluffy. Beat in the eggs, vanilla, and mashed banana and mix until combined.

In a medium bowl, stir together the flour, baking soda, salt, and cinnamon. Add the dry ingredients into the wet in three additions, mixing well between each addition, and reserve about 1 tablespoon of the flour mixture. Toss the chopped pistachios in the reserved flour, and fold into the batter.

Pour the batter into your prepared pan and spread evenly. Bake for 60-65 minutes, or until a tooth-pick comes out clean. Cool and enjoy!
Comments