Cream Puffs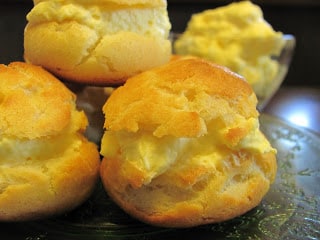 I ventured out of my comfort zone this past week, and into the zone of profiterole making. They sound pretty stinkin fancy, and they look pretty fancy, but they were surprisingly easy. After a little trial and error, and three batches of cream puffs, I think I've nailed it.
My main problem with the first batch was that they ended up in two pieces. I was piping the dough/batter onto my baking sheet, (which is not necessary, but makes it a little easier I think) and then decided I had made some of them too small. I went back over and piped another dollop onto a few, and these ended up like little snowmen, except the bottom puff was deflated and undercooked. The point is, when you're putting them onto your baking sheet, make sure they are all in one piece.
Any who, you can TOTALLY make these. I started off with a bland recipe that had poor directions; thankfully you will not. Plus, the filling is mega easy. I mostly chose to do a simple filling so I could focus on the dough, but it's really tasty so I don't think I'll be changing it. Also, when I took these pictures, I was making a double batch. Turns out my family can just suck these things right down. Here goes!
Cream Puffs

For the filling:
2 regular boxes of French vanilla pudding
1 cup milk
2 cups heavy cream
For the puffs:
½ cup butter
1 cup water
2 tsp. vanilla
¼ tsp. salt
1¼ cup flour
1 tbs. sugar
3 eggs
-Mix together everything for the filling, and whip until thick and fluffy, like whipped cream. This will probably take about 5 minutes with a hand mixer. Refrigerate.
-Mix together the salt, flour, and sugar in a medium bowl; set aside.
-Bring the butter, water, and vanilla to a rolling boil in a medium saucepan.
-Once the water and butter are boiling, remove from heat and immediately add the flour mixture. Combine with a spatula. Your mixture should look like this:

-Put the dough into a mixing bowl, or a stand mixer bowl, and let it cool for five to ten minutes.
-Add the eggs in one at a time, mixing well between each addition. Continue mixing for three to five minutes after all of eggs are added.
-Either spoon the mixture onto a baking sheet, or pipe it, about two inches apart from one another. Bake at 400 degrees for 18 minutes. Then, poke a hole in each puff with a toothpick. Continue baking for 5 to 10 minutes or until puffs are golden all over.

-These will cool pretty quickly, especially if you remove them from the baking sheet soon after pulling them out of the oven. Cut them in half, and spoon in the filling!
Comments